Rewind to 1986
Pixar opened its studios in 1986, Polaroid won a fight against Kodak, and the first computer virus – Brain – began to spread. Here's what else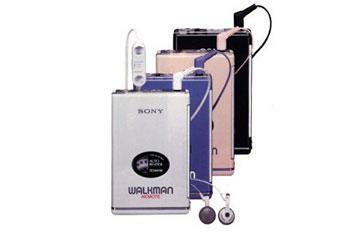 It was all going on in space in 1986. The Russians launched the Mir Space Station, Voyager 2 caused titters in schools everywhere when it encountered Uranus and the Challenger did quite the opposite when it blew up before it got there. All that considered, innovation of the year still goes to microwaveable pizza. These things were good, too…
Gadget 1 – Electronic Book
"What looks and feels like a book, and works like a computer?" asked Radio Shack in 1986. The answer was an electronic book. "Different areas of the book's touch-sensitive surface are pressed to interact with the computer," said the promo bumf. Sound familiar? The price won't: US$25. Makes you want to send that iPad back, eh? Okay, maybe not…
Gadget 2 – Sony Walkman WM-109
Although CDs had begun to take over our music collections, the tape was putting up a robust defence in the portable player market because the Discman, while cool, skipped every time you breathed and was as pocketable as a cauliflower. Sony's WM-109 was the first Walkman to have a remote. Why? Who cares… we wanted one.
Film – Aliens
What a year in film… Platoon, Crocodile Dundee, Ferris Bueller's Day Off, Top Gun… how to pick a winner? We've gone for James Cameron's sequel to 1979's Alien. Sigourney Weaver looked alright for someone who'd been drifting around space in hypersleep for 57 years. And the Aliens were, of course, as delightful as ever.
TV – Inspector Gadget
Go, go, gadget, gone. The Peter Sellers-esque inspector left our screens in 1986 after three years of unlikely escapes thanks to even more unlikely gadgetry. Helicopter hats never took off in the end, but the hapless eponymous copper left his mark on our world regardless.
Album – Graceland, Paul Simon
There were a few peaches on the music tree – The Beastie Boys' Licence to Ill, Metallica's Master of Puppets and The Smiths' The Queen is Dead, among them – but none were as career defining as Simon's Graceland. From zydeco (That Was Your Mother) to African choir (Homeless) via a very '80s slap-bass fill (You Can Call Me Al), it's hard to imagine a more freestyling record holding together so well.
Book – Watchmen
Set in an alternative present day and splattered with blood-stained smileys, Alan Moore and Dave Gibbons' Watchmen was that true gem of the graphic novel scene – loved by readers, even in the mainstream, and warmly received by critics. After a number of failed attempts, the inevitable movie transition was finally realised in 2009.
Game – The Legend of Zelda
There is nothing we can write here that you won't find in our massive retrospective on the Zelda franchise. It all started in 1986, and you should start by reading Gaming flashback – The Legend of Zelda.
And finally…
It was, it later turned out, a vintage year for totty: Mischa Barton, Gemma Arterton, Megan Fox, Lindsay Lohan and Caitlin Murphy were all born in '86. So was Coleen Rooney (make of that what you will). Best death of the year: Metallica bassist Cliff Burton. Run down by the band's own tour bus. Legend.
More stories on Stuff.tv: