Rewind to 2001
Foot and mouth broke out in the UK, while George W Bush started putting his foot in it as US president. Tourists went to space, terrorists went to New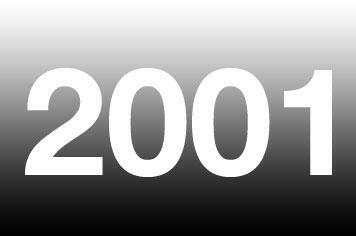 Foot and mouth broke out in the UK, while George W Bush started putting his foot in it as US president. Tourists went to space, terrorists went to New York and Jeffrey Archer went to prison. Also in 2001…
Internet – Wikipedia launched
Love it or hate it, Wikipedia is here to stay (and admit it, you love it). Plagued with accusations of inaccuracy, most critics overlook Wikipedia's more substantial biases – Star Trek has an entry of over 5000 words, while the Battle of the Somme (in which nearly 20,000 British soldiers were killed in a single day) gets a measly 450. Even so, it remains one of the best online tools to date, and one of the internet's most useful corners.
Gadget – Apple iPod
In 2001, Steve Jobs appeared on a stage and claimed he'd found the recipe for portable music success. There were no whoops from the crowd, not even a ripple of polite applause. Then he showed them this – the iPod. It holds 1,000 songs (at 160kbps)! It fits in your pocket! It's 5GB! With hindsight, the ensuing five seconds of golf applause was probably a bit of an insult.
Film – Shrek
So bad was 2001 for film that Crocodile Dundee in Los Angeles was up for an Oscar. Okay, it wasn't that bad. But it wasn't that good either. Luckily, Shrek turned up (voiced by Mike Myers) and turned in a decent reboot of the fairytale with help from Cameron Diaz, Eddie Murphy, John Lithgow and some fine-looking CGI. The final (fourth) film is out soon in 3D and won't be anywhere near as good.
Music – The Strokes, Is This It
Did anyone know anyone who didn't like The Strokes debut album? It was a neat box of pop songs that ran to just over half an hour (in an era of 70-minute records). There was nothing new or revolutionary – just well-made songcraft about sex, drugs and rock 'n' roll from a band that performed with vim. The problem? They could never reach those heights again.
And finally…
Douglas Adams was picked up by a passing Vogon spaceship, there was gentle weeping from George Harrison fans and Nigel Hawthorne died on Boxing Day, probably during a repeat of Yes Minister.
More stories on Stuff.tv: