Rewind to 2003
The Human Genome Project was completed, the last Beetle rolled off the line and the Iraq war began...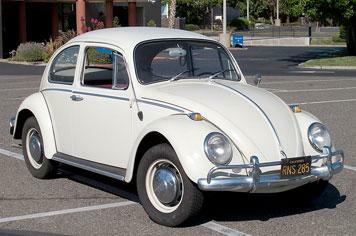 The last original VW Beetle (Type 1) rolled off the factory line in Mexico, the UK ban on driving with mobile phones came into effect, and soulful crooner Barry White shuffled off to the great big loveshack in the sky.
Gadget – iTunes Store
The iTunes music store launched two years after Apple's first iPod, intended to plug the (illegal) hole left by the closure of Napster in 2001 and offer an alternative to paid subscription services like Pressplay and Rhapsody. Turned out alright, didn't it?
Book – The Curious Incident of the Dog in the Night-Time by Mark Haddon
A murder mystery told from the perspective of a boy with Asperger's might not sound like a recipe for a great read, but Mark Haddon's ingenious (and funny) novel proved that it could be.
Game – Second Life
Okay, well it's not a game, exactly. The virtual world developed by Linden Lab opened its doors to 'residents' in June, 2003. They've been meeting, conversing and flying around it ever since.
Music – Boy in Da Corner by Dizzee Rascal
Dizzee Rascal's first album blending garage, hip hop and grime won him the 2003 Mercury Prize. It was another couple of years before we'd see Jeremy Paxman calling him Mr Rascal on Newsnight. Follow up albums included Showtime, Maths+English and Tongue N' Cheek
Film – Kill Bill Vol.1
The first instalment of Tarantino's two-part kung-fu/samurai/manga homage hit the cinemas this year. With Uma Thurman as vengeful ex-assassin Beatrix Kiddo, it was over the top and all you'd expect from the Pulp Fiction director. We'd have to wait until 2004 to find out how it ended.
More stories on Stuff.tv: