Rewind to 2006
Remember what things were like when Germany hosted the last World Cup? In 2006 we saw Saddam Hussein brought to justice, Pluto lost its status as a pl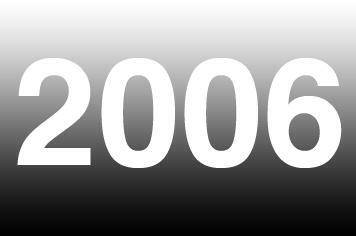 Remember what things were like when Germany hosted the last World Cup? In 2006 we saw Saddam Hussein brought to justice, Pluto lost its status as a planet and jet engine HyShot successfully travelled at seven times the speed of sound. Oh, and the Italians took football's greatest prize, beating the French 5-3 on penalties. Here's what else…
Gadget – Nintendo Wii
The Wii proved Nintendo still had what it took to be relevant in the next generation of gaming. Faced with the hi-def pincer movement of Microsoft and Sony's powerhouse consoles, Ninty took the plunge with a revolutionary idea: motion control. Everyone had a titter at the name, but the little white wonder had the last laugh. With Sony and Microsoft prepping their own motion-based systems, look who's playing catch-up now.
Game – Guitar Hero II
It wasn't the first music game to come with a plastic instrument, but GH II undoubtedly brought rock and roll to wannabe axe-slingers the world over. Its simple design meant that even Nan could bust out solos like Slash, and the impressive track listing tapped into both bleeding edge metal (Lamb of God, anyone?) and cheesy nostalgia trips (thanks, Kansas). Sadly, it's the closest we'll ever get to being a rock star.
Album – Whatever People Say I Am, That's What I'm Not, Arctic Monkeys
A humble group of lads singing about nights out in their home town of Sheffield hardly sounds like quadruple platinum material, but that's exactly what Arctic Monkeys acheived when their first album became the biggest-selling debut in the UK. Meanwhile Muse paid tribute to the supergroup era with Black Holes and Revelations and every teenage girl in the world was listening to My Chemical Romance and their Black Parade.
Film – Borat: Cultural Learnings of America for Make Benefit Glorious Nation of Kazakhstan
"Jak sie masz? My name-a Borat. I like you!" With those words Sacha Baron Cohen's anti-Semitic Kazakh introduced himself to his unwitting victims and the world. Watching Borat grapple furiously with his naked overweight companion in the middle of a hotel remains one of the most disgustingly hilarious moments ever committed to film, and the outrage it caused will see Cohen go down in history. Is nice!
Book – Cormac McCarthy, The Road
No-one has dealt with the results of a nuclear apocalypse in quite the same way McCarthy did. The story of a man and his son traversing the ashen wastes of a post-apocalyptic America searching for food, water and humanity, is relentless and powerful. Utterly depressing, and yet with tiny cracks of hope shining throughout, its no surprise that it received almost universal praise from the literature world, including America's English teacher, Oprah Winfrey.
And finally…
Australia mourned when crocodile-botherer Steve Irwin died, Mozart celebrated his 250th birthday and the Queen partied for her 80th, and a whale found itself a bit lost when it ended up in the Thames.
More like this: Wharfedale Diamond SW150 review