Rumour mill – iPod Nano Touch cases snapped
We're expecting Apple to pull some new iPods from its hat tomorrow. And guess what? Some cases have leaked on that pesky internet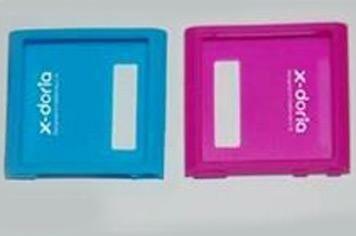 Over the weekend, a couple of leaky casemakers wares have found their way to our browsers – and they seem to suggest that our rumours of a touchscreen iPod Shuffle and iPod Nano were on the money. The pics also shore up rumours of an iPod Touch with a camera.
First up is Chinese casemaker X-Doria (no, we haven't heard of it either, unlike sj.91.com) whose leaked iPod Touch case has a keyhole space in a corner, just the right size for a camera lens and adjacent LED flash.
X-Doria also spilled a couple of funky coloured cases for a small, square device. It's Shuffle-sized, but could also be a reshaped Nano 6G. We'd suggest the former, especially as there seems to be a slit on the back, possibly for a camera, but more likely for a clip. The open front suggests a touchscreen and the design matches these images we showed you a month ago.
Well, one more sleep until we find out for sure. Unless someone manages to get their hands on some real hardware before then.
More stories from Stuff.tv
Rumours:
– Rumour mill – cheap Apple TV to get iTunes streaming
– Mystery Apple leak – Apple TV touchscreen control?
– Rumour mill – Apple to charge for iPad iOS 4 upgrade
Reviews:
– Tested – Apple iPod Touch 64GB
Opinion:
– IMHO – FaceTime deserves face time
– IMHO – Apple mania is wearing thin
Lists:
– 20 best iPhone apps of all time
– 5 apps to download this weekend
– 5 of the best Apple alternatives
Other: