Samsung attacks Apple Maps in advert
The war wages on between the mobile giants and it looks like one side couldn't resist a dig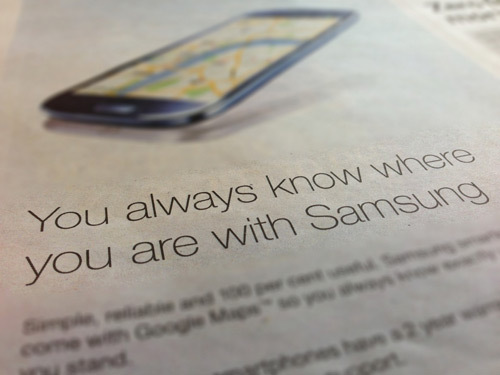 Apple and Samsung aren't famed for their shyness when it comes to attacking one another. Whether it be in the court rooms or on the shop shelves it's all out war. So when Apple dropped the ball with its poor iOS 6 Maps Samsung was there to boot it through the nearest stained glass window.
Samsung has run the above advert in The Times today as a blatant dig at Apple Maps saying, "You always know where you are with Samsung". And it's not the first time – Samsung's last advert for the Galaxy S3 titled, "It doesn't take a Genius" – clearly attacked the iPhone 5.
If only this sort of competition led to innovation rather than a war of suing for ideas, it might be laughable. Instead Apple – the world's richest company – spent more on buying patents than research and development last year. These guys should be pushing the future of technological developments – instead Samsung is spending money on having digs at Apple.
Ideas to break the cycle and help work towards the contact lens screens and cranial implants we all dream of are welcome. Let us know on Twitter after you've read our iPhone 5 versus Galaxy S3 review.
You may also like
Microsoft Surface Phone incoming?
Google Nexus 7 for £60 anyone?
The cost of James Bond's car insurance? £50,000