Samsung BD-C8500M 3D Blu-ray player packs Freeview HD
Samsung has unveiled the details of its new 3D-ready Blu-ray player, the BD-C8500M, and there's a whole load more to this little black box than meets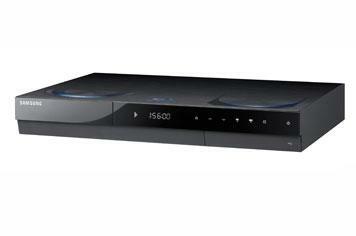 Samsung has unveiled the details of its new 3D-ready Blu-ray player, the BD-C8500M, and there's a whole load more to this little black box than meets the eye.
Not only do you get a Blu-ray player ready to throw an extra dimension at you with the right kit, this device doubles up as a Freeview HD box and a 500GB PVR as well. Cor blimey.
Wait, there's more. With built-in Wi-Fi you can access Samsung's Internet@TV service, complete with BBC's iPlayer and LoveFilm's instant movie rental service, as well as stream content from your PC over your home network. There's even DLNA thrown in as well so you can hook up to any other DLNA devices in your house too.
Usually tech this savvy takes its sweet time to arrive, but it seems luckily, we don't have long to wait. Samsung reckons this should be on our shelves by May, and perhaps even before. No price tag as yet though, but we're expecting it's not going to be a cheap one.