Samsung E60 eReader on sale at WHSmith
Samsung's sliding, stylus-laden ebook reader has hit the shelves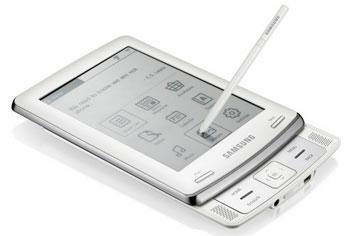 Samsung's E60 eReader has just hit the digital shelves at WHSmith.co.uk
Its 6in e-ink screen puts it in familiar eReader territory, but unlike others we've seen it comes with a phone-like slider design to reveal navigation controls beneath.
The E60 also includes a stylus for making handwritten annotations on books and other texts. Or perhaps just a spot of pictionary on the train.
There's 2GB of storage, expandable via SD card slot and WiFi on board for downloading new books. ePub, PDF and TXT formats are all supported.
It's out now for £200 from whsmith.co.uk and you'll get £80 of (WHSmith-selected) ebooks free, including Do Polar Bears Get Lonely? by Mick O'Hare and The Audacity of Hope by Barack Obama.