Samsung Galaxy Note 2 hands-on review
We got our seemingly small mitts on the mighty 5.5in body of Samsung's powerhouse Note 2 smartphone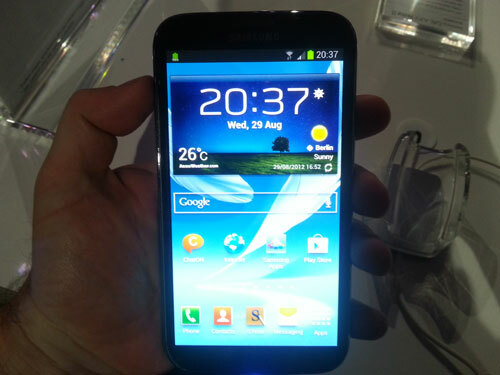 Power
With a super-fast 1.6GHz quad-core and 2GB RAM to back it up everything runs smoothly. Plus the buttery smooth Android 4.1 Jelly Bean and 4G LTE connectivity mean this is one of the fastest mobile experiences available.
Design
It looks very similar to its predecessor, albeit slightly larger with a 5.5in HD Super AMOLED screen. That said, the body is only 9.4mm thin at it weighs just 180g. It will be out in white and black from the outset.
Screen
The HD Super AMOLED display is stunning with rich colours and clear definition. Perfect for films with its 16:9 viewing ratio. And despite it growing to 5.5in the body isn't much bigger, so the screen takes up more of the body for a cool nearly all-screen look.
Interactivity
The new S Pen, when pulled out, immediately opens tools like Quick Note for you to use, and with its new 8mm grip and 1024 point of sensitivity it feels more like using a real pen. The S Pen lets you sign your own docs and with the 1024 points of sensitivity it looks real. However there is still some lag that leaves it falling behind your fastest notes. But given the S Pen SDK 2.2 comes out with the phone, developers will be able to create more apps and uses for the new S Pen.
Multitasking is easier thanks to Air View, which lets you quick view preview info without opening – like easily checking an email's contents from the list view, or hovering over a video timeline for a preview. Photo Note lets you jot down ideas and notes on the back of digital pics. And while writing words in notes the phone will automatically have images pop up as suggestion to replace the words, like a writing emoticon of sorts.
There's also a selection of accessories for the Note 2 include flip covers, docks and Bluetooth accessories.
Battery
The 3100mAh battery coupled with better power efficiency should mean a three day life easily – even when using the 4G LTE connectivity that's on offer. That will remain to be seen until our full Galaxy Note 2 review, which you can expect to see here soon.
Also: Galaxy S3 Jelly Bean update will be coming soon.
You may also like
Samsung debuts Ativ Windows 8 devices
Sony Xperia Tablet S hands on review