Samsung Galaxy Note hands-on
All the functions of a phone in a pocket-friendly tablet that's bringing back the stylus with the S Pen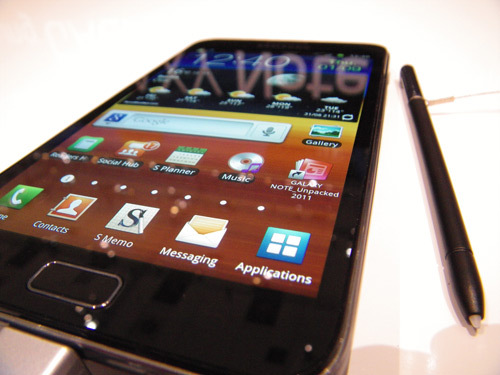 After the unveiling of the Samsung Galaxy Note we ran to get our mitts on the newest category introduced in the mobile line-up – part phone, part tablet. Holding the 5.3in giant-phone-come-tiny-tablet felt totally natural, even if using it against your ear does make you look like a child with a giant toy. But at only 9.65mm thick and 178g, it really isn't overwhelmingly big in your pocket. The real sell, other than doing the job of both a phone and tablet, is the stylus – which is being named the S Pen.
The cunningly stashed (in the Note's body) S Pen is said to use highly advanced pressure sensitivity to let you draw and write accurately. Writing with it at this early stage feels a lot like any stylus – although it was impressively accurate and pretty good at recognising our hieroglyphic handwriting. The exciting part of it is the potential for apps when the S Pen SDK is released soon.
Annotating documents, pictures and screenshots is already possible, while an app for group whiteboard access is on the way. Good old fashioned note taking on the S Planner is a handy, fast way to do away with paper once and for all – allowing you to write directly onto a piece of virtual paper quickly and clearly.
Despite adding a new type of pen interactivity, Sammy hasn't forgotten good old gesture controls, in fact they've improved them. Now you can swipe, drag and pinch your calendar entries to easily manage your time; pause video by simply holding your palm over the screen, and play again by removing it (saying, "talk to the hand" isn't obligatory but fun); and you have a swipe option that lets you easily take a screen shot instantly.
The Super AMOLED HD display (1,200 x 800px) is breath-taking and with the huge 2,500mAh battery, you won't have to worry about it lasting less time than your current puny screened phone. Not that we could test that with this plugged in model – which impressively wasn't getting even slightly hot with its 1.4 Ghz dual core processor making every task instant and smooth. Watch this space for a price and release date.
Also
Samsung Galaxy Wi-Fi 3.6 launched at IFA
Samsung announces 5.3in Galaxy Note
Samsung Galaxy Tab 7.7 with AMOLED screen
IFA 2011 – breaking gadget news