Samsung Galaxy S10 preview: Everything we know so far
UPDATED: Official accessories leak as the launch nears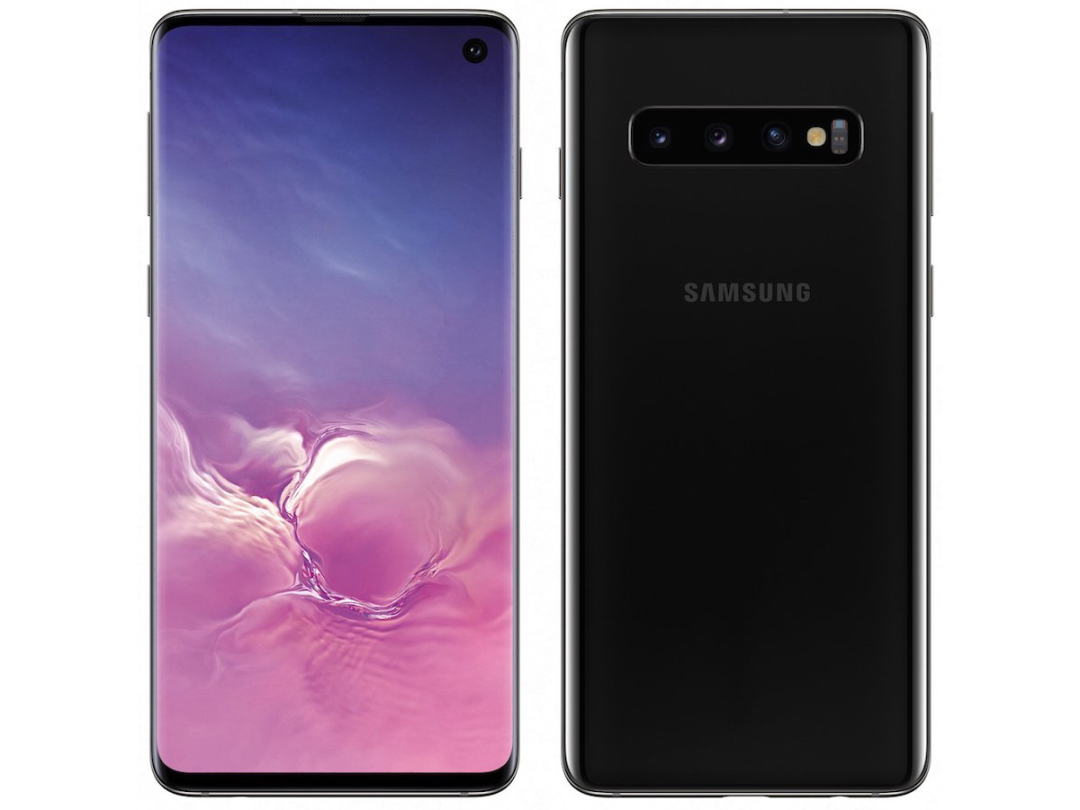 After the bold reinvention of the Samsung Galaxy S8, the Galaxy S9 didn't have quite the same impact. It's still one of the best phones you can buy today, but it's tougher to get excited about a super-expensive smartphone that feels… samey.
But the Galaxy S10 will apparently go big again. Not only does it mark the "tick" part of the Apple-esque tick-tock release cycle that Samsung's followed the last few years, but it's also the big #10 for the brand. And we saw what Apple did with the iPhone X to mark its own legacy.
The rumours and extensive leaks are already flying about what to expect from the Samsung Galaxy S10 – and they suggest a super-appealing set of handsets. If you're an eager Samsung fan, here's what you need to know so far.
(Leaked renders courtesy of Evan Blass)
When will the Samsung Galaxy S10 be out?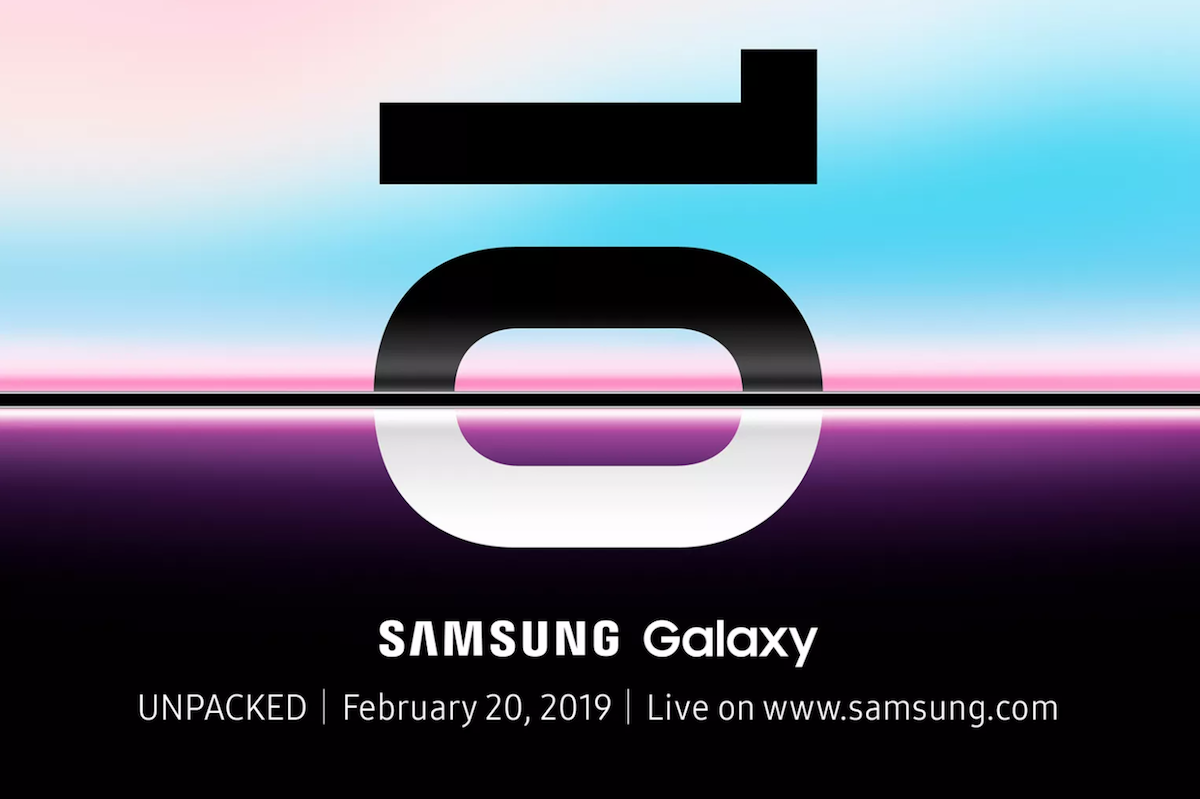 It's official: we will see the Galaxy S10 on 20 February at a Galaxy Unpacked event in San Francisco. Samsung sent out invitations with a big "10" on them, so there's little room for surprises here.
The official date lines up perfectly with what Gizmodo reported in advance, which makes the reported actual release date of 8 March seem all the more likely. The Wall Street Journal also reports an early March release for the three core Galaxy S10 models.
And surprise, surprise: Samsung is already letting people reserve the phone before it's even officially announced. On a page with the phrase, "We know you know what is coming soon," you can put your name on the list to order the Galaxy S10 once it's announced, and then receive it by 8 March. Samsung is also pushing device trade-ins to help offset the potentially high price tags of the S10 line (more info below).
As far as we can tell, this promotion is only in the United States for now, but we'll see whether additional regional pages like this pop up in the coming days.
Fact or fiction?
We'll see the Galaxy S10 on 20 February, and then it looks like early buyers will have it by 8 March.
How much will the Samsung Galaxy S10 cost?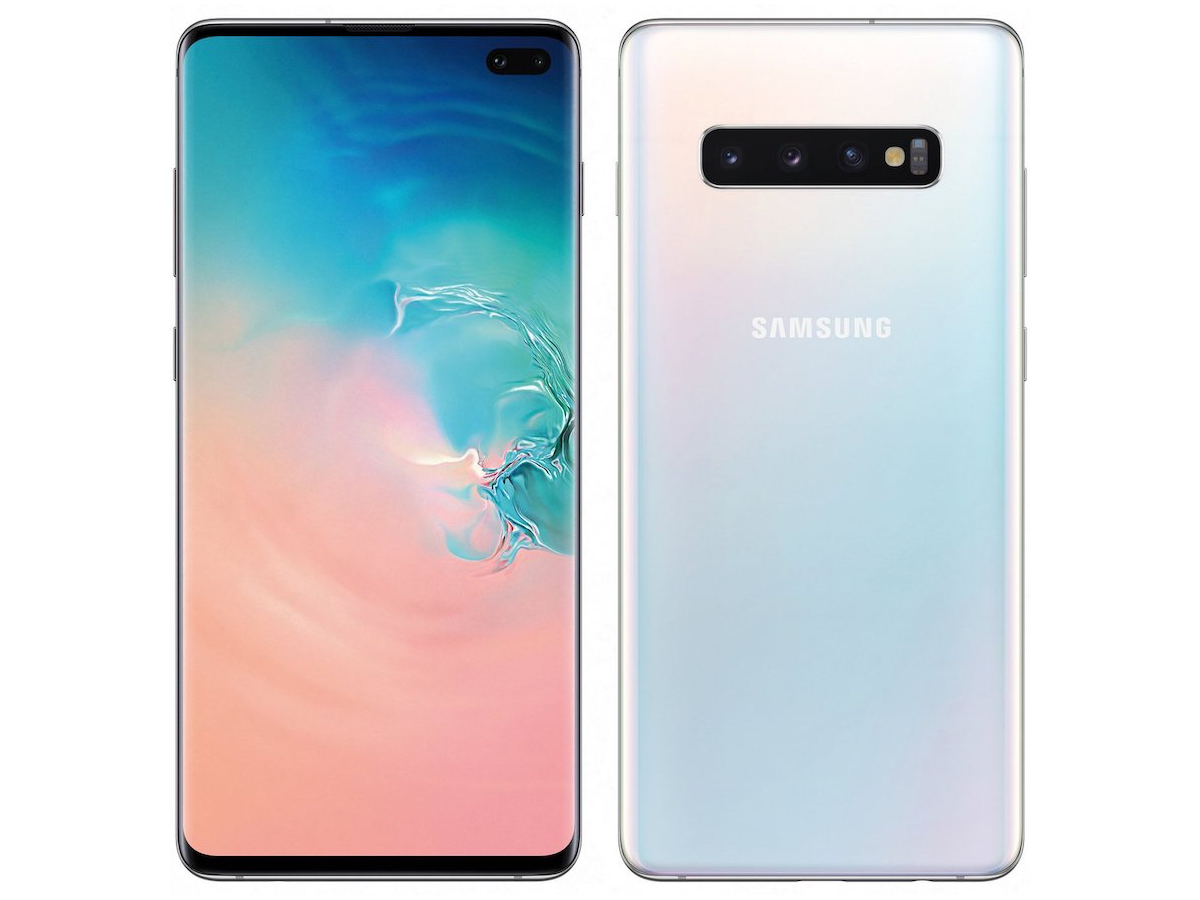 Samsung has continually pushed upwards with its smartphone line, and with Apple raising the price bar with the iPhone X/XS and the XS Max, we don't see Samsung stopping anytime soon.
Gizmodo suggests that the base 6.1in Galaxy S10 will sell for £799 with 128GB of storage, with a 512GB model bumped up to £999. The larger 6.4in Galaxy S10+, then, is said to sell for £899 for a 128GB model, with a 512GB version for £1099 and a 1TB (!) edition for a whopping £1399.
Meanwhile, a lower-end, non-curved 5.8in edition called the Galaxy S10 Lite is expected to sell for £669, making it a potentially lower-priced rival to Apple's iPhone XR.
A January leak from TuttoAndroid suggests Italian pricing for every model. It suggests a price of €779 (about £685) for the Galaxy S10 Lite, €929 (£815) or €1179 (£1035) for different Galaxy S10 configurations, and €1049 (£920), €1299 (£1140), and €1599 (£1400) price points for Galaxy S10+ versions. That's all pretty close to the other leak with GBP pricing.
Fact or fiction?
If true, these price points see the base Galaxy S model rising yet again, with lower and (much) higher options to boot.
What will the Samsung Galaxy S10 look like?
Samsung's recent pattern suggests a design reinvention for the Galaxy S10. It happened with the Galaxy S6 and S8, and the Android market has shifted quite a bit over the last year.
Will the Galaxy S10 start fresh? Will it pack an iPhone X-esque notch, like many of its Android competitors? In September 2018, mobile boss DJ Koh told Chinese media that the Galaxy S10's design shifts will be "very significant," according to SamMobile. He went on to suggest that the handset will be offered in "amazing" colours, hopefully bringing in a wider array of options than the company's recent flagships.
Reliable leaker Evan Blass tweeted in November 2018 that the Galaxy S10 will use a "punch-hole" style cutout, which means a little black hole in the display rather than a larger notch that's connected to the top bezel. Samsung showed a "Galaxy O" display concept at its Developers Conference earlier in the month, which has just a small hole in the upper left corner.
Fellow leaker Ben Geskin has been whipping up concept renders using that idea, which you'll see up top. Samsung's new Galaxy A8s offers exactly this kind of design in China.
Bloomberg claims that there will be three core models of the Galaxy S10, with the cheapest model likely to have a flat screen rather than a curved one. The site also suggests that the Galaxy S10 will be about the same size as the Galaxy S9, with very little bezel at the top and bottom as well as a front-facing camera that is "visible and tucked under the display."
Reports peg the standard Galaxy S10 screen size at 6.1in, while the S10+ goes larger at 6.4in and the smaller, flatter S10E comes in at 5.8in (same as the current Galaxy S9). TuttoAndroid suggests black, yellow, white, and green editions of the Galaxy S10 Lite, with yellow, white, and green for the Galaxy S10 and Galaxy S10+. The S10+ may also have two special editions, although there are no details on those just yet.
The above image came from AllAboutSamsung, which posted a cache of real Galaxy S10 and S10+ photos in late January. They have more shots from all angles, so hit the site link for even more.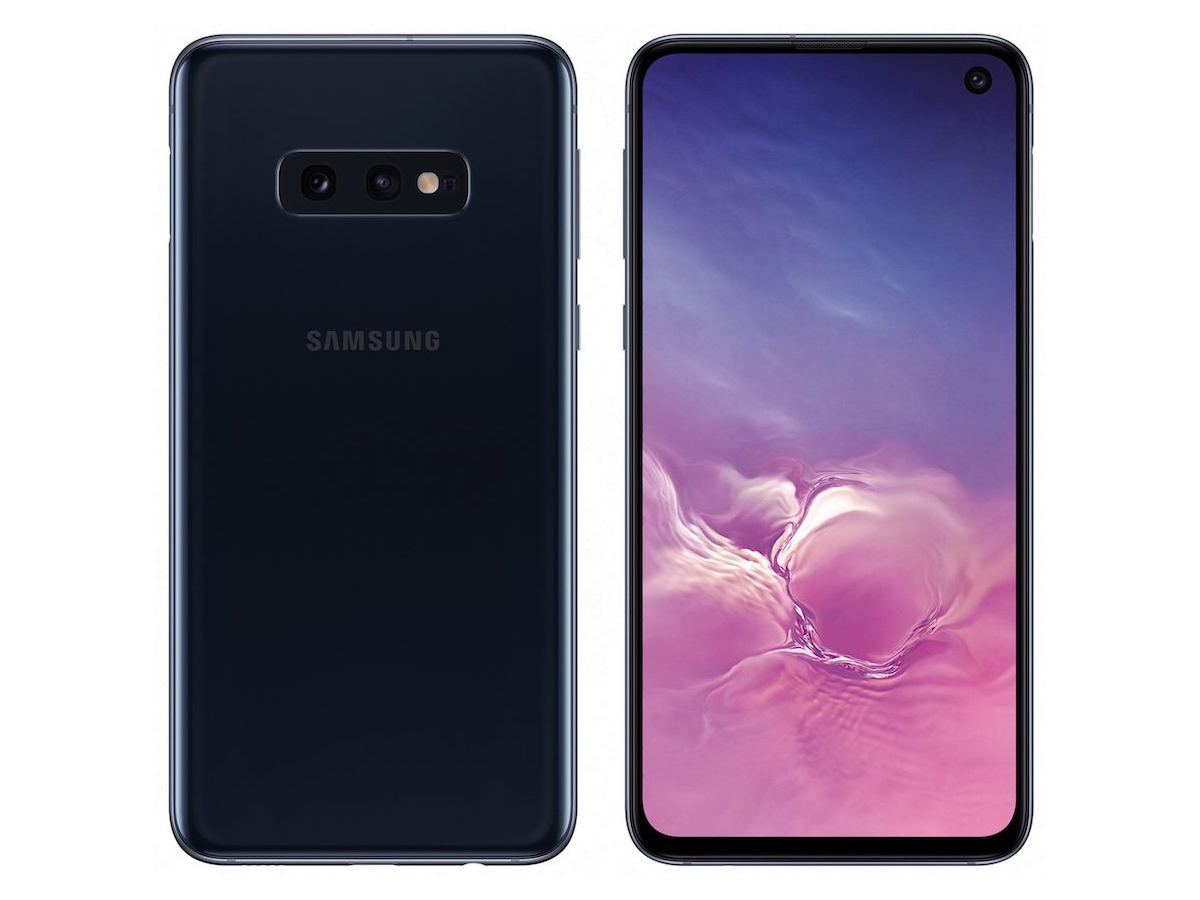 The image above is purportedly a leaked render of the Samsung Galaxy S10E or S10 Lite, via Evan Blass. It's the smallest and only flat-screened phone of the bunch.
Retailer Mobile Fun revealed in early January that it believes the entry-level model will be called the Galaxy S10E instead of the S10 Lite. That's according to a Chinese supplier that the site claims a long-standing relationship with.
Interestingly, GSM Arena's source suggests that the smallest Galaxy S10 won't have that additional branding element – it'll just be a smaller "Galaxy S10." That seems potentially confusing to consumers, but we'll see how it shakes out.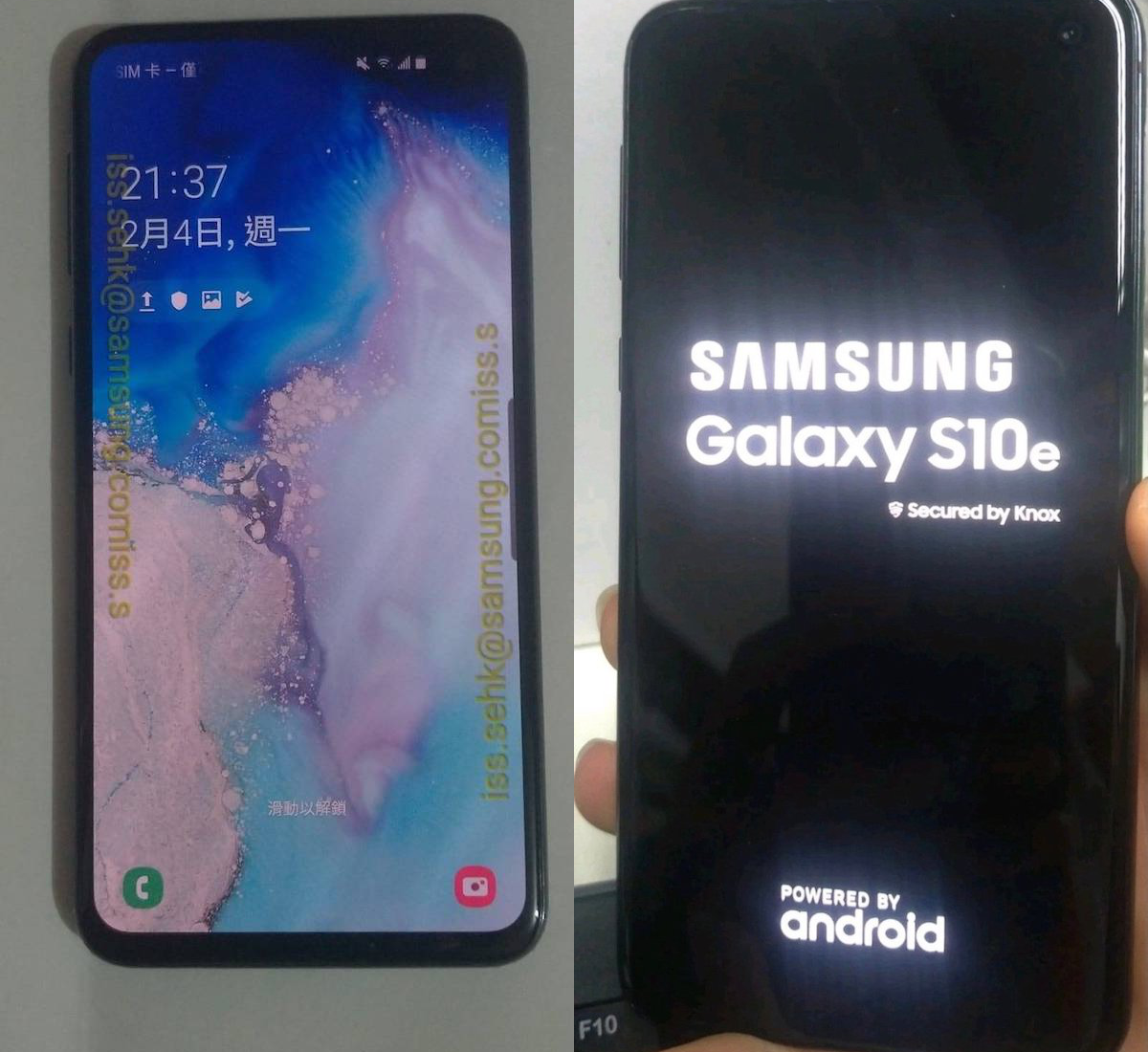 And here are some leaked photos of the smallest, flat Galaxy S10, which really does seem to be called the "Galaxy S10E." They come from Slashleaks via leaker Ishan Agarwal, and show another example of how the onboard wallpaper will probably try to make the pinhole fade from view a bit… at least on the home and lock screens.
Fact or fiction?
This all seems pretty certain at this point! Bring on the Samsung pinhole powerhouses.
What about the Samsung Galaxy S10's screen?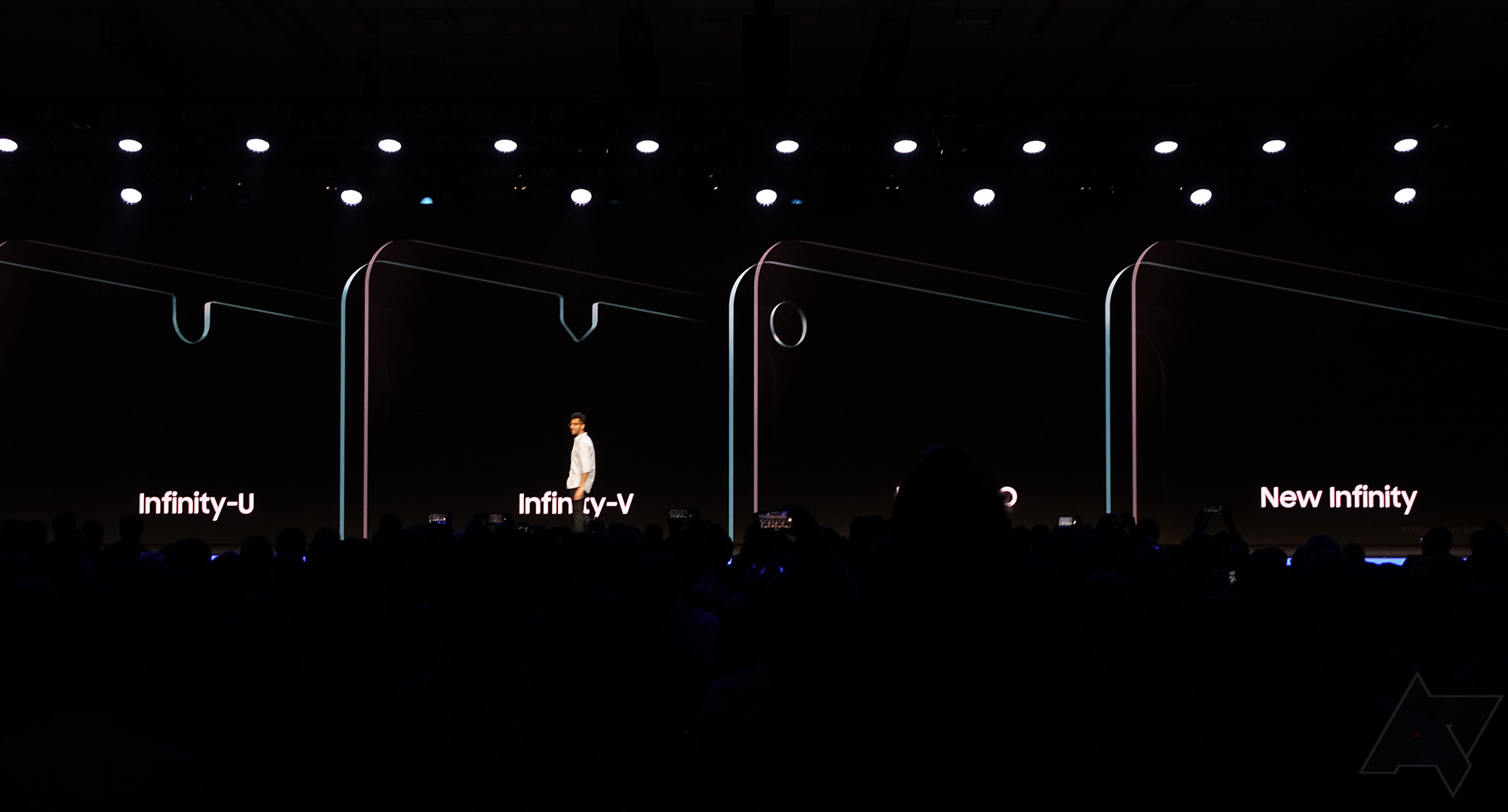 The Galaxy S9 arugably still has the best screen on the market today, and we have a hunch that Samsung will aim to keep that crown for as long as it can.
One rumour, from leaker Ice Universe, suggests that Samsung will up the resolution this time around, potentially pushing past the QHD+ of the Galaxy S9 models. The leaker suggests a pixels-per-inch count of 600+ for the handsets, while the S9 currently sits at 570ppi and the S9+ comes in at 530ppi. It's unknown whether the Galaxy S10 Lite will go for a lower-resolution screen to save money.
Bumping up to 4K resolution would provide a vastly higher ppi count, but would also suck up loads more power from the battery. Perhaps Samsung will shoot for something in the middle for its next Super AMOLED wonder?
Leaker IceUniverse suggests that the Galaxy S10 models will also adopt special effects around the pinhole, with the border lighting up when the camera is activated or it recognises a face. Rather than obscure the camera hole, Samsung seems intent on highlighting it.
(Image via Android Police)
Fact or fiction?
We think it's entirely possible that the Galaxy S10 nudges up the resolution a bit, kind of like the iPhone X went just past 1080p.
How much power will the Samsung Galaxy S10 pack?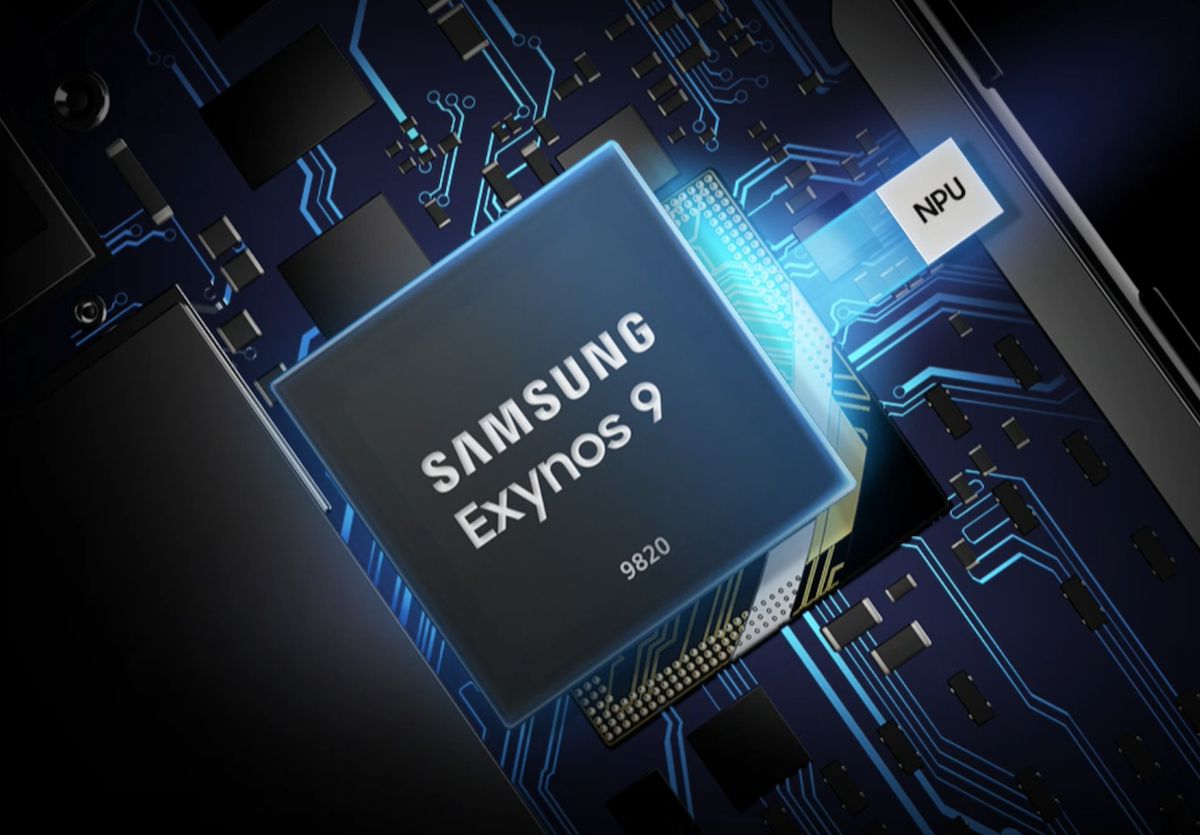 Samsung's in-house Exynos chips, used in the UK and elsewhere, have consistently led the Android pack in recent years, with the top-end Qualcomm Snapdragon chips (used in the U.S.) have been pretty close.
We'll see a new Exynos chip for 2019, of course, packing even more power than before. It's called the Exynos 8920, and it can handle AI processing needs up to seven times faster than the Exynos 8910. Qualcomm's new chip, meanwhile, is called the Snapdragon 855. Like the Exynos 8920, it's built for 5G connectivity, and it claims to provide 3x the AI speed than the Snapdragon 845.
These are just specs on paper for now, but leaked benchmark tests show very promising results. A Geekbench score for the Exynos 8920 shows a single-core score of 4472 and multi-core of 10,387, while the Snapdragon 855 has been measured at a single-core score of 3,413 and multi-core of 10,256. That suggests that, as we've seen in the past, the Snapdragon available in America and some other territories won't be as proficient with single-core tasks, but will be very close when it comes to demanding multi-core needs.
On the other hand, Apple's A12 Bionic chip in the iPhone XS Max hits a single-core score of 4,797 and a multi-core tally of 11,213. So while these new chips come ever closer, they're still not beating last year's top iPhone chip. Apple continues to lead in benchmark testing, but we'll see how these phones feel in real-world usage. We're sure all of the Galaxy S10 handsets will feel incredibly swift and powerful indeed.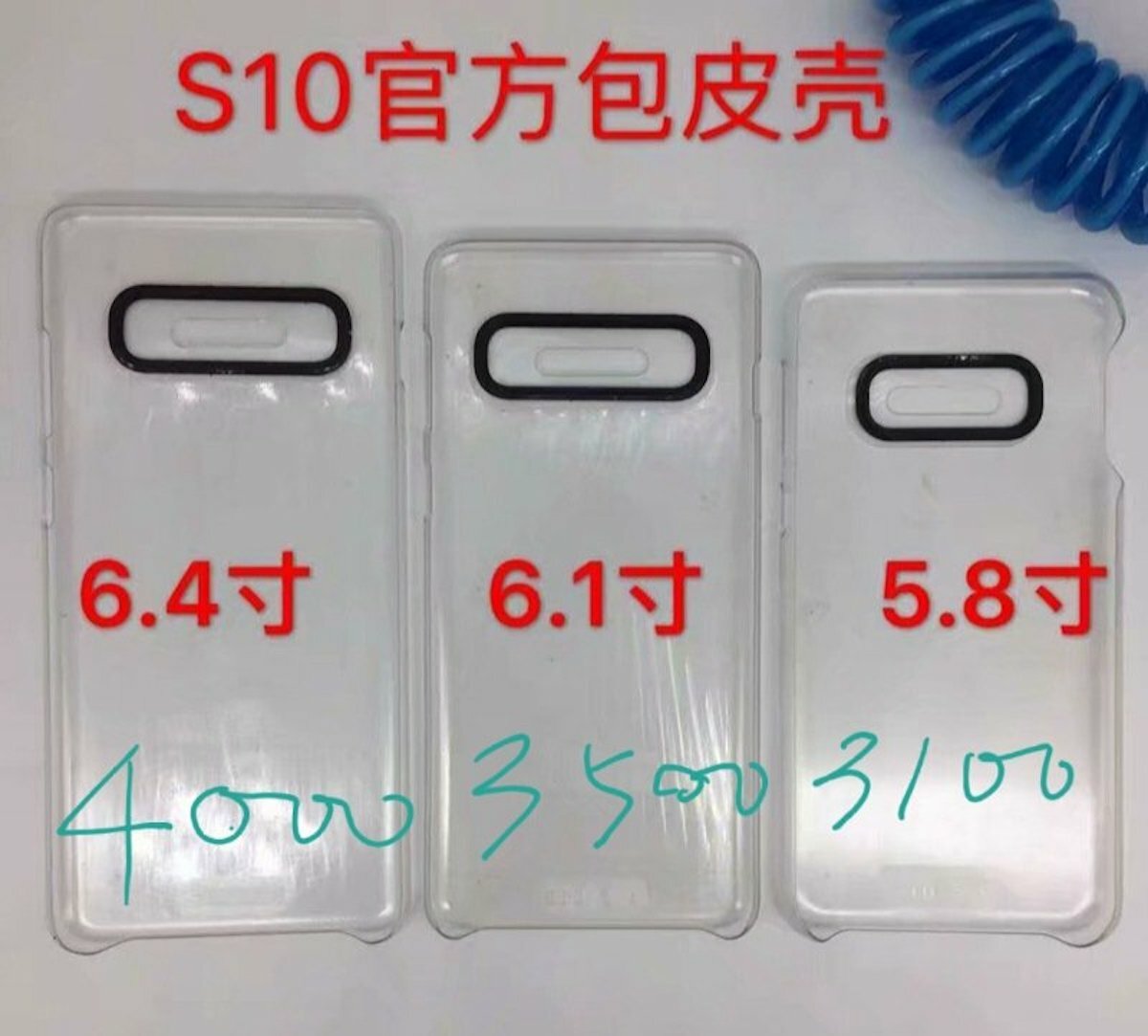 As for battery life, the above image comes from leaker IceUniverse and seems to suggest the battery capacity for each model: 3,100mAh for the Galaxy S10 Lite, 3,500mAh for the standard Galaxy S10, and 4,000mAh for the Galaxy S10+.
The S10 and S10+ both see a 500mAh bump over the Galaxy S9 and S9+, respectively, although both phones are also packing larger screens this time around. We'll have to see whether optimisations end up delivering any noticeable battery life increase in use.
XDA Developers contributor Max Weinbach claims that the Galaxy S10 E/Lite model will ship with 4GB RAM and 128GB internal storage, and that the standard Galaxy S10 will have 6GB RAM and 128GB or 256GB storage options. Meanwhile, his sources point to either 6GB or 8GB RAM in the Galaxy S10+, with a choice between 128GB, 256GB, and 512GB of storage.
Fact or fiction?
This all sounds right to us. Question is, can Samsung's next chips match up to Apple's industry-leading A12 Bionic mobile processors?
What kind of cameras will the Samsung Galaxy S10 have?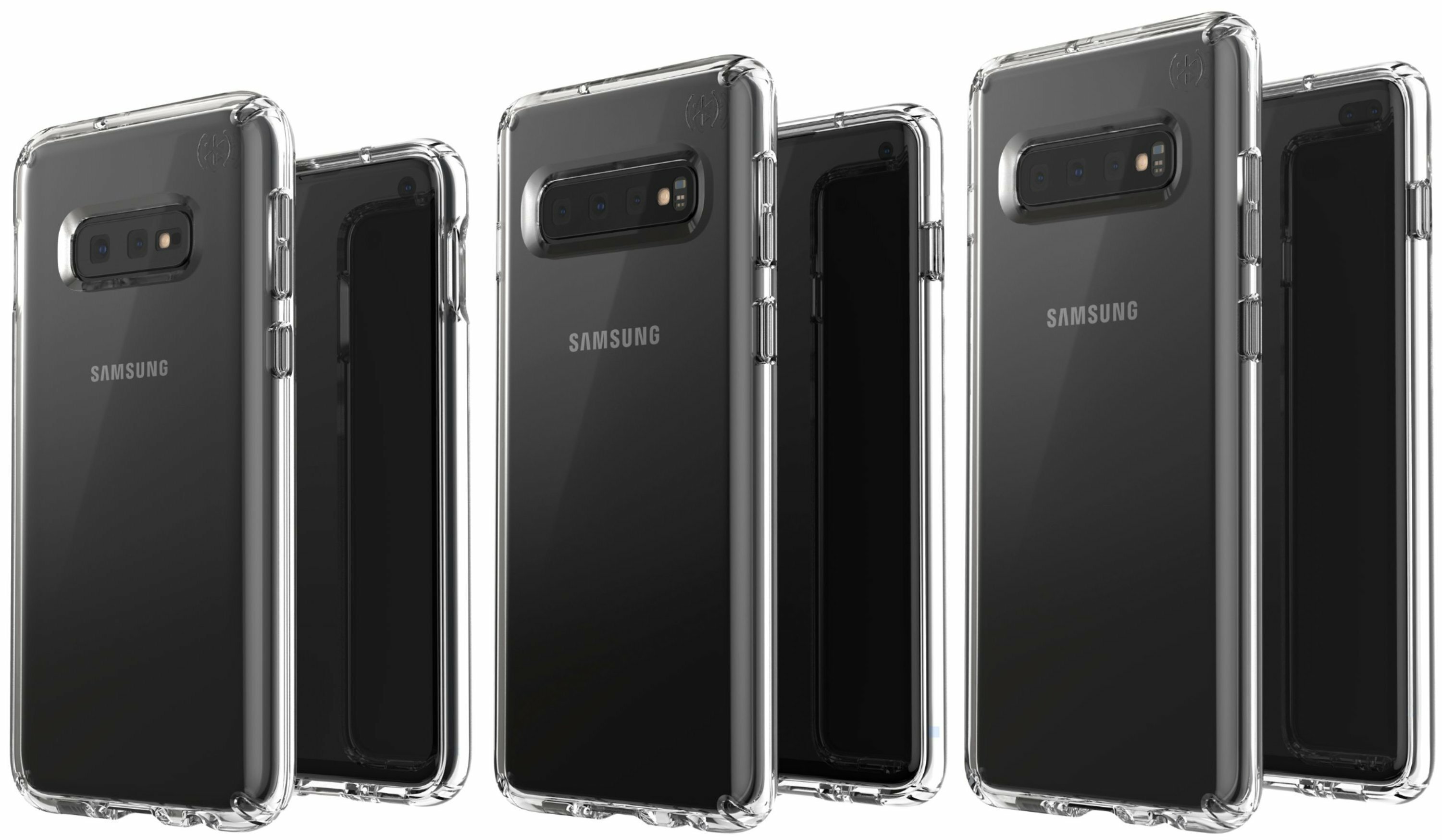 Remember when putting three cameras on the back of the Huawei P20 Pro seemed downright silly? Well, the P20 Pro ended up stunning us with its camera setup, and now competitors seem ready to follow in their footsteps.
KB Securities analyst Kim Dong-won believes that Samsung will follow suit with the Galaxy S10 and put their own triple-camera setup on the back (via SamMobile). ET News suggests that the top-end 6.4in Galaxy S10+ will feature three cameras on the back and two on the front (five total), while the standard S10 model will have three back cameras and one on the front (four total), and the smallest E/Lite model will have two on the back and one up front (that's three).
PhoneArena suggests that the triple-camera setup on both the Galaxy S10 and S10+ will be identical, and that rumours of a quad-camera approach are unfounded.
The aforementioned Weinbach claims that all three models will have a main 12-megapixel camera with the same variable aperature (f/1.5 or 2.4) as the Galaxy S9, with both auto-focus and optical image stabilisation in tow, and also an ultra wide-angle 16MP (f/1.9) camera without auto-focus or OIS. Meanwhile, he suggests that the Galaxy S10+ will add a third 13MP telephoto lens (f.2.4) with both auto-focus and OIS. All three will have a Pixel-like "Bright Night" mode
That suggests just two cameras on the standard Galaxy S10, which contradicts other reports – but leaker IceUniverse has since said that Weinbach's info is wrong, and that the standard S10 will indeed have all three of those cameras on the back. Dueling reports always makes leaks like these seem dubious, but that's all part of the run-up to an official announcement.
What you're seeing above is a purported render leak of all three phones in cases, via Evan Blass, which shows a triple-camera setup for both the Galaxy S10 and S10+, along with two cameras on the back of the S10 E/Lite.
Fact or fiction?
Will a triple-camera approach help Samsung retake the camera crown that it's lacked of late? Or will it just be an expensive way to match up with rivals? We'll have to wait and see.
Is there anything else I should know about the Samsung Galaxy S10?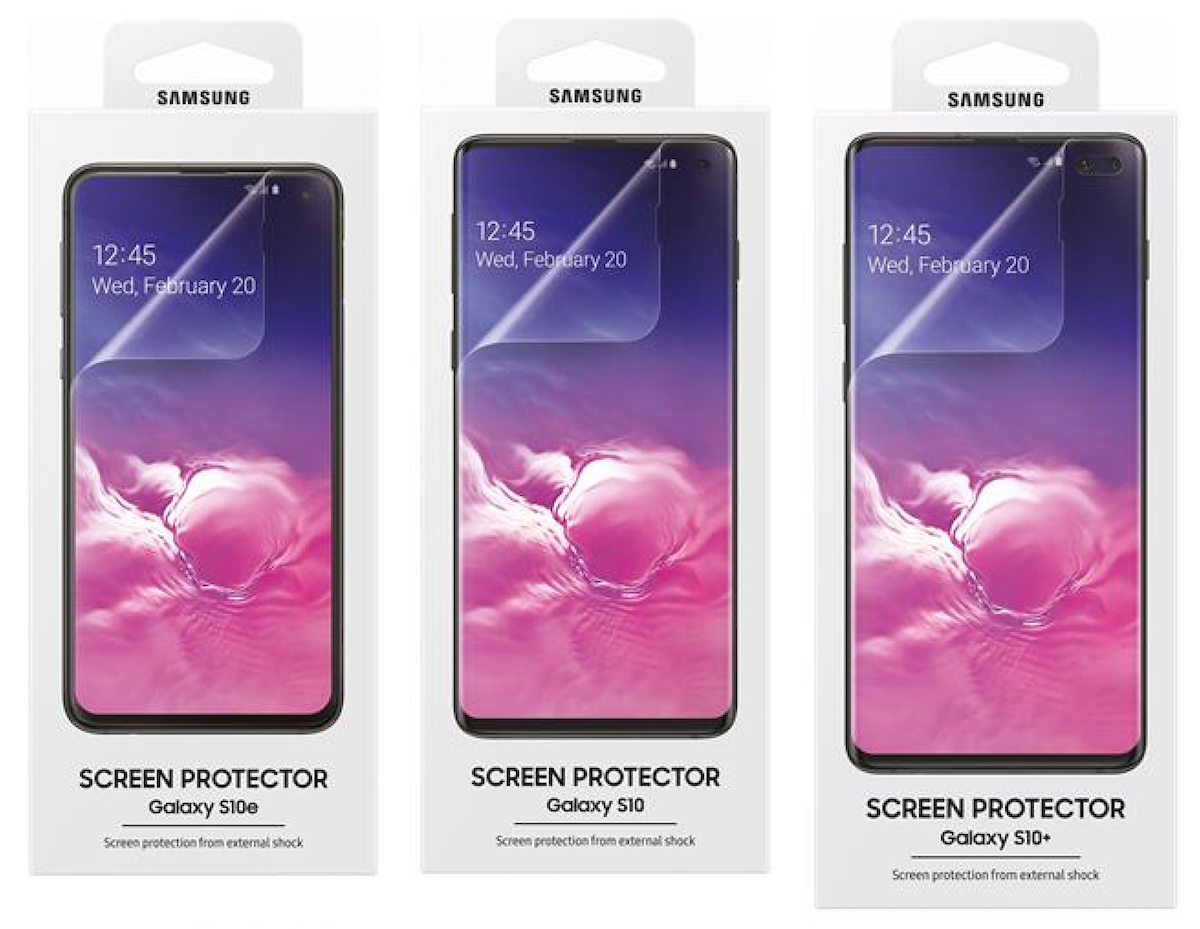 The Galaxy S9 thankfully moved the back fingerprint sensor to a more comfortable location, but the Galaxy S10 may do something else entirely: put it in the display.
How? According to ET News, Samsung has confirmed that it plans to put a Qualcomm-produced ultrasonic fingerprint sensor in the Galaxy S10, and it'll sit under the display and read your fingerprint for security.
"Samsung Electronics has decided to commercialize the display fingerprint reader on the Galaxy S10," said Samsung Electronics in the statement sent to ET News, translated into English. "We know Samsung Display is in charge of the display and Qualcomm is in the spotlight."
A SamMobile report in late August suggested that the two higher-end Galaxy S10 models will include the ultrasonic fingerprint sensor in the display (which Evan Blass has since echoed), while the lower-end version will instead use an optical fingerprint sensor (like the Huawei Mate 20 Pro) in the screen. The optical approach is considered to be less consistent, but it's also much cheaper technology.
However, according to Bloomberg, the cheapest version of the Galaxy S10 may skip the in-display fingerprint sensor. Mobile Fun has since backed this up in January 2019, suggesting that the Galaxy S10 E (or Lite) does not have an in-screen sensor.
The ultrasonic fingerprint sensor could provide an unexpected headache, however: case maker ArmadilloTek claims that it has used a test model and that screen protectors don't work on the S10 phones. As a result, their Vanguard case won't have a screen protector, and it could prove to be an impediment to other case makers and users who rely on that extra later of protection.
However, blogger Roland Quandt has uncovered an official screen protector kit (above) for all three Galaxy S10 models, which shows that at least some screen protectors will work. The rumoured issue comes with tempered glass screen protectors – i.e. the really good stuff.
The Galaxy S10 and S10+ may also have a "Powershare" feature that lets the handset wirelessly charge other phones placed on its back, suggests Gizmodo. That's the same kind of ability seen on the Mate 20 Pro. FCC specs (via GSM Arena) have since confirmed this, showing 9W charging capabilities while the Mate 20 Pro's are said to be under 5W.
Thankfully, the Galaxy S10 models look to keep the 3.5mm headphone port intact – that's according to the all-angles photos shared by AllAboutSamsung.
Samsung may also help lead the 5G charge with the Galaxy S10. The Bell reports that Samsung will release a 5G-compatible variant of the Galaxy S10+ early next year, as Korean carriers launch 5G service in March 2019 and other countries may follow suit. The report suggests that the 5G version will be sold in limited quantities, which make sense given the likely early demand, and that it will also be pricier than the standard Galaxy S10+ model.
Bloomberg suggests that the 5G model will work with Verizon in the United States, as the largest U.S. carrier plans to make a big push for the technology as 2019 gets underway. In December, Samsung showed a new prototype 5G phonewith an odd notch at the right side of the screen, but it could be essentially hiding the kind of pinhole cutout design we'll see on the actual Galaxy S10. Gizmodo, meanwhile, believes that 5G support won't hit the Galaxy S10 until Q2 2019.
The Galaxy S10 will also apparently feature Wi-Fi 6 support, according to FCC specs, which could provide better performance when used with compatible Wi-Fi 6 routers.
Also, you can be sure that the Galaxy S10 will use Android 9 Pie with Samsung's new One UI interface, which streamlines and simplifies things. Blass suggests as much, as well.
Fact or fiction?
A 5G-packing Galaxy S10 will all the other bells and whistled rumours to date? Sounds amazing to us. We can't wait to hear more about what Samsung has in store for 2019.
Just in case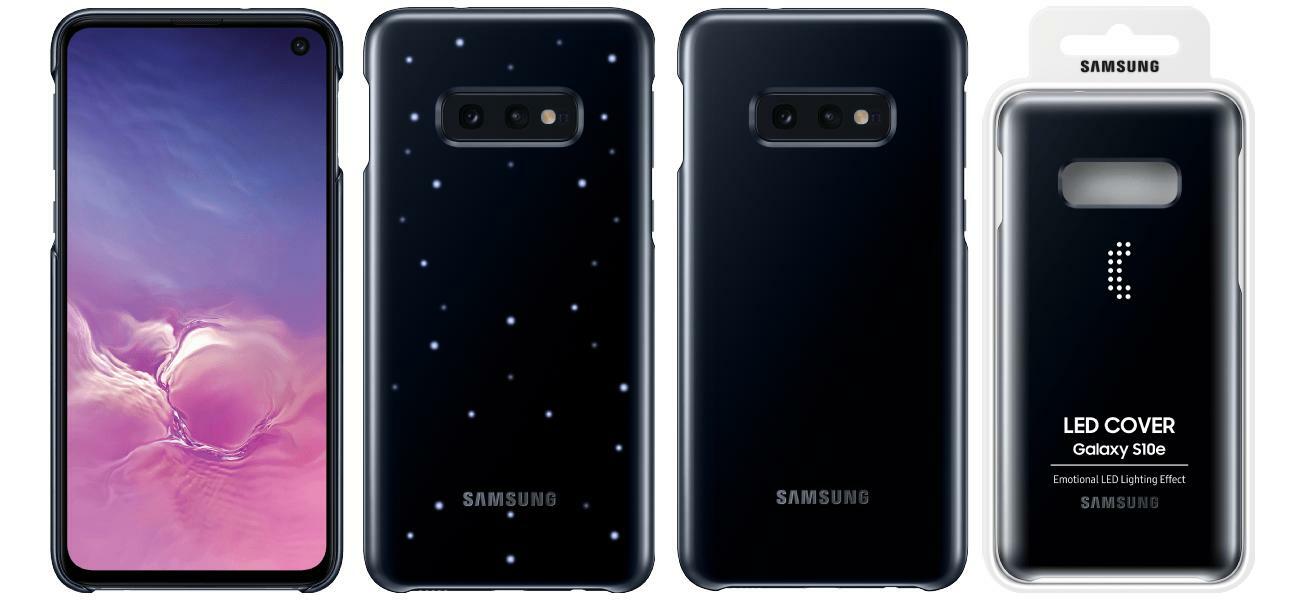 Here's something interesting: blogger Roland Quandt has uncovered this leak for an LED Cover for the Galaxy S10E, and he suggests that the S10 and S10+ will offer the very same accessory.
Samsung has released LED covers for the front of its past phones, but this LED case snaps onto the back and provides visual notifications (like a phone icon when you receive a call, we presume) and a starry night-like effect. Quandt says it promises an "emotional LED lighting effect" and that there's also a white version of the case available.
Fact or fiction
It looks real, certainly! Do you need it? Eh…
One more thing…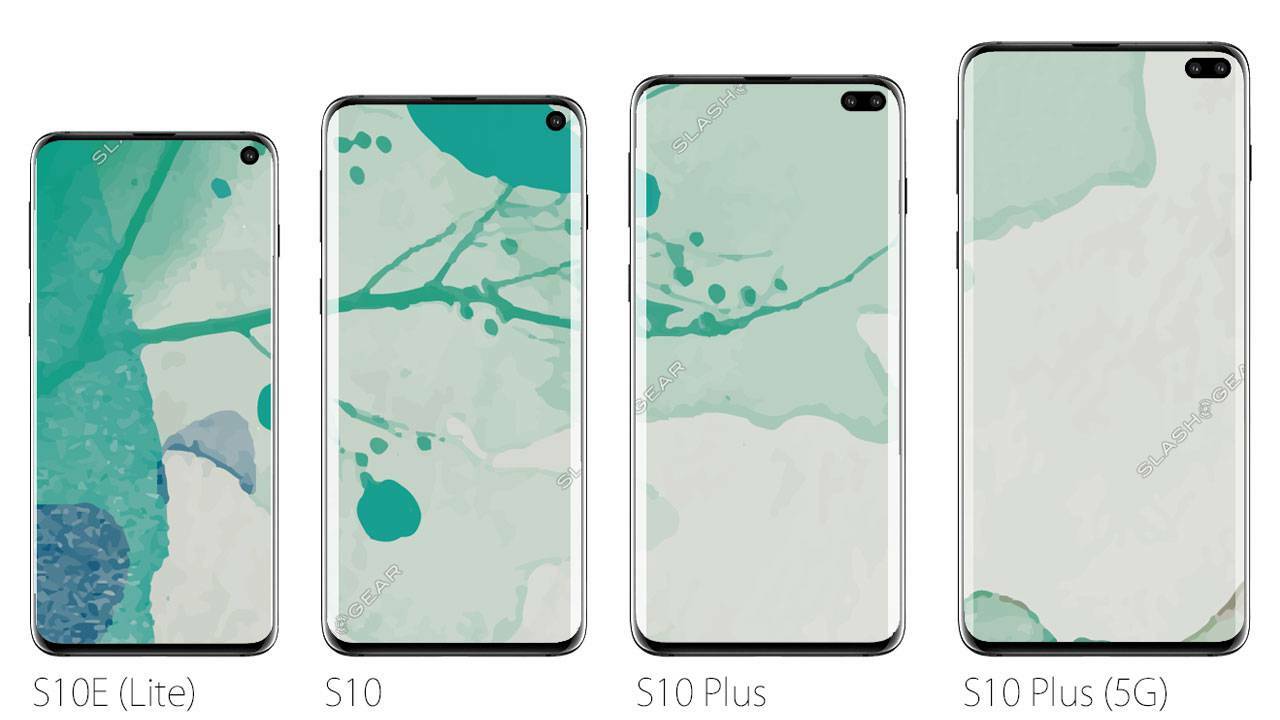 Now this is a wild rumour. The Wall Street Journal reports that Samsung has a fourth Galaxy S10 model in the works that's being called the Beyond X internally. Supposedly, this handset has six total cameras – three on the front and three on the back.
Additionally, it's said to have a 6.7in display and 5G network support, making it the ultimate, ultra-sized edition of Samsung's flagship. XDA Developers contributor Max Weinbach suggests that it will have 8GB and 12GB RAM configurations, and offer storage options of 256GB, 512GB, and a whopping 1TB.
The report suggests that it will debut in mid-February along the other three models, although it may not release until 5G networks are up and rolling – potentially in Q2 2019, as the recent Gizmodo report claims. The Wall Street Journal also believes that it will be announced later in the spring, at a different time than the confirmed 20 February reveal for the three core models.
Weinbach adds that it will initially be exclusive to Verizon in the United States, although it's not clear if that will restrict the international release at all.
The above concept renders from SlashGear show how the phone could size up against the rest of the Galaxy S10 line.
Fact or fiction?
Sounds expensive! We'd love to see this thing in action, but also imagine that it might be overkill.