Samsung Galaxy S4 launch liveblog
We're in New York, about to be dazzled by Samsung's new flagship smartphone. Join us, won't you?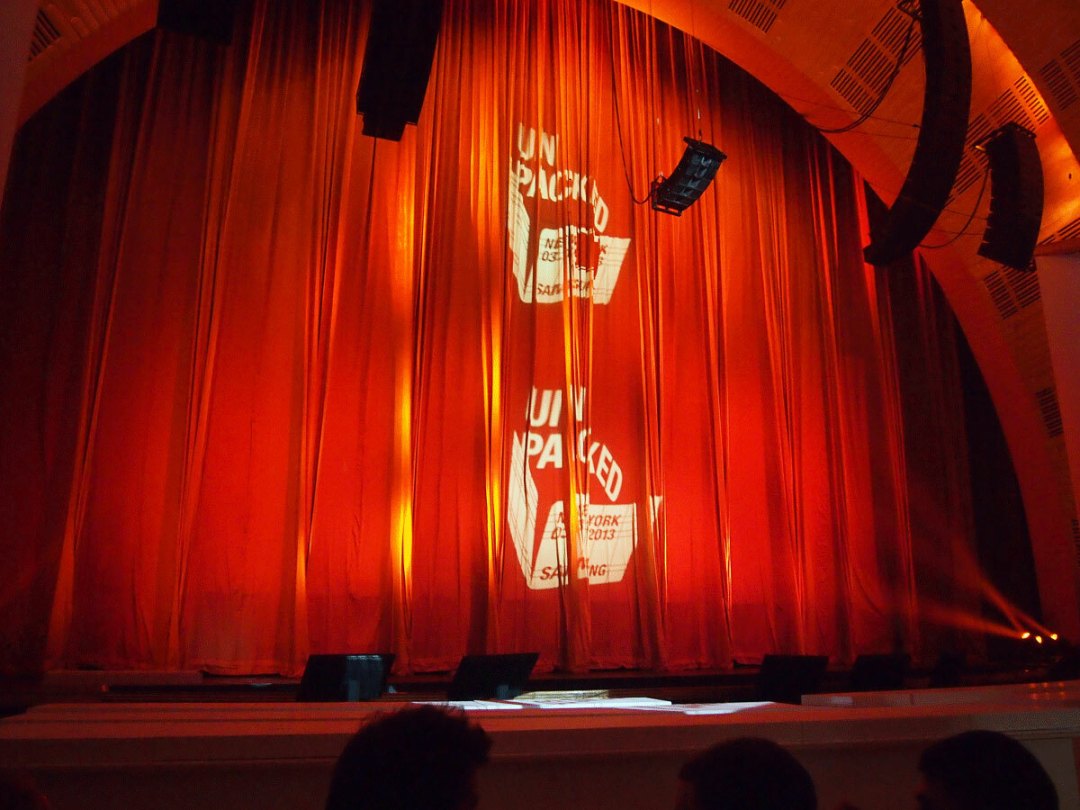 The Samsung Galaxy S4 is set to be revealed tonight at Samsung Unpacked in Times Square, New York. If you're as excited as us you'll be finding it hard to assimilate all the specs and speeches being thrown at you. Let us deal with the stress of the event so you can enjoy live updates of everything you need to know, without the corporate speak.
Things kick off at 11pm GMT – so while you're waiting, check out our Samsung Galaxy S4 news round-up to whet your appetite.
MOST RECENT POSTS AT THE TOP – HIT REFRESH TO VIEW
23:57 We're off, join us soon for our hands-on impressions.
23:56 The breakneck rip through the S4's features is over. It's time to get hands-on with the phone.
23:55 S-Health looks like Samsung's attempt to crack lifetracking. It's an app that measures your steps, and the S4 can also link to some scales or a wristband. Looks familiar eh, Fitbit?
23:55 Crikey, more new features.
23:54 Tilt the S4 up or down and it'll scroll the page too. Though we hope this is a feature you can switch on and off. It is.
23:53 Now we're talking – Air Gesture lets you swipe around apps and web pages by swiping your hand, rather like the Leap Motion. You can answer calls with a wave of the hand too. Not exactly essential, but very cool.
23:50 Enough to soundtrack the world's most awkward summer party.
23:49 It lets you connect up to eight Galaxy S4s and play music simultaneously.
23:49 The show has moved back into Grease mode to show off Group Mode.
23:48 Back to that Blackberry-baiting Know feature announced at MWC. It splits the phone into work and home spheres that you can use separately.
23:45 Samsung is keen for the Galaxy S4 to be your driving assistant too – lots of S Voice Drive demos about voice control, but no huge leaps from the Galaxy S3 here.
23:41 A partner device for the Galaxy S4, the HomeSync. It's a 1TB cloud device that can connect to the S4 via NFC.
23:38 In fact, Blurb is an official partner for the hard copies.
23:38 Another new camera feature, called 'Story Album' – a Blurb-style service that lets you create a front cover for photo albums, add text, send them to Facebook and order a print version.
23:35 It can do speech-to-text and text-to-speech, and works without a data connection too.
23:35 Samsung now bigging up the new Translator feature, which understands nine languages.
23:33 Another cool-looking feature – Air View lets you hover a finger over panels in apps and get a preview of info.
23:33 Back to the camera and a very nifty new effect called 'Eraser'. Photobombers can be erased in burst mode, as the camera detects motion and gives you the option of deleting them from the scene.
23:32 Same polycarbonate shell too, a shame for those hoping for an aluminium upgrade.
23:31 A tapdancing demo gives us enough time to tell you the GS4 is 3g lighter than the GS3 at 133g.
23:30 Clever effect, if somewhat cheesy.
23:29 It lets you shoot still photos or video simultaneously, and combines then into a kind of postcard.
23:28 The 'talent show' scene is showing off a new 'dual camera' mode.
23:28 A Radio City show wouldn't be the same without a bit of stage show, and that's what we're getting now.
23:27 'Nice job' Samsung.
23:26 Now to battery life. It has a 2600mAh battery, which is still removable.
23:26 Main camera is 13MP, and it'll have 2GB RAM. Memory options are 16GB, 32GB and 64GB and, contrary to rumours, the microSD slot remains.
23:25 New Infrared LED on the front for controlling your TV.
23:24 It's 7.9mm thick – the same as the Sony Xperia Z, but 3mm thicker than the iPhone.
23:23 Round of applause for that, only marginally behind the HTC One.
23:23 Reeling off the specs now. Full HD Super AMOELD screen, 441PPI.
23:22 Director of Product Marketing Ryan Biden on stage now.
23:20 It'll be available from the end of April with 4G LTE, inlcuding the UK.
23:19 The Galaxy S4 is slimmer and stronger.
23:18 And now a video introducing the Galaxy S4.
23:18 Big words from Mr Shin now about living life to the fullest.
23:17 There are vague promises of enhanced security too, with Samsung 'Knox'.
23:16 'Imagine touch-less interfaces.' Sounds like touch-free interface rumours were right.
23:14 'What if we could record sound while taking pictures? Wouldn't it be convenient when the smartphone knows when you look away from the screen?'
23:13 JK Shin, President and Head of IT Electronics at Samsung is on the stage.
23:11 He won't show us what's in the box yet. Hopefully a better ending than Seven.
23:11 A huge orchestra has just appeared on stage, joined by the Galaxy S4 kid.
23:10 It's the advert from Youtube, with the child opening a mysterious box.
23:09 Lights are down, we're off with the beat of a rather loud drum.
23:05 Currently being serenaded by nondescript 80s lift music. The 'show' will start in a few minutes.
23:03 Radio City has the feel of a big Hollywood premiere.
22:55 Five minutes to go!
22:31 We're here with 2000 others for the launch of Samsung's Galaxy S4. Kick off is in 30 minutes.
22:30 Hello from Radio City, 'showpiece of the nation' and now homeplace of rather large smartphone launches.
17:44 Samsung's helpfully provided a livestream, which you can watch above. For the moment it's just displaying a countdown, though…
17:00 While you're waiting for things to kick off, here's a little bit of entertainment that Samsung laid on for crowds in Times Square yesterday. Don't make a song and dance about it…
You might also like
Stuff Office Cat's Diary – 14/03/13
Apple's Phil Schiller slams Android ahead of Samsung Galaxy S4 launch
Google Reader is shutting down and the Internet is angry about it