Samsung Galaxy Tab goes head-to-head with iPad 3G price
That's the word on the high street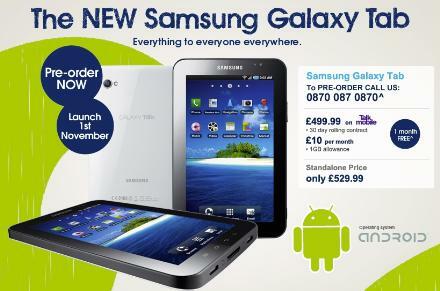 After much rumouring, Samsung's Galaxy Tab is being priced on par with Apple's iPad 16GB Wi-Fi + 3G – £530.
That's the SIM-free price set by Carphone Warehouse on its site, and suggests that Samsung means to give Apple a real scare out there in tablet-land.
Yes, you can pick up an iPad for £100 less if you do away with 3G. Plus you'll get a bigger screen. But remember the Galaxy Tab has two cameras and Flash 10.1 support for uncompromised web browsing.
The Tab'll be available on November 1. And there's still time for the competition to force those prices down further.
What do you think? Will you be siding with Samsung in the tablet war? Or paying a premium to ride with Apple? Let us know which side of the tablet fence you're sitting in the comments.
More from Stuff.tv:
Video Preview – Samsung Galaxy Tab
IFA 2010 – Samsung Galaxy Tab hands-on
Fast facts – Samsung Galaxy Tab
IFA 2010 – 5 of the best new tablets