September in gaming
It's September and the summer holidays are over. But the good news is that the summer drought of game releases is about to end as publishers scramble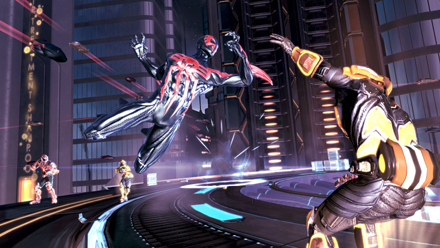 It's September and the summer holidays are over. But the good news is that the summer drought of game releases is about to end as publishers scramble to fill the shelves in the run up to Christmas. So what's out this month?
Things kick off tomorrow with the release of Metroid: Other M, the latest in Nintendo's long-running sci-fi series.
It's a more action-based take on the series, mixing the first-person view of the Metroid Prime games with the third-person approach of the traditional Metroid titles.
It's also tough. Very tough. The controls are frustrating, the button-mashing action reduces your hands to cramped claws and there's even a few instant and unavoidable deaths (Thought we left that all behind with Rick Dangerous? Think again).
On the plus side it looks great and the numerous bosses are the product of an impressively fevered imagination. But it's not a patch on Metroid Prime and the less said about the revelations about heroine Samus Aran's past the better (who would have thought that in the future military salutes would be replaced by a thumbs up?).
On the 10th September there's Spider-Man: Shattered Dimensions, the first of this month's big-name superhero games – the other, Batman: The Brave and the Bold, is out on the 24th.
But Xbox 360 owners may wish to wait for the next installment of the superhero antics of Master Chief in Halo: Reach, which hits the shops on the 14th September. Oh wait, there's no Master Chief. Oh well.
The 17th September's big release is PlayStation Move, Sony's answer to the Wii's controller, but there's also Last Window: The Secret of Cape West – a cool looking DS adventure game that is a kind of follow-up to Hotel Dusk: Room 215.
But things really get busy on the 24th September. Aside from the aforementioned Batman game that Friday also sees the launch of Capcom's zombie-slaughter-fest Dead Rising 2, F1 2010 and the latest edition of Guitar Hero.
By now we all know what to expect with Guitar Hero and there's little sign Activision is messing with the plastic guitar formula for the series' sixth outing. It's subtitled Warriors of Rock, which might suggest that the songs are drawn from the back catalogue of heavy metal throwbacks Manowar. Thankfully they're not.
Also out on the 24th is Sid Meier's Civilization V, the latest in the classic turn-based PC strategy series.
The most shocking development appears to be the introduction of hexagons rather than squares – like all those war games in the '80s. But don't run away – it's Civilization, so chances are you'll still be saying to yourself 'I'll just play one more turn and then go to bed' at 5am.