SIM-free Apple iPhone 4 available to pre-order now
The iPhone 4 has just gone up for pre-order, SIM-free, on the Apple Store.The 16GB version is priced at £499, and the 32GB version for £599, though as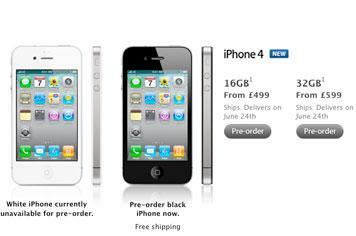 The iPhone 4 has just gone up for pre-order, SIM-free, on the Apple Store.
The 16GB version is priced at £499, and the 32GB version for £599, though as of 10am today the pre-order buttons don't actually go anywhere. When they do go live, you should be able to order one to arrive on 24th June.
Apple is also pulling a Henry Ford – the iPhone 4 is only available in black for the moment, so fans of white phones will just have to wait a little longer.
We're still waiting to find out what UK mobile networks will be charging for the iPhone 4 on contract, and will let you know as soon as the word is out.
While you wait for that pre-order button to start working, check out iPhone 4 – all the stories for the lowdown on Apple's latest wunderkind.