Sony Ericsson X8, Yendo and Cedar launch
Sony Ericsson has launched a family of new handsets of various flavours, colours and shapes. And here they are…Sony Ericsson Xperia X8First up is the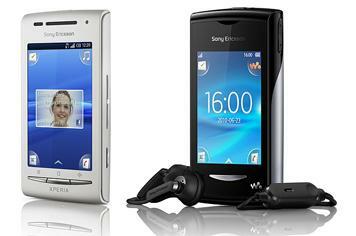 Sony Ericsson has launched a family of new handsets of various flavours, colours and shapes. And here they are…
Sony Ericsson Xperia X8
First up is the X8, little brother to the X10. Like big bro, it runs a skinned version of Android 2.1, but drops an inch of touchscreen (to 3in) and 5MP of camera resolution (to 3.2MP). It'll do all the same Timescape social aggregating tricks, though, and take up less space in your pocket.
£tba, coming in Q3
Sony Ericsson Yendo
We were just thinking it was about time we saw a new Walkman phone, as it happens. And here it is, Sony Eric's first Walkie with a full touchscreen, no less. It's nicked the Xperia's four-corner app speed-dial for easy navigation from its 2.6in screen and packs the usual TrackID stuff, plus some social networking skills.
£tba, coming in Q3
[Related: Gadget flashback – Sony Walkman]
Sony Ericsson Cedar
We're adding this one to the growing pile of smartphones for dummies, though if you were in the market for a non-Android phone capable of running your social networks from the standby screen, capturing 2MP stills and looking fun, the Cedar could be your next phone.
£tba, coming in Q3
Sony Ericsson X10, X10 Mini and X10 Mini Pro update
Good news, X10 owners – that flagging version of Android 1.6 in your pocket will be replaced in a few short months by an upgrade to 2.1. So, not the latest version, but a better one than you've got now. As a bonus, you'll also be getting wireless video connectivity later in the year.
[Related: Smartphones – all the stories]