Sony NEX-7 rumoured for September
The Sony NEX-3 and NEX-5 mini interchangeable lens cameras were only announced last Monday and don't go on sale until next month – but already the int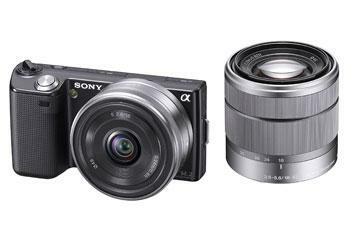 The Sony NEX-3 and NEX-5 mini interchangeable lens cameras were only announced last Monday and don't go on sale until next month – but already the internet is abuzz with rumour and conjecture about the next model in Sony's all-new E mount range.
Most believable is EOSHD's claim that an NEX-7 is on the way. A "trusted source" told the site that this will be a higher-end "enthusiast" model with a focus on video – Sony's answer to the Panasonic GH2, in other words.
The source claims the NEX-7 will capture 1080p video at either 60 or 24fps, but will also be able to snap up 720p movies at an incredible 120fps. That means you'll be able to catch super slo-mo action in gorgeous HD.
The NEX-7 will reportedly also look quite different from the NEX-3 and NEX-5, boasting a shape more akin to a traditional DSLR (although a lot smaller, obviously, due to the lack of a mirror box). There'll be an electronic viewfinder too.
The source also claimed Sony would launch new HD video-toting Alpha DSLRs in the next few months, with models sporting a brand new Exmor HD sensor.
Via: EOSHD