Sony throws magic Beans at the iPod Shuffle
These four cute 'n' curvy numbers promise a monster 50 hour battery and built-in USB connectors to take on Apple's smallest iPod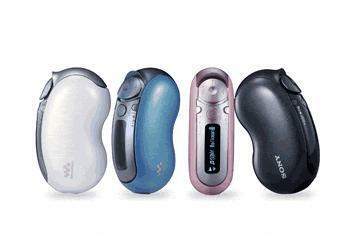 Meet Sony's newest and cutest iPod Shuffle assassins – the 512MB/1GB NW-E200 Beans series.
As well as coming in four colours – black, blue, pink and white – to the Shuffle's one, the Beans best Apple's neck-hanger for specs. Battery life is an incredibly long 50 hours, and the series has a quick charge function that gives three hours playback from three minutes' charge.
The other crucial advantage over the Shuffle is the Beans' top-notch OLED displays. There's also a built-in retractable USB connector for loading the players up with MP3s and ATRACs from Connect.
The 512MB model costs £80, the 1GB's going for £100.
They're both out next month.