Sony unwraps NEX-5 and NEX-3 cameras
Sony has finally squared up to the Micro Four Thirds brigade by officially announcing two stunning compacts with interchangeable lenses – the NEX-5 an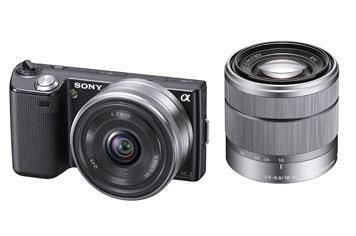 Sony has finally squared up to the Micro Four Thirds brigade by officially announcing two stunning compacts with interchangeable lenses – the NEX-5 and NEX-3.
The NEX-5 is apparently the world's smallest and lightest interchangeable lens camera, and with a body that measures just 24.2mm (albeit excluding the lens grip) we're not going to argue.
Like Micro Four Thirds snappers from Panasonic and Olympus, the 14.2MP cameras uses a 'mirrorless' system to achieve their lean girths. But unlike models from those rivals, Sony has (like Samsung's NX10) based its system on APS-C sensors, which are over 50% larger than Four Thirds sensors and the same size as ones found in traditional DSLRs.
This means strong low light performance, and some pretty nifty features too. Both the NEX-5 and NEX-3 have a 7fps burst mode, a new 3D sweep panorama feature and 3in LCDs. The main difference between the models is that the NEX-5 can shoot 1920x1080i HD videos, whereas the NEX-3 sticks to 1280x720p.
Both snappers also sport a new user interface and control dial that lets you adjust the depth of field and preview it on the LCD. We'll be test-driving this and their other skills this afternoon so look out for a hands-on soon.
The NEX-5 and NEX-3 will both be available from summer – we'll bring you pricing as soon as we get it.
Update: Sony has told us that pricing for the NEX-5 and NEX-3 will be:
Sony NEX-5 with 18-55mm lens £550-£600
Sony NEX-3 with 18-55mm lens £450-£500
16mm pancake lens £200-£220
18-200mm lens £550-600
Both the NEX-5 and NEX-3 will be available from early to mid-June, but the 3D Panorama function will only be available via a firmware upgrade from July.