Stuff Gadget Awards 2012 – Computer of the Year winner
It's quite an achievement to make something that updates millions 
of times a second look out of date – but that's what our Computer of the Year does to the internet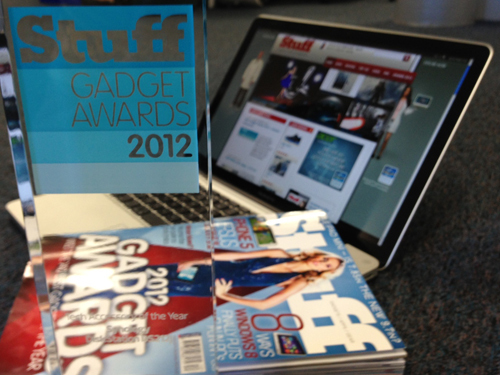 Apple MacBook Pro with Retina display
from £1800, apple.com/uk
It's quite an achievement to make something that updates millions 
of times a second look out of date – but that's exactly what the Retina display on Apple's MacBook Pro does to the internet. It crams over five million pixels into a 15in screen (making it two-and-a-half times as sharp as a full HD TV), which has the unfortunate side effect of making low-res web images look positively pixelated. But you don't buy one of these beautiful monsters because you want to update your Facebook status. With 8GB of RAM, Core i7 processors and flash storage, this machine is designed for photo editing, movie making and graphic designing. It's the best screen in town – and if it makes the internet look old-fashioned, it's doing something right. Read review
Runners-up…
Raspberry Pi Model B
It won't run Crysis 
but our second-top fruit-based computer manufacturer has made the year's most hackable circuit board.
Zotac Zbox Nano XS AD11 Plus
Despite its almost-small-enough-to-lose-down-the-back-of-the-sofa dimensions, Zotac's Zbox Nano is a big hit.
Apple MacBook Air
For most, the Air is the ideal laptop – 17mm of machined perfection. Still, it's not quite as impressive as the Pro.
Alienware X51
The power of a gaming PC, in a box that would slide under the telly? What is this witchcraft?
HP Envy 14 Spectre
Not as slim or light as it's Ultrabook brethren, but its head-turning glass lid is brilliant.
Lenovo IdeaCentre A720
A 27in touchscreen and a folding form factor make this Win-8-ready PC our favourite all-in-one of the year.
Lenovo U300s
Still our top Ultrabook, the U300s is a skinny wonder that's pitched perfectly between power and portability.