Stuff Gadget Awards 2012 – Gadget of the Year winner
Not much more than a year ago, the idea of the iPhone being shunted off its perch seemed about as likely as the London Olympics going by without a hitch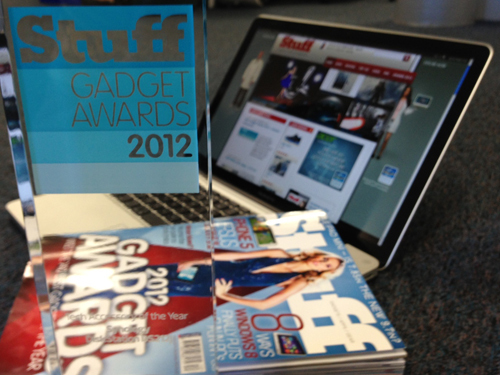 Samsung Galaxy S III
£500, samsung.com/uk
Not much more than a year ago, the idea of the iPhone being shunted off its perch seemed about as likely as the London Olympics going by without a hitch. But here we are at the end of 2012 with a triumphant Games behind us and the best smartphone ever made in our pockets – and it's not one of Apple's. At launch, the Galaxy S III caused a kerfuffle not normally seen outside of Cupertino, before leapfrogging the HTC One X and iPhone 4S on its way to the summit of Stuff's Top 10. Despite recent attacks from Sony, HTC and the formidable (but slightly lost) iPhone 5, it's stayed there – and for that, we bestow upon it the highest accolade Stuff has to offer. Read review
Runners-up…
Raspberry Pi Model B
Who'd have thought a naked circuit board would be worth getting excited about? No-one, until the affordable, hackable Pi arrived.   
Apple iPad
With an unmatched screen and unbeatable app store, the iPad is still the best tablet money can buy. It just requires quite a lot of it…  
Apple iPhone 5
Apple's incorrectly named iPhone 5 (it's actually the sixth) is a stunning bit of a kit. Who needs working maps when you can just sit at home and play with it?
Google Nexus 7
An Android-powered iPad alternative for less than half the price? Google's Nexus 7 tablet is impossible to ignore and almost as hard to resist.
Olympus OM-D E-M5
It might be retro styled, but the E-M5 marks the way forward for compact system cameras. Its lightning-fast autofocus and low-light performance are killer. 
Sony PlayStation Vita
A grown-up portable for the PlayStation generation, the Vita finally makes on-the-go FIFA a reality. All it needs now is a few more must-have games…
Apple MacBook Pro with Retina display
Yes, it costs a small fortune, but you have to admire the engineering that went into putting over five million pixels into a laptop screen. 
Fujifilm FinePix X10
If anyone tries to tell you compact cameras are boring, show them the X10, with its neat retro quirks, including a lens you twist to zoom.
Renault Twizy
Like a piece of the future brought back to the present, Renault's Twizy turns heads everywhere you take it – just cross your fingers and hope it doesn't rain.