Stuff Gadget Awards 2012 – Sports Gadget of the Year winner
We might not have Terminator-style eyeball displays that feed us biometric data just yet, but these trainers are a step in the right direction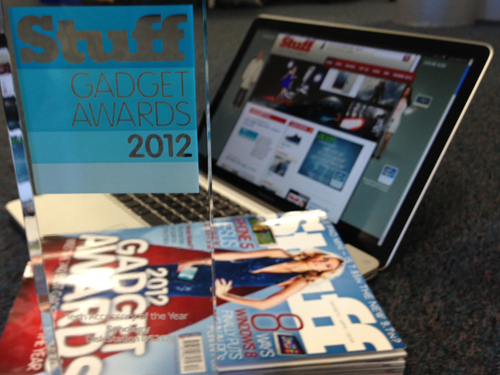 Nike Lunar TR1+
£180, nike.com
We might not have Terminator-style eyeball displays that feed us biometric data just yet, but Nike's TR1+ trainers take a hop, skip and a lunge towards augmenting your exercise. It's all thanks to the  pressure and motion sensors built into the soles. When connected wirelessly to your iPhone or iPod Touch, sports stars such as Manny Pacquiao and Rafa Nadal deliver workout instructions to your headphones, while the trainers determine how your weight is balanced – it won't count a squat, for example, if you're not doing it right (a real pain towards the end of a workout). Nike+ sensors also monitor your running, providing a healthy dose of inspiring online competition for when your puny willpower isn't enough.
Runners-up…
GoPro HD Hero2
Anything that can survive a fall from 12,500 feet without a parachute is alright by us. This hard-as-nails headcam has done just that – and it even carried on recording when it hit the ground.
Motorola MotoActv
Moto's MotoActv plays music, tracks your movement, monitors your heart rate and generally helps you keep fit. It's like wearing a gym on your wrist. 
Fitbit Ultra
This miniscule wireless personal trainer tracks your steps (and the stairs you climb), counts calories and watches you while you sleep (but not in a creepy way). 
Mio Cyclo 305 HC
Don't just strap any unwanted old TomTom to your handlebars and hope for the best. Mio's rugged Cyclo 305 HC is the perfect device for your two-wheeled navigation needs. 
Sennheiser CX680i Sports
With Kevlar-reinforced cables, these gym-friendly earbuds are suitable for all – even the preposterous Arnie-esque iron-pumpers among you.