Stuff Gadget Awards 2012 – Tablet App of the Year winner
Thanks to the internet, you 
no longer need to strap a satellite dish to your head in order to watch Sky TV on the go. That's good for two reasons: you never looked particularly good in hats, and it means the existence of Sky Sports for iPad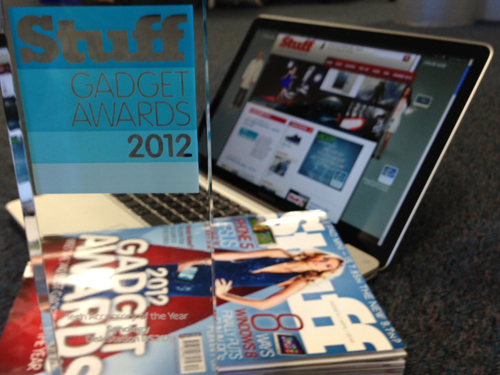 Sky Sports for iPad
from £5/month, skysports.com
Thanks to the internet, you 
no longer need to strap a satellite dish to your head in order to watch Sky TV on the go. That's good for two reasons: you never looked particularly good in hats, and it means the existence of Sky Sports for iPad. Aside from its day-to-day delivery of backpage headlines and action, the app comes to life during Champions League games (allowing you to watch two matches simultaneously) and F1 Grand Prix, when it turns your iPad into race control, with multiple video feeds to choose from and live timing. The only way you're likely to get closer to the action is by attempting to cling on to Lewis Hamilton's back wing.
Runners-up…
FindaProperty.com Search App
Moving house is one of the most stressful things you can do, so use FindaProperty.com's iPad app to take some of the pain away.
Firefox
Mozilla's much-loved desktop browser finally makes its jump to Android tablets, yielding pleasingly nippy results.
Spotify
Bringing all the best bits of the desktop version to your iPad or Android device, this is portable music streaming done properly.
iPhoto
When combined with the iPad's Retina display, iPhoto makes editing pictures almost as fun as taking them in the first place.
Google Currents
A free, easy but no-frills way to get news and magazines on your phone or tablet. Although, we should warn you, there's no Stuff on it yet for you to get your gadget news fix…