Top 10 ways to get budget HD
The hi-def revolution is here, and you can afford it. While you could fork out thousands for a top-end set-up, you can now get great results for less,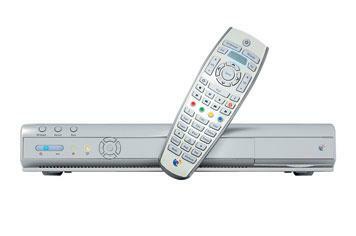 The hi-def revolution is here, and you can afford it. While you could fork out thousands for a top-end set-up, you can now get great results for less, and still have enough left over for essentials like movies – unless you like staring at a blank screen…
Panasonic DMP-BD30E, £350
Now that HD DVD has been battered into submission, it's time to adopt a Blu-ray player. Panasonic's latest offering is your best bet, and it doesn't cost a small fortune. 1080p playback is a given, but it also handles all those neat hi-def audio formats, such as DTS-HD Master Audio.
BT Vision V-Box, £30 plus broadband contract
There's a shortage of HD content on BT's service, but the V-Box can still upscale Freeview channels to 720p or 1080i over HDMI. BT has promised hi-def on-demand content before the year's out, but you'll still need a BT broadband contract.
Samsung DVD-HD870, £70
The quickest route to hi-def nirvana is to upscale your current DVD catalogue. This elegant Samsung player is an absolute bargain. Don't be put off by the fact that it can only upscale to 1080i – it'll still give you warm, fuzzy feelings with its detailed, colourful images.
Onkyo TX-SR605, £400
Once your Blu-ray player is sorted, you need a receiver that can bring the best out of your new pride and joy. This award-winning Onkyo receiver ticks all the right boxes: it has a couple of HDMI inputs and can accept all the fancy hi-def surround sound formats you can throw its way.
Aiptek PocketDV Z300HD, £150
Hi-def camcorders used to cost as much as a Hollywood blockbuster does to make. But, for a reasonable stack of notes you can get behind the lens (and the 2.4in reversible LCD ) of this Aiptek effort. It records onto SD Card in 720p and also has a 5MP sensor for shooting stills.
Apple TV, from £200
This useful little box will stream, store and upscale content from your iTunes library in either 720p or 1080i. It comes with either a 40GB or 160GB integrated hard drive. HD downloads over Apple TV are already available in the US and are expected in the UK any time now. Fingers crossed.
Themescene HD70, £700
For a truly massive picture, there's no substitute for a decent projector. The HD70 has a resolution of 1280×720, so it's perfect for 720p content. It also has HDMI, component video and VGA inputs. But, most importantly, it can chuck out an awesome picture.
LG HT902TB, £270
Rumour has it when Queen sang 'I Want It All,' they were on the lookout for a one-box home cinema system with a 1080i upscaling DVD player and tall-boy speakers. Instead of singing about it they should have been searching their local stores for this absurdly affordable system.
Panasonic Lumix FX35, £250
Following the lead of their camcorder brethren, digital cameras are now getting in on the high-definition act. This 10MP, 4x optical zoom pocket snapper can record 1280×720-pixel 30fps video. Impressive for something this size. Its ultra-wide-angle lens will cram a lot into your shots, too.
LG 32LB75, £550
Feel free to splash out on a 50in flatscreen, but trust us, the money pixies guarding your wallet won't be happy. Placate them by investing in a smart, affordable set like this LG 32-incher. It's 1366×768-resolution TV that can accept a 1080p signal and packs three HDMI sockets.