Top 5 DVD box set deals
With the rise of Blu-ray, DVDs are getting cheaper by the day. If you're looking for a low-cost film fix (often cheaper than renting) or fancy ripping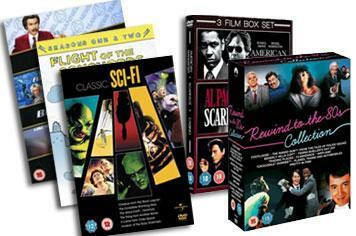 With the rise of Blu-ray, DVDs are getting cheaper by the day. If you're looking for a low-cost film fix (often cheaper than renting) or fancy ripping some films to watch on the go, there's a box set with your name on it…
Rewind to the 80s Collection
£14.99
Need to brush up on your 80s film history, or just want an all day nostalgia marathon? This set of 10 classic 80s movies includes Ferris Bueller's Day Off, Trading Places, Airplane!, Footloose and more…
Flight Of The Conchords – Complete HBO First and Second Season
£14.99
Follow the tale of two Kiwi misfits Bret and Jemaine as they try to make it with their band Flight of the Conchords in the Big Apple. Two seasons of some of the finest musical comedy you're likely to clap eyes (and ears) on.
Will Ferrell Collection: Blades Of Glory / Old School / Anchorman
£5.99
Join Will Ferrell as Ron Burgundy, Chazz Michael Michaels and Frank the Tank in three of his best comic turns. All for less than the price of a single cinema ticket!
Classic Sci-Fi Box Set
£9.49
Marvel at the hammy acting and dinner-plate-on-a-string special effects in this seven disc set of classic sci-fi flicks. Gasp at The Creature From The Black Lagoon, fret about the Invasion Of The Body Snatchers and recoil in horror when you find out that It Came From Outer Space!
American Gangster / Scarface / Casino
£8.99
Get your organised crime fix with these three hard-hitting classics. And while you're at it, make sure you say hello to our little friend.
Looking for more entertainment? Check out one of these:
Ultimate setup – Football-free zone
Gaming greats – Super Mario World (1990)
Movie classics – Dr. No (1962)
Gadget flashback – Playstation