Toshiba launches anonymous Android 3.0 tablet
On paper, Toshiba's Honeycomb tablet has all the makings of a wonderfully high-tech tablet. Shame it hasn't got a name yet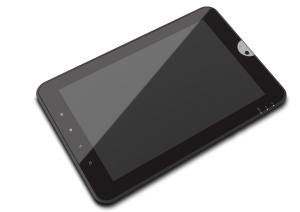 Let's face it, Toshiba's Folio 100 tablet was a big steaming pile of disappointment, plagued with software updates and shoddy body work. Today, Toshiba hopes to rectify its tablet name with its newly announced and as-yet unnamed Android tablet. Following – hopefully not too closely – in the footsteps of the Folio 100, the Tosh tab sports a 10-inch 1280×800 pixel screen and comes fully loaded with Android 3.0 Honeycomb.
Under the hood it's powered by dual-core NVIDIA Tegra 2 goodness, while an integrated gyroscope and 3D accelerometer will make for an immersive gaming experience. Toshiba has also chucked in what it's calling "Adaptive Display technology", which in a nutshell means it's got an inbuilt light sensor that'll automatically adjust the brightness of the display to suit your surroundings. Neat. Tosh promises audio optimisation features, too.
That's not the only sorcery that's been worked into its tablet. It features what Toshiba is calling Resolution+ – video upscaling technology that promises to boost the quality of your videos to the 720p standard of its screen. It's other features are pretty much what we'd expect from a Honeycomb-toting tablet: HDMI out, dual cameras – 5MP cam on the back and 2.0MP front-facing cam – Wi-Fi, a couple of USB ports and an SD card slot.
Despite having what appears to be an identity crisis, it's specs are good enough to go up against the best Honeycomb offerings from the likes of Samsung, LG and HP. And according to Toshiba, it'll be getting a few software tweaks that will differentiate it from the rest of the tablet crowd.
Release date and pricing details are thin on the ground, but rest assured you'll be the first to find out when Toshiba has given us the low-down.