Toshiba's AC100 Android laptop
Toshiba's has been down to the shops, picked up some Android and Tegra and cooked up the AC100, a lissom slice of 3G mobile internet.With Google's 2.1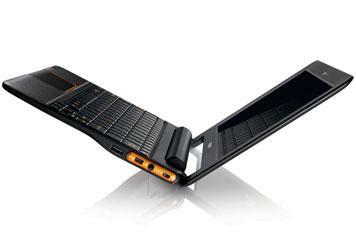 Toshiba's has been down to the shops, picked up some Android and Tegra and cooked up the AC100, a lissom slice of 3G mobile internet.
With Google's 2.1 mobile OS trucking along on Nvidia's mobile platform, we can expect hi-def graphics, near-instant boot-up, long battery life and the feel of a real laptop.
Where the AC100 won't feel like a real laptop is its size and weight. At a trim 14mm thick, the 10in portable tips the scales to just 870g.
As well as full Wi-Fi options, Toshiba's little laptop has optional 3G for truly mobile data. It has 8GB of built-in storage, but there's SD and USB support for HD junkies, plus an HDMI out.
On the flip side, the AC100's lack of smartphone status means there's no accesss to the Android Market, and in our experience manufacturer-led alternatives are a weak shadow.
Still, if you're not impressed by the emerging tablet cloud, Tosh's newbie could be your silver lining. Of course, it'll depend on price, but we should hear about that closer to the August launch.
AC100? Where have I heard that before?
More stories on Stuff.tv
– Toshiba unleashes dual-screen Libretto W100
– First impressions – Libretto W100
– First impressions – Toshiba AC100