Twitter's "significant redesign" teased
Twitter is preparing to undergo a redesign, and its creative director Doug Bowman has given us a sneak peek of what we can expect from it.Describing i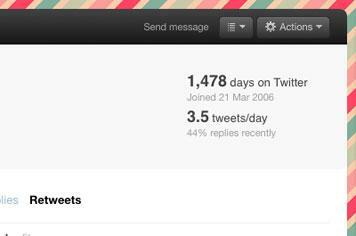 Twitter is preparing to undergo a redesign, and its creative director Doug Bowman has given us a sneak peek of what we can expect from it.
Describing it as "what may end up a significant redesign", Bowman posted a picture on Dribbble that appears to show the top right-hand corner of a new-look profile.
In place of your name, bio and follower numbers, it seems you'll have new stats that display the number of days you've been on Twitter, the average number of tweets you send every day, and the percentage of those that are @replies.
We can also see that there'll be a separate button to "send a message", next to the list and actions menus, and that these three things will be moved to the top of the profile, above the new stats.
Finally, we can almost see that users may be able to filter feeds into a user's tweets, @replies and retweets.
There's been no word as to when we can expect to see this change, but we'll be keeping our ears to the ground for anymore news. Keep it locked to Stuff.tv for the details as we get them.
Need some help with Twitter? Check out out Top 10 tips for Twitter success.
Via: Mashable