Ultimate Setup – Halloween party
Everything you need to turn your home into a haunted house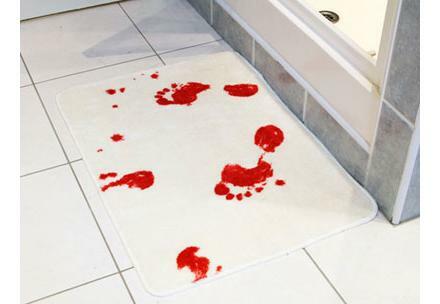 Letting the cobwebs gather for a month just doesn't cut it when you're decorating for a Halloween party, so we've rounded up a few things to really turn your home into a haunted house.
Bloody Shower Curtains/Bath Mat £27
Straight out of the Bates motel, this shower curtain and bath mat appear to be freshly soaked in the blood of a recent victim. If this doesn't unsettle any of your guests when they pop to the loo then chances are they're used to this kind of thing, which is not a good sign at all. Screaming damsel in distress sold separately.
Skeleton Wall Vinyls £15
Go the extra mile and scare the hell out of your mates (or at the very least confuse your cat) with these wall vinyls, ranging from skeletons bursting through your wall, to the grim reaper floating in through your ceiling. Justin Bieber prints are unfortunately unavailable which is a shame, seeing as they would be terrifying. Maybe next year.
Haunted Portraits £7
At first glance these antique-style portraits look normal but they soon transform into some seriously creepy, disturbing images as you walk past them thanks to their holographic printing. More a genuine scare than a goofy prank, these ghastly wall hangings are definitely not for the faint hearted.
Illoom Pumbkin Balloons £5
Pumpkins are like, so last century. Save yourself the messy hassle of carving and clearing away rotten orange pulp with a five-pack of these self-illuminating pumpkin balloons. Pull the tab to light the LED, blow it up and congratulate yourself for the time you just saved. The down side? You can't use the leftovers to make soup.
Eviltron £17
The tiny (and therefore easy to hide) Eviltron is preloaded with spooky sound effects that go off at random intervals, including creaking noises and a child's laughter. Expect to cause some serious psychological damage to your victim; little girls are spooky enough without hearing the giggles of one from the dark abysses of your bedroom. A tad harsh perhaps, but who are we to judge?
Related stories
– 13 scariest horror movies ever
– 5 of the best Halloween apps