Ultimate Setup – home office
Whether it's your place of business or just somewhere to watch amusing YouTube clips in privacy, the home office deserves your attention. Here are o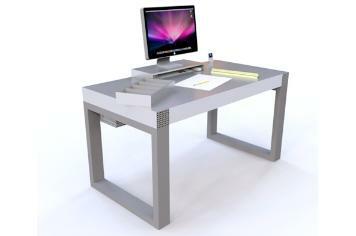 Whether it's your place of business or just somewhere to watch amusing YouTube clips in privacy, the home office deserves your attention. Here are our suggestions for its wellbeing…
Cordies £13
No need to grovel around on the floor, looking for that elusive cable – just pop them all into your Cordie to stop them slithering under the desk like unwieldy rubber spaghetti. Available in pink, grey, green or blue.
Logitech Cordless Desktop MX 5500 Revolution £130
For speed and convenience, this wireless combo can't be touched (except that it can, because a keyboard and mouse you can't touch would be utterly pointless). The keyboard also features a cool display that can show the time and date, as well as access the calculator and other useful things.
Cog Wastepaper Basket £70
Yes, it's a place to put your rubbish, but this cog-themed bin is also a reminder that the wheels of industry should always be turning within your mind if you're to achieve true greatness. Or something.
B&W MM-1 £400
If music helps your productivity, you'll want to plug into these ear-pleasing desktop speakers. Distinctly inspired by the Danish school of minimalist design, but there's nothing minimal about the sound.
Ergohuman Mesh Chair £445
Possibly an excessive amount to spend if you're a casual office user, but if this is where your backside spends its days, you need it to be comfy and durable. The chair, that is.
Artemide Tolomeo Micro Baby £130
A classic design, this flexible desk lamp is available in an uncommonly large number of colours to suit any decor.
Dyson Air Multiplier AM01 £200
Warning: sweat running onto your keyboard may result in your computer drowning to death. Avoid dangerous perspiration by using Dyson's revolutionary bladeless fan. Looks as cool as it blows.
GearUp Super 24″ Round Clock £60
You won't lose track of time when it's staring down at you from this massive tick-tocker. Just try not to get too mesmerised by the visible moving cogs – there's work to be done!
Related stories
– Ultimate Setup – movie making