Ultimate Setup – Outdoor Tech
Stuff puts together the ultimate Outdoor Tech setup for the summer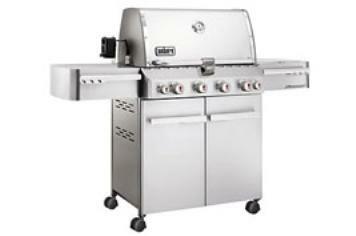 Summer's here and the time is right for… partying in the great outdoors. And there's loads of tech to make your al fresco funfest go with a swing. Read on and we'll clue you up.
Weber Summit S450 £2230
This behemoth of a gas barbecue sports four burners, so you can heat up a sauce whilst your steaks and sangers sizzle, not to mention a rotisserie attachment if, y'know, you fancy cooking a whole chicken. Its stainless steel Flavorizer bars give your grub a nice smoky taste, and there's even a thermometer to avoid those nasty salmonella-related incidents.
SoundCast OutCast Jr. £400
Want to bob your head whilst barbecueing? With a subwoofer and 60W of digital amplification, this outdoor speaker can easily fill the average British back garden with music that's both loud and actually listenable. You can rig up a stereo source via 3.5mm or invest in one of two wireless transmitters: the iPod-friendly iCast (£75) and the Universal AudioCast Transmitter, which can be connected to your computer and a variety of audio sources.
Lazy Days hammock £70
Forget those tricky-to-set-up tree-mounted hammocks – the Lazy Days lives up to its name by taking a matter of seconds to erect. No nautical knot-tying skills necessary, and you can put it up anywhere with a bit of space. When the traditional British summer rainstorm comes over, the entire thing can be collapsed and packed away in a bag.
Zeus patio heater £450
Once the sun goes down things can get a bit chilly outdoors, but this heater should stop your teeth chattering. The carbon fibre heating tubes reduce power use, so the Zeus only outputs around half the CO2 of gas-powered rivals. There's also a built-in light and proximity sensor, which turns the heater on and off depending on whether there's anyone out on your patio.
Bug Zapper £10
Become the scourge of wasps, flies and other winged critters with this tennis racket-shaped, battery-powered electronic zapper. Not only does the insect get whacked, it also gets a few volts up its abdomen.
More like this:
– Ultimate Setup – movie-making gadgets|