Unboxed – Novatech nTablet
Come, join us as we break Novatech's nTablet out of the box. iPad killer? Take a look and find out…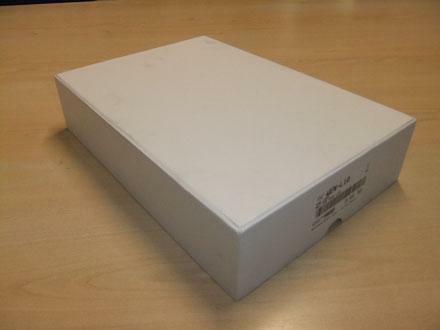 We're currently facing the dawn of a tablet takeover. The iPad has taken the tablet mainstream and if manufacturers aren't releasing new tablets, they're announcing them. The latest portable offering? The nTablet from Novatech. Admittedly, we're used to seeing hard drives, LCD monitors, flash drives and other gadgety peripherals from this lot, so it'll be interesting to see how good Novatech's first foray into the tablet market really is. But while we work on our review, let's get it out of that box.
So, it's just a white box. But there is a tablet inside, honest. In fact, a blank canvas for the box is quite apt for Novatech's new toy; it only got the official sign off on its name a few days ago.
The excitement mounts. Clad in a mesh overcoat, you can just about make out the Novatech logo on the bottom of the bezel.
OK, we're just teasing you now. But see, we told you there was definitely a tablet in there.
Nothing like that new gadgety smell. Fresh out the box, the nTablet sure is shiny… and long. It'll give you a great view of the ceiling when flat, too. And you're right, it does look a bit like the JooJoo. One thing's for sure, at 725g and 14mm thick, this is one chunky slab of tech.
On the flip-side, the nTablet loses that shine in place of a solid aluminium backside.
As well as getting your hands all over its screen, Novatech have thrown in three hard keys for assistance – enter, home and power. And be prepared to have your microfiber cloth at the ready; this thing loves fingerprints.
Ports ahoy. And there's plenty to go round – MicroSD slot, two USB ports, mini VGA out and that all important headphone jack.
As well as Wi-Fi, there's a 3G modem on board. So when you're out of reach of a Wi-Fi hotspot, just whack in your SIM card and have the mobile internet at your disposal.
Of course we were going to put it up against the mother of all tablets. At 10.1-inches the nTablet's screen estate is slightly larger than the iPad's. It towers over it too – but what the iPad has in width, the nTablet has in height.
Powered up. It's on and the screen sure is bright. That colourful and familiar logo can only mean one thing; it's a Windows machine – Windows 7 to be precise. So it's like a proper computer. Windows not your bag? There'll be an Android option, running version 2.2 heading to a shelf near you around mid-October. We spy a webcam too.
So, we've already established the nTablet has a wide girth. But if the iPad is Kate Moss, the nTablet is Sophie Dahl – you know, before she shed all that weight, married that piano playing jazz hobbit and started presenting a monotonously dull cookery show. But to be fair to the nTablet, it is only 0.6mm thicker; so considering it packs a host of connectivity ports, has double the memory and a faster processor, means we can forgive it for the extra weight.
And one more for good measure. With a 1.6GHz Atom N455 CPU and 1GB of RAM combo, we expect performance will be similar to the netbook family but we'll delve more into that for our in-depth review.