UPDATED AGAIN! New Grand Theft Auto V screenshots show off transport and leisure
Sports car, bicycle and fighter jet feature in Rockstar Games' latest batch of images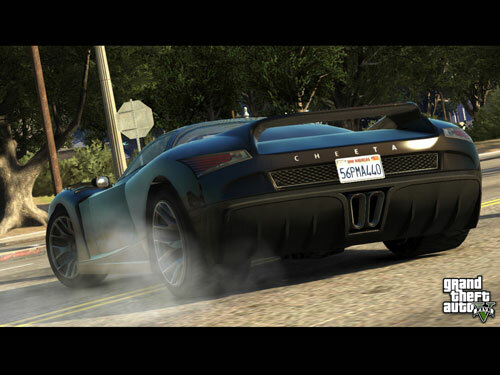 Rockstar Games has released a trio of new screenshots from the forthcoming Grand Theft Auto 5, this time focusing on some of the forms of transport available to the player.
The shots show a pushbike powering along a beachside boardwalk – harking back to GTA: San Andreas – a "Cheeta" sports coupe apparently performing a power slide on the street, and… wait for it… a jet fighter scorching through the Los Santos night sky.
Click the pics above for hi-res versions. As if that wasn't exciting enough, the blog post promises that there are more pictures coming later this week. So stay tuned – and to while away the long wait, check out our 10 things we want to see in Grand Theft Auto V while you obsessively watch and rewatch the teaser trailer, looking for easter eggs.
UPDATED! Rockstar has released three more pics showing the leisure options available to the player – check them out below.
BASE jumping! Expect some Ballad of Gay Tony-style larks around what looks to be Mount Chilead (from GTA: San Andreas).
Dirt biking!
Anyone for tennis? It looks like Grand Theft Auto V is going to be jam-packed with mini-games – hopefully we'll get to see them in action soon.
UPDATED! Aren't we lucky? Rockstar has released yet another batch of screenshots.
Here there seems to be some kind of truck-based chase going on, with the suggestion that you'll be able to clamber around on the back of vehicles.
And here's a biplane flying over a picturesque river in the mountains!
This image depicts another chase, with the cops in pursuit of a Lamborghini-style coupé.
And in another chopper-related picture, a floodlight illuminates a guy wielding a laser-sighted assault rifle.
That seems like it's going to be our lot for the time being, but of course we'll keep you updated on the progress of the game.
[via Rockstar Games]
Vote now in the Stuff Gadget Awards 2012!
Your next car could be completely silent
Polar launches first integrated RC3 GPS watch
Icon – McLaren X-1