Weekend spend – Aerobie Superdisc Ultra
The sun's out and you're heading to the park, but you know you'll get bored of just soaking up the rays sooner or later. You need something to throw.Y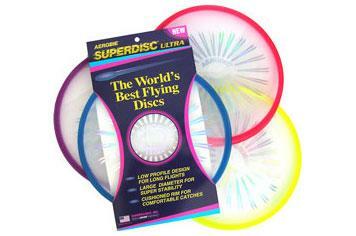 The sun's out and you're heading to the park, but you know you'll get bored of just soaking up the rays sooner or later. You need something to throw.
You'll be familiar with the classic Aerobie – famed for how incredibly far you can throw it, and how incredibly quickly you'll lose it. The rock star of the Aerobie family, it lives fast and dies young.
The Superdisc Ultra, however, is different. Shaped a bit more like a classic Frisbee, but with nice soft rubbery edges, it doesn't fly as far, but is better for swinging trick shots and far less likely to end up in a tree. Also, the Superdisc Ultra even floats, so its safe from Davy Jones' locker should you take it to the beach.
So go out an buy one, and try your best to lose it – we dare you.
£14.50 delivered, www.kiteworld.co.uk