Weekend Spend – Launch Kontrol remote fireworks launcher
T minus 5,4,3... Launch your fireworks with the press of a button with this remote control ignition system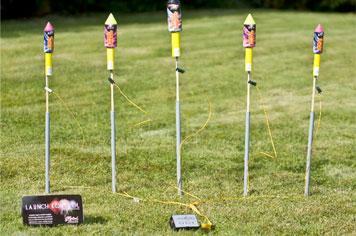 At this time of year, we here at Stuff can't get enough Sonic Booms, Dancing Dragons, Happy Fountains and even the occasional Golden Shower. But fireworks can be a dangerous business and there just isn't enough tech involved for our liking.
That's why this year we're making our fireworks display electronically controlled. No more singed fingers and close encounters with rogue catherine wheels for us.
The Launch Kontrol comprises a receiver which connects via wires to up to five e-clips which ignite the fireworks, and a remote control which makes you master of the show. There are three sets of e-clips included so you have enough to launch up to 15 Amazing Armageddons.
The Launch Kontrol is £20 from maplin.co.uk and an extra pack of three e-clips (for 15 fireworks) is another £10 if you need it.
Related stories:
Ultimate Setup – Bonfire Night 
Weekend spend – Leica Look-Alike Skin for iPhone4