Weekend Spend – My Scratch Map
No luck on scratch cards? Try this brilliant map instead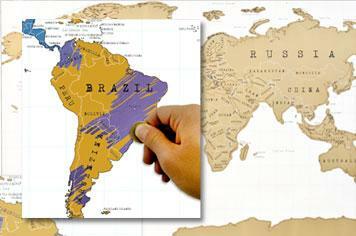 We admit our geography knowledge does sometimes leave a little to be desired, and that's why we're fans of a big 'ol world map on the wall to help fill in the gaps. It's also a great way of ticking off where you've travelled to.
The My Scratch Map wins the prize for the most inventive way of doing that ticking off – it's basically a giant scratch card that you can use to make a record of where you've been.
Okay, so you may not have a chance of winning a tenner, but when you scratch off the gold coating you reveal full colour and lots more geographical detail underneath.
Great for showing off to friends, or simply reminding you of where you haven't yet visited.
£14.99, iwantoneofthose.com