Xi3 Piston: is it the Valve Steam Box?
Could this tiny Linux-based PC on show at CES be the fabled Valve "console" we've all been waiting for?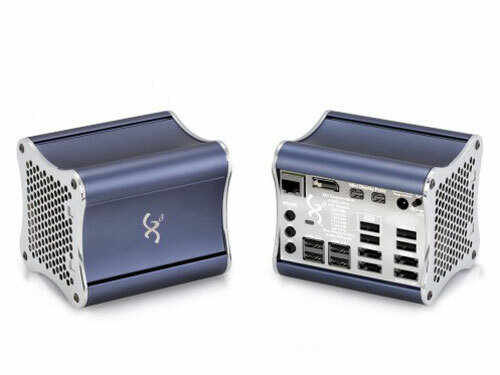 Valve has made no secret of its plans to launch a "Steam Box" – a Linux-based PC designed for playing games in your living room – and it might just be on show at CES.
The Xi3 Piston (a codename, since it's still in the development stage) is a tiny cube PC that runs on Linux and is specifically designed for Steam and its Big Picture mode. It features a quad-core CPU, integrated graphics processor, 4-8GB of RAM, 64GB-1TB of solid-state storage, eight USB ports (four 3.0, four 2.0), Ethernet, audio in and outputs and a three video outputs, each capable of supporting a pixel-packed 4K resolution of 4096 x 2160.
Is the Piston the Steam Box? Well, Xi3 says that Valve is an investor in the project, and the name Piston is a clear reference to Valve's logo. But we're not sure that this is indeed Valve's fabled hardware, for a number of reasons.
Firstly, Valve hasn't said anything about the Piston being the Steam Box, which would be strange now that the world and his uncle can now prod and poke it at CES. Secondly, we'd bet big that Valve's own hardware will use HDMI as its video output, as it's the least fussy way to plug something into an HDTV and Valve is all about customer satisfaction. The Piston uses DisplayPort and Mini DisplayPort video outputs, which'll require way more messing about behind your telly (with virtually no HDTVs having a DisplayPort input, you'll need to use an adapter cable). Thirdly, Valve boss Gabe Newell has suggested several living room-centric, Steam-focussed gaming PCs are on the way.
Our take on this? The Xi3 Piston is just one of several third-party Steam-centric PCs that we'll see launched in the coming year… alongside the Valve-branded Steam Box.
There's no price or release info for the Piston at the moment.
[via PR Newswire]
You might also like