Acer Predator 17 (2017) review
A giant beast of a gaming laptop than can handle everything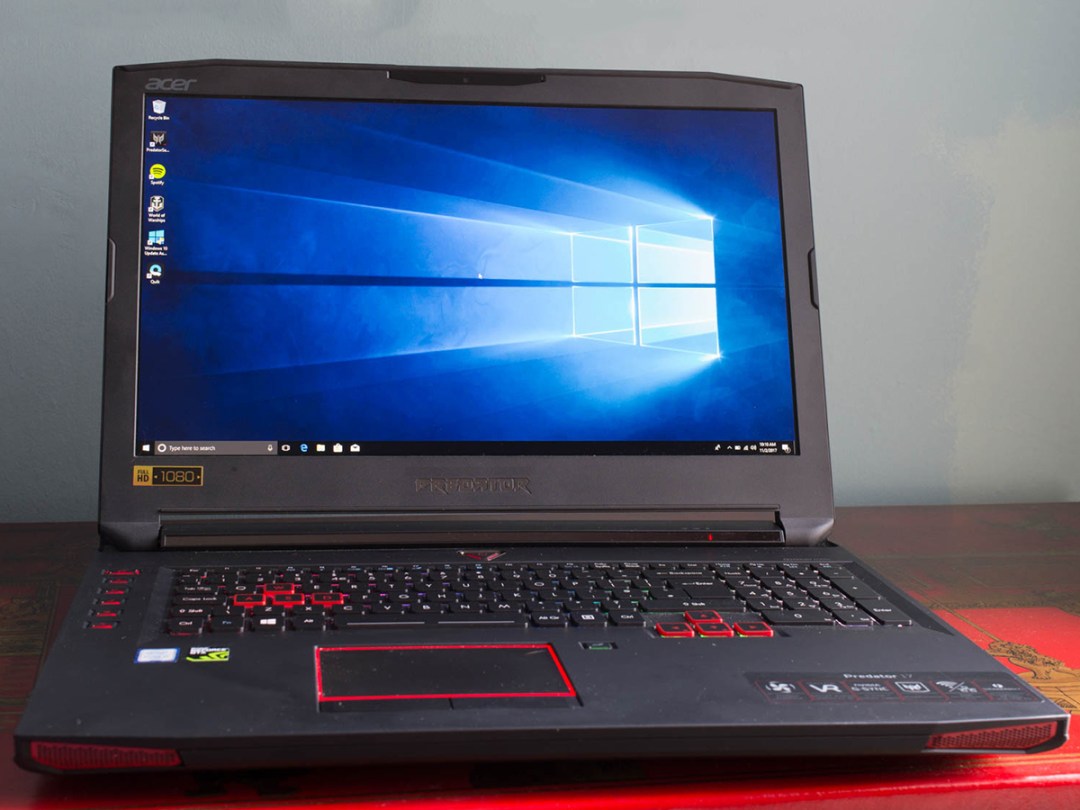 Squeezing the same performance as a desktop PC into a package that's small and light enough to carry round? Not an easy job – but it's one laptop makers have been getting better and better at.
Acer's latest, the Predator 17, doesn't take up too much room at home, and can handle VR on the move, too. Sure, you'll end up paying a pretty penny for that portability, but if you're serious about getting your game on just about anywhere, that's a bullet you're just gonna have to bite.
So if you've been on the lookout for something you can (just about) lug around everywhere, this angry red monster of a machine certainly fits the bill.
Beyond an enticing list of specs, though, is there anything here that lets the side down?
PERFORMANCE & BATTERY LIFE: POWER BY THE HOUR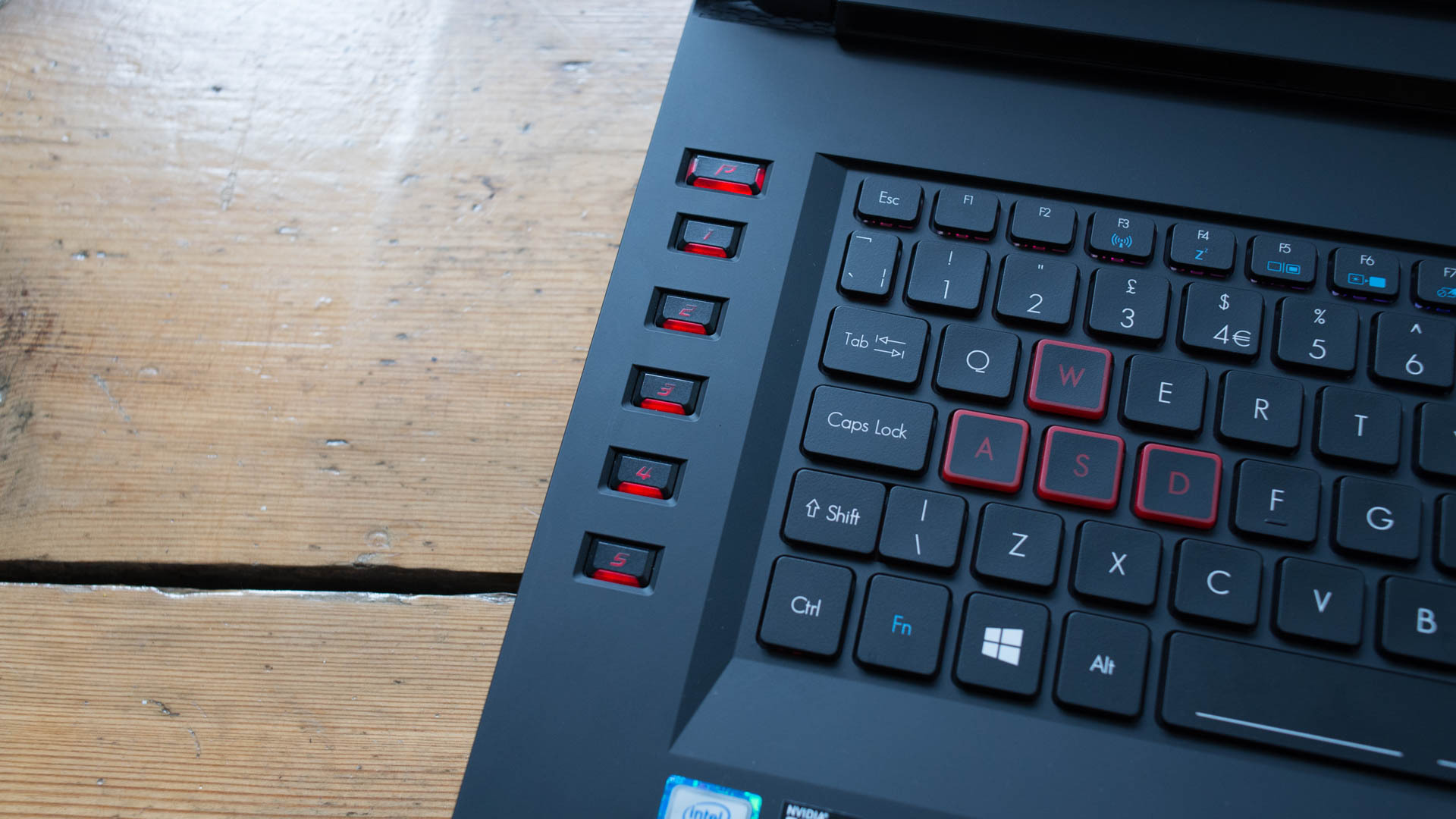 You certainly can't fault performance: with one of Intel's Kaby Lake Core i7-7700HQ CPUs inside, the Predator 17 has plenty of power. There's enough juice here to outmuscle a desktop PC from just a year or two ago.
The quad-core CPU usually runs at a heady 2.8GHz, but can Turbo boost up to a stonking 3.8GHz when there's enough overhead. Trust me; there's no 2D task that this laptop can't handle.
That top-spec chip has sensibly been paired with 16GB of RAM, really the minimum you'd expect from a system putting such a considerable dent in your wallet. It makes multitasking a breeze, so you don't have to worry about your hundreds of Chrome tabs bringing Windows to a standstill.
Acer has gone all-out with the storage options, too, fitting both a 128GB SSD and 1TB hard disk. The SSD gives you super-fast boot speeds and helps your games load lickety-split too, while the mechanical hard disk leaves plenty of storage space for your media collection.
Gaming power comes courtesy of Nvidia's GTX 1070 GPU, which slots just underneath the top-end GTX 1080. It's still more than capable of running some games at 4K, if you're sensible with the detail settings. Stick to 2,560×1,440 resolution with high detail settings and you'll be golden. For performance per pound, it's hard to beat this chip.
Firing up the Witcher 3 and Dishonoured 2, the Predator 17 could happily run both at 1080p resolution and high details. The fan speed does kick up a gear, though, so this is one laptop that can't be accused of being quiet. If you've got a headset on and you're engrossed in a game, though, you're unlikely to notice.
The GTX 1070 is also powerful enough to handle VR, whether that's via an HTC Vive, Oculus Rift or one of the Microsoft-designed Windows Mixed Reality headsets.
This much power is not particularly battery friendly, though, and you'll be lucky to squeeze three hours of light use out of it; when gaming, you can practically watch the battery meter empty itself. I managed just under 90 minutes. Still, given its size, you're unlikely to have the Predator far from a power socket.
DESIGN & BUILD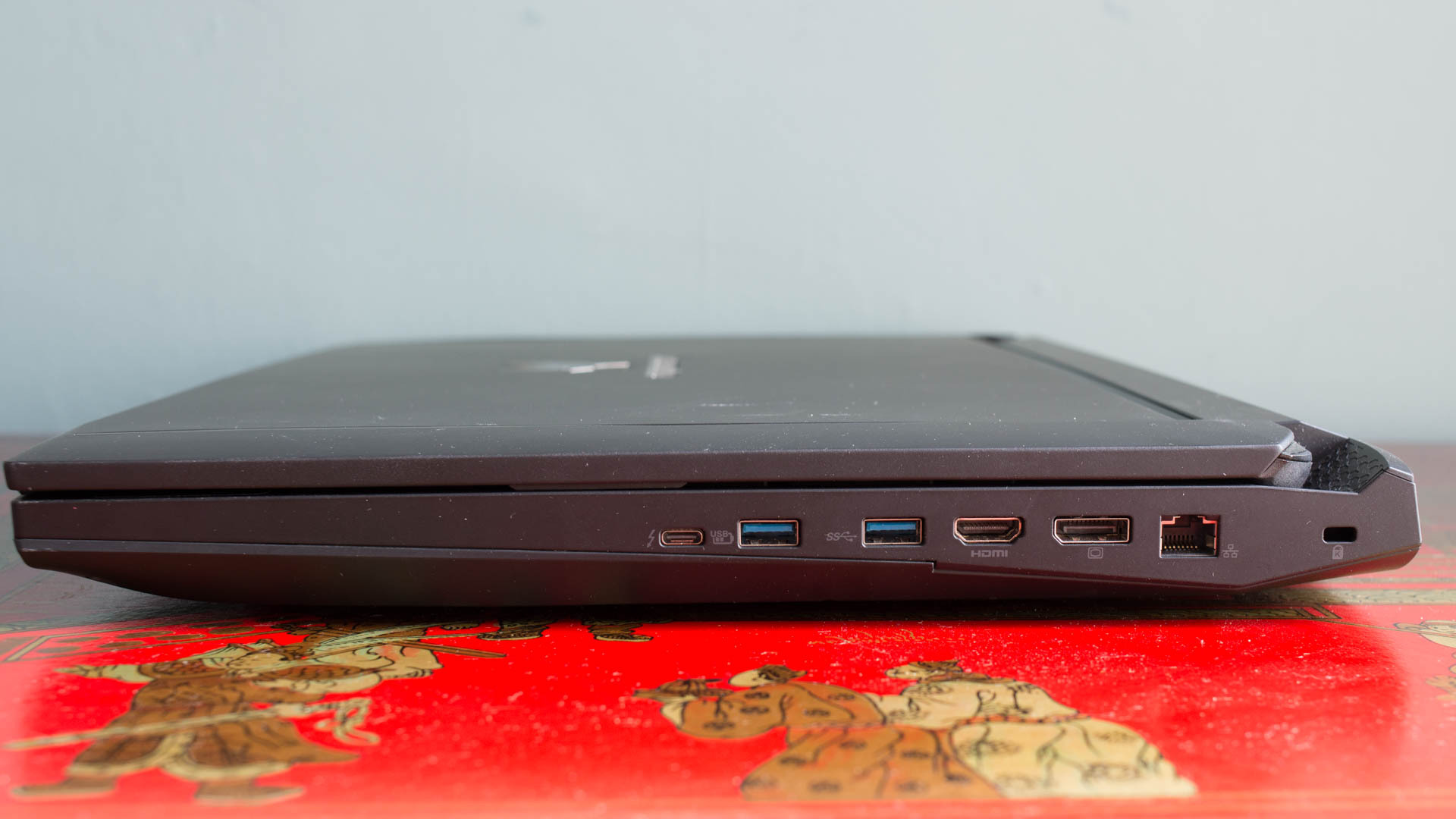 Acer has abandoned all sense of subtly with the Predator 17. Given the raw power inside, why mask it with an understated design, when you can flaunt it instead? Garish red metal grilles and big fan vents adorn the case – think of it as a muscle car of the laptop world.
It's an absolute beast of a computer, too. Weighing near-on 4kg and 40mm deep, this isn't so much a laptop that you carry around, as bear the burden of. Still, it's a damn sight easier to move around than a full desktop PC.
Despite its brash looks, the Predator 17 doesn't quite have the build quality to back it up. Its lid has a little too much flex in it, the chassis feels a touch cheap, and the screen's hinge doesn't quite move as smoothly as I'd like. This is by no means a poorly-made computer, but I'd expect better at this price.
Acer has at least put that humungous chassis to good use. There are four USB3 ports, one USB-C, HDMI, DisplayPort, Gigabit Ethernet (802.11ac Wi-Fi is built-in, too), an SD card reader, and two 3.5mm audio jacks (headphones and mic). That's practically desktop levels of connectivity.
There's even a DVD drive embedded in the chassis if you still use discs. If you don't, slip it out and pop in the Cooler Master Frost Core fan instead, to boost the cooling performance.
SCREEN & SOUND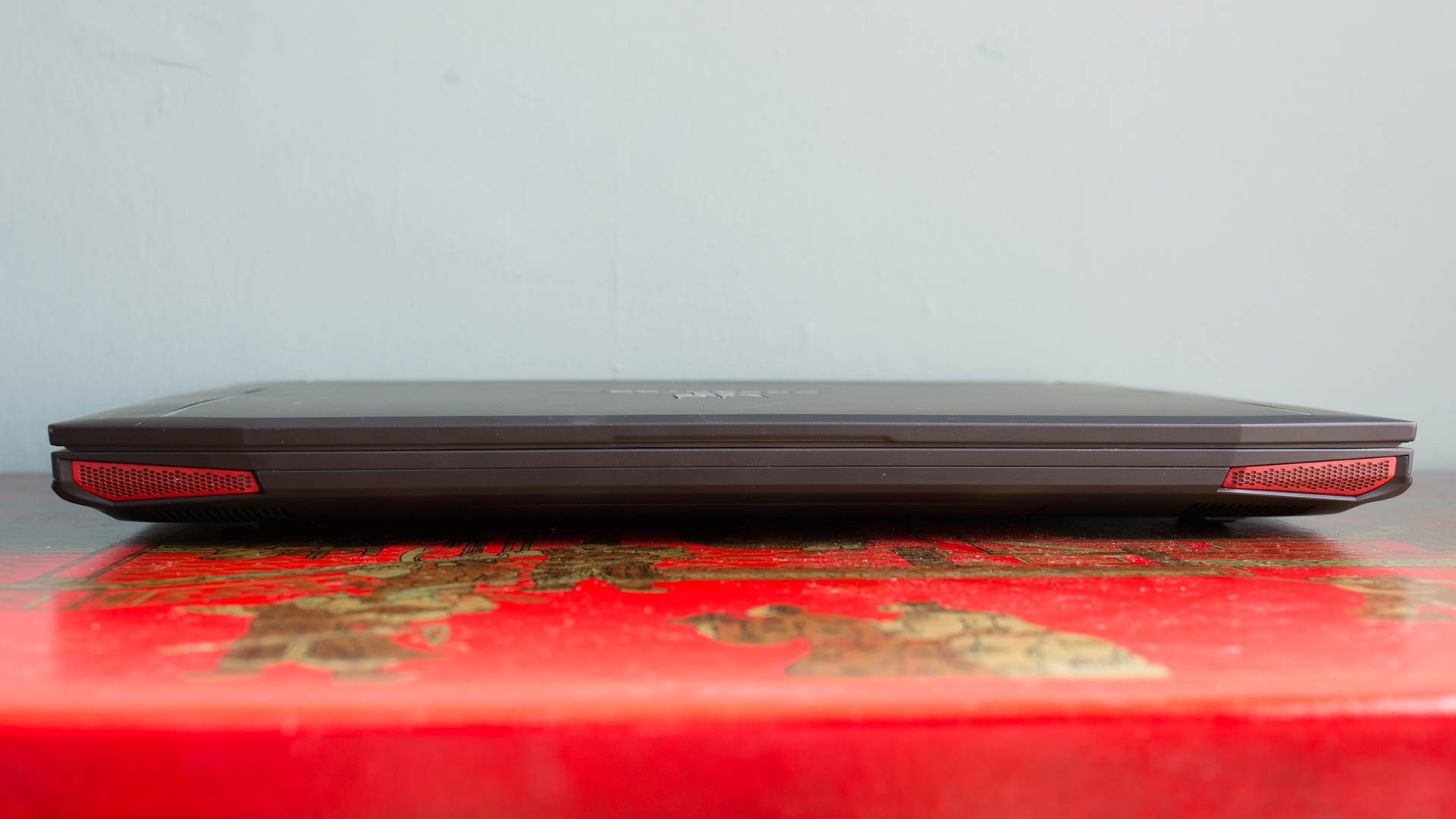 Despite the relatively large real estate, the Predator's 17.3in screen makes do with a 1080p resolution. That's a touch disappointing, given the graphics chip can handle so much more.
Still, it's a G-Sync screen, which means the graphics card syncs its frame rate to the display's refresh rate for silky smooth frame rates, and no tearing. For hardcore gamers, that's more important than resolution alone.
Image quality is pretty good, with the screen fairly bright and vibrant. It's not going to win any image quality awards, but more than cuts the grade for gaming.
The audio system, meanwhile, could have been named by Del Boy – Acer wants us to call it SoundPound 4.2. Yikes. As the corny name suggests, the Predator uses four speakers and two subwoofers.
It does sounds pretty good, despite the awful name, and works well for watching films and TV shows; for gaming, though, I'd still rather use a headset.
KEYBOARD, TOUCHPAD & USABILITY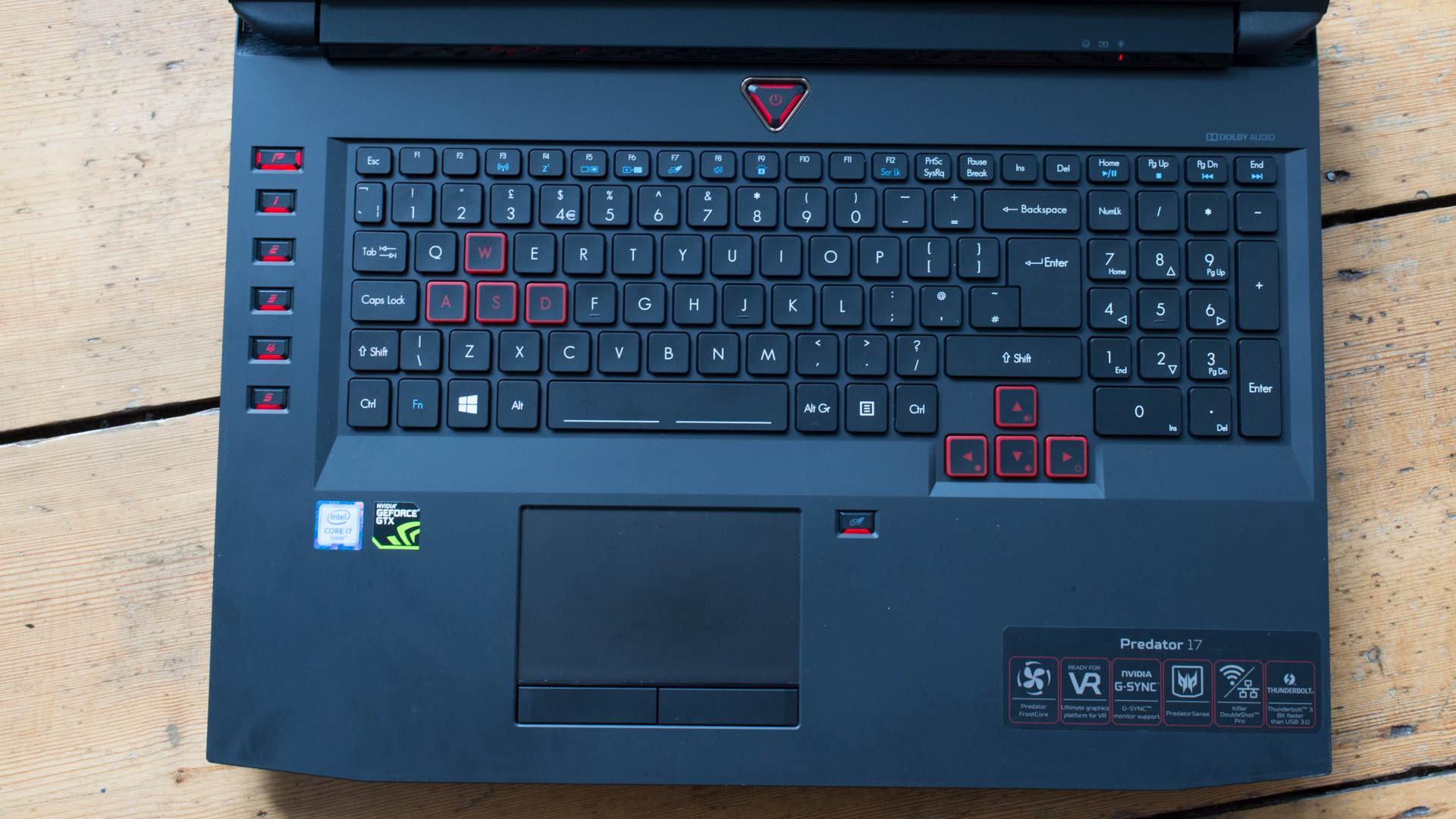 It's no surprise Acer found room for a full-size keyboard here, complete with number pad – the Predator is a fairly chunky system, after all.
I found the keys responsive, with just the right amount of feedback to let you know when you've hit a key. That's great for typing at speed, but also good for gamers operating on feel alone. RGB backlighting completes the look and feel, and won't let you forget you're tapping away at a machine purpose-built for gaming.
On the left side are four programmable hotkeys, which are also great for gamers. They're handy for desktop apps like Photoshop, too, if you're not going to spend all your time fragging noobs online.
The trackpad is responsive, and the physical left and right buttons make it easy enoug to use, too. If you plug a mouse in, there's a button to disable the trackpad so you don't knock your aim when you're about to take an incredible head shot – very handy, that. Not that it improved my Call of Duty K/D ratio.
ACER PREDATOR 17 (2017) VERDICT
For pure gaming power, Acer has delivered. There's nothing to complain about performance wise, and the keyboard and touchpad are both great; at this price, I wouldn't expect anything else, as you're paying for the best.
If anything, it's the screen that lets the Predator 17 down. There's nothing wrong with the 1080p display, and it's nice to see G-Sync support, but I'd expect a little more resolution for the money.
The Alienware 15 r3 has slightly better build quality and matches it for performance, at a similar price, but has a smaller 15in screen.
If you've got the cash and want a big-screen gaming laptop with plenty of power, the Predator 17 certainly hits the mark.
Tech specs
| | |
| --- | --- |
| SCREEN | 17.3inin 1920×1080 G-sync LCD |
| CPU | Intel Core i7-7700HQ |
| MEMORY | 16GB RAM |
| GPU | Nvidia GeForce GTX 1070 |
| STORAGE | 128GB SSD + 1TB mechanical hard disk |
| OPERATING SYSTEM | Windows 10 Home |
Stuff Says…
If you want a laptop that can do everything, then this is the model for you, but a higher resolution screen and better build quality would have been nice
Good Stuff
G-Sync display and fast GPU
Crazy-quick CPU
Plenty of ports
Bad Stuff
Big and heavy
Only a 1080p screen
Poor battery life