Amazon Fire HD 10 Plus review
A great tablet with that offers impressive bang for buck, but you'll need a little tinkering to unleash it full potential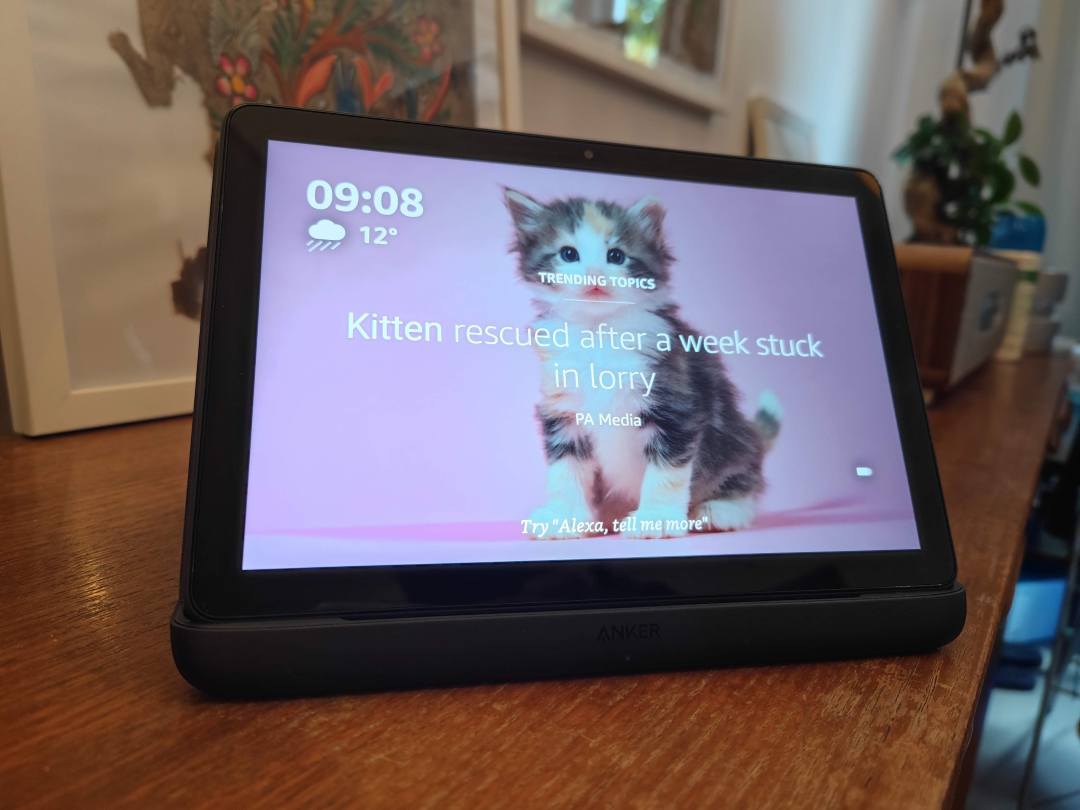 We've come to think of Amazon's tablet range as the reliable friends of the tech world. Dependable, without being flashy or drawing attention to themselves, they get on with life with zero drama, and are always happy to help.
Unlike the wallet-busting Apple and Samsung tablets that tend to dominate the space, Amazon's tablets provide a budget offering for those looking for an Android-toting tablet, minus a hefty price tag.
The Amazon Fire HD 10 Plus is the latest flagship slate in the company's tablet roster, bringing a full HD screen, improved innards and wireless charging to the table, with, of course, Alexa tricks to boot. Not bad for a bit of kit that starts from £179.99, though there's a catch — there's no Google Play Store, which means you're stuck with Amazon's Appstore and its more limited selection of apps and games.
For some people looking for a casual tablet experience — namely browsing, watching movies and firing off a few emails — that's fine, but if you're an app fiend and/or mobile gamer, the app store handicap might be a dealbreaker. We say might, because with five minutes of work, you can easily load up the Google Play Store and unlock full access to all the delicious apps you could shake a stick at. If that sounds intriguing then stick around. We'll kick off with the design and take it from there…
Design: inoffensively minimal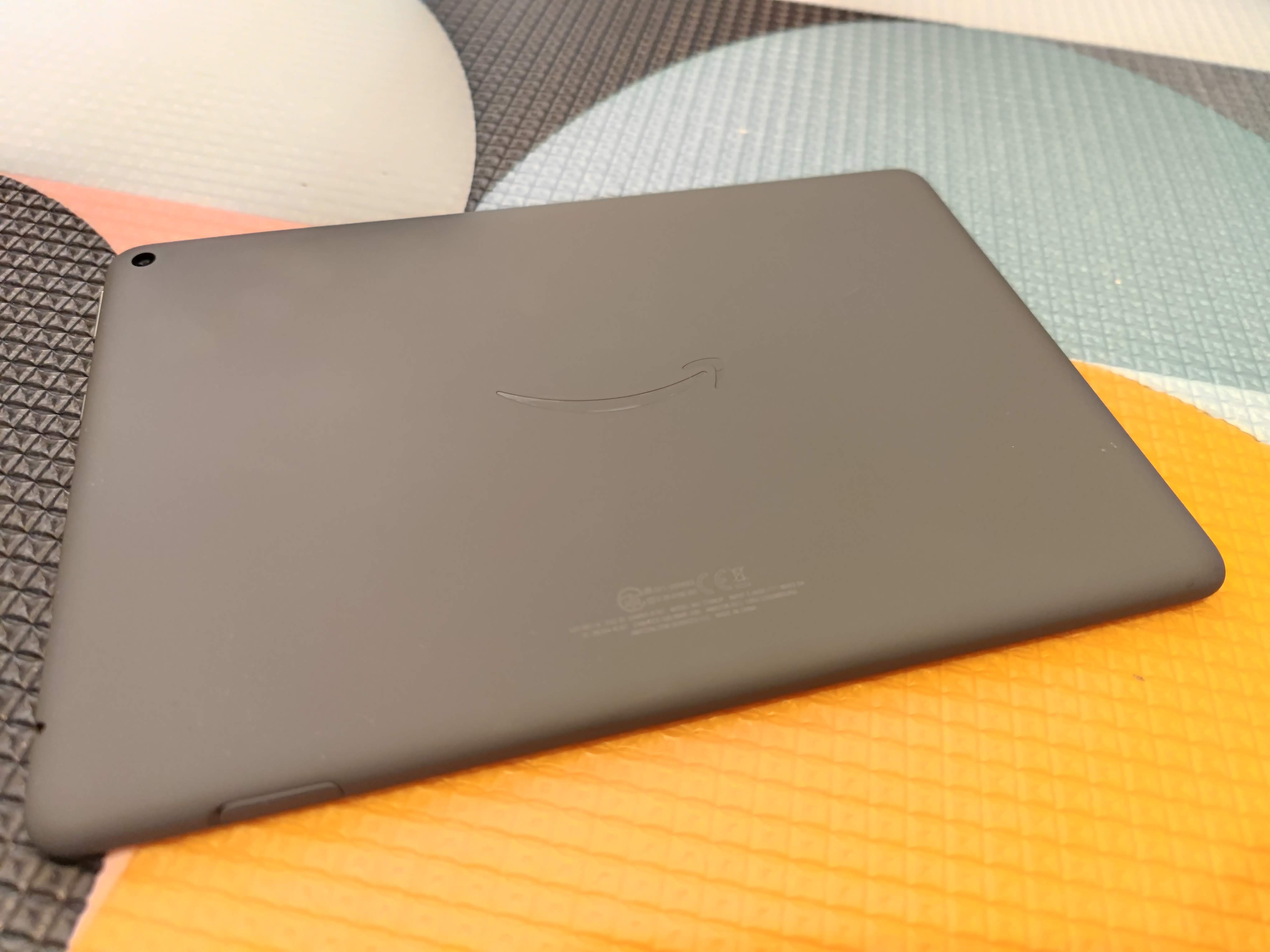 The Fire HD 10 Plus won't win any design awards, but that's not to say it's ugly — far from it. Its plastic build feels sturdy in the hands, and we rather like its matte dark grey slate-coloured finish. It's pleasant to the tough while offering decent grip which, combined with the lightweight build, makes for a comfortable holding experience, without arm fatigue kicking in.
The rear finish is prone to fingerprints, but it's nothing that a quick wipe won't fix. Flip it round, any you've got the screen, with the power button and volume controls placed on the right hand side in landscape mode. Our only real gripe with the design is the placement of these buttons, as we quite often find ourselves accidentally turning off the display with our palm in landscape mode — not ideal when you're trying for a Call of Duty killstreak. Still, it's something we eventually got used to.
Elsewhere you'll find a USB-C charging port and 3.5mm headphone jack. The Fire HD 10 Plus also handily supports wireless charging, made possible by the purchase of a separate wireless charging dock for added convenience. This dock also unleashes the full power of Alexa, but we'll get to that a bit later on.
Screen: Comfortably sharp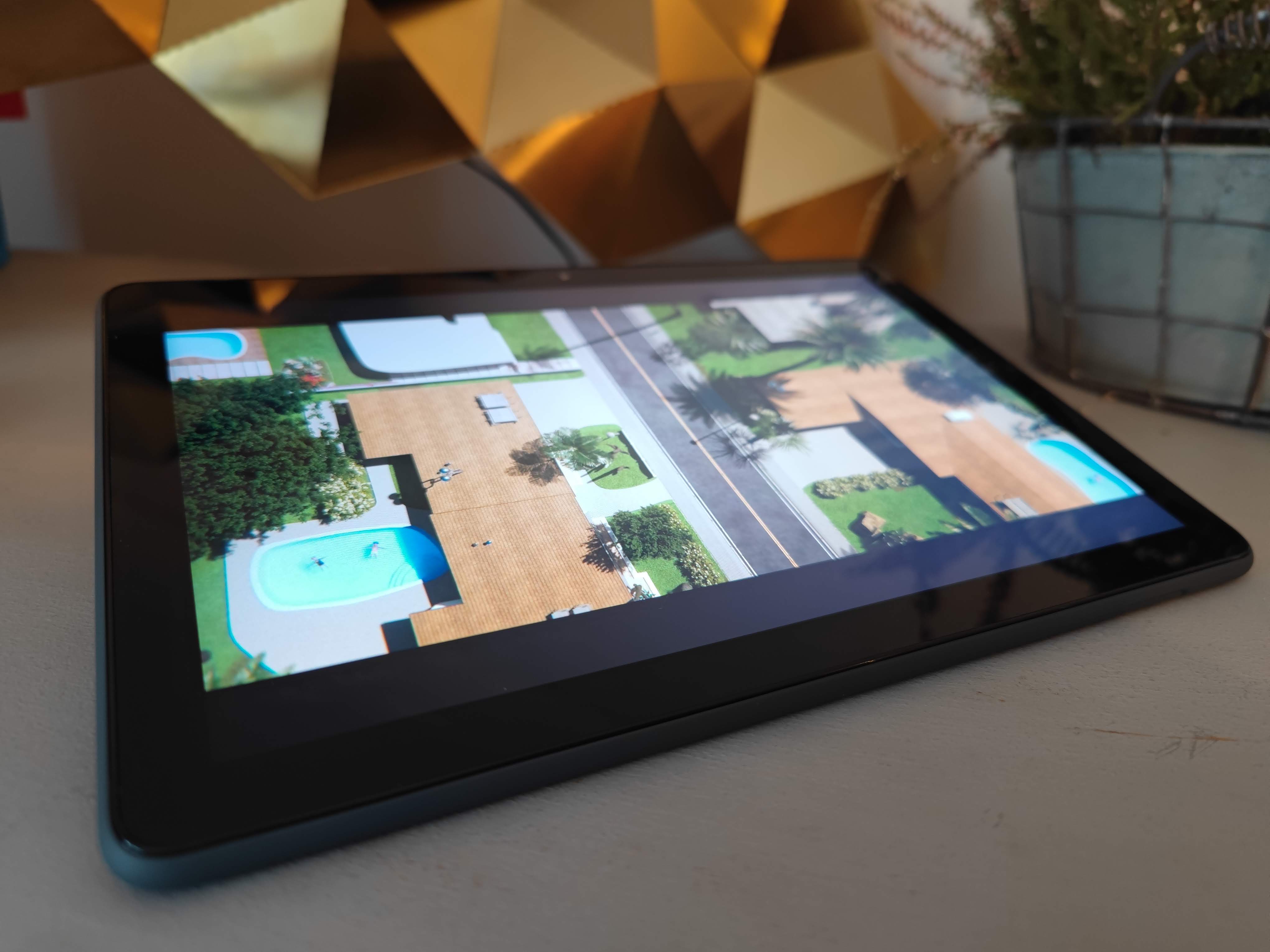 While we prefer to see OLED screens on our tech thanks to their true blacks and vibrant colours, the inclusion of a regular LCD display is totally understandable at this price point. The 10.1in screen is no slouch either, thanks to its Full HD resolution and decently punchy colours.
From games and movies, to browsing and reading, your eyes won't be left wanting for more — unless, of course, you have a direct side by side comparison with a more expensive pixel-packing tablet.
Ultimately this is a screen that will serve you well, even with its larger bezels. As long as you're not planning to binge watch your favourite show outside on a sunny day (the display could be a bit brighter), you'll have no qualms consuming content on the Fire HD 10 Plus.
OS and software: A game of two halves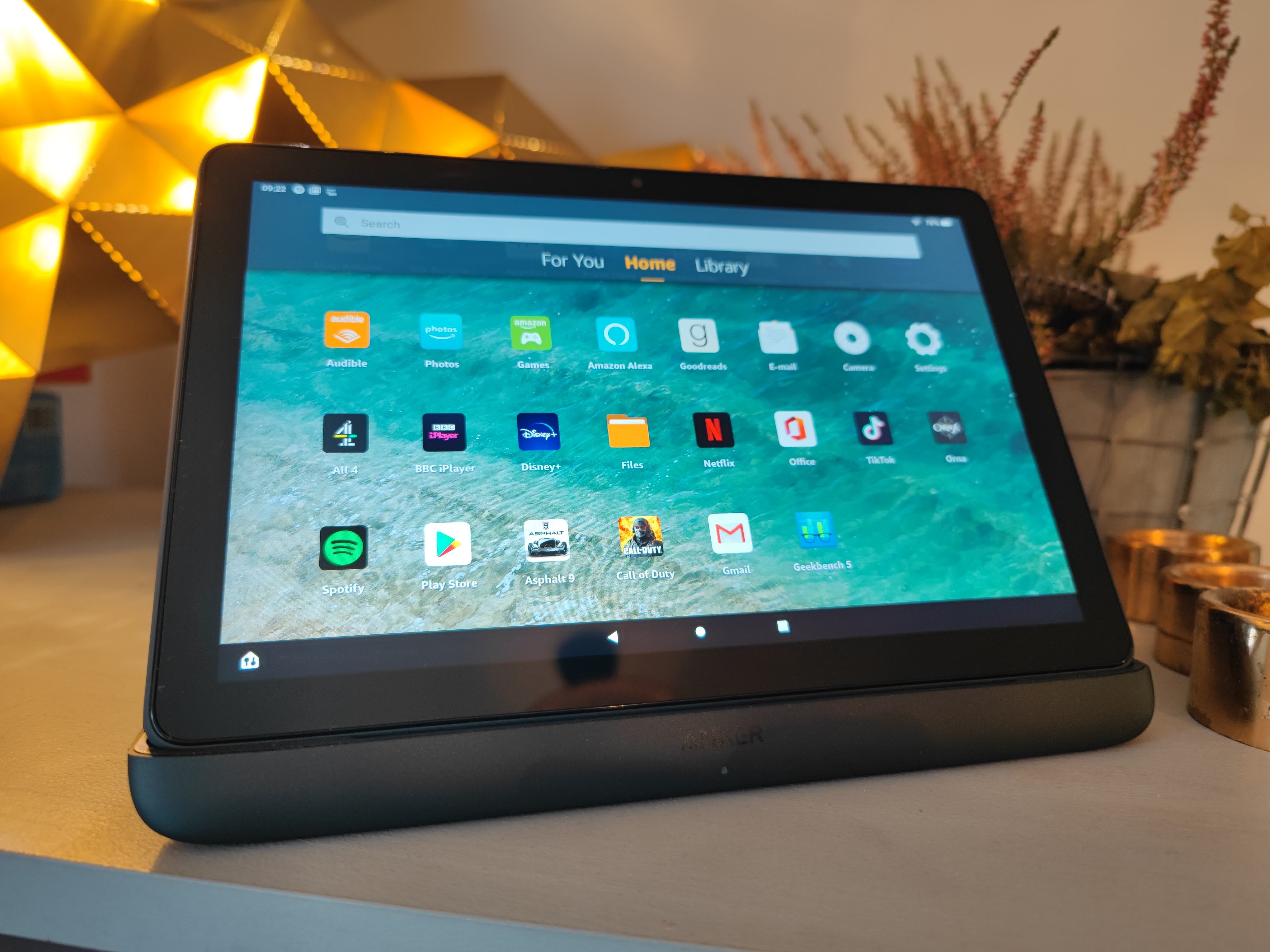 Let's cut to it. The Fire HD 10 Plus' weakest link is its lack of the Google Play Store. On the other hand, its integration with Alexa is top notch, essentially transforming it into a portable Echo Show Device.
The first point might not matter to some people, but it'll be a sticking point for most. If you're not sure how big a deal it is then you'll likely be fine, but if you're an existing Android user it won't be long before you realise big apps like YouTube, Gmail, Google Maps and Call of Duty: Mobile are absent from the Amazon Appstore.
Thankfully, there is a super-quick fix. All you have to do is download a few files, install them in a certain order, and boom — you've got yourself a full-fat Android tablet, complete with the Google Play Store and all the tasty apps that come with it. There are numerous tutorials online, and we found these instructions clear and easy to use, with the whole process taking around five minutes, if that.
Obviously some people will be more comfortable doing this than others, and if you're buying this tablet as a gift for a user who's not tech savvy in the slightest, then it's simple enough to do on their behalf. We believe in you.
Tinkering aside, let's talk Alexa. Amazon's smart assistant needs no introduction or explanation at this point, so we'll simply say that its integration with the Fire HD 10 Plus is excellent. You can call upon her at any point, even when the screen's off and the tablet is across the room, and you'll be presented with all the usual gubbins, from weather and news reports, to playing music, ordering from Amazon, and more.
Thanks to the nature of the tablet's screen you'll be presented with visual information too, unlike a regular screen-less Echo speaker. From sports results to hourly weather, to names of songs and photos from Amazon or Facebook, the inclusion of the screen takes Alexa's game to a whole new level.
Throw in the £49.99 charging dock, and the tablet is transformed into a bonafide Echo Show device, charging as it does so, while switching to the docked mode which displays useful information and/or pictures. You can enter this dock mode with a wimple swipe and button tap whether you have the dock or not, but it's nice to have it propped up and charging while you do so.
The inclusion of a front-facing camera also means you can use the Fire HD 10 Plus for video calls, including those made to Echo Show owners. If you have friends or relatives with a Show device, this makes it particularly useful for virtually dropping by and saying hello.
There's also a rear camera, but it's nothing to write home about. Shots are pretty grainy if the lighting isn't bright enough, and the quality just isn't there at all compared to even the lesser smartphone cameras. Given that we literally never use cameras on our tablets though, this is a moot point, at least for our needs.
Throw in the punchy performance of the built-in stereo speakers which do a great job at higher volumes to create a 3D-esque soundscape, and there's plenty to love about the Fire 10 HD Plus' features, especially when it's tweaked to reach its full potential.
Power and battery life: Surprisingly impressive
Keeping the same quad-core processor as its predecessor, the Fire HD 10 Plus does get a boost in the RAM department, with 4GB now on offer, coupled with a MicroSD slot for up to 1TB of expandable memory, in addition to the base 32GB or 64GB options.
Despite not having the fastest processor around, we still managed to play demanding games like the aforementioned Call of Duty: Mobile and Asphalt 9: Legends at max settings, with very little to complain about. Loading times might have stuttered a little compared to more expensive devices, but on the whole everything is surprisingly perfectly playable, made all the more enjoyable by the larger screen experience.
Battery life is impressive too, pretty much delivering on Amazon's promise of up to 12 hours per charge. We saw the battery drop to around half after three day of Netflix, gaming, TikTok and some reading, so even power users should be able to make it a whole day with very heavy use.
Amazon Fire HD 10 Plus verdict
For the price, the Fire HD 10 Plus offers incredible value, thanks to its large, sharp screen, punchy speakers, built-in Alexa smarts, and the ability to keep up with demanding games while offering a smooth user experience.
It's only real downside is the lack of the Google Play Store, but as we've seen, that's a quick and easy fix. Regardless of whether you want to take that extra step or not, there's no escaping the sheer bang for buck on offer here, making this a solid contender for your Android tablet shortlist.
Stuff Says…
Offering plenty for your money, this is an almost-perfect tablet that can be made even better with a simple tweak
Good Stuff
Great price
Sharp screen
Punchy speakers
Alexa smarts
Bad Stuff
No Google Play Store out of the box
Button placement