Apple MacBook Pro review (16in 2023): the ultimate do-anything machine
Apple's latest MacBook Pro ups the ante on the redesigned model from 2021. But do the M2 Pro and M2 Max represent a leap forward?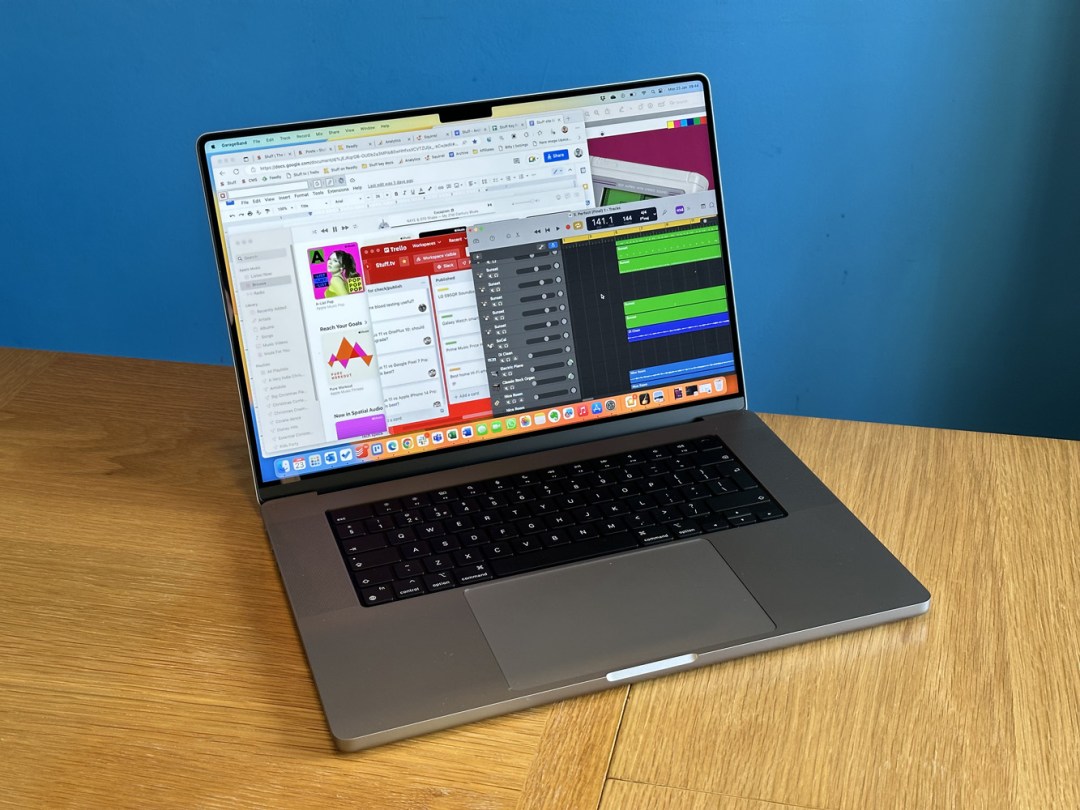 Apple's late 2021 reinvention of the MacBook Pro premium laptop lineup was a retrovention in some ways, since some ports were added back on having previously been taken off, like the SD card reader and HDMI port.
The keyboard too, was a reinvention of what had gone past, moving on from the disastrous butterfly keyboard era that is still costing Apple money. Here's our 2023 Apple MacBook Pro review. While last year's power Macs featured the M1 Pro and Max, this year's have the M2 Pro and M2 Max.
Our review model is the top-spec 16-inch version with the 12 core M2 Max, 38 core graphics and an upgraded 64GB and 2TB storage. Without those latter two upgrades the 32GB memory/1TB SSD model comes in at $3499/£3749.
The cheapest 16-incher with M2 Pro and the default 16GB memory/512GB SSD is £2699/$2,499. Upgrading the memory is an expensive affair (adding that extra 16GB is $400/£400) because it's unified memory. And you won't want to skimp if you're editing large video files, for example.
The original version of this review was published on 23 January 2023
Design
In terms of outer design, this is the same as Apple's 2021 MacBook Pro refresh. So there's no fussy TouchBar secondary display, replaced by physical function keys. There's a camera notch at the top of the display. There's no MacBook Pro wordmark under the display, but there is one moulded into the base. Once again the Pros come in a brace of 'colour' options – silver and space grey.
There are now long vents on the side in addition to four rubber feet which look messy if you ever decide to look at the underside of your laptop, but actually sit the Mac very nicely on most surfaces and prevent scratching of both the laptop and other surfaces.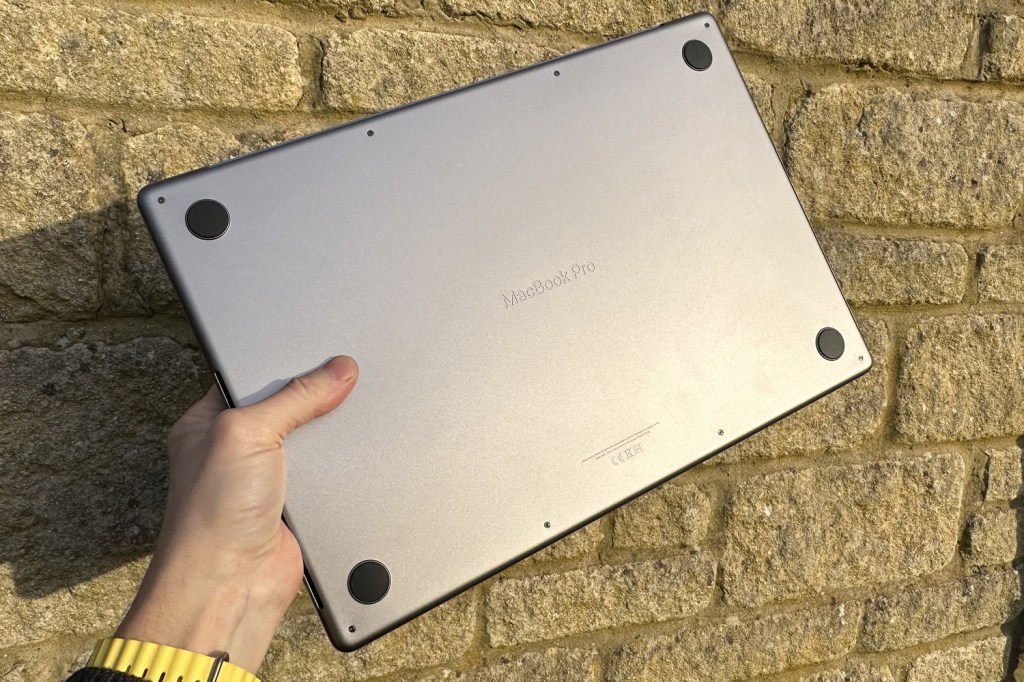 The trackpad is still rather large, designed for gestures and continuity with the Magic Trackpad while the keyboard is generously sized and now matches Dell and Lenovo as having some of the best laptop keyboards around. And there's Touch ID in the top corner as you expect.
This MBP is heftier than the old 2019 Intel 16-inch by around 160g. Which for a laptop is quite a lot.
Magnetic charging returned to the Mac last year (here referred to as MagSafe 3) but we're in two minds about it – we liked the ubiquity of USB-C. However, you can still charge via USB-C should you want to. It's a 140W fast charger that'll give you around a 50 percent charge in half an hour.
Port-wise, you also get triple USB-C (Thunderbolt 4) as well as HDMI 2.0, an SDXC card reader and – yes! – a headphone jack. As with the previous model, we're surprised that HDMI made the final cut when many displays can be driven via USB-C.
Display and speakers
The 3024×1964 mini LED display is simply stunning and uses Apple's ProMotion variable refresh tech as well as reaching highs of 1600nits of brightness. It's so sharp, but what impresses the most is the colour reproduction which looks incredible.
However, it's hard not to be distracted by the iPhone-style notch at first and you do wonder what the thought process was behind implementing it when the iPad Pro can do a lot (Face ID) without much fuss and much bezel. It's not a problem for the software, thankfully, but it just doesn't make a huge amount of sense. There's no Face ID here though, which still feels like a miss for Apple's laptops considering the success of Microsoft's Windows Hello. It was one of the things we thought would definitely be implemented with the move to Apple Silicon.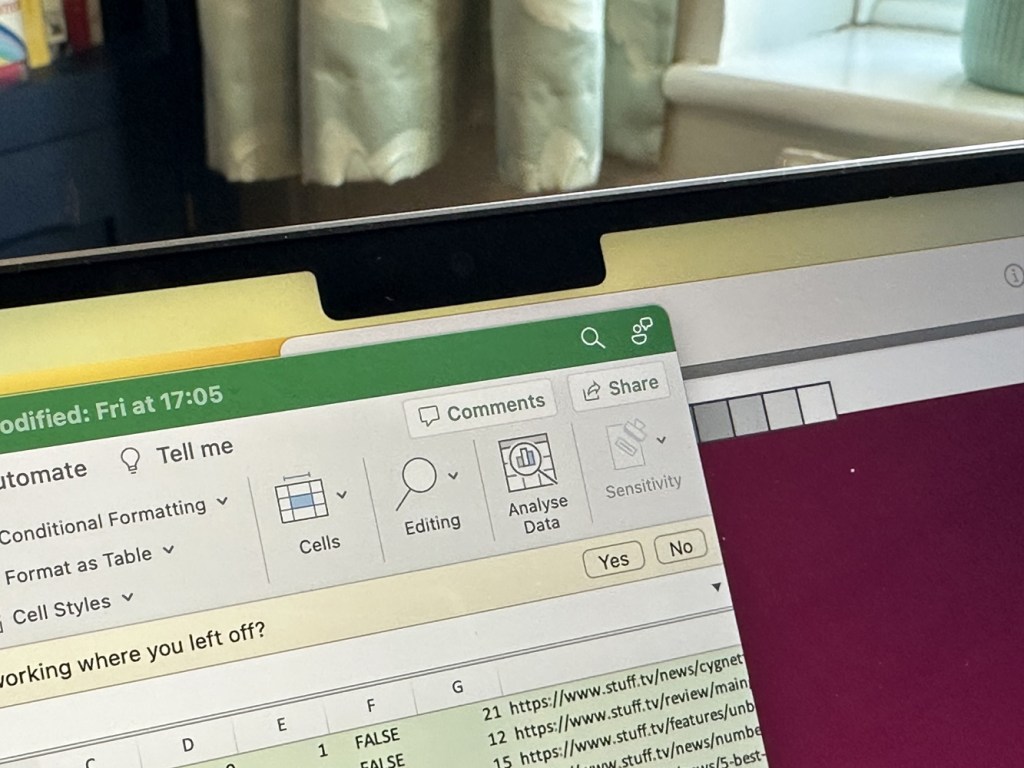 The webcam is 1080p (as it was in the previous model) and you're now able to use your iPhone as your webcam if you really want using Continuity Camera. But this MacBook Pro doesn't support Centre Stage to keep you in the frame either (unless you're using the Apple Studio Display). Which seems rather bizarre.
Audio is again provided by a six-speaker array which is very clear and fairly beefty although lacks the kind of bass you get from a dedicated system of course. It also doesn't go quite as loud as we'd expect, but perhaps distortion would have come into play.
Performance and battery life
If it wasn't clear before, it is now – Apple has sent shockwaves through PC chipmakers with the results of its work over the last few years.
Make no mistake, the M2 Pro and M2 Max are incredible chips intended for professional use so you really have to need this kind of power to get the most out of it, as if that wasn't obvious from the eye-watering entry-level price. The MacBook Air M2 (and the M1 for that matter) can handle every app you can throw at them and these offer way more.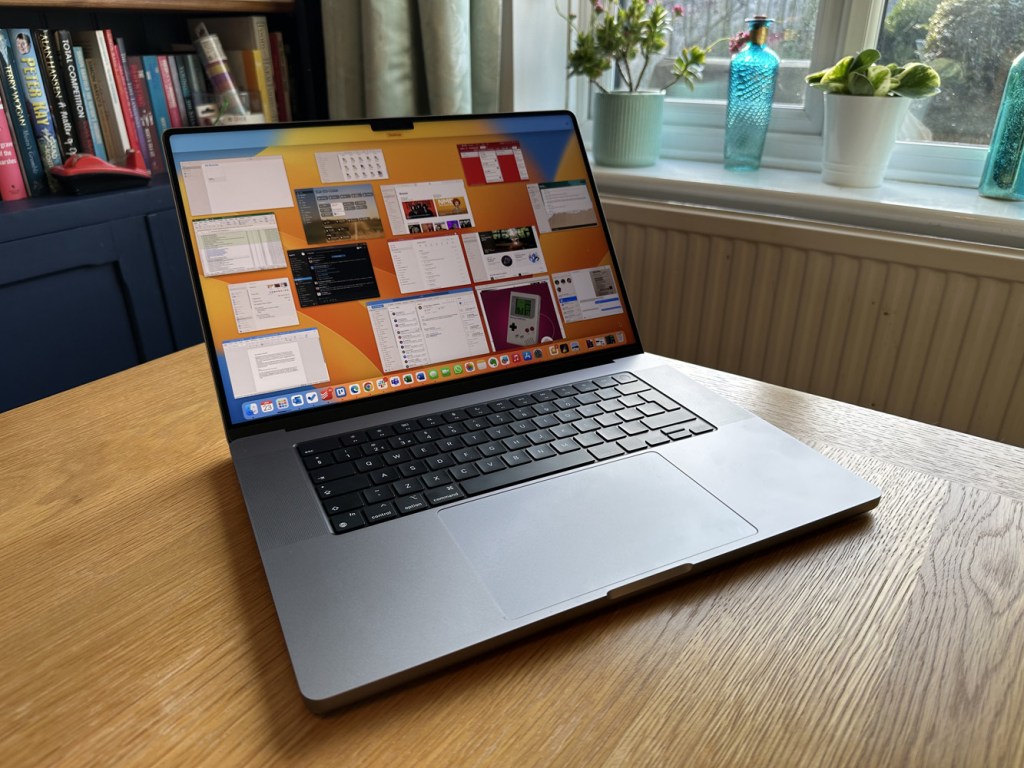 The M2 Max inside this laptop isn't Apple's fastest chip ever – the M1 Ultra inside the Mac Studio is two M1 Max chips whacked together so that is always going to be faster. Aside from that, the only thing the M2 Max is beaten by in terms of Mac multi-core performance on Geekbench is the Intel Xeon-toting Mac Pro from 2019. Remember: the Xeon is a server chip. It's not designed for normal people. What's more, if you're talking about single core performance – nothing beats what is inside this MacBook Pro. Nothing.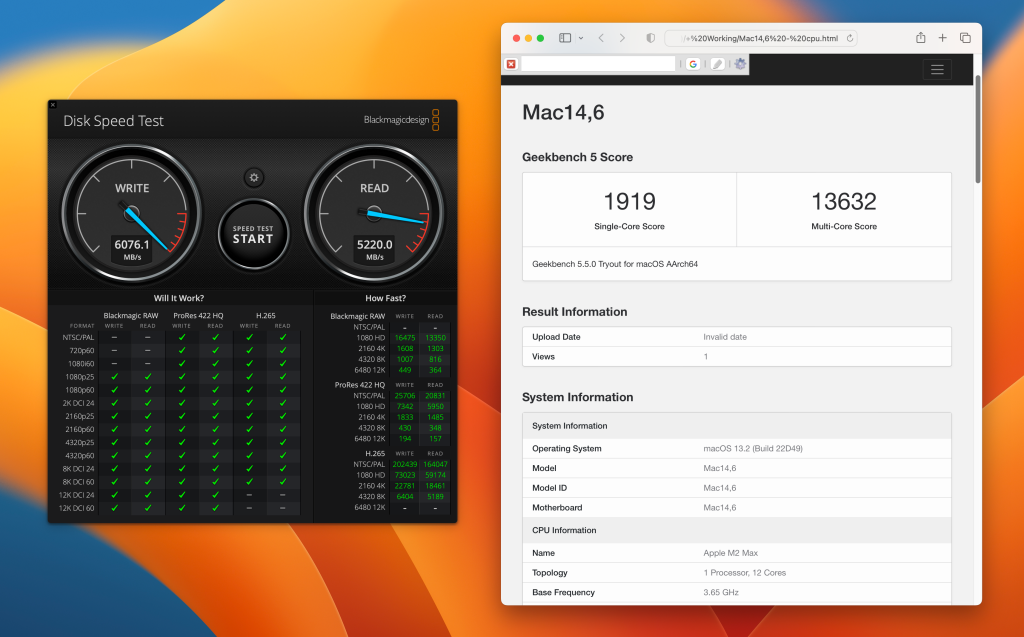 The 32 core GPU is clearly crucial to many pro tasks and 3D models, complex images and video just don't dent its ability. In an app like Adobe Photoshop, everything you try is instant. This Mac deals with 4K video files like they're photos, loads complex apps in no time. Transfers files locally extremely rapidly – talking of which, the SSD read and write numbers are almost unbelievable; Blackmagic's Disk Speed Test recorded write speeds of just over 6000 MB per second. Nuts.
Even under extreme load, the fans rarely spin up. It's hard to believe they're even there. We found the only thing that did it was when it was trying to churn through huge video encodes or benchmarking apps – Cinebench was really the only thing it found taxing. But it's hardly a regular occurrence. They're pretty quiet fans anyway – Intel Macs of old could make a noise like an Intercity… no longer.
Battery life is cited as a slight improvement on last year's model at 22 hours (!) of movie playback and 15 hours of web browsing. But let's put it in practical terms – we started using it at 3pm, installed loads of apps and downloaded stacks of cloud files, clocked off at 6, did a bit of work later that evening while it was still synching stuff, and then worked from 9am til 4pm the next day before it needed charging. Oh, and during that time it was driving an external display via HDMI, too. Put simply, this thing is JUICED! We're firmly in the realm of being able to leave your charger at home for a day working away from home (though we bet you'll still take it). Coincidentally this laptop will drive an 8K display, but we only had a 4K one to hand, which it handled without breaking a sweat.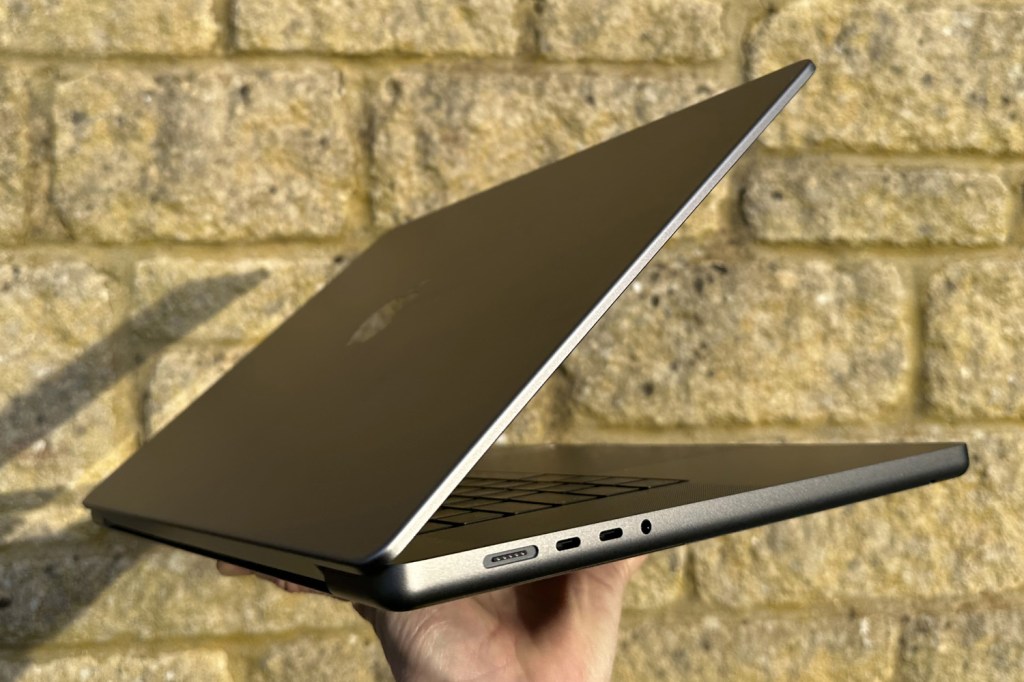 Software
macOS Ventura (macOS 13, if you're counting) is similar to the last few versions in that it has been inspired by iOS and iPadOS in terms of some of the design, but it's a hugely capable OS that feels like it's very much the parent to, say, iPadOS' limited multitasking capabilities. You can have stacks of complex apps and desktops on the go here even combined with virtual machines in something like Parallels and it's all tied together nicely by the Finder and flexible dock.
We're now over two years into Apple's seismic move to Apple Silicon. A huge number of apps are now completely fine with Apple Silicon but we did encounter some app-based issues. iMovie crashed once. Microsoft Teams refused to start once. WhatsApp needs the Rosetta emulator to work (it's still an Intel app it seems, despite being in the Mac App Store) and kept crashing, though restarts seemed to abate all these problems.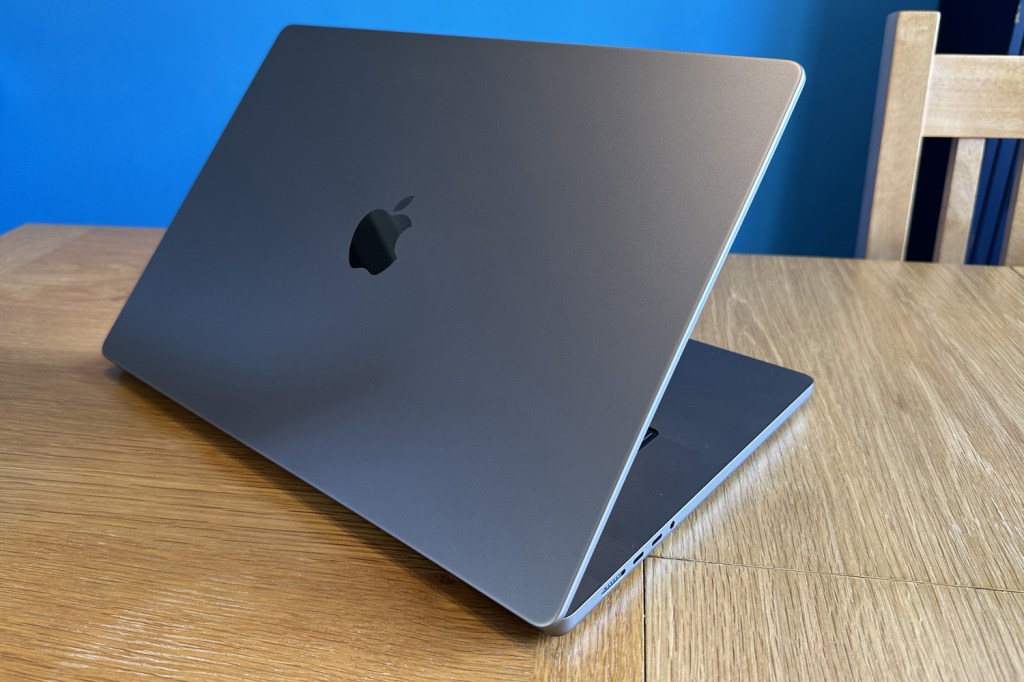 MacBook Pro 2023 verdict
Apple's latest-generation MacBook Pro is a pretty special machine. And it shows that if Apple's chips continue their trajectory then the rest of the PC industry will struggle for some time to come. Debates about whether the Mac should have a touchscreen or whether the iPad Pro should run macOS are for another time because what is on offer here is truly remarkable. You just have to make sure that you're not buying something you won't use to its full capability. While the MacBook Air isn't favoured by some, it is more than good enough to do what most traditional MacBook Pro users need.
But enough of that negativity – if you're looking for a productivity powerhouse to accompany you through the next few years, the 2023 MacBook Pro is certainly it. The ultimate do-anything machine.
MacBook Pro 2023 tech specs
| | |
| --- | --- |
| Screen | 16.2-inch Liquid Retina XDR 3456×2234 with P3, True Tone and ProMotion |
| Processor | Apple M2 Pro or M2 Max |
| RAM | 16GB/32GB configurable to 64GB/96GB if you have M2 Max |
| Storage | 512GB/1TB SSD configurable up to 8TB |
| OS | macOS Ventura |
| Connectivity | 802.11ax Wi‑Fi 6E; Bluetooth 5.3; 3.5mm headphone; 3x Thunderbolt 4; MagSafe 3; HDMI; SDXC |
| Dimensions | 35.6 x 24.8 x 1.7cm |
| Weight | 2.16kg |