Asus ROG G751 review
Something nice and gamey to chew on
These days there's an awful lot of gaming laptops that are trying to be something they're not. They want to be slim and light, while also being able to crank out Battlefield 4 at 795fps – and the maths often just doesn't add up.
The Asus ROG G751 is not like that. It's out and proud, a big brute of a gaming laptop that pairs serious hardware with an outer design that lets it pack-in larger fans to stop it from sounding like a Harrier Jump Jet as soon as you start playing The Witcher 3.
Laptops with this shell start at around £1000, but we're looking at the top-end version, packing a top-end GeForce GTX 980M GPU. All barrels are loaded, and there are at least a half-dozen of them on this laptop.
The Michael Bay of gaming laptops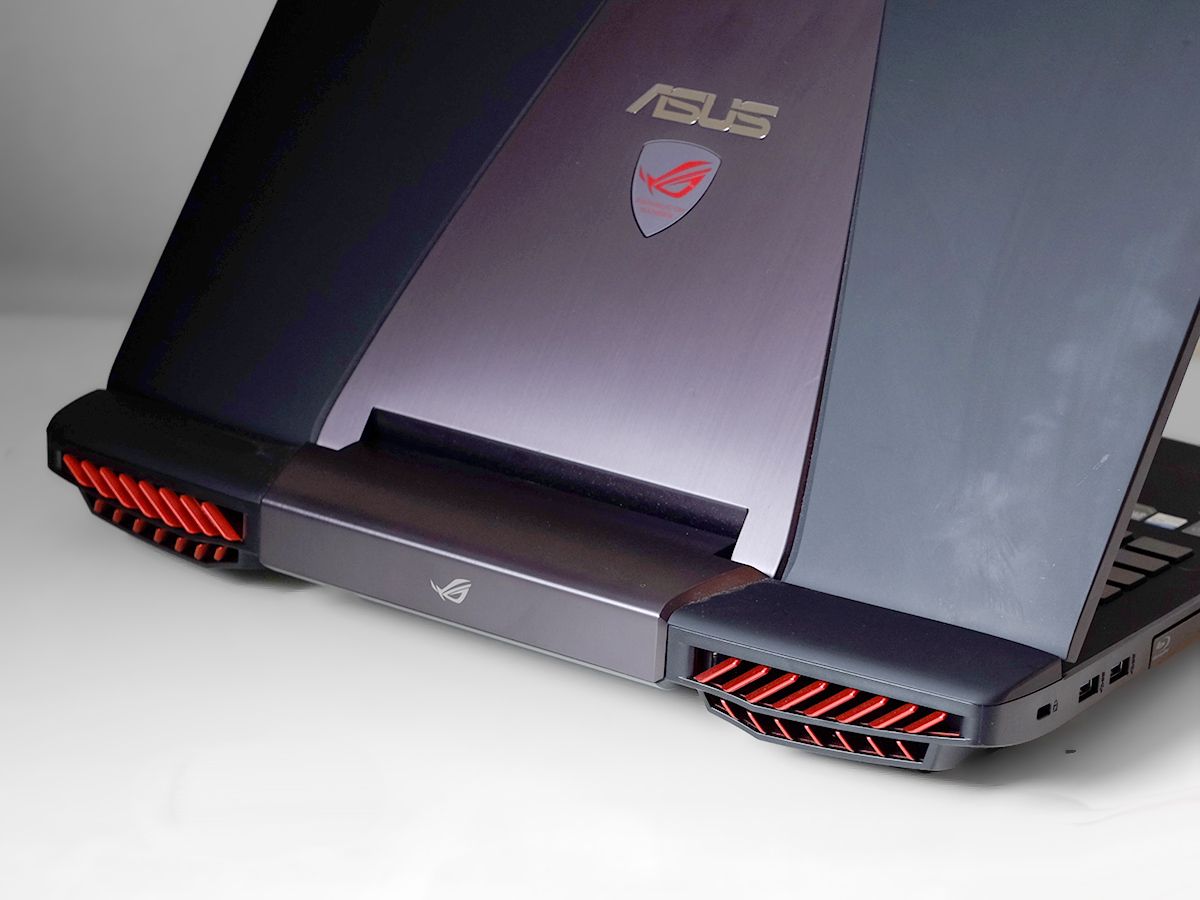 Don't want a laptop that does the equivalent of kissing its guns whenever anyone passes by? You might want to pass the Asus G751 up.
It's pretty unsubtle, design-wise: at the back of the laptop is a set of giant fan outlets that look as though they could have come from the back of a souped-up Vauxhall Nova. They're pretty brash, out to let gamers impress other gamers, pretty much. But probably no-one else.
The keyboard lettering is red, the backlight too, just for another shot of that 'I'm a big, bad dangerous laptop' flavour. Put off? That's fine. The Asus G751 was never meant to be for everyone, and there are plenty of other super-powered gaming laptops out there.
A softer side
But it's not quite all about show. Take the keyboard surround. Where Ultrabooks almost all use aluminum here to give you that cool, hard finish that makes you feel better about spending £1000 on a laptop that's only about as powerful as some half the price, here you get a soft touch finish.
It's matt black, and soft as a puppy's fur, just perfect for a long gaming stint. This finish is used on the lid too, although there it's matched with a big brushed aluminium bit. It can't let too much of it's body seem low-key, can it?
Whether or not you like the style, you also need to take the Asus G751's size into account. I've taken to calling it "the beast", as it simply dwarfs not just my MacBook Pro but most of the other gaming laptops I've looked at recently.
It weighs almost 4kg, so you won't want to take it out of the house unless you really need to. You can use the Asus G751 on your knees, but boy do you know it's there when you do.
Big-screen gaming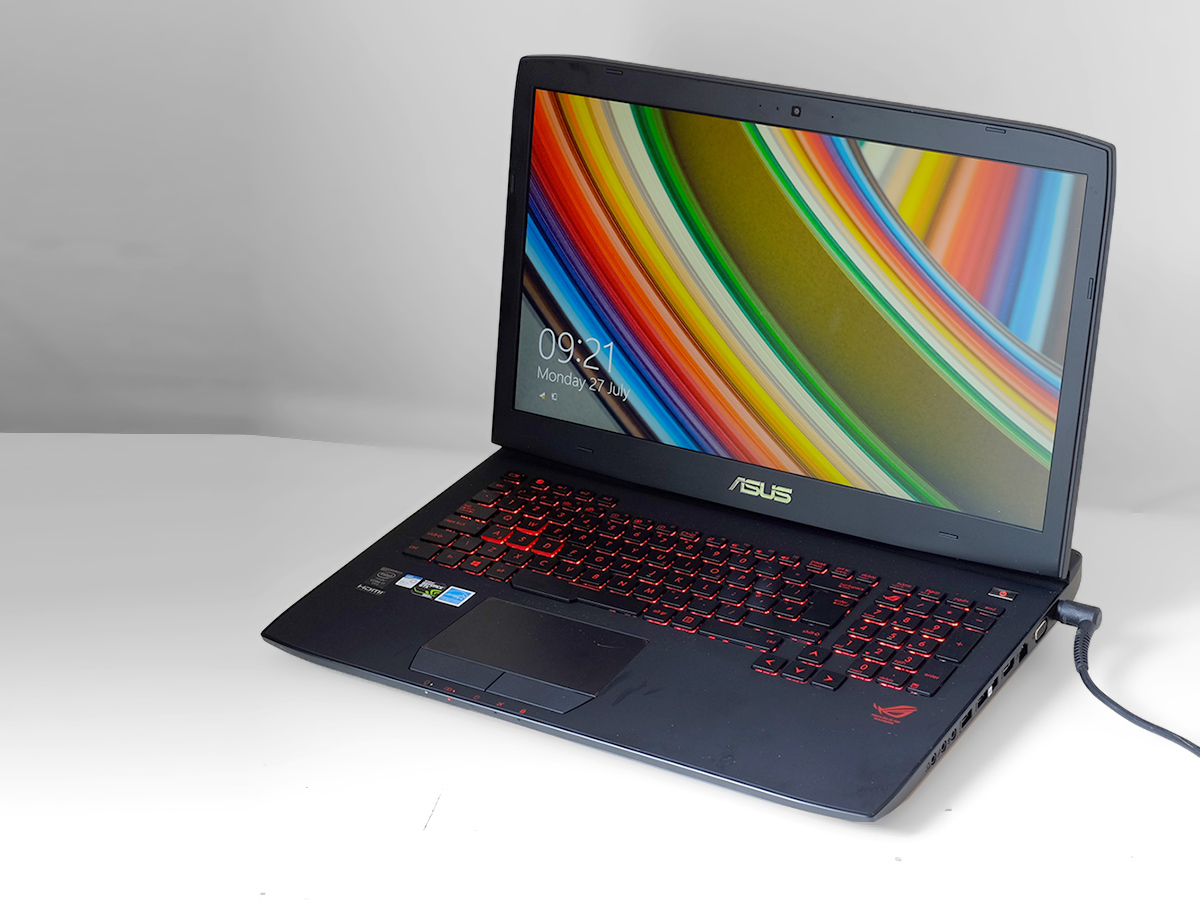 In return you get a giant 17.3in screen. Played at the sort of distance that lets you, y'know, reach the keyboard, this gets you a pretty cinematic gaming experience: about as good as you can get from a laptop.
If you're expecting portable 4K gaming from the Asus G751, though, you won't get it from this screen. It's a 1080p display, largely because you just can't get 17in screen panels at higher resolutions that would suit a laptop. It's much easier to get a high- res laptop with a 13in screen.
It's a sweet display, though. While when using a word processor you can see those pixels pretty easily, that largely fades when you play games. And it means you can play pretty much any game at Ultra settings without any frame-rate issues.
The Asus G751 has an IPS LCD screen with a matt finish. This lets you play it anywhere without having to worry about reflections hiding that zombie creeping up on you. Or a fluffy bunny… whatever kind of game you're into.
Colour quality is very good too, providing plenty of pop even though matt screens often make colours appear a bit muted. The one limitation is something you have to expect from an LCD-based screen. Take the Asus G751 into a darkened room for a bit of bonus immersion and you will be able to see the effect of the backlight, making blacks appear a bit blue-grey ish. However, your TV will only be much better if it's an OLED or plasma.
It's the brain that matters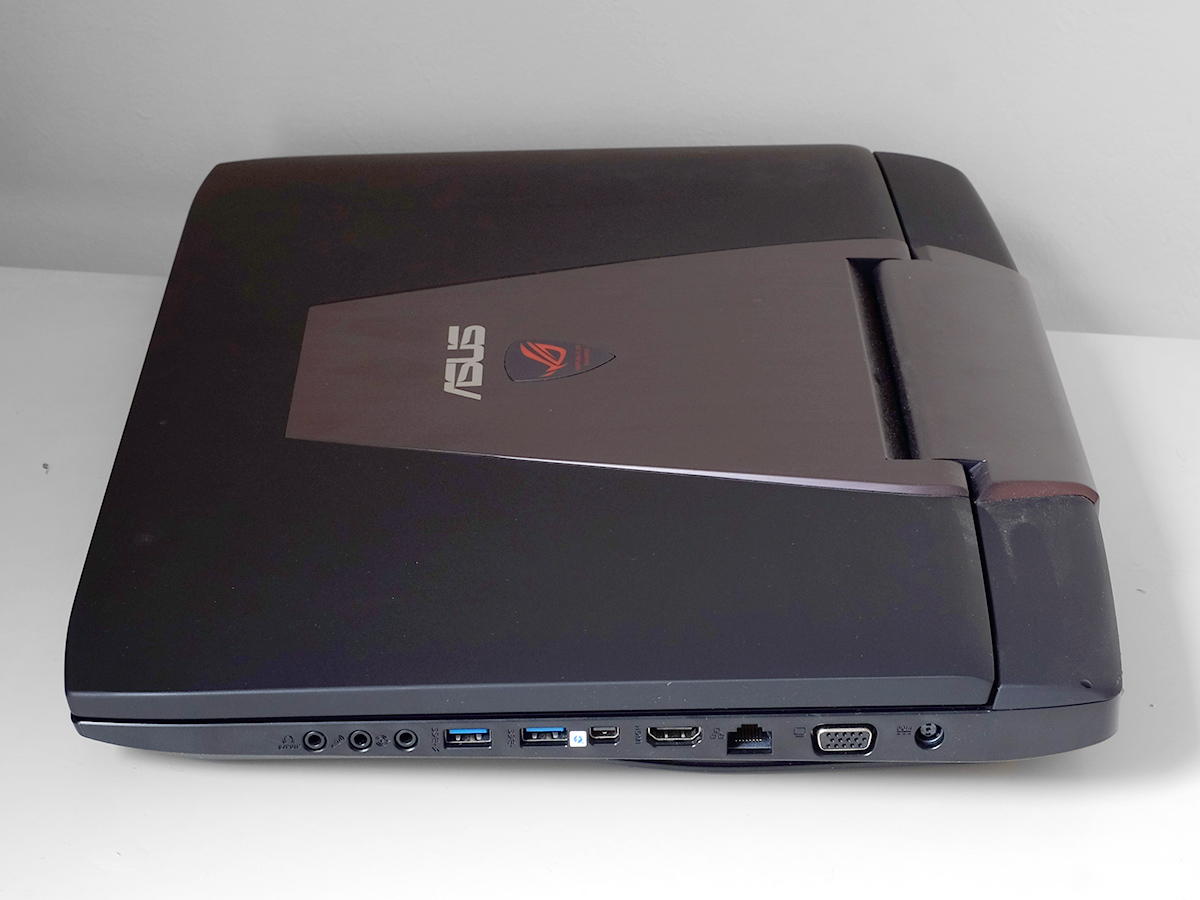 There is scope for higher-res gaming too. You'll just need to hook up another display. The Asus G751 has a HDMI and mini DisplayPorts, just take your pick. There's also a good old VGA port. Oh, and four USB 3.0s, a full-size Ethernet port and an SD card slot. There's also a tray Blu-ray drive that pops out of the side.
This laptop has the sort of power that can let it function as a main PC too, even though it still has laptop-grade components.
Its HQ-series quad-core Intel Core i7 CPU, 32GB RAM and blazingly fast (and valuable) GeForce 980M GPU outdo any stylish laptop, and a good deal of desktops too. It can do, well, anything.
Just don't expect it to last long off a charge. These processors are designed to not need a case the size of a large hamster cage, but they aren't out for efficiency. Just using the Asus G751 as a word processor with five minutes of Skyrim (because, well, why not?) the laptop only lasted for couple of hours.
Some gaming laptops last perhaps an hour or so longer, but the Asus G751 really doesn't like being away from its beloved power socket for too long. The power brick is a mammoth beast too. Bear this in mind if you're planning on taking it to a friend's house for a gaming session.
Hanging out with Maxwell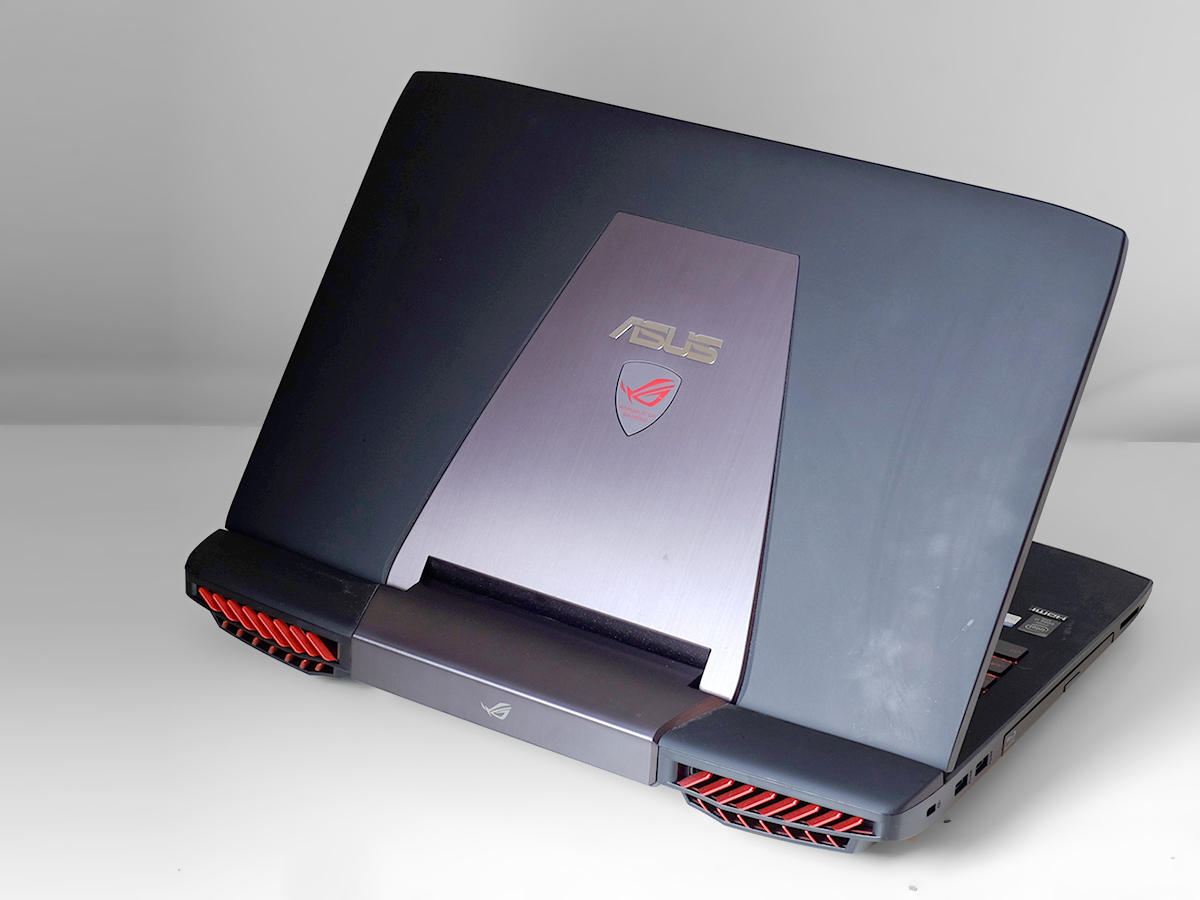 The Asus G751 can seem uncompromising, but its gaming power is, at the moment, unsurpassed. Its GeForce 980M Maxwell-Generation GPU is dazzlingly powerful, and can handle any modern game with all the fancy shiny bits and dandruff particle effects developers can come up with. To challenge it you'll need to hook up a higher-resolution monitor.
Of course, the Asus G751 is not alone as a laptop with a GeForce 980M GPU. There's a whole swathe of the things about. So what's special about this laptop in particular?
When really giving the GPU a workout, it manages to stay an awful lot quieter than many slimmer, lighter laptops. This is the big appeal of the laptop's size, assuming you don't simply love those great big exhausts on the back. This heat sink plus fan combos manage heat terribly well, and not only does that affect noise but the laptop's need to throttle system performance.
See, it's not just about that juvenile look.
Finger-tapper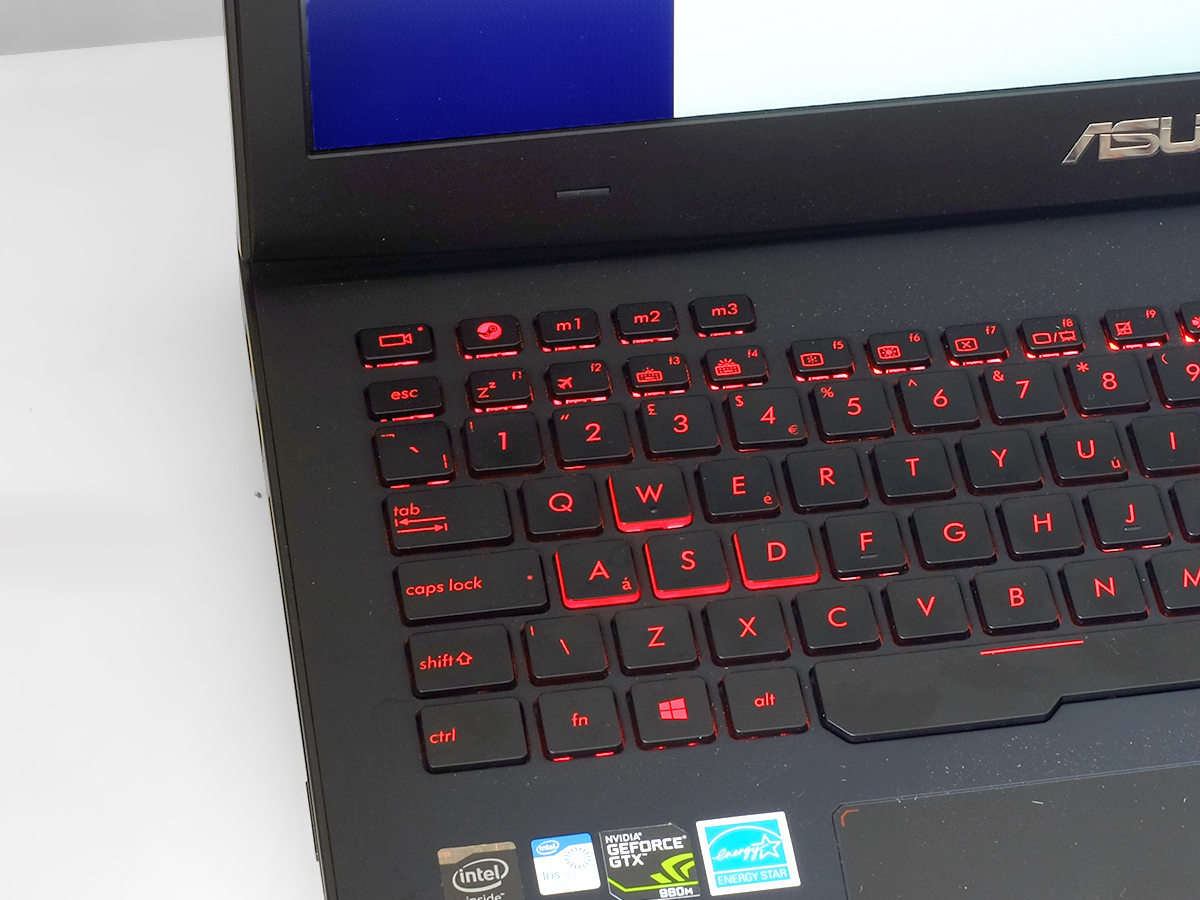 Then there's the keyboard. The Asus G751 has a chiclet set so deep it feels almost like a mechanical keyboard next to most other laptops. These deep keys give you a much more mellow feedback than something like a MacBook, whose shallow action needs a very crisp click to feel well-defined. I found typing away on the Asus G751 surprisingly comfortable.
Like most other gaming laptops, the trackpad is nudged to the left a bit to avoid you accidentally touching it while playing. It also means it's not in quite as comfortable a position for everyday laptop duties as my usual MacBook's pad, but gaming comes first in the Asus G751. As it should. The idea is that you'll plug in a mouse most of the time.
The Asus G751 feels built for gaming in every aspect, and boy is it good at it.
There are neat shortcut buttons on the laptop too. One loads Steam, one loads an app that lets you record your gameplay footage, and there are three macro buttons that let you record a series of button press or mouse movement macros for quickie gaming shortcuts. They're handy, and don't get in the way. I even quite like the red keyboard backlight, which looks a bit softer and less distracting that the usual white style.
If there's one thing I would like to improve, though, it's the speaker. The Asus G751's is tuned for bass, to give explosions and the like that bit more boom. But it otherwise lacks definition, and sounds a bit wooly next to a more even laptop speaker when playing music. It's also not really loud enough to impress with its bass either.
Asus G751 verdict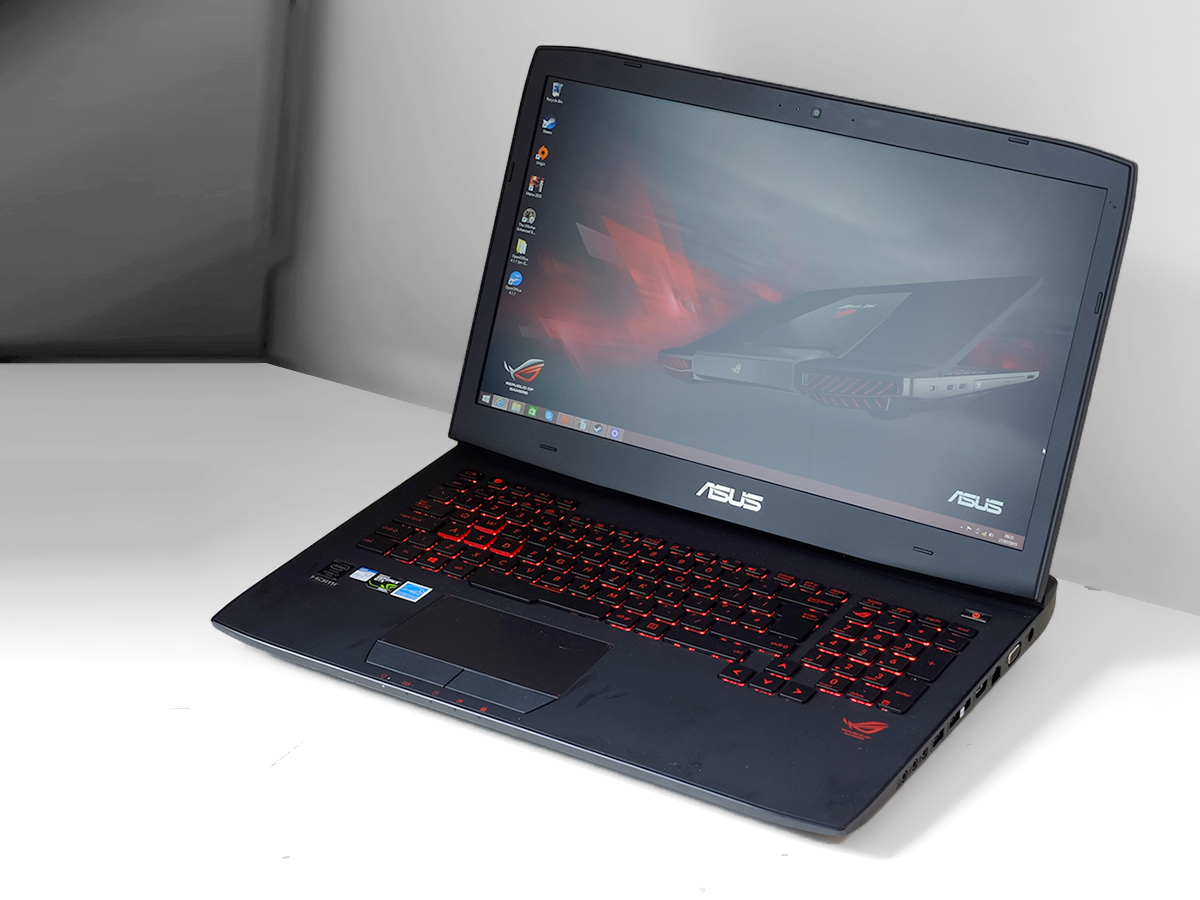 The Asus G751 is for the loud and proud PC gamer. At first it seems a bit loud and brash in its design, being big, heavy and happy to show off its heat outlets, rather than hiding them away like an embarrassing growth. However, in almost every case there's a thoughtful, practical reason for each part of the design once you scratch off the gamer-y veneer.
Awesome performance, a good screen and highly effective fans that keep the Asus G751 pretty quiet under pressure make this one of the best gaming laptops around.
Floored by the price? don't forget that lower-end models with the same design if you don't need the supercharged GPU of the one we've tested.
Tech specs
| | |
| --- | --- |
| Operating system | Windows 8.1/Windows 10 |
| Screen | 10.1in IPS LCD 1920 x 1080 |
| CPU | Intel Core i7-4870HQ |
| GPU | GeForce 980M |
| RAM | 32GB |
| Storage | 512GB SSD + 1TB HDD |
| Optical drive | Blu-ray |
| Connectivity | 4x USB 3.0, Mini DisplayPort, HDMI, VGA, Ethernet, SD, Wi-Fi ac |
| Cameras | HD Webcam |
| Dimensions | 416 x 318 x 53 mm |
| Weight | 4.8kg |
Stuff Says…
A near-perfect gaming laptop for those who don't mind a louder look
Good Stuff
Massively powerful
Runs surprisingly quietly
Excellent screen
Bad Stuff
Big and heavy
Not exactly subtle styling
Predictably short battery life