Asus ZenBook Duo 14 (UX482) review
Asus innovates with a dual-screen creative laptop – but is too much compromised to make this design work?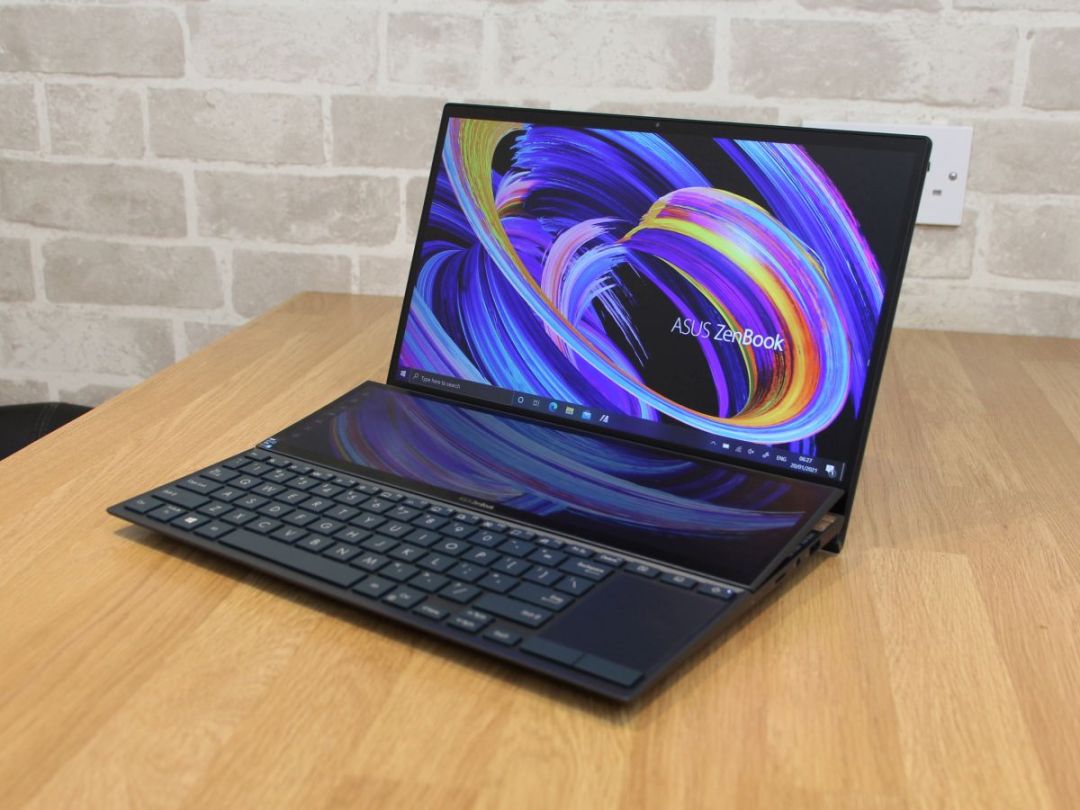 The Asus ZenBook Duo 14 (UX482EG) has a mouthful of a name, but behind those words and numbers you'll find a ground-breaking machine that crams two high-resolution displays into its 14in frame.
The dual-screen design takes aim at creatives and content creators who find one screen restrictive, and the ZenBook bolsters the displays with Intel 11th Gen internals and claims of brilliant battery life.
Design & Build: Smart, solid and sturdy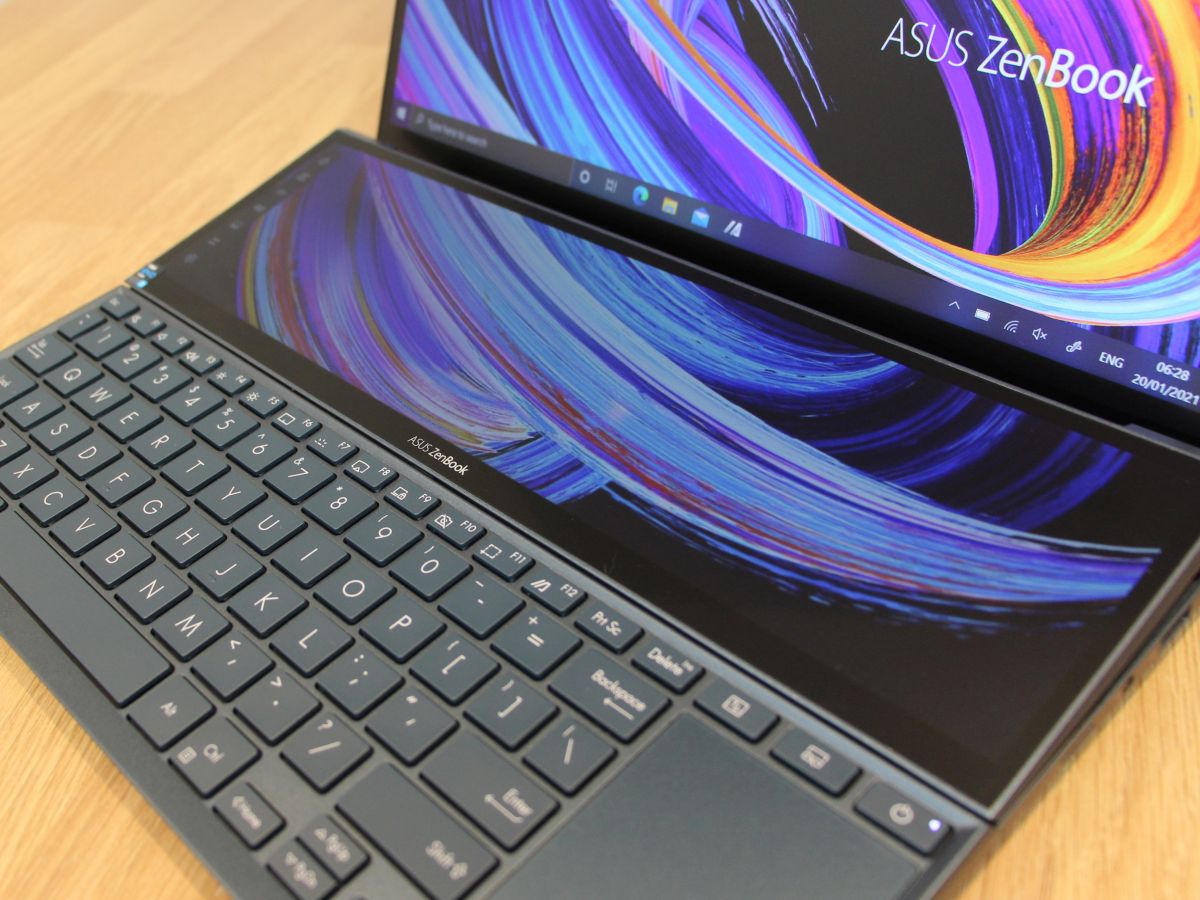 ZenBook machines always offer impressive style, and the second display doesn't change that; the Asus is hewn from dark blue magnesium alloy and it looks fantastic.
Lifting the lid engages two clever mechanisms that get this machine working properly. The first is the ErgoLift hinge, which lifts the rear of the laptop upwards and angles the keyboard toward the user for easier typing. The second is a separate hinge that tilts the secondary display forward, which improves viewing angles and uses air to cool the components below. Everything on this laptop moves smoothly, and build quality is superb – this is a machine that'll easily withstand being taken out of the house.
The Asus is slick, but adding a second screen does introduce a compromise too. This machine weighs 1.58kg, for instance, and is 17mm thick. Neither figure is ruinous, but both compare badly to the market's most popular small creative notebook – the Apple MacBook Pro 13in weighs 1.4kg and is slimmer.
Screen & Sound: A creative powerhouse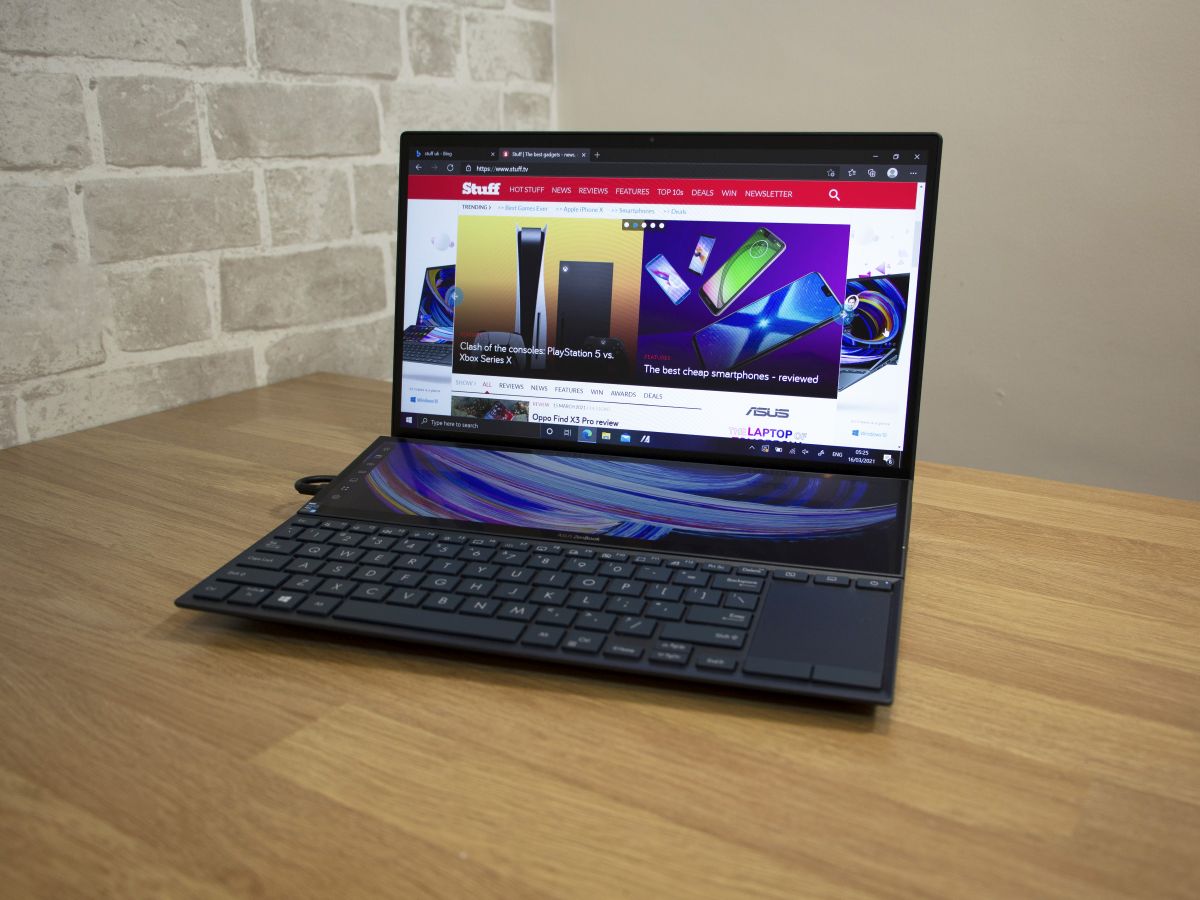 The second display is called the ScreenPad Plus, and it's a potential game-changer for creative applications. It's a 12.6in IPS touchscreen that can hold timelines and controls in creative apps, media and chat tools, browser windows, or for anything else that you don't want clogging up the main display.
Apps can snap between the two panels, and the Asus ScreenXpert 2 management app holds a dock that can be customised with shortcuts. Asus has apps for note-taking and drawing and groups of apps can launch directly to either display. There's an invaluable Control Panel app that serves up optimised slides, dials and buttons for the Adobe Creative Suite, and the ZenBook includes a 4096-point stylus.
The main screen is a 1080p IPS touchscreen, and quality levels are high – the panel's contrast sneaks beyond 1,500:1, which is superb for an IPS panel, and colour accuracy is excellent.
This is great hardware for mainstream creative work, but the ZenBook's panels are not without flaws. The low angle of the ScreenPad means it's a little washed-out, so it's ideal for secondary apps but not for colour-sensitive work. The main display nails sRGB imagery but it can't handle the Adobe RGB or HDR colour gamuts, and it's a little disappointing that the resolution isn't higher.
Apple's MacBook Pro display is a little sharper and brighter, and can handle a wider colour gamut. Negatively, though, the MacBook's Touch Bar is far less useful than the ScreenPad Plus. The speakers are middling, too, despite that Harmon/Kardon branding.
They're loud, crisp and detailed enough to handle everyday media, but the absence of bass makes them feel toothless.
Keyboard & Touchpad: Disappointing, inevitable compromise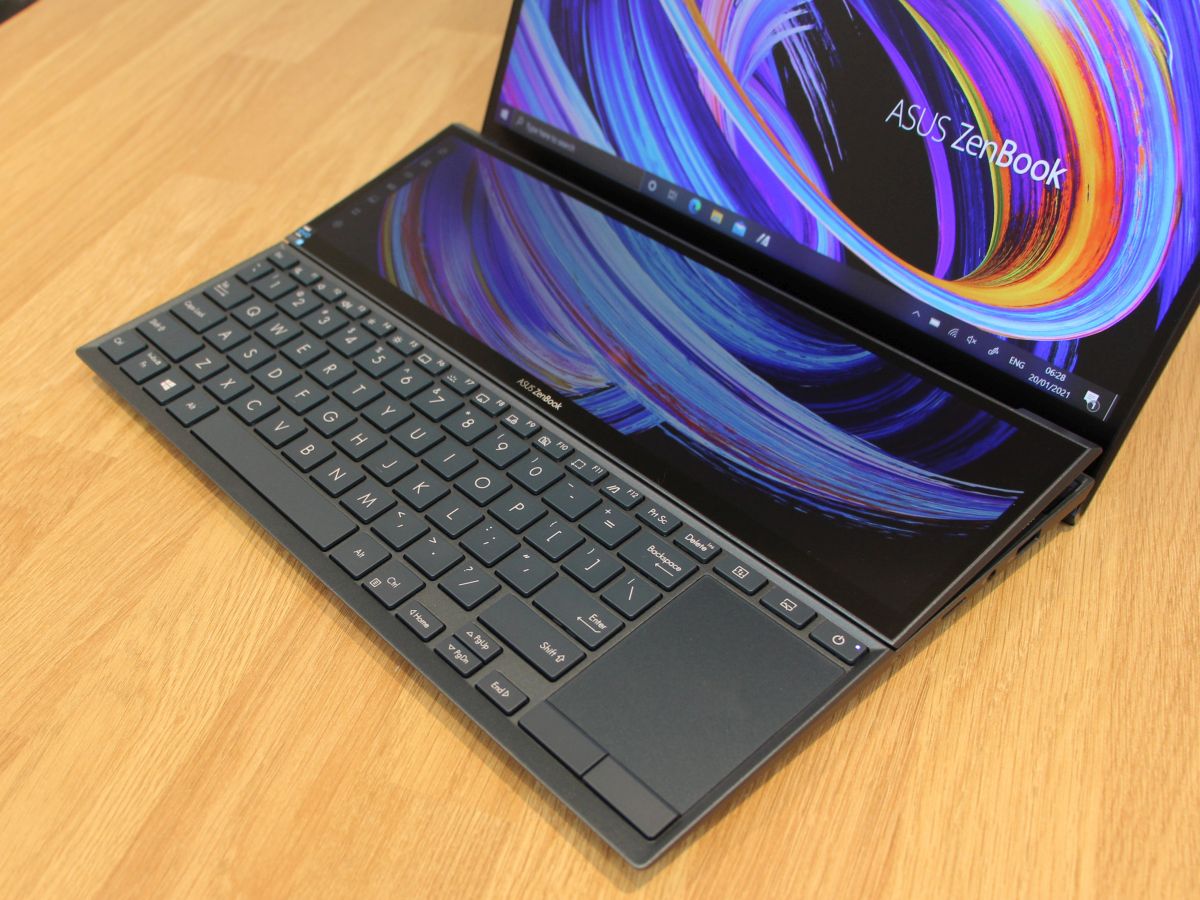 This is one area where the ScreenPad has a significant impact. The inclusion of that second display means the keyboard and trackpad are pushed forward to the front edge of the laptop. That means no room on either side of the keyboard, no wrist-rest, a single-height Return key and tiny cursor buttons.
The buttons themselves are decent, with consistency and comfort alongside a pleasing level of snap and speed, but the keyboard feels cramped and awkward – at least until you get used to it. Apple's keyboard is a little more spacious and certainly more satisfying.
The narrow trackpad is underwhelming. It's so narrow that one swipe across the pad doesn't allow the cursor to travel across the whole display, and the two buttons are a little soft. It's another area where Apple wins, although you can solve the ZenBook's trackpad issues by using a USB mouse.
Performance: It's good, but it's not great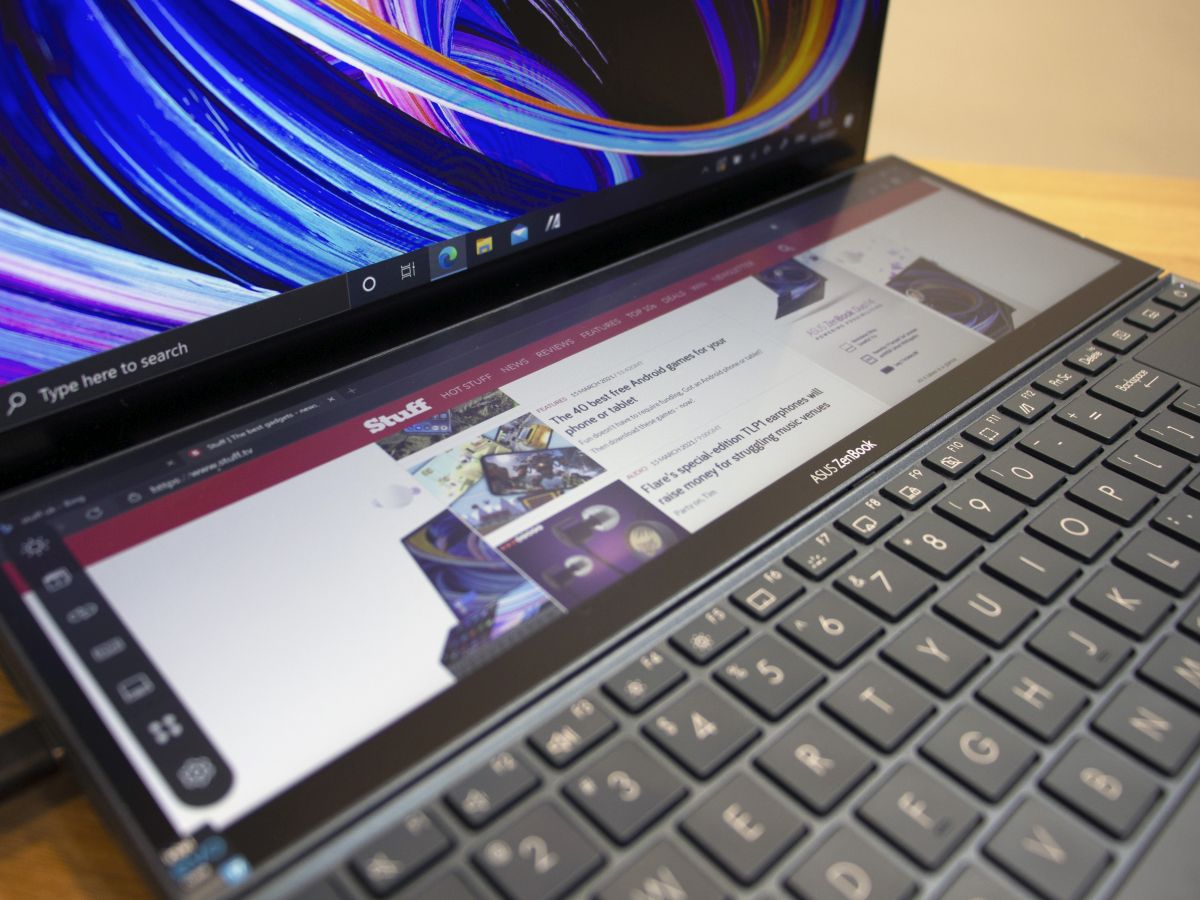 The ZenBook relies on an Intel Core i7-1165G7 processor, which is an Intel 11th Gen Evo, and the specification is rounded out by 16GB of memory, a 512GB Samsung SSD and Nvidia GeForce MX450 graphics.
It's solid hardware. The ZenBook will handle mainstream photo-editing and video work, other content-creation tasks, all of your Office apps and as many browser tabs as you throw at it, and the SSD delivered speeds beyond 3,000MB/sec, so it boots and loads apps quickly.
It's a good thermal performer – the exterior metal only warmed up a little during tough benchmarking and never became uncomfortably hot, and fan noise remained low.
The ZenBook is decent, but it doesn't offer brilliant speed, and a look at the Geekbench tests illustrates the gulf between this Intel-powered machine and its rivals. In single- and multi-core tests the Asus returned decent scores of 1,541 and 5,418, but Apple's new M1 chip scores around 1,700 and 7,500 points in the same test – and the MacBook is no more expensive than the Asus unless you add extra memory.
More power is easily available on Windows, too, with AMD Ryzen processors – although machines with faster AMD chips will only have single screens and they'll probably be larger than the ZenBook.
The Asus fights back with solid battery life. We used this machine with web browsers and Office applications – and the ScreenPad – and it lasted for eleven and a half hours. Disabling the ScreenPad extended that to a monster sixteen hours. Conversely, pushing the internals hard and using both displays at full brightness cut the lifespan to just below three hours, and dropping the brightness during tough workloads got five hours of use from the machine.
So, while battery life will vary depending on how you use the ZenBook, it's got more juice than the MacBook Pro and it'll easily last a full day if you're not pushing the components to their max.
This machine has a reasonable slate of extra features, too. It's got two USB-C ports that support Thunderbolt 4 – with one port necessary for charging – and it has USB-A, HDMI, a 3.5mm audio jack and a microSD card slot. The interior serves up 802.11ax wireless and Bluetooth 5.0, and it has a webcam that supports Windows Hello.
There's no wired internet, no full-size SD card reader and no fingerprint scanning, but this all still compares well to the MacBook, which omits USB-A, HDMI and a card slot.
Asus ZenBook Duo 14 (UX482) verdict
There's a lot to like about the ZenBook: the second screen offers huge creative possibilities if you can fit it into your workflow, and those displays both have good quality. The Asus also serves up great battery life, solid internals, and better connectivity than its key rival.
While the ScreenPad is useful, though, it also makes this machine heavier and thicker than the competition, and hinders the keyboard and trackpad. It's also easy to find more power if that's more important to you.
If you'll use the second screen extensively, though, then those compromises are worth it – and Asus' design gamble will have paid off. This is an impressive, innovative, but flawed machine.
Tech specs
| | |
| --- | --- |
| Screen | 14in, 1920 x 1080 touch IPS, 12.6in 1920 x 515 touch IPS |
| CPU | Intel Core i7-1165G7 quad-core, 2.8GHz |
| Memory | 16GB |
| GPU | Nvidia GeForce MX450 |
| Storage | 512GB |
| Operating System | Windows 10 Home |
| Battery life | Up to 17 hours |
| Connectivity | 802.11ax Wi-Fi 6, Bluetooth 5.0, 3.5mm headphone, 2 x Thunderbolt 4/USB-C, 1 x USB-A, 1 x microSD |
| Dimensions | 234 x 222 x 17mm, 1.58kg |
Stuff Says…
The ZenBook's ScreenPad is a useful, innovative addition for creatives, and elsewhere this machine has good battery life, reasonable internals and impressive display quality. But the ergonomics and dimensions have been compromised so that second screen fits, and cheaper, faster rivals are available
Good Stuff
Impressive, high-quality dual-screen design
Lengthy battery life
Decent features and connectivity
Solid processing power
Bad Stuff
Rivals are faster
Competitors are slimmer and lighter, too
Keyboard and trackpad are cramped