Audio-Technica ATH-M50xBT2 review
A slight upgrade on their predecessor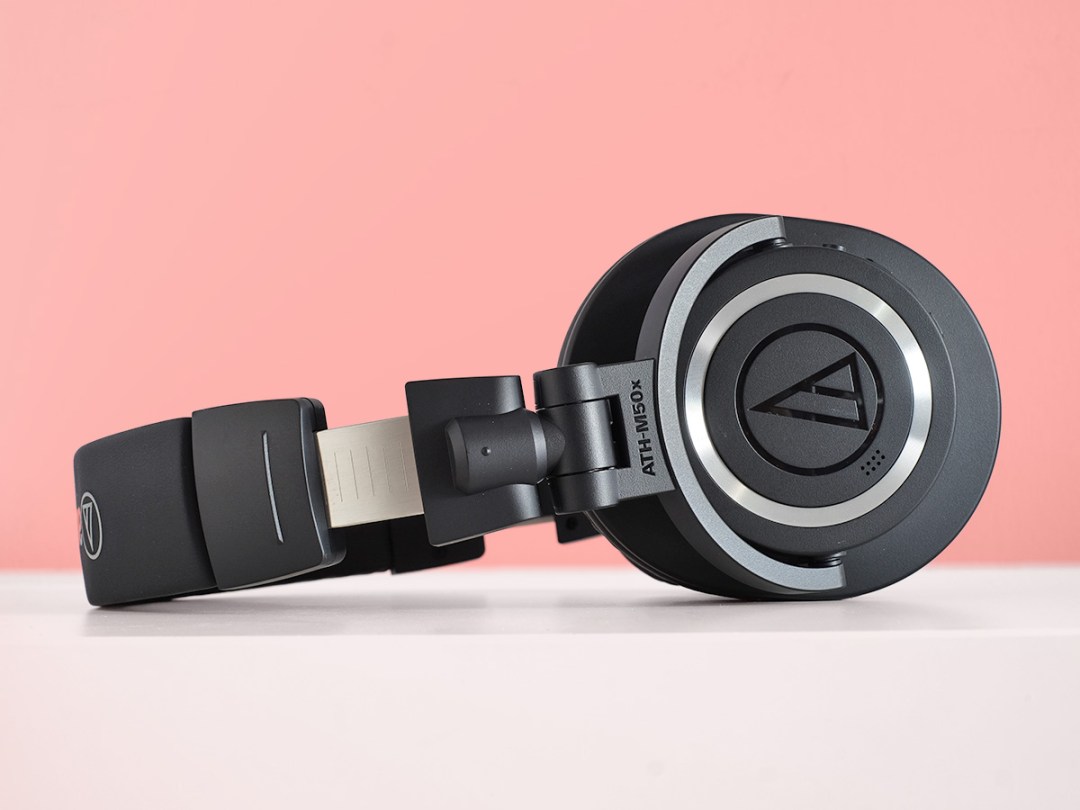 Sony, Bose and Bowers & Wilkins have spent the last few years trying to flatten each other's noses in a headphone Fight Club. But Audio Technica has quietly been getting on with it, making some of the easiest-to-recommend headphones around, in the "M50" series.
The Audio Technica ATH-M50xBT2 look almost identical to the last-gen ATH-M50xBT. They even look just like the original M50 pair released 14 years ago.
There was nothing to fix here. Audio Technica has just treated the Audio-Technica ATH-M50xBT2 to a few more modern features. You get USB-C charging, a new Bluetooth chip that seems to provide even better battery life and a button to dial in directly to your phone's assistant.
The Audio-Technica ATH-M50xBT2 also mark a return home. Where the Audio-Technica ATH-M50xBT were party headphones with deliberately boosted bass and sub-bass, the Audio-Technica ATH-M50xBT2 are more accurate and sound similar to the classic cabled-up M50x.
Some might find them a bit less fun for electronic music as a result, but for everything else, the Audio-Technica ATH-M50xBT2 are more coherent. That stands for most other pairs you might choose to spend £180 on too.
Design: These beats are 20 years old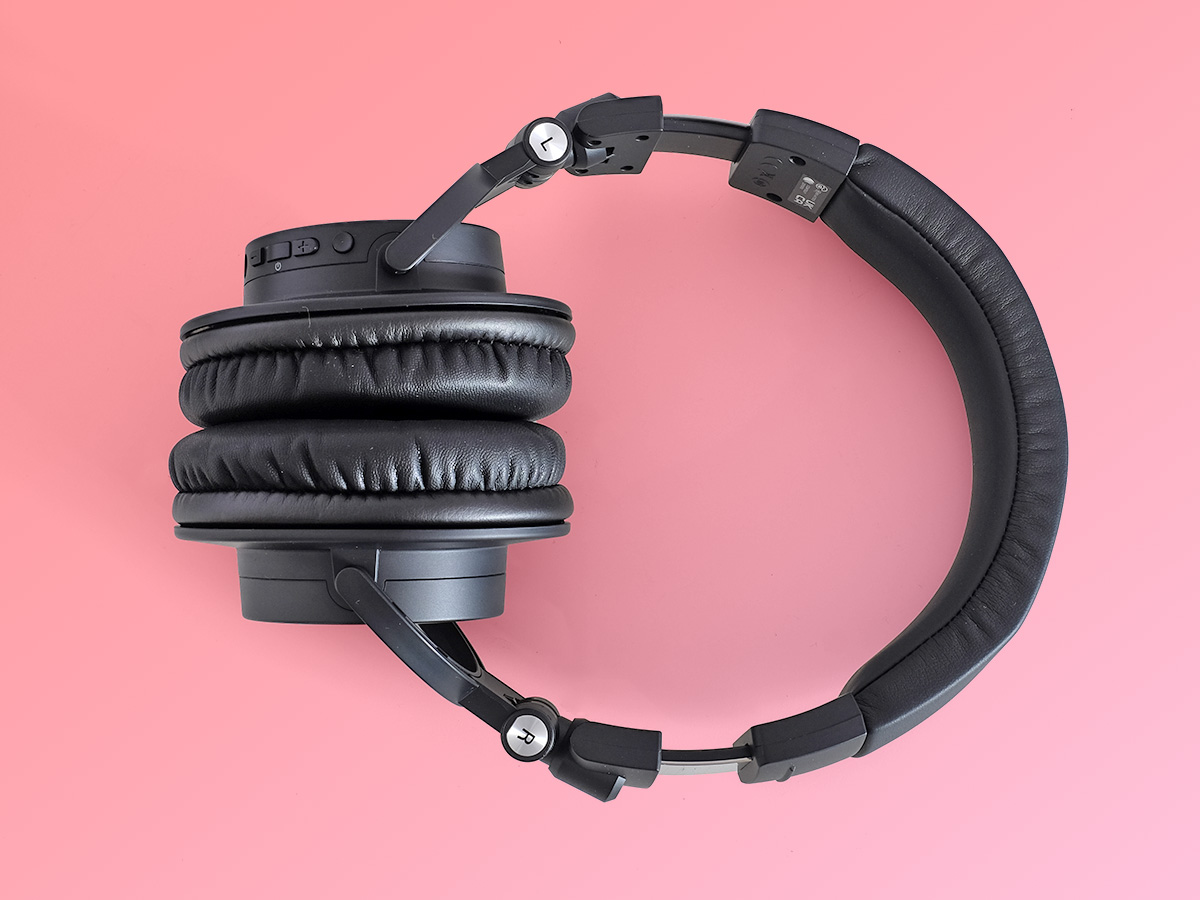 In the time Audio Technica has spent making headphones that look just like the Audio-Technica ATH-M50xBT2, companies have risen and fallen, countries have changed names and borders.
We've used the ATH-M50x as an on-off reference pair since 2014 and can tell you pretty much how your life with the Audio-Technica ATH-M50xBT2 will go. This set's outer bits seem almost identical.
Yes, after a few years those ear pads will start to disintegrate, dropping plastic-leather dandruff everywhere until you replace them. Sure, the inner headband padding will gain an age-related wrinkle or too. But we're rarely as confident in telling you these headphones will last.
The Audio-Technica ATH-M50xBT2 are based on a DJ/studio headphone design primed for abuse. Drop them on the floor and the springy inner steel of the headband soaks up the impact. After seven years there's no sign of plastic fatigue on our M50x pair.
Some tech fans hunger for change, but we're glad the Audio-Technica ATH-M50xBT2's roots haven't been dug up.
There are a few other design notables. They fold up in classic DJ headphone style, and the cups swivel 180 degrees on a chunky plastic anchor.
That chunkiness is good for durability. But compare the Audio-Technica ATH-M50xBT2 to the Sony MDR-1000XM4 or the Bose 700 and, well, this pair doesn't exactly seem elegant. The headband is wider than the norm and sticks out from your head more than many.
However, we like the style because the heavy-duty vibe isn't just for show, worn like a designer coat.
Features: Low fuss, limited features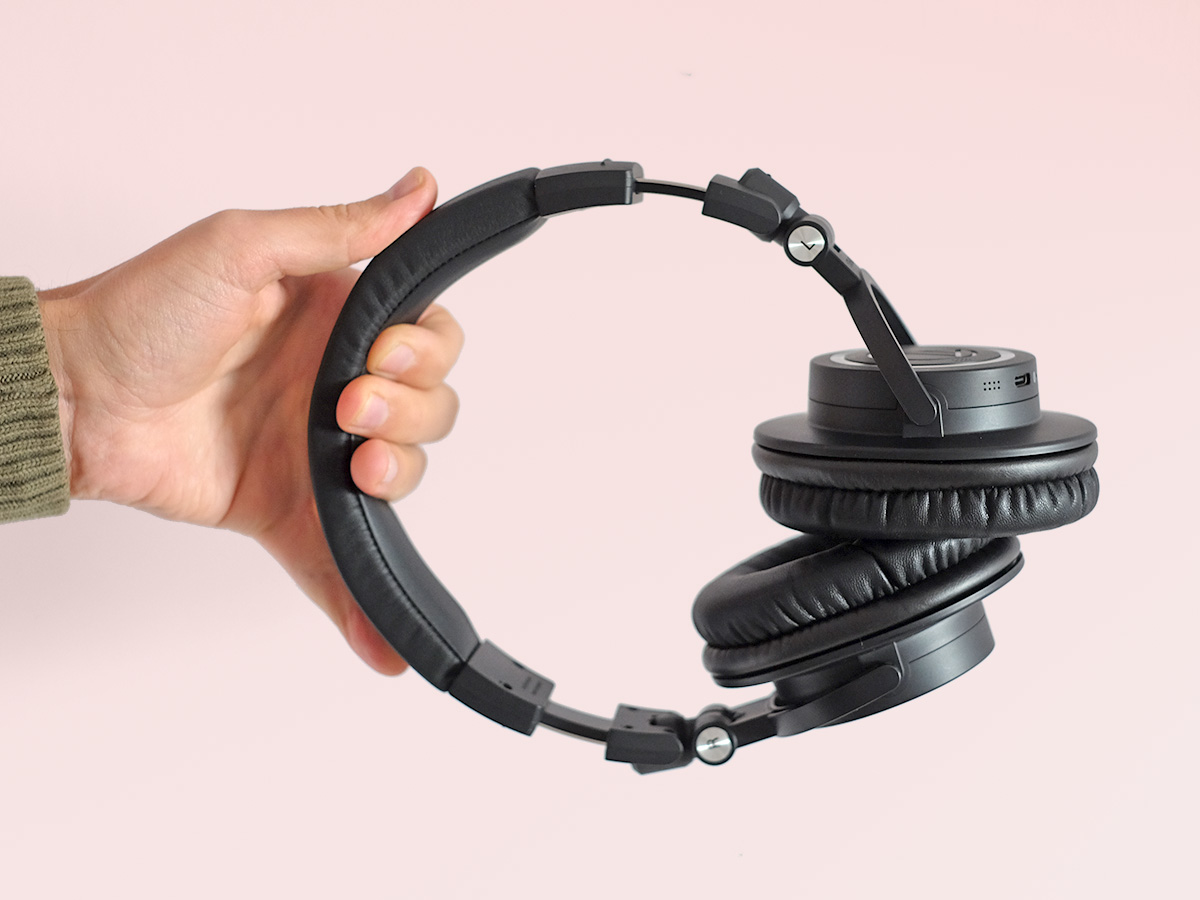 The Audio-Technica ATH-M50xBT2 take a few steps towards today's most popular wireless headphones without going all the way. There's no active noise cancellation, which should rule out the pair for many of you.
If you're going to spend a lot of time on trains or listening to music while walking along busy streets, a Bose or Sony pair with ANC will suit you better. The last-generation Sony WH-1000XM3 are your best bet at the time of review. They sell for around £50 more and are brilliant.
The Audio-Technica ATH-M50xBT2 do an OK job of blocking out some noise, but for city sounds, you can't beat good active noise cancellation.
However, they do have excellent battery life, rated at 50 hours. When you start them up a little voice prompt tells you whether the battery life is "high", "medium" or "low", and if you use an Android the percent appears in the Bluetooth menu too.
These are low-maintenance headphones, and charging is faster this time. Audio Technica says 10 minutes plugged into the USB-C gets you three hours of use.
We noticed a few ease-of-use improvements within two minutes of using the Audio-Technica ATH-M50xBT2. Pairing is much simpler and more reliable this time around, and there's no power slider. These headphones go into "sleep" mode automatically, like just about every other 2021 pair.
There is still one notable issue, mind. While the Audio-Technica ATH-M50xBT2 have a pair of 'beamforming' microphones, designed to get rid of outside noise when you make calls, they don't work very well.
Loads of road noise makes it through to the person you're talking to and the feed on your end is also played through the drivers. You get to hear those white vans driving by just as much as the person on the other end. Mutual suffering.
Download the Audio-Technica Connect app and you'll realise this is a feature, not a bug. It's called Side Tone, and you can turn it off. But noise reduction for calls remains mediocre at best.
This is just about the only thing we actively dislike about the Audio-Technica ATH-M50xBT2. Once again, you'll get a more refined experience with some Bose or Sony pairs.
Other bits to note include the dedicated voice assistant button, which brings up Siri or Google Assistant, and the accessories in the box. The Audio-Technica ATH-M50xBT2 includes a fake leather carry case and an audio cable. There's a 3.5mm socket on the left cup, so you don't have to use this pair wirelessly.
Sound quality: Back to the studio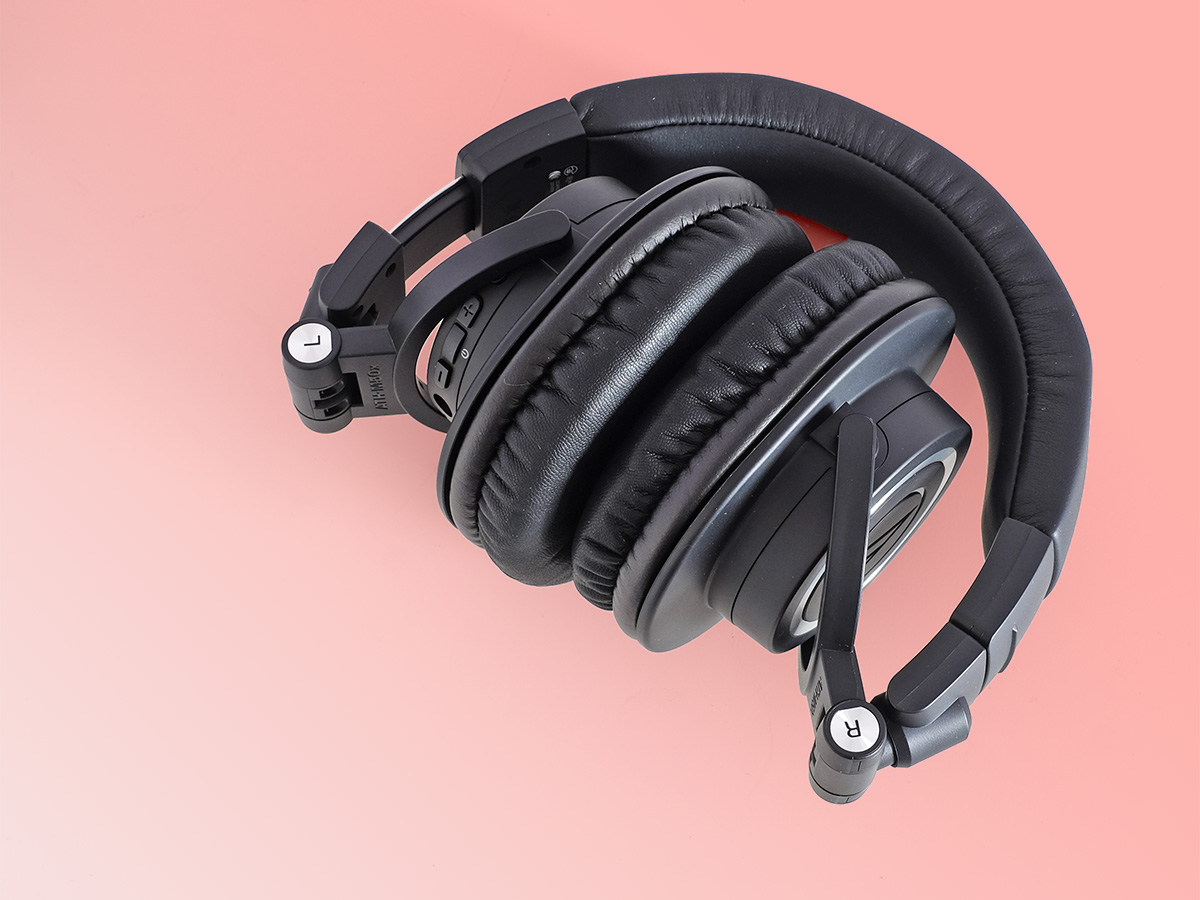 Audio Technica says it has refreshed the insides of the ATH-M50xBT2, with a 32-bit AK4331 DAC and headphone amp. We've no idea what was in the last pair, but 32-bit sounds good, right?
The big change in this generation has little to do with hardware and everything to do with tuning.
Audio-Technica has dropped the tuning adopted in the ATH-M50xBT, reverting to the classic tuning of the older cabled models. This line was famous for offering great sound quality on a budget, but Audio-Technica beefed up the bass quite noticeably for the first wireless version.
It's as if the engineers thought, "those Bluetooth kids really like to party, eh," before realising pretty much everyone uses wireless headphones these days.
We think the sound of both generations is great. The last set are party cans. They slap you round the face with deep and punchy bass, but it sits under a solid framework of sound considered, by some, good enough for studio headphone use.
Audio Technica's ATH-M50xBT2 are far more measured. The bass is there, and its depth is good, but has been toned down to give the headphones a flatter response, a smoother ride into the mids. They are less exuberant, a bit more grown-up, and loads of styles of music benefit quite significantly.
You'll hear it most clearly in vocals. Boost bass in a headphone and lower-register singers tend to come packed with a free helping of bassy resonance, a sort of unwanted thickness. This is all but zapped in the Audio Technica ATH-M50xBT2, improving coherence and mid-range quality — often dramatically.
If you're getting the impression the ATH-M50xBT2 are the audio equivalent of school homework, wipe that off the whiteboard. These headphones have the amount of bass your songs are meant to have. It's still punchy, and the treble has the vital-sounding zest this series is known for.
Some find the M50-series high-end a little biting, but here the improved mid-range texture acts as a bridge to make it seem better connected to the rest of the audio. And we've never found the treble overpowering in these headphones either.
Width and scale are also great for headphones of this type, which makes for an engaging listen you can get lost in.
Comparisons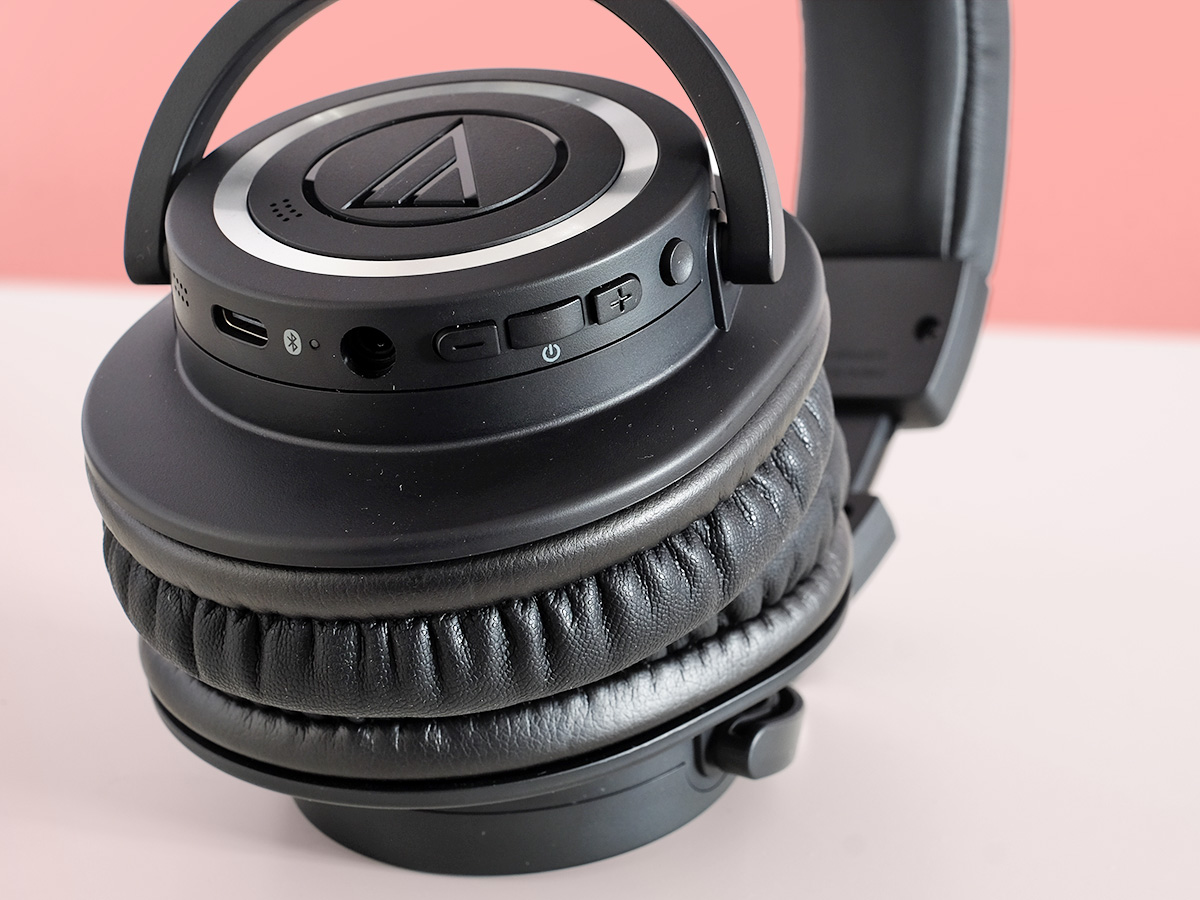 The Audio Technica ATH-M50xBT2 offer sound quality comparable with the biggest names in the game. Treble is a little more vital-sounding than the Sony MDR-1000XM3/4, the mids are better textured and defined than Bose's QC 35 II.
This range's star turn is providing audio quality comparable with, or better than, headphones that cost more.
If you already own the Audio Technica ATH-M50xBT, you'll hear sound technically better in a bunch of respects. The flatness of the frequency response, mid-range texture and tonality are all improved. But you may also miss the slightly turbo-charged bass, which is brought in-line this time.
The Audio Technica ATH-M50xBT2 are not as hot as some similar-price rivals in other areas. You don't get active noise cancellation. Maybe that's not a big a deal as it once was if you now work from home. But if you're still commuting or want to tune out upstairs neighbours who spends 3 hours moving the furniture each night, check out something like the Sony WH-H910N instead.
We don't like the Audio Technica ATH-M50xBT2 for calls either. They may have beam-forming microphones but noise reduction for calls is pretty poor.
Verdict: Audio Technica ATH-M50xBT2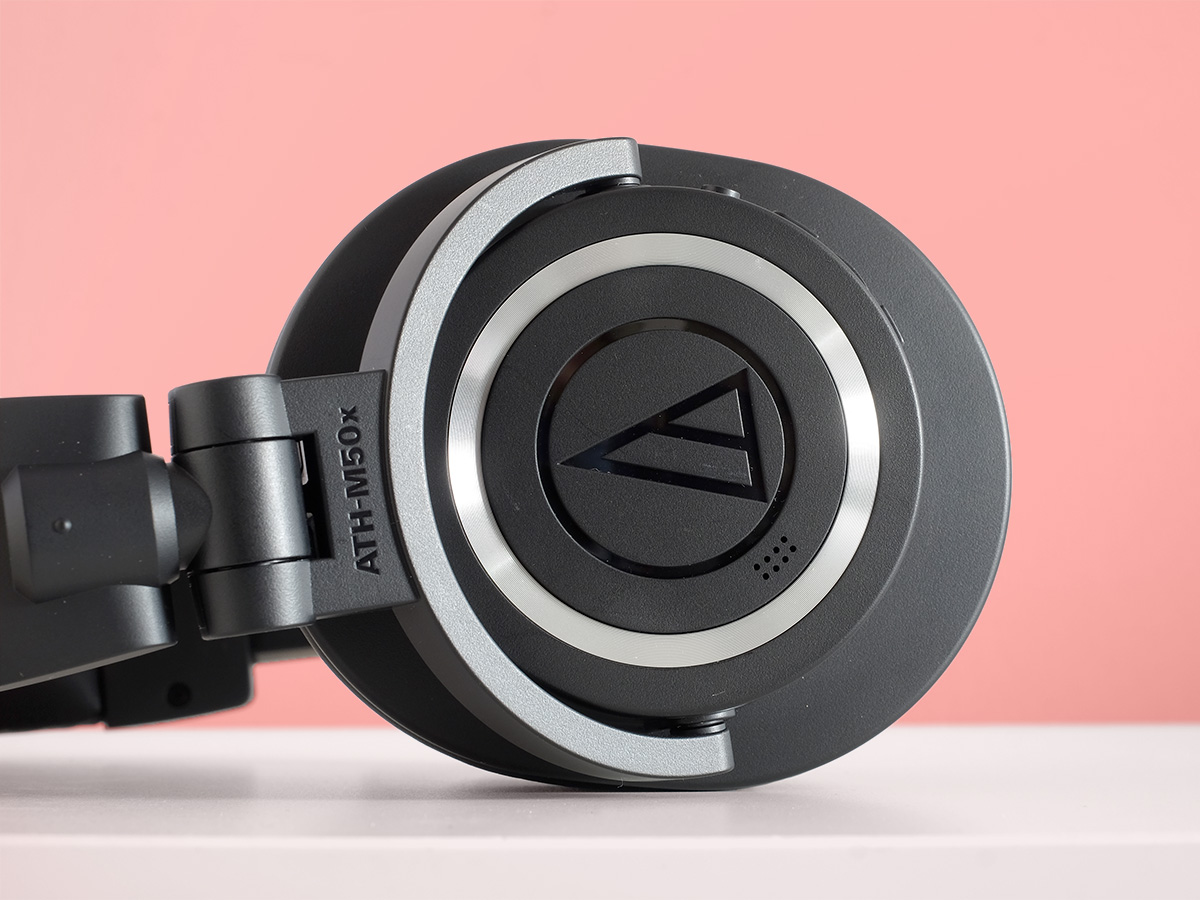 These second-generation wireless M50 headphones show this is still a series that doesn't follow the crowd. You don't get active noise cancellation, so these headphones are not for everyone. However, the Audio Technica ATH-M50xBT2 sound moves closer to the M50's studio headphones roots, with more accurate bass and significantly improved mid-range texture and clarity.
The battery lasts ages, is finally charged over USB-C, and while there's nothing new to the outer design that means you can expect the Audio Technica ATH-M50xBT2 to outlast most of the tech you own.
Tech specs
| | |
| --- | --- |
| Connectivity | USB-C |
| Battery life | Up to 50 hours |
| Drivers | 45mm |
| Voice assistant support | Amazon Alexa Built-in, Google Assistant, Siri |
| Weight | 454g |
Stuff Says…
Some of the best-sounding wireless headphones you can get for the money. Just make sure you won't miss ANC too much first.
Good Stuff
Great sound that balances fun and accuracy
Long battery life
Comfortable
Bad Stuff
Poor noise reduction during calls
No active noise cancellation