Bang & Olufsen Beoplay Portal review
Noise-cancelling headphones to rival the best and a gaming headset – all in one package
If you're looking to pick up a headset for your Xbox Series X|S or Xbox One, you're not short of options.
Microsoft's own Xbox Wireless Headset is extremely good value at £90, but like most gaming headsets, you wouldn't call it luxurious. For those with deep pockets and cash to burn, the ever-fashionable Bang & Olufsen has launched the Beoplay Portal, the brand's first ever gaming-focused headphones.
The Beoplay Portal is compatible with Xbox Wireless protocol, enabling a fast one-button, low-latency connection to your Xbox Series X|S or Xbox One, and supports Dolby Atmos for surround sound gaming. They also double as a pretty superb pair of ANC headphones, remarkably lightweight and comfortable, and as great-sounding as you'd expect from B&O cans.
At £449, though, the Beoplay Portals cost as much as the Xbox Series X, so are they worth the splash?
Design: Light work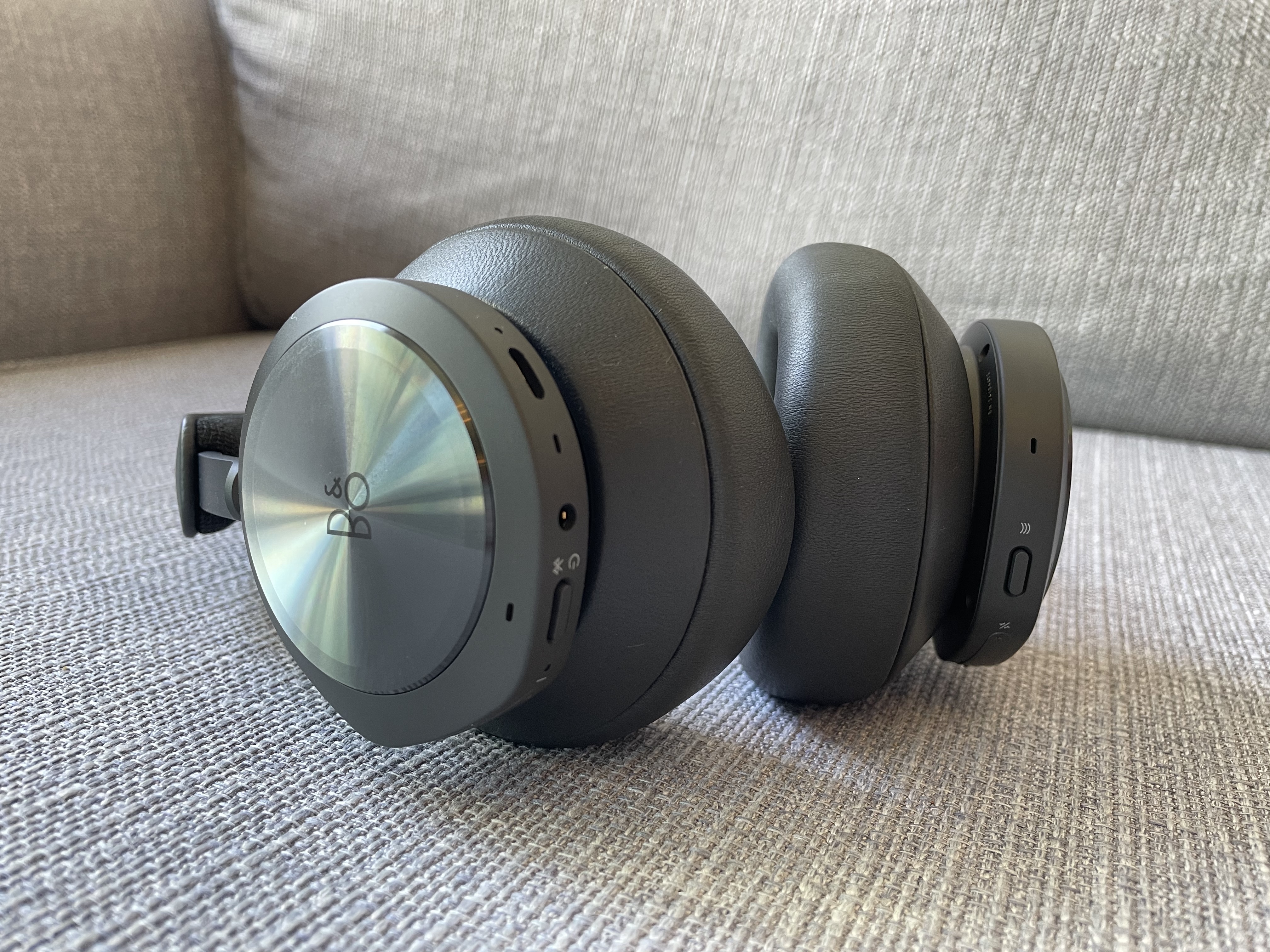 Gaming headsets are fine for the sofa, but you wouldn't be seen dead wearing the majority of them on the tube. Not so with the Beoplay Portal, which are as easy on the eye as you'd expect from regular Bang & Olufsen headphones.
The rounded earcups are unmistakably B&O, as are the lambskin-wrapped memory foam earpads that are supremely comfortable on your ears, even after extended gaming sessions. The cups only swivel in one direction, but we had no issues with getting the right fit. Also designed with comfort in mind is the slim, easily adjustable headband, whose offset padding is covered in a bamboo fiber textile which B&O says was selected for its breathability.
The Beoplay Portal is premium all over, but also happens to be extremely lightweight at 282g. We'd consider making them our daily headphones of choice if it wasn't for the very annoying absence of a case in the box.
In terms of controls, there's a power/pairing button on the right earcup (also where you'll find a USB-C charging port and a 3.5mm headphone jack), and another on the left that cycles between your paired Bluetooth device and your Xbox. Each earcup also has a touch-activated slider, with one being used to adjust the volume, and the other to toggle ANC/transparency if you're using your phone, or game audio/chat when you're gaming. They're very responsive and buttery smooth to the touch, but don't give you any feedback, physical or audible, so it's hard to know exactly what they're doing at times.
The machined aluminum discs that sit on the outside of each earcup look snazzy, but they're also touch-sensitive, allowing you to play/pause your music with a few taps on either side. There's no way of skipping tracks on the headphones, though, which is a bit of a bummer.
Looking for the boom mic? Stop right now. B&O clearly decided that having one would make its stylish headphones look too obviously gamer-y, so its alternative is invisible. An array of beamforming mics instead isolate and amplify your voice so nobody misses you swearing at them in Warzone.
Features: jack of all trades
To state the obvious, what sets the Beoplay Portal apart from the rest of B&O's headphones is their gaming-specific features. Fully compatible with the Xbox Wireless protocol, they'll wirelessly pair near instantly to your Xbox at the long press of a pairing button on both headphones and console, or your Windows 10 PC if you've got an adapter, and provide a rock solid lossless connection.
They also function as a regular pair of Bluetooth 5.1 or wired headphones, but unlike the (far more affordable) Xbox Wireless Headset, you can't have a concurrent wireless connection that enables you to mix audio streams from the Xbox and your phone simultaneously. This means you can't listen to your own music while you play a game, or talk to friends on an app like Discord, which is definitely a mark against the Portal. Instead you hop between each source using the dedicated button on the earcup, or in the Bang & Olufsen app, where each has its own homescreen.
It's also in the app that you'll find a nicely designed EQ and various listening modes. When you're playing a game, these are genre-specific (RPG, FPS etc), so there's plenty to play about with. You also get onscreen sliders for ANC/transparency in the Bluetooth setting, and game chat/audio in game mode.
The Beoplay Portal can do virtual surround sound in games via Dolby Atmos. You'll need to download the Atmos app on your Xbox or PC to activate a subscription, which is initially free. But once it's set up, you'll definitely want to leave it on. More on that below.
Performance and battery life: You're surrounded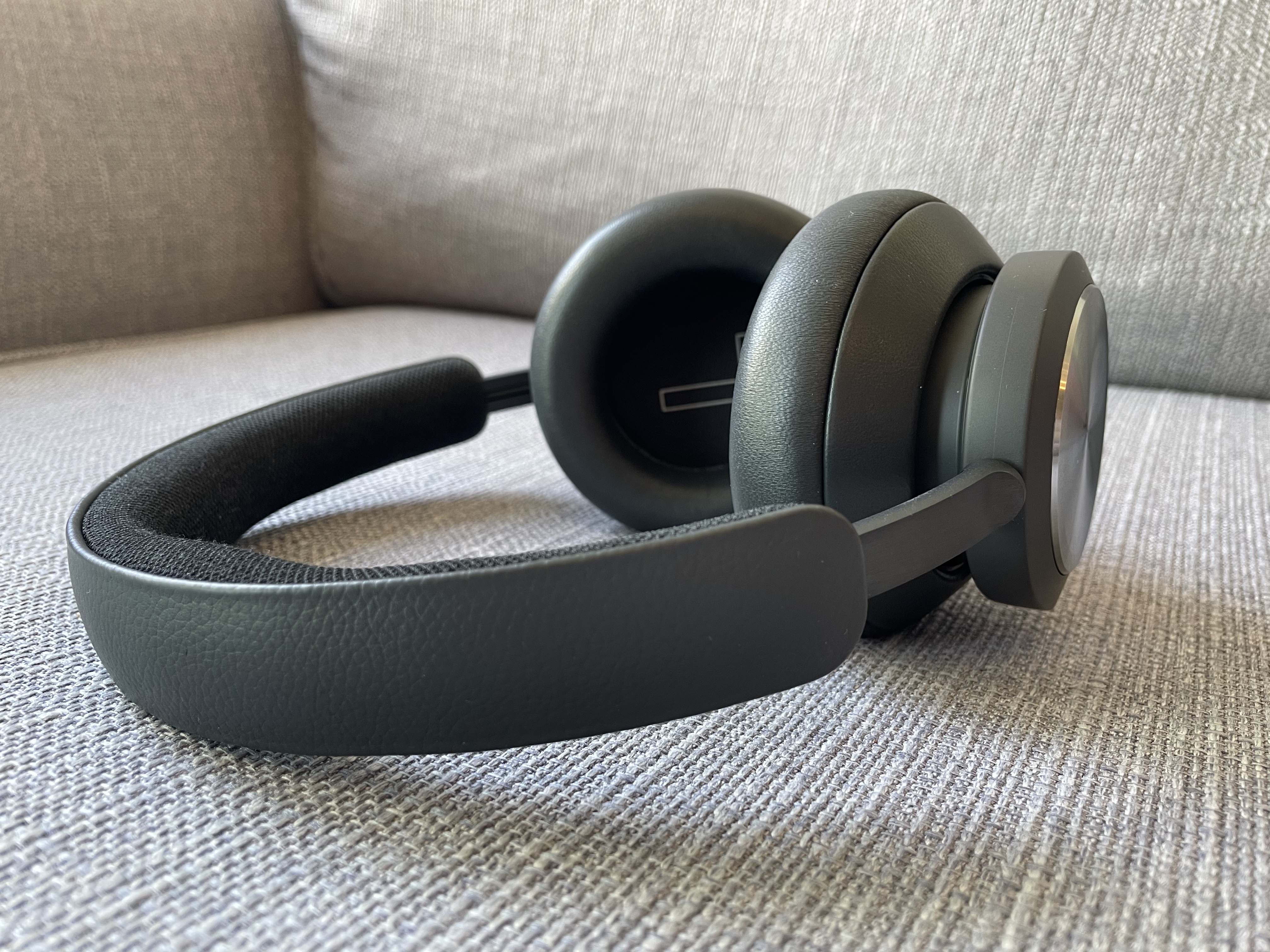 Being pitched as do-it-all headphones that you can rely on for both gaming and listening to music means the Beoplay Portal has to get a lot right. There's a good reason that headphones and gaming headsets are usually dedicated to one job.
But B&O has pulled it off. As regular headphones, the Beoplay Portal's out of-the-box performance perhaps lacks the energy of something like Sony's WH-1000XM4, but B&O finds an impressively balanced soundstage that makes them a versatile listen capable of handling any genre we threw at them. Everything is given room to breathe, songs are full of detail, and if you're after a bit more low end throb then the in-app EQ can arrange it.
And we've said it already but it bears repeating: these headphones are so damn comfortable that you'll keep reaching for them.
Chances are, though, that most people picking up B&O's new cans will see the music-listening bit as secondary to the Xbox/PC functionality, and the Beoplay Portal doesn't underwhelm here. Audio is crisp and suffers none of the muddiness that plagues many cheaper headsets, and while noise-cancelling here perhaps isn't quite up there with Sony and Bose's best efforts, it's a feature that you don't often get with gaming headsets, and really helps with immersion.
When Dolby Atmos kicks in on compatible games, it really adds something to the experience. Focus too much on taking in your surroundings in Dirt 5 and you'll quickly find yourself careering towards a wall, but you really do get a sense that sounds are happening above and around you as you speed along tracks. Action-heavy games like Gears 5, meanwhile, are simply more exciting when gunfire and explosions can be placed on screen. Microsoft's far cheaper headset also does virtual surround sound and actually offers more formats to boot, but there's no arguing with Atmos on the Portal when it's available.
The 'virtual' boom arm might not be up to snuff for the hardcore multiplayer crowd, but we found it to be more than up to the job, receiving no complaints from teammates about not being able to hear us. The Own Voice feature, which lets you hear yourself above extraneous sounds while you play, also works pretty well provided there isn't too much racket going on.
As for battery life, you can expect a quite decent 24 hours when using Bluetooth and ANC, or half of that when you throw in a continuous Xbox Wireless connection. We generally got a comfortable few days' worth of juice when regularly switching between the two during testing, but it'll obviously vary depending on your own usage.
Bang & Olufsen Beoplay Portal verdict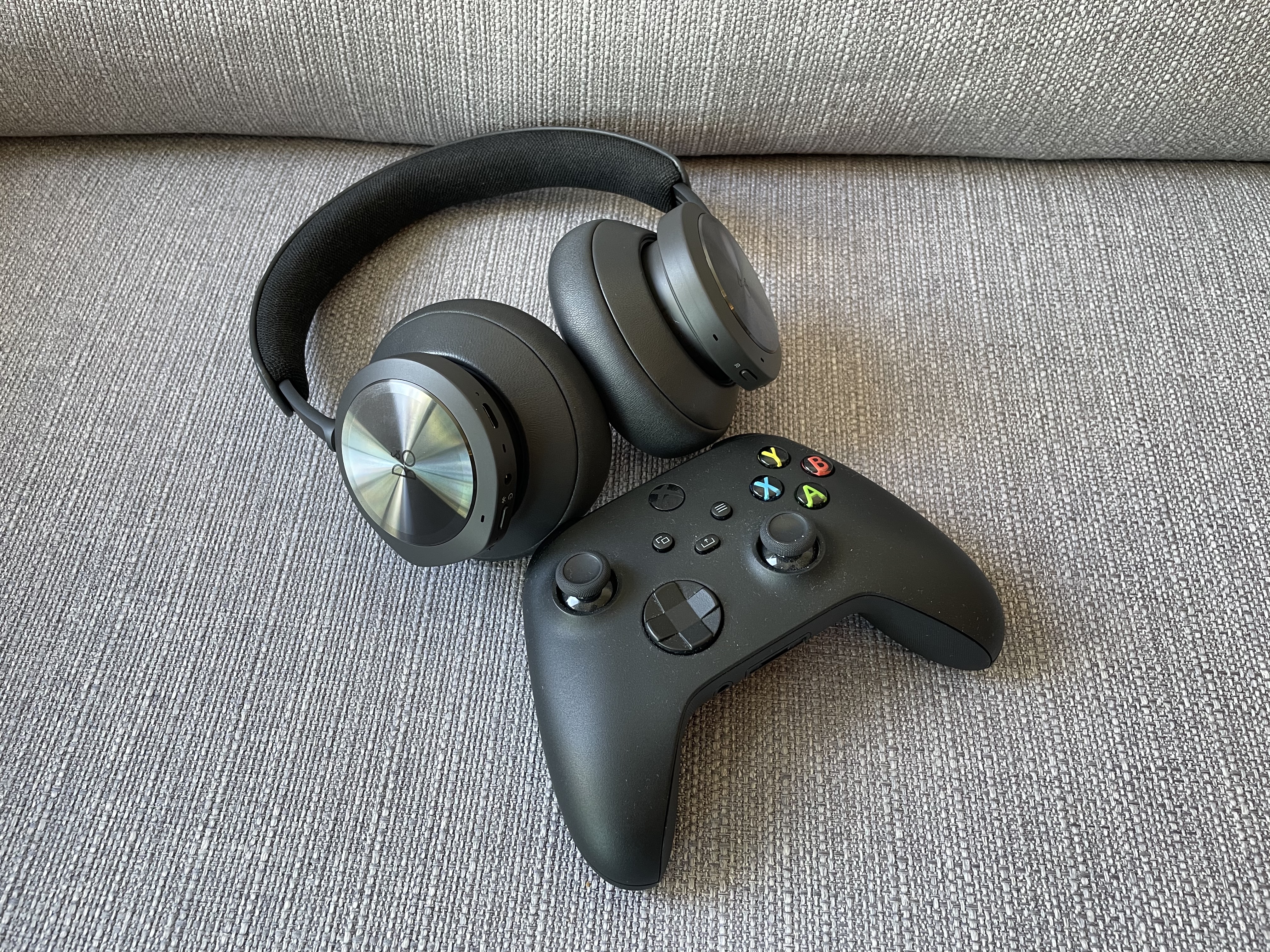 Are Bang & Olufsen's new headphones the very best headphones you can buy? No they're not, even if at £450 they'll leave a bigger dent in your bank balance than most of their obvious rivals. But none of those headphones also double as an Xbox headset, and you certainly won't find a more enjoyable one of those than the Beoplay Portal. They sound brilliant, especially with an Atmos mix, they look great, and are just extremely comfortable.
That said, they're far from perfect. You don't get the brilliantly implemented audio mixing between Xbox Wireless and Bluetooth offered by the far more affordable Xbox Wireless Headset, which allows you to listen to both your phone and game audio at the same time, the glidey touch controls can be a bit confusing and, most criminally of all, there's no case in the box.
If money is no option, you're a big Xbox or PC gamer, and you find the idea of do-it-all headphones appealing, then the Beoplay Portal get two emphatic thumbs up. But the fact is you can pick up Sony's WH-1000XM4 (our favourite wireless noise-cancellers) and the Xbox Wireless Headset for over £50 less than the Portal, which actually kind of sounds like the deal of the century when we put it that way.
This a great effort from B&O, though. Let's hope its unexpected dabbling in the gaming space doesn't end here.
The Competition
Tech specs
| | |
| --- | --- |
| Connectivity | Bluetooth 5.1, Xbox Wireless |
| Weight | 282g |
| Speakers | 40mm drivers |
| Charging | USB-C |
| Battery life | Up to 24 hours with Bluetooth and ANC / 12 hours using Xbox Wireless and ANC |
Stuff Says…
Not cheap, but the multifunctional Beoplay Portal is easily our favourite Xbox headset – and a pretty great pair of noise-cancelling headphones to boot
Good Stuff
Xbox Wireless protocol support
Balanced B&O sound
Incredibly comfortable
Great design
Useful app
Bad Stuff
Touch sliders are somehow both elegant and fiddly
No case
Very expensive
Can't merge audio streams from Xbox Wireless and Bluetooth