Blackberry DTEK 50 review
The most secure phone in the world?
The DTEK 50 is a new vision of what a BlackBerry phone looks like – and it's nothing like they were in the old days.
It's 2005. Your typical BlackBerry owner wears a suit. They work in the city. Maybe they make a bit on the side on the property market, and wear leather driving gloves and Ray Bans when they drive their "weekend motor". Not an aspirational figure, but there you go.
In 2016, we don't have a BlackBerry user in mind anymore. Business types use Samsungs and Apples just like everyone else, and even BBM is as down with the kids these days as the term "down with the kids". Desperate times?
The DTEK50's new angle is security. In a world where even baby monitors are hacked, maybe it's not a bad idea.
Smartphone brothers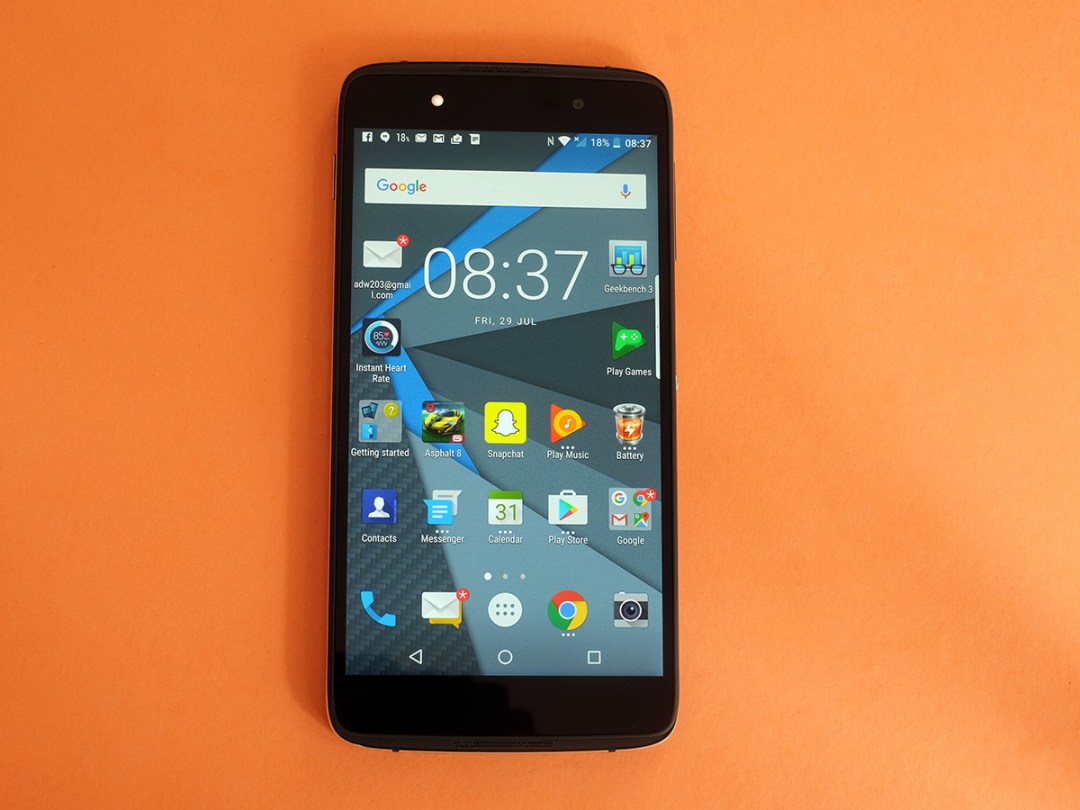 That secure side is only a software veneer on an otherwise very familiar phone. Blackberry has gone for a slightly tweaked version of the Alcatel Idol 4, the little brother of the Idol 4S we reviewed recently.
BlackBerry phones used to be unmistakable. This one barely has its own design.
The DTEK50 doesn't look or feel exactly like the Alcatel original, though. It has a nobbly back made of rubberised plastic, meant to help busy corporate types keep phone firmly in hand while they're gesticulating wildly to the sales team.
It'll shrug off being kept in a pocket with your keys, too but doesn't feel great when you put it next to something like the all-metal OnePlus 3. Even after it's Brexit price hike, their prices aren't wildly different.
The DTEK50 is not a fancy phone then, but it is slim, easy to handle and has a metal band around its sides that'll make you feel a bit better about slapping down £300 for the thing. One hardware feature is really quite silly, though.
See that round button on its side? It sits right where your thumb lands. The perfect place for a power button, right? Well, this is actually a "Convenience" key, a customisable button that you can set to do anything – from loading BBC iPlayer or playing a playlist to turning the flashlight on.
But it can't be used as a power toggle. That button sits on the other side of the phone, and isn't so easy to reach. Maybe you've been dreaming of a button that insta-calls your voicemail, but I find this layout a bit awkward.
Ticking off the features
There are a few neat bits on the hardware front, though. The DTEK 50 has some dead smart speakers, for example.
The tiny 3.6W drivers at the top and bottom outmatch some cheap Bluetooth speakers for power, but don't really add any extra bulk. They don't sit flush to the frame and have two-sided grilles, so setting it down front- or back-side up won't block out the sound.
Quality doesn't quite match the finesse of an iPhone, but punchy mids and a fairly clear treble help cut through any background noise.
Speakers aside, it's difficult to shake the feeling you're not getting the hardware you'd expect for your cash. There's no fingerprint scanner, 16GB of storage is hardly generous, and the screen is matched by cheaper phones.
The 5.2in, 1080p LCD display is similar to (but smaller than) what you'd get from a £170 Moto G. It is a decent screen, though. Not oversaturated, with plenty of brightness, and a warm/cool slider in the Settings menu for tweaking it to suit your eyeballs.
Hardware alone isn't going to sell you on this phone – that's the job of the software.
Biting the BlackBerry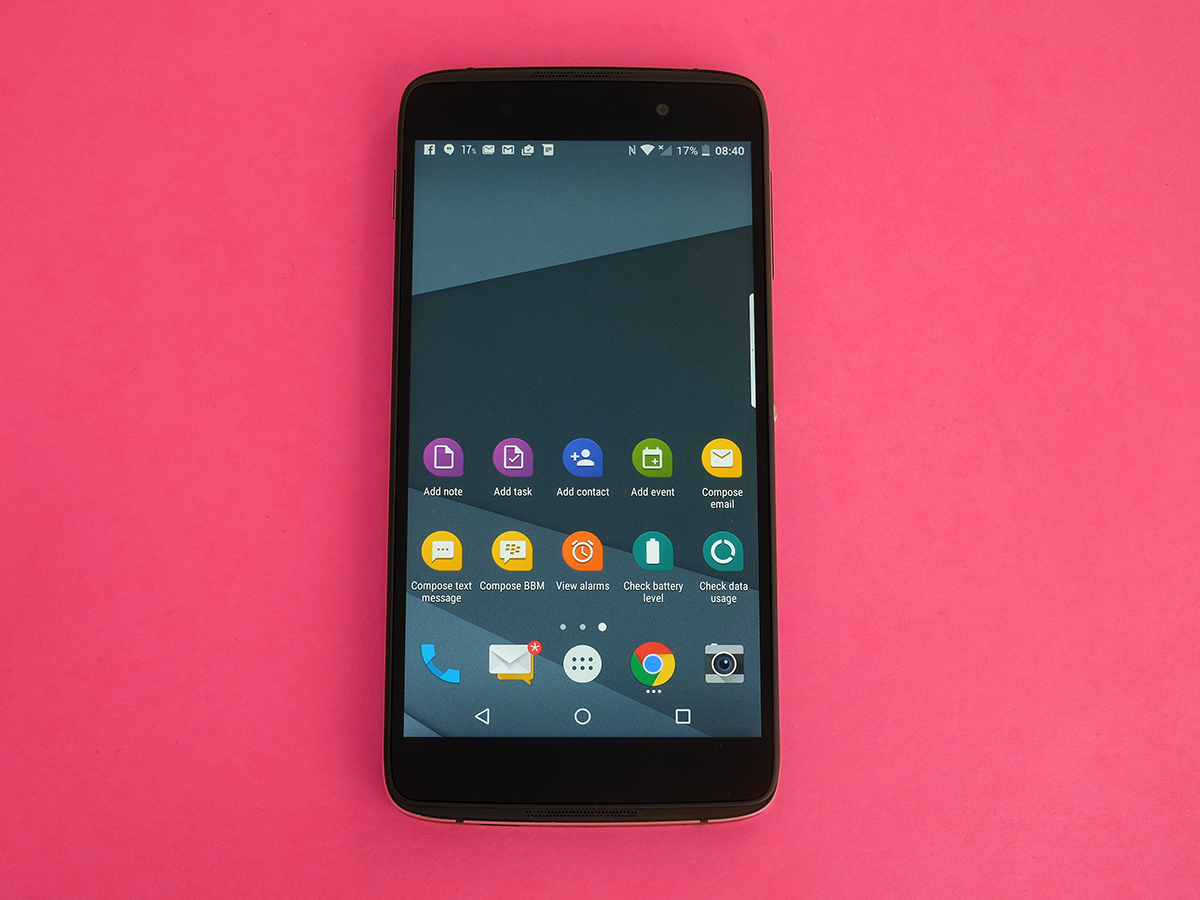 This phone runs Android, but does its best to convince you're getting more than just Android here. Let's start with the security extras.
The "DTEK" part of the DTEK50's name actually refers to an app on the phone. It's 50 per cent interesting, 50 per cent "meh".
The dull side is the bit you see when you run the app, which tells you how secure your phone is based on some very basic metrics. Sorry BlackBerry, you don't get a medal for telling us a phone is more secure if you add a lock screen password. Funnily enough, some big businesses pay shedloads for this sort of basic behavioural advice.
The more interesting side tracks how many times apps have requested permissions to things like you camera, location and so on. After one day's use, Twitter had apparently requested my location 678 times. Yikes. Will it stop me using it? Probably not.
For a more practical security app, the DTEK50 has Password Keeper. This is one of those centralised password hubs where you enter a single password to access its vault, which contains all your other passwords. The idea is that this means you can make your bank password xHy6BjdhB6t!i, without forgetting it every single time you need to check your balance.
It's useful, but there are loads of Android apps that do this. They've been around for years.
BlackBerry calls this the world's most secure Android phone, but it actually doesn't use some of the crazy-sounding techniques of the old Blackphone 2.0. That phone routes your phone calls through an encrypted wormhole so they are technically taking place in the back room of Dicot post office circa 1937. Something like that, anyway.
In comparison, the DTEK50's security techniques are relatively conventional.
BlackBerry 10, meet Android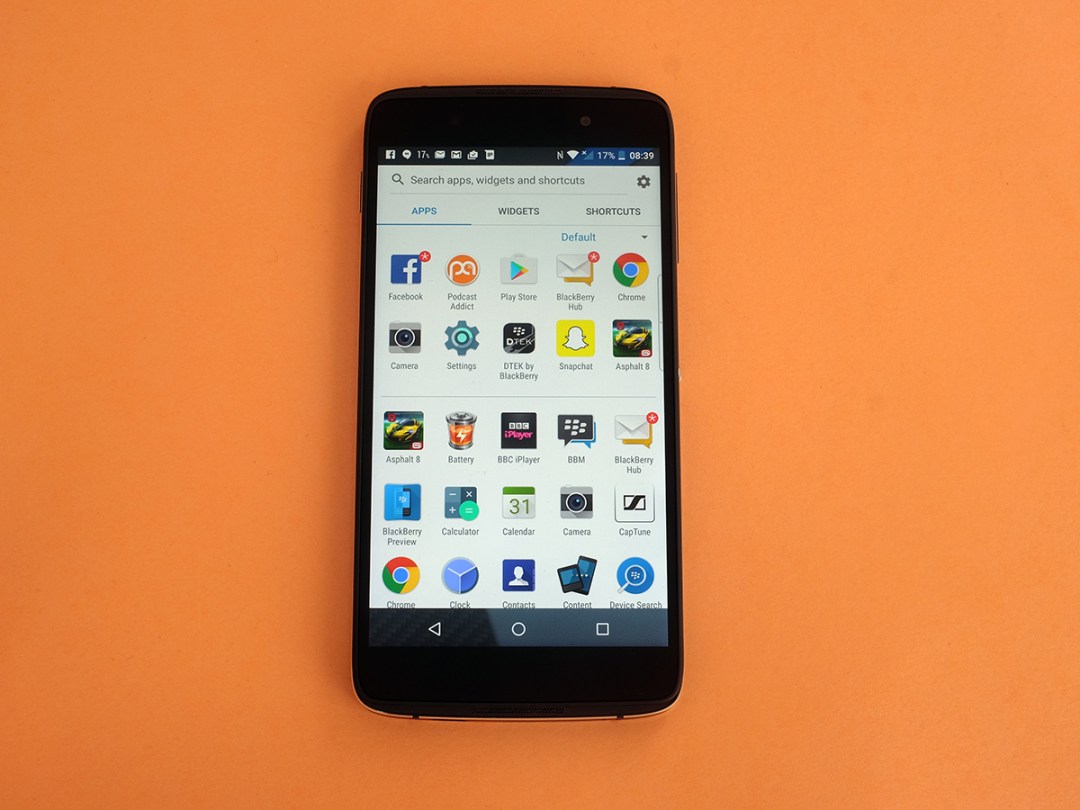 What you'll notice more are the ways BlackBerry has nudged elements of its old BlackBerry 10 software into Android. As a result, the DTEK50 is more gesture-obsessed than just about any Android out there.
Swipe from the side of the screen and you bring up a display showing a quick glance at today's calendar events, any unread emails and your top contacts. It's just one of several ways BlackBerry has either enriched or overcomplicated Android, depending on your view.
I actually used the 'unread emails' feature while I had the phone, but not every extra is quite as convincing. For example, if an app has a widget linked to it, you can open it right on the homescreen. With apps like BBM, this feels a bit like running the app without actually opening it.
The DTEK50 app that really stands out, though, is BlackBerry Hub. This sucks up all your emails, all your texts, and even messages from Facebook and WhatsApp. What you end up with is a giant feed of messages. You can also create custom views, if you find one email account piles on spam as if cans of the stuff are on sale for a penny.
It gets rid of any distinct visuals, but is certainly a quick way to stay up-to-date. BlackBerry Hub is probably also the best use for the convenience key on the side of the phone.
It's easy to sell Hub as a way to simplify how you use your phone. But more generally, the DTEK50 actually complicates Android, undoing some of the optimisation work Google has put in over the last couple of years. Just look at the apps menu: are those "widgets" and "shortcuts" tabs really necessary?
Drag race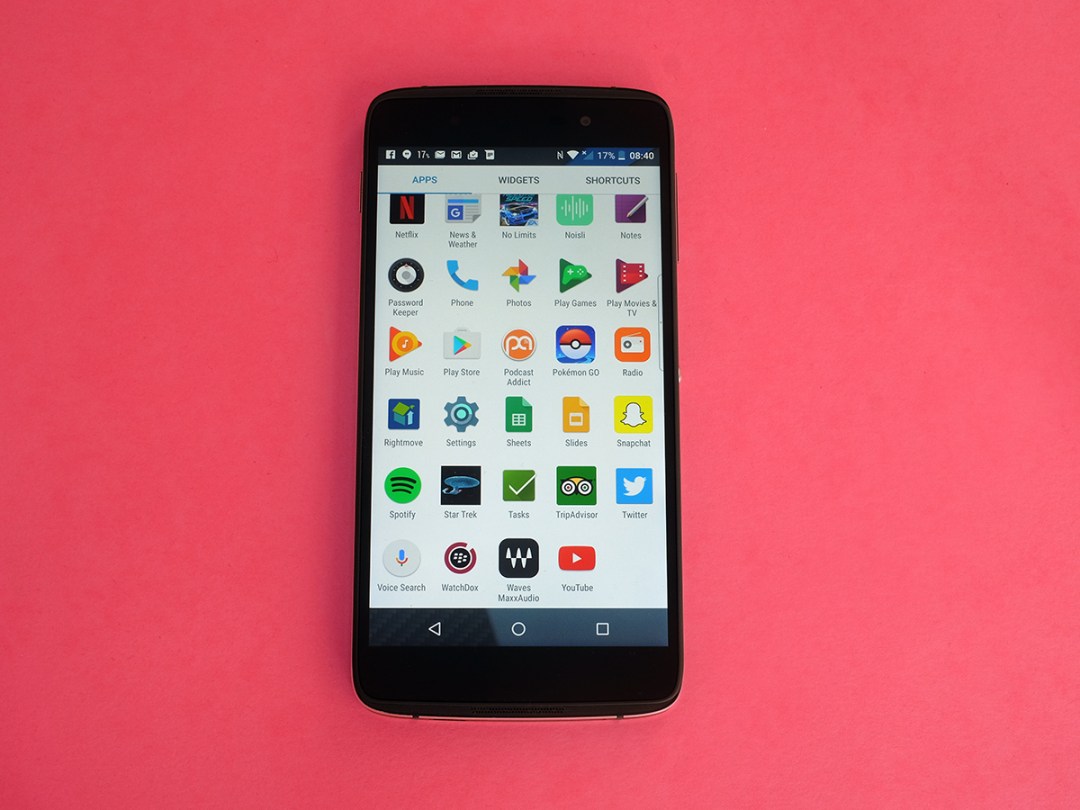 The software is reasonably well-engineered, though. At one point the whole thing completely reset on me for no reason, but aside from that worrying blip it seems fairly stable. It's not slow either.
BlackBerry seems to have hedged its bets here, using 3GB RAM rather than the 2GB some pack in at this price. A bit more RAM always comes in handy if a phone's going to be doing quite a lot of sneaky processes in the background.
The Snapdragon 617 CPU might be a lower-mid range processor with eight cores, but it's a steady CPU that seems to fix the overheating problems of its predecessor the Snapdragon 615, without cracking the power up to face-melting levels.
Asphalt 8, a temperamental game that can run like a dog if it doesn't have enough GPU power to chomp on, plays just fine. You can tell in certain points the frame rate isn't buttery smooth, but not to the extent it ruins the fun.
SNAP HAPPY
You'll see the same sort of respectable mid-range performance with the 13MP main camera – probably the same Samsung 3M2 sensor as Alcatel's Idol 4, which also showed up in the OnePlus X.
Dynamic range isn't quite as good as Sony's mid-range sensor, but the DTEK50 still produces decent results. The app has an HDR Auto mode that lets you get vibrant shots in almost any conditions, without having to think too much about the lighting.
However, it is pretty prone to overexposure, giving indoor shots a bit of a milky look.
There's no optical image stabilisation, so isn't a low-light master. It copes a bit better than the OnePlus X, but results an be inconsistent. It seems to flick between embracing a bit of noise to keep more detail, and smoothing out detail to nix noise.
As ever, if you're desperate for good low-light images, check out a phone with OIS or one with oversize sensor pixels like the Nexus 5X.
Crucially, it's a fun-to-use camera, even with a bit of shutter/processing lag that makes shooting feel a little sluggish. Selfies are goos too. You get an 8MP front sensor, and not a bad one either. It holds on to fine detail pretty well with indoors lighting.
Long sleeper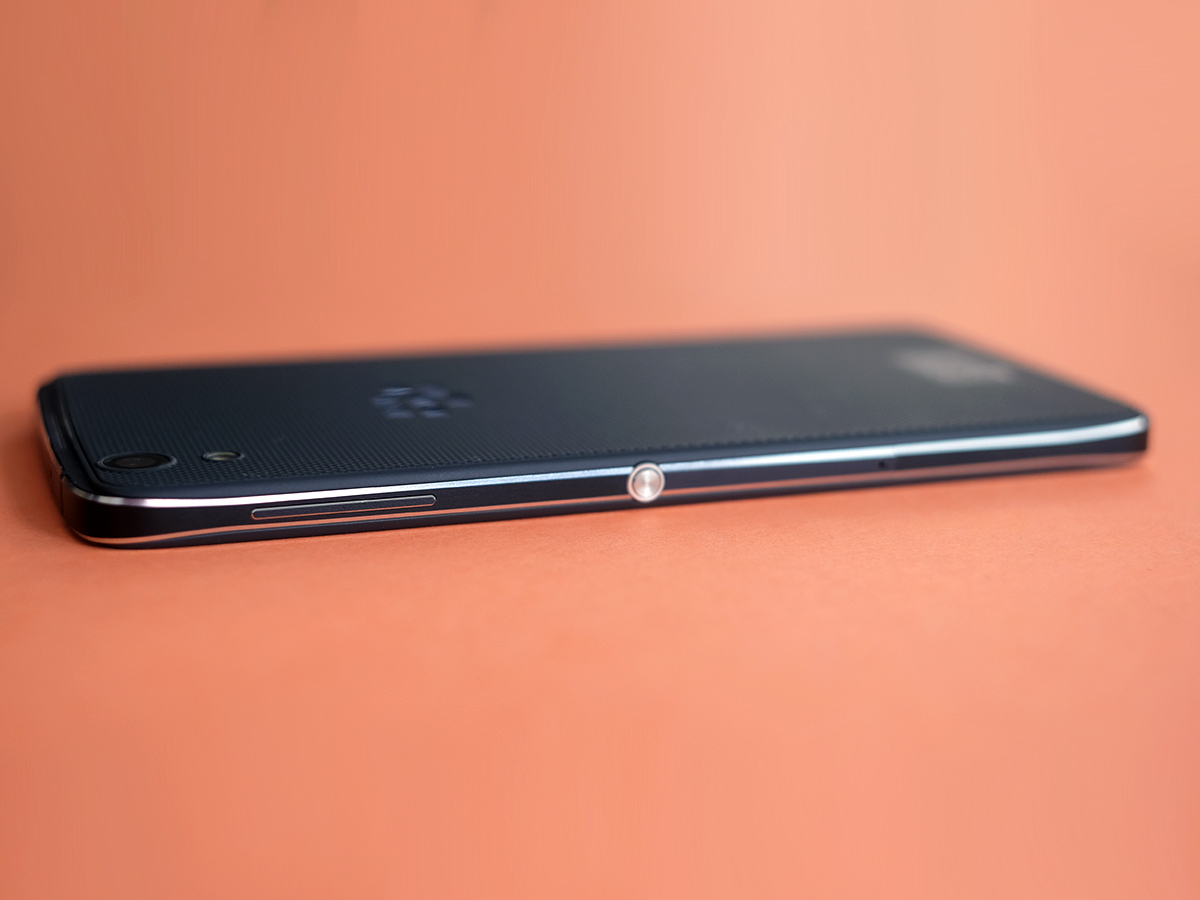 Plenty of the DTEK50's bits are perfectly OK, but battery life is going to need some patience. It's got a meagre 2610mAh cell, which isn't that big – especially for a 1080p phone with a CPU that's not exactly the last word in cutting edge efficiency.
It's way too easy to drain down in a day, something that has become distressingly common in the last year or two. Adding in an hour or two of podcast streaming to your regular daily use will see the battery drain down to zilch before sunset (in the summer, anyway).
This is bad enough, but playing a video on loop only confirms the DTEK50 is not a long-lasting phone. 7 hours 20 minutes of playback is very poor. We'd hope for at least 9-10 hours at this price.
BlackBerry reckons Qualcomm's Quickcharge 2.0 tech, which charges your battery a lot quicker than normal, will help you stay topped up – but you don't get a fast charger in the box. Just a bog-standard 5V 2A jobbie, which takes hours to recharge the phone.
Fingers crossed this is a mistake, because if your phone has poor stamina you at least want it to charge quickly.
BlackBerry DTEK 50 verdict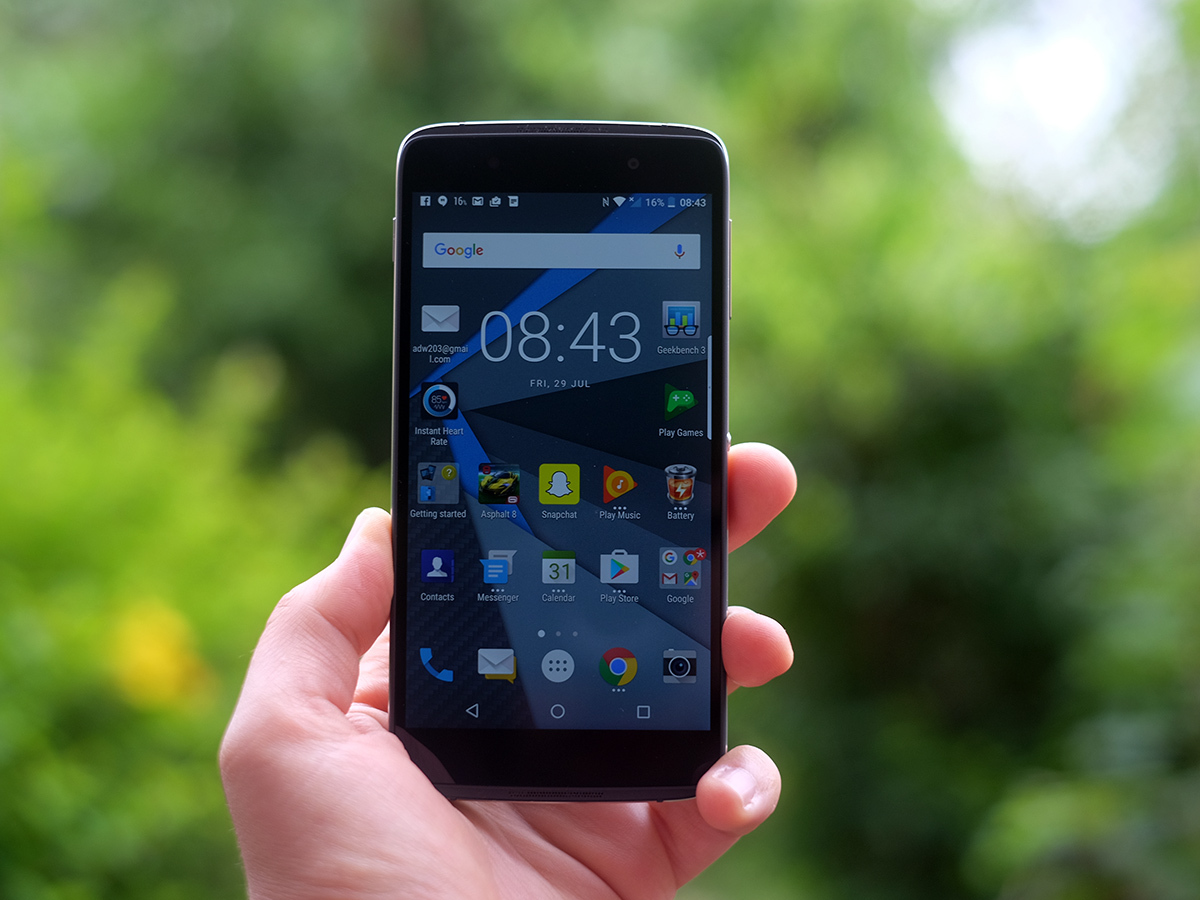 The DTEK50 isn't the head-turner follow-up to the Priv we were hoping for. It's a vessel for Blackberry's Android apps – the worth of which is easy to overstate.
BlackBerry Hub is an interesting bit of software, but if you've been lured here by the promise of the "most secure" phone around, it's not great news. You can get the most meaningful parts from third parties for any Android smartphone.
The hardware is fine, the performance is fine. But at £279 you should hold out for more than just 'fine' – particularly if you're not in love with an Android injected with some BlackBerry DNA.
Oh, and the battery life sucks.
Buy the DTEK 50 here from BlackBerry
Tech specs
| | |
| --- | --- |
| SCREEN | 5.2in, 1920×1080 LCD |
| CPU | Snapdragon 617 octa-core 1.5GHz |
| MEMORY | 2GB |
| CAMERA | 13 MP, f/2.0 rear w/ dual LED flash, 8 MP f/2.2 front |
| STORAGE | 16GB onboard + microSD expansion |
| OPERATING SYSTEM | Android 6.0.1 Marshmallow |
| BATTERY | 2610mAh |
Stuff Says…
An unimaginative phone with a price that overvalues BlackBerry's software extras – unless you're CIA-level paranoid.
Good Stuff
Some interesting software extras
Decent screen
Clear, smartly-designed speakers
Bad Stuff
Poor battery life
Expensive for the spec & build
BlackBerry extras are hit and miss