BMW iX review: fabulous interior, divisive exterior
A quirky exterior hides myriad tech inside this innovative all-electric SUV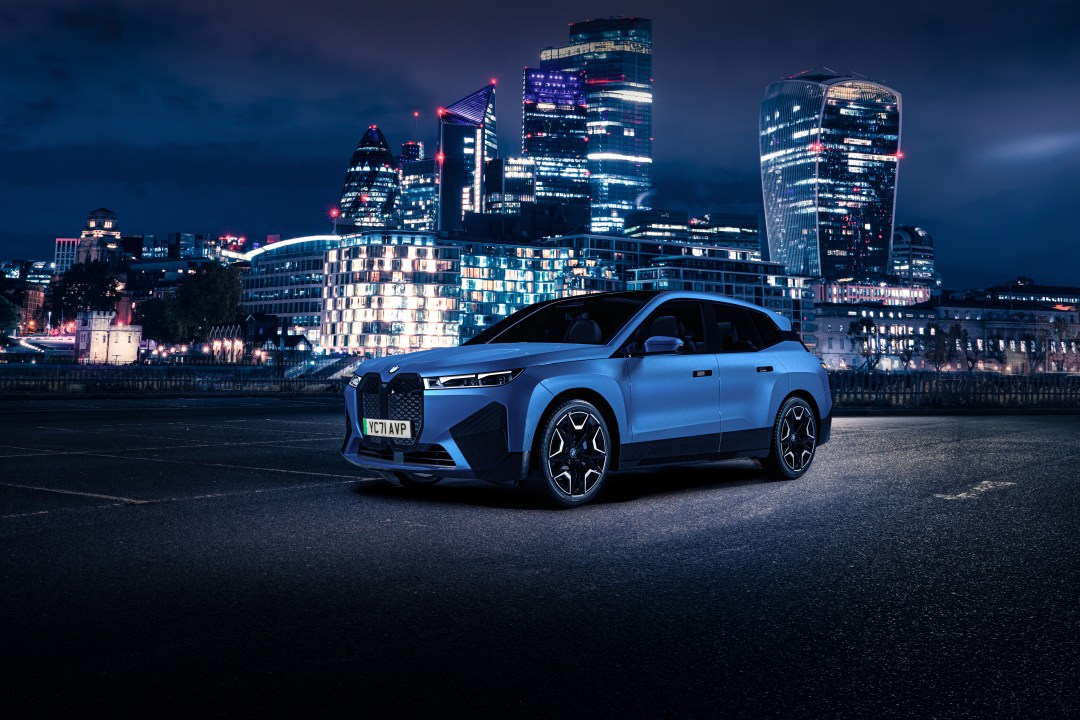 You've got to hand it to BMW for making the effort with the iX, its undeniably quirky, all-electric SUV. Built on a dedicated scalable platform, the iX is premium all the way, with looks that divide opinion, an interior that manages to win most over and performance that is every bit what you'd expect from BMW. Here's our BMW iX review.
While itis generally good news with the iX, the downside is its price tag, as this is a car that sits at the top of the budget scale for an SUV. You'll need to pay upwards of £70K to own one, which is a lot of cash. And, some might instead prefer to head in the direction of rivals like the Tesla Model X, Audi e-tron or Mercedes EQC if the exterior looks prove to be a little too offputting.
However, if you can forgive the unorthodox styling and explore the BMW iX's interior you'll soon find that it's got a lot going for it. Drive the thing and you'll probably be even more smitten. This car might have SUV bulk, but it drives like a dream, even when you're tooling around back roads and country lanes.
Styling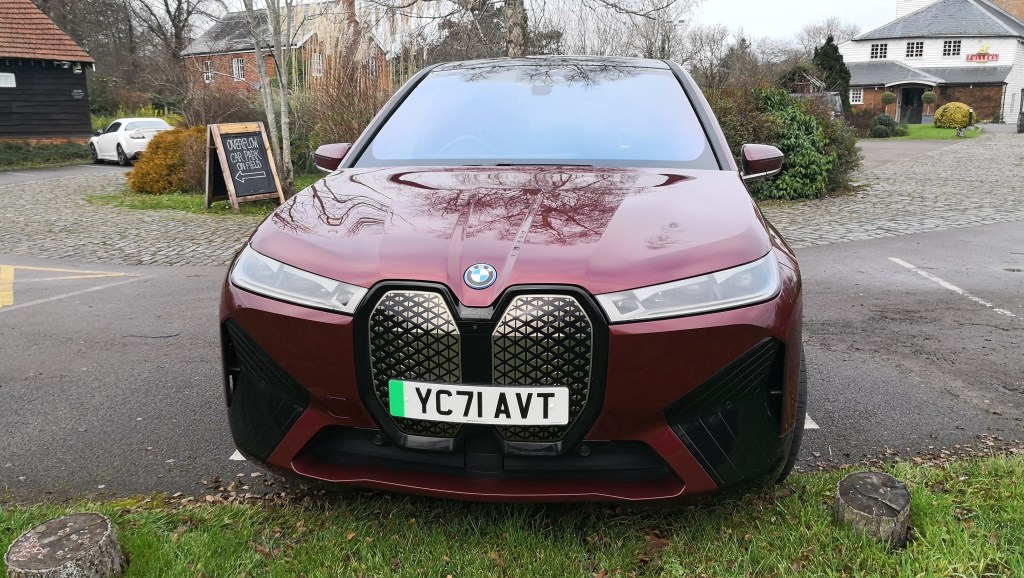 In terms of size the BMW iX is chunky without being bargelike. It's in the BMW X5 ballpark, which means that you ride up high and the design does turn heads, though this isn't always followed up with an admiring nod. The front end, with its enormous grille is invariably the first thing people pick up on, while the rear seems to divide opinion too. We think it's a grower though, and the longer you live with it BMW's iX seems to become easier on the eyes.
This being BMW, there are solid trim options with either Sport or M Sport models providing enough fancy touches to help reduce the queasiness induced buy the price list. And it's inside where the fun really starts. This is no ordinary car interior, which is dominated by the futuristic dash, although there are heaps of other cool tech and innovative design features that make it fabulous to experience.
One notable curiosity is the steering wheel. Its angular design works to rather better effect than the square one found in Austin's Allegro all those years ago. The first time you sit in the driver's seat you're expecting it not to work, but drive the iX and it's absolutely fine.
The drive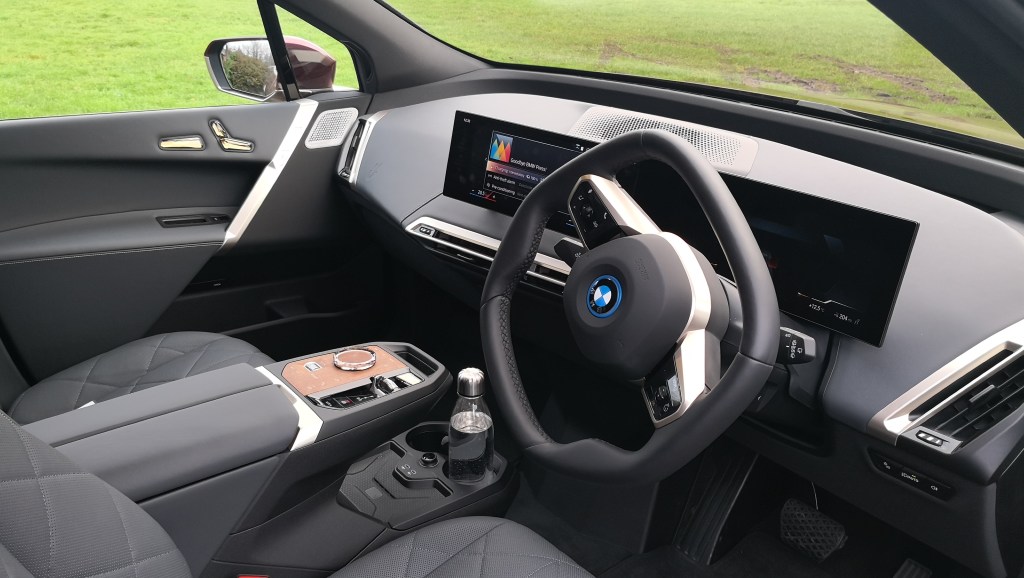 If your budget is stretched, you'll probably have to make do with the xDrive 40 model, a 322bhp entry-level offering that features a 71kWh battery good for 257 miles. Splash the cash though and head for the xDrive 50 edition and you get 523bhp at your disposal. The beefy 105kWh battery delivers up to 380 miles on a charge, which is very respectable even though real-world use is always going to be less.
Meanwhile, if you're feeling flush then there's the iX M60 to ponder over, which has 610bhp to get stuck into along with a similarly impressive 348-mile range. Accompanying the power surge you'll get from all this is a computerised soundtrack, created by the Oscar-winning composer Hans Zimmer no less. It's a neat party trick for anyone looking to impress.
Alternatively, crank up the rather good Bowers & Wilkins audio system using one-finger gesture control, which does actually work if you're fairly sensible with your digits. With the ambience set to impress the drive itself is similarly impressive. There's no getting away from the fact that this is a big car, and at two and a half tonnes, it's bulky too. If you're happy to cruise rather than cane it though, the BMW iX is fine, just fine.
The technology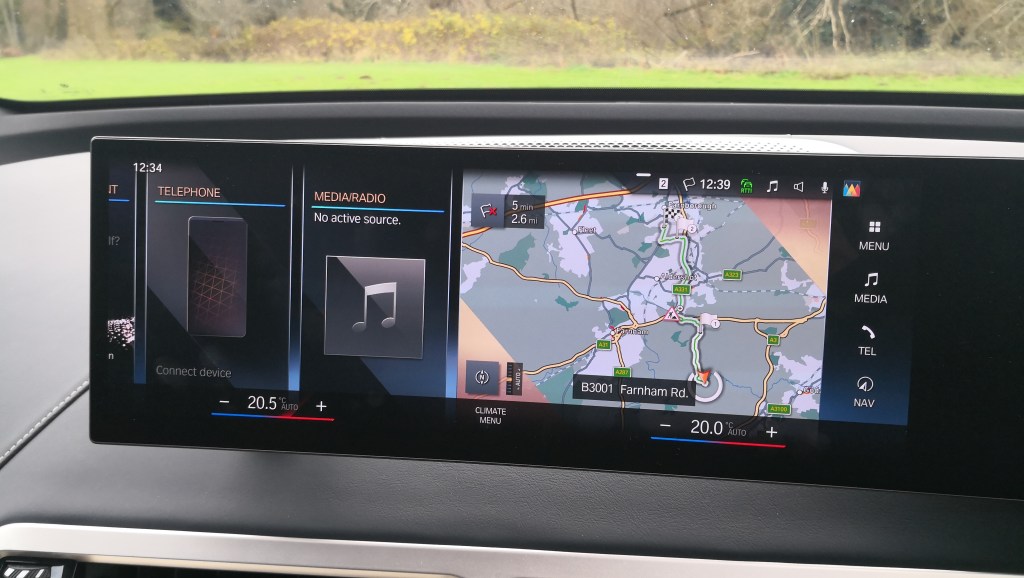 Sitting in the driver's seat you get to take in all of the iX's dashboard tech, which is substantial without being too intimidating. From the off, BMW always wanted this car to be homely, warm and welcoming. It's certainly that with lots of funky trim touches. So, while you're immediately immersed in comfort, the tech is fun to explore too. There's a glass iDrive knob for shifting, but taking pride of place is the dashboard array, which is comprised of a curved display that boasts 14.9-inches of infotainment touchscreen fun.
That's supplemented by a 12.3-inch digital instrument panel behind the angular steering wheel and combined between the two you get a fantastic array of clever, intuitive menus. Wireless Apple Car Play is a boon, but it's the neat balance between the touchscreen options and a rotary dial between the seats that makes a practical tool to use when you're not parked up enjoying the hugely comfortable seats. If you're feeling adventurous there's plenty of voice control available on the menu too, which for things like climate-controlling chores as you drive is well worth exploring.
BMW iX Verdict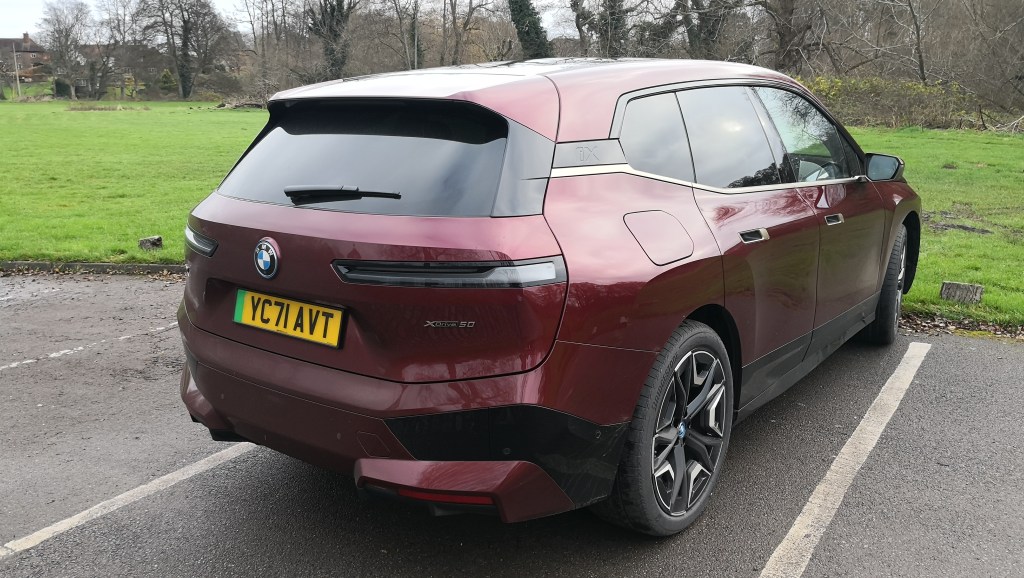 As mentioned, this is a big car and, although the room in the boot is less impressive, it's the space and comfort delivered by the interior that makes the BMW iX a real standout. Debate about the exterior design will run and run, but there's no questioning the excellence found once you step inside.
The feel of luxury on the inside is supplemented by the ride quality too. BMW's iX gets on down the road nicely enough, and it is surprisingly good around country roads given its stature. But the way it carries you along is a real highpoint. This is a vehicle that's perfect for longer journeys or even substantial road trips, with those soft-touch materials and delicious seats soaking up even the worst that UK roads that throw at you.
Bag yourself the entry level BMW iX xDrive40 and you'll pay similar money to EVs like the Audi e-tron, Mercedes Benz EQC 400 or the Jaguar i-Pace EV400. If you've got a Tesla Model X budget handy then you might want to plump for the beefier xDrive 50. Add on extras, like the Comfort Pack, which delivers massage to the front seats and you'll be able to enjoy even more home comforts. You may get the neighbours questioning your judgement on those looks, but you won't care because you'll know just how incredibly welcoming that interior is.
Stuff Says…
That exterior of this fully-electric SUV isn't for everyone but the fabulous interior more than makes up for it.
Good Stuff
Good to drive
Lovely interior
Bad Stuff
Divisive exterior
Gets expensive
Tech specs
| | |
| --- | --- |
| Range | Up to 257 miles |
| Dimensions | 4.95m x 1.96m x 1.69m |
| Charge time | 31 minutes @ 150kW DC |
| Cargo volume | 500L |