BT TV Box Pro review
Box fresh from the big BT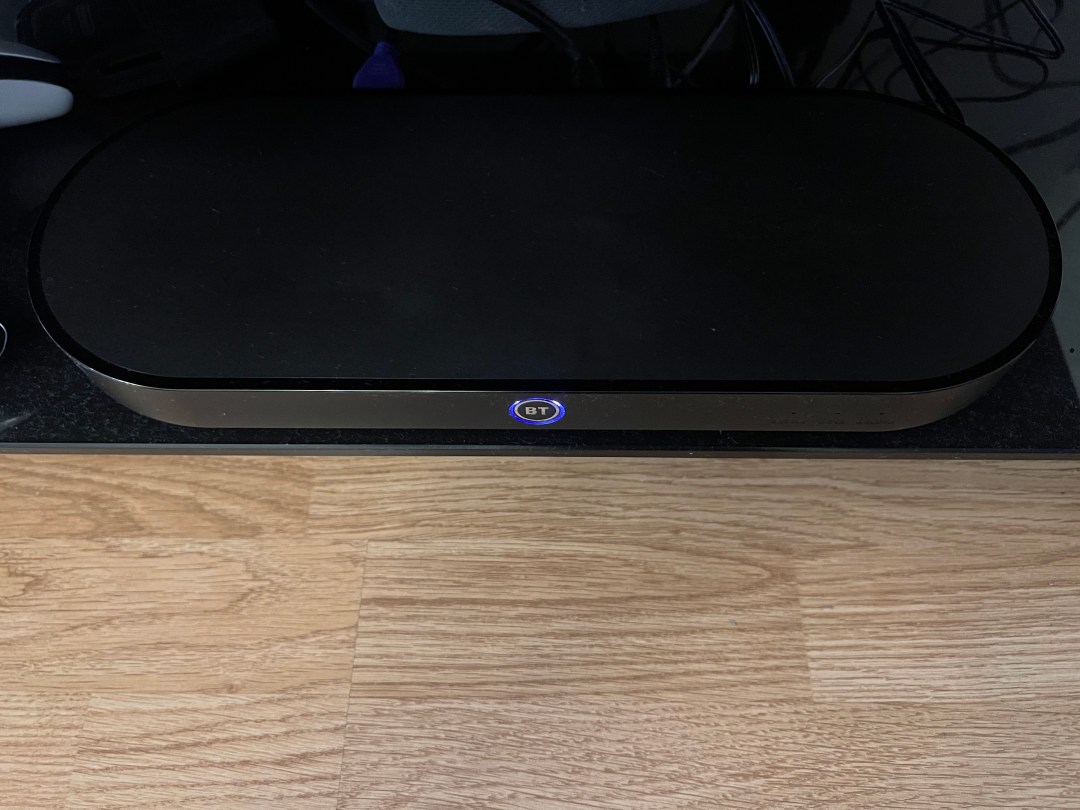 The TV-watching landscape has shifted significantly in the second half of 2021, as we've seen Sky turn on its famous dish-based service and insist that the future is instead an all-in-one entertainment gogglebox from which you stream all of your content.
Of course, Sky isn't the only player in town. Back in the summer (and long before Sky Glass arrived) BT launched its new BT TV Box Pro, the most advanced set-top box option for BT TV customers, and a direct rival to Sky Q. 
With the BT TV Box Pro you can watch 4K HDR content over Wi-Fi, stream Dolby Atmos-supported shows and movies, and record up to three shows at once while watching a fourth.
Go for the top-tier VIP package, which we've been enjoying for several months now, and BT rolls together its own TV services, including the UHD BT Sport Ultimate channel, with a standard Netflix subscription and a subscription to NOW, which gives you 11 Sky Sports channels and 11 Sky Cinema channels. Add to that an HD Freeview tuner and nearly all of the other streaming apps you use built-in, and the BT TV Box Pro is a pretty meaty offering. 
Design: Pucking great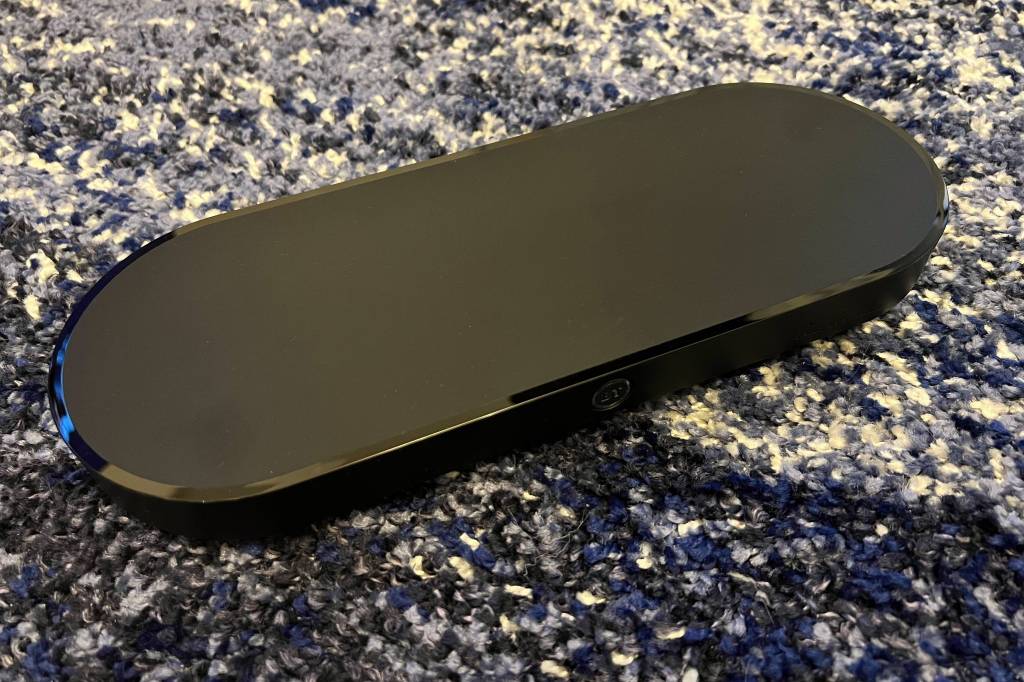 Set-top boxes are not designed to be looked at very often, but if your gaze does happen to settle upon your BT TV Box Pro, we think you'll agree that it's exactly what these things should look like. Minimalist, all black but for the BT logo on the front and the ring around it that lights up when the box is in use, and short enough that it should have no problem slotting in between shelves in a TV cabinet.
For inputs you'll want to flip the pill-shaped box around, where you'll find the power socket, aerial in, aerial out (note that BT does not supply an aerial cable, but will install an aerial for you if you need one), optical and Ethernet ports, plus an HDMI port and a USB port. Regarding Ethernet, you can still use that if you prefer the solidity of a wired connection, and you do get a 1.5m cable in the box, but we opted for connecting via Wi-Fi, now an option with the TV Box Pro. You'll also need either BT's Smart Hub or Smart Hub 2 to use the box, and BT will send you one with the box if required. Keeping the box fairly close to your router is advised. 
The BT TV Box Pro also comes with a new Bluetooth remote, which allows you to control the TV easily without needing to point it in the general direction of the box. It's a sensibly designed remote, with a big power button at the top and buttons for Home and Guide just underneath. A red Record button also sits where it should sit in the middle of the remote.
Interface: Smooth moves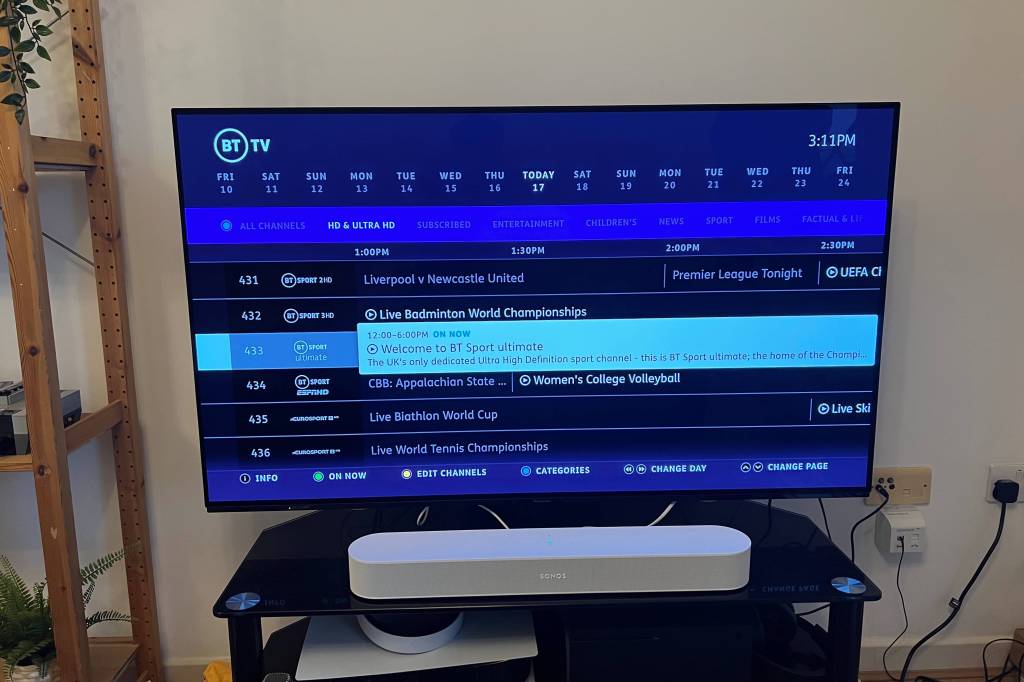 The redesigned YouView interface is easy to get to grips with. Press the home button and you can browse content while continuing to watch whatever's on at the time. Categories are presented in horizontal rows, starting with what's currently being broadcast on live channels at the top, with apps, recordings and dedicated sections for film, sport etc below. You can also hop into the BT TV player app to rent films. The interface isn't quite as slick as Sky Q, but is intuitively designed and more than good enough for day-to-day telly-watching. 
Press the Guide button and you'll be able to browse every channel you have access to in one place, including Sky channels via NOW if you're on the VIP tier. Annoyingly BBC One and Two HD don't appear until you're about 70 channels down, but you can press the round blue button to filter only HD & UHD content, as well as entertainment, sports, films and so on. You can record anything straight from the Guide, and that includes anything supplied by your NOW subscription, even though it's to anyone else a streaming-only platform.
There's also a universal search function accessible by pressing the button sandwiched between Home and Guide, which allows you to search for TV shows and movies across all of your connected apps. It didn't seem to want to pull in Netflix content for some reason but otherwise proved a useful tool. Also strange is that despite there being a microphone icon on the remote, there doesn't appear to be any way to search for shows using your voice natively, which you can do on Sky Q. 
The BT TV Box Pro has 1TB of storage, allowing you to record up 600 hours of content, although this number will be significantly lower if you're loading it up with lots of HD and UHD stuff. Either way, it'll be a while before you're forced into a tedious delete-athon.
You can access your recordings from the MyTV pane, which will also show you any shows you've marked to watch.
Channels and apps: VIP treatment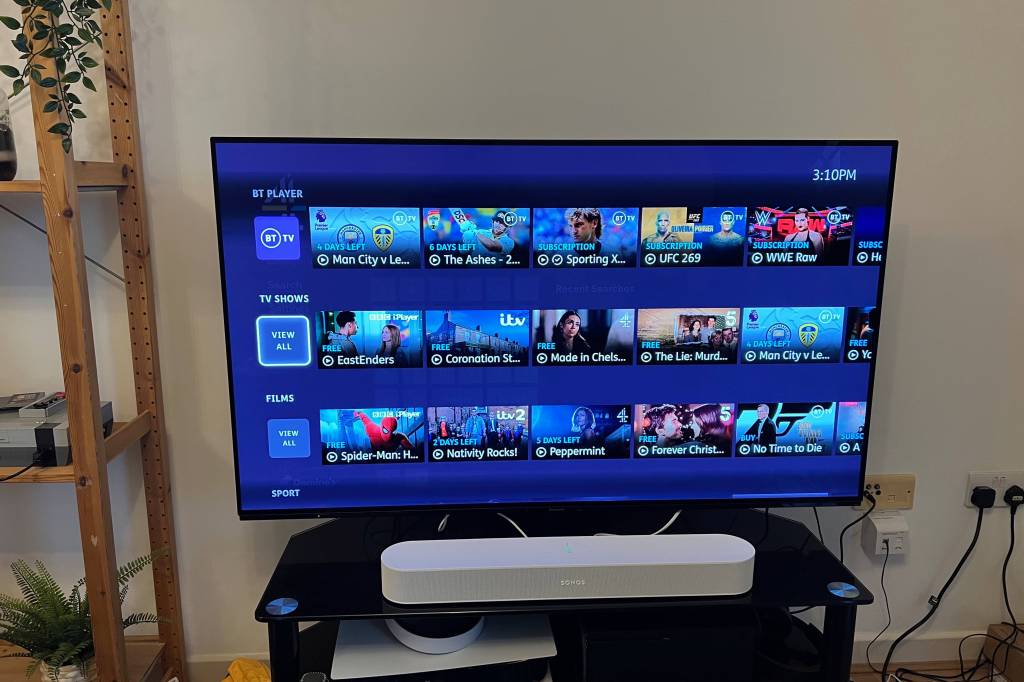 The total haul of channels you'll have access to depends on what package you choose. All come with AMC (exclusive to BT) and up to 94 Freeview channels, and then you bolt on the extras.
Both sport and entertainment are two-tiered offerings. The regular £16/mo Entertainment add-on lets you watch Sky Atlantic shows like Succession through NOW, and as of fairly recently now also includes a basic Netflix plan, which you can upgrade to HD or UHD for an additional cost. With Big Entertainment (£26/mo) you also get 11 Sky Cinema Channels rolled in.
As for sport, the £15/mo entry-level plan includes all four BT Sport channels, while Big Sport (£40/mo) adds 11 Sky Sports channels.
So if you hate football and F1, you'll probably be fine without the sport add-ons, but we imagine most people signing up to BT TV will be tempted by the £73/mo all-you-can-eat VIP package, which comes with all of the above, including that Netflix sub. Bear in mind that you won't be able to watch the Sky content in 4K, but BT Sport Ultimate does stream in 4K HDR with Dolby Atmos support.
As for apps, you get the likes of BBC iPlayer, Britbox, Netflix, All4, ITV Hub, My5 NOW and Amazon Prime Video built-in, as well as a handful of kiddie-friendly streamers, but notable absentees include Apple TV+ and Disney+, so the BT TV Box Pro likely won't be everyone's sole destination for finding movies and shows to watch. 
Apps like Netflix and Prime Video will badge 4K HDR content you can stream on the box, but there's no support for Dolby Vision. It's a bummer for those with Dolby Vision TVs, and does mean we continue to watch more recent Netflix movies on our Panasonic OLED's native app than we otherwise would.
BT's device can also decode Dolby Atmos. Just remember to turn on HDMI surround sound in settings if you have an Atmos-capable soundbar or surround sound setup.
Picture quality and performance: The Ultimate experience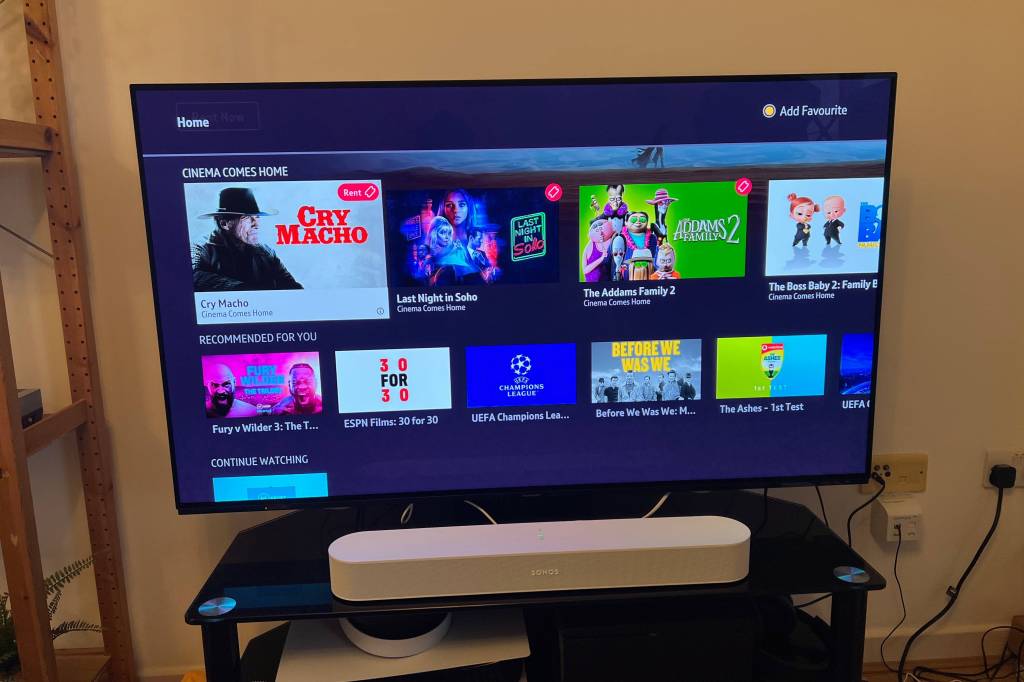 Broadcast TV in HD broadly looks great on the BT TV Box Pro, and we'd hope that nobody reading this is interested in the SD offerings – it's 2021, just don't go near them.
If you've come from Sky Q then you'll be a bit disappointed to lose all that 4K goodness, but HD streams on NOW still look great. We watched all of the third season of Succession this way and were never disappointed with the picture.
Streaming apps look pin-sharp and stunningly vibrant when watching 4K HDR content, but again, if your TV does support Dolby Vision, we'd almost always recommend finding a way of watching Dolby Vision movies in the superior HDR standard, which the BT TV Box Pro can't do. 
To see the box as its very best you'll want to watch a football match in 4K on BT Sport Ultimate with Atmos, which looks simply fantastic. This writer only wishes, as a Spurs fan, that it was available across all of the BT Sport channels. Surprisingly the Europa Conference League rarely makes it to top billing.
BT TV Box Pro verdict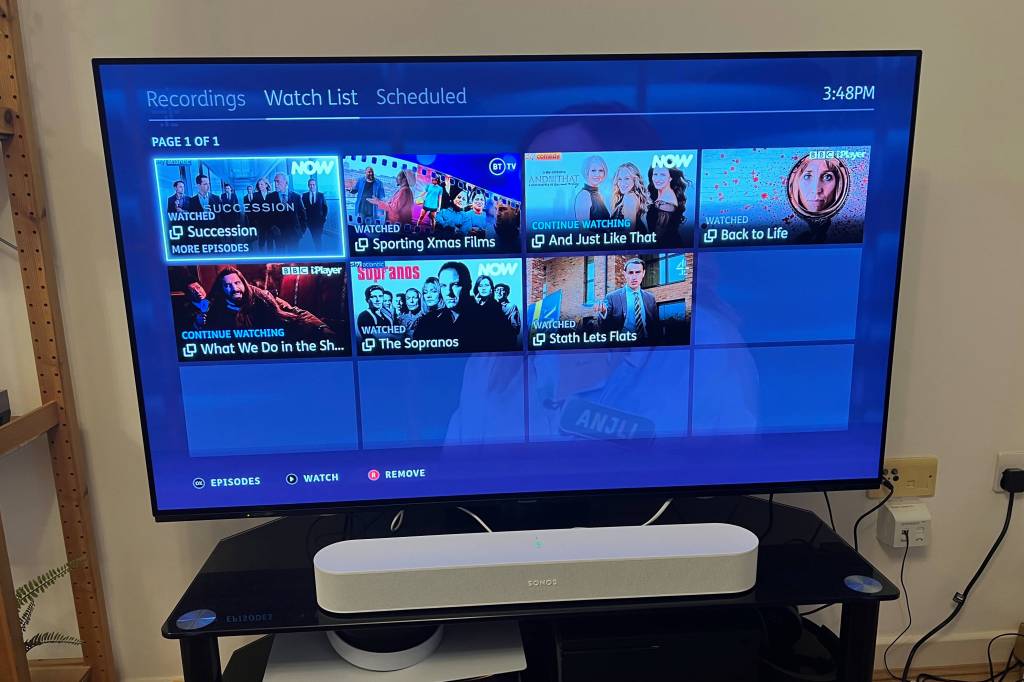 A BT TV Box Pro with a VIP package isn't what anyone would call cheap, but it really does cover almost all of your entertainment needs, thanks to that bundled NOW subscription and free Netflix. And if you like your sport, we'd argue that BT Sport in 4K might be slightly superior to the Sky Sports equivalent, as you get both select (and usually worth watching) Premier League matches and the big Champions League games in the best resolution.
The interface is great too, making it easy to find something to watch, and it's pretty handy that the remote is Bluetooth, therefore never asking you to perform any awkward hand gymnastics to change the channel.
There are a few quite important bits and pieces missing: Disney+ and Dolby Vision both stand out, but the combination of live channels with the majority of streaming apps, BT Sport Ultimate and all that Sky goodness makes the BT TV Box Pro a pretty easy recommendation. 
Stuff Says…
An excellent 4K HDR-ready set-top box that offers a buffet of entertainment
Good Stuff
4K HDR on supported apps and with BT Sport Ultimate
Slick interface
Good Bluetooth remote
Can record up to three shows or movies at once
Bad Stuff
Sky Q offers more 4K channels
No Disney+ or Apple TV+ built in
No Dolby Vision