Dyson V15 Detect Absolute review
Dyson's flagship vacuum cleaner comes with acoustic sensors and a laser to detect microscopic dust.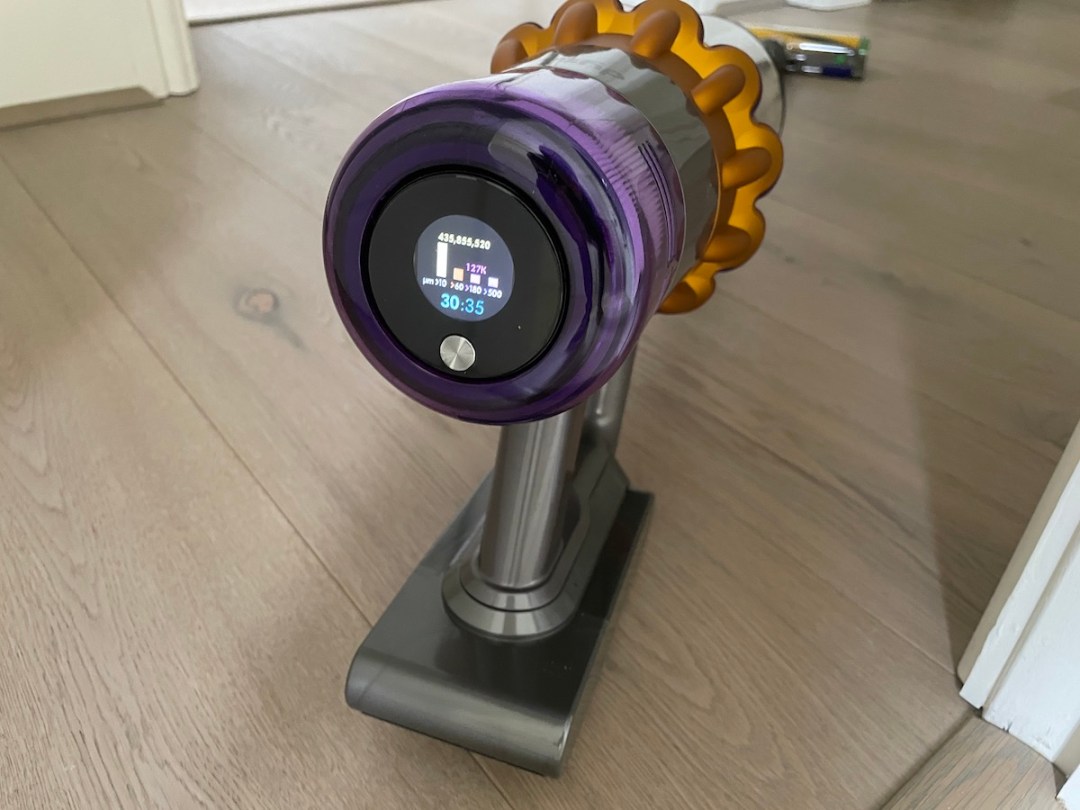 Just when you thought Dyson couldn't suck any more it's created the Dyson V15 Detect Absolute – a more powerful, longer-lasting vaccum cleaner.
But that's only half the story here, because Dyson has fitted its new flagship with a piezo acoustic sensor and laser for measuring and illuminating dust.
This whiffs of gimmickry, but the idea is that while the piezo sensor detects microscopic particles and adjusts the power of the motor accordingly, the laser helps you see dirt you might otherwise miss in dimly lit areas or under furniture.
We've spent a fortnight with the Dyson V15 Detect Absolute to see whether it makes good on its hi-tech promises.
Dyson V15 Detect Absolute price: I should see so mucky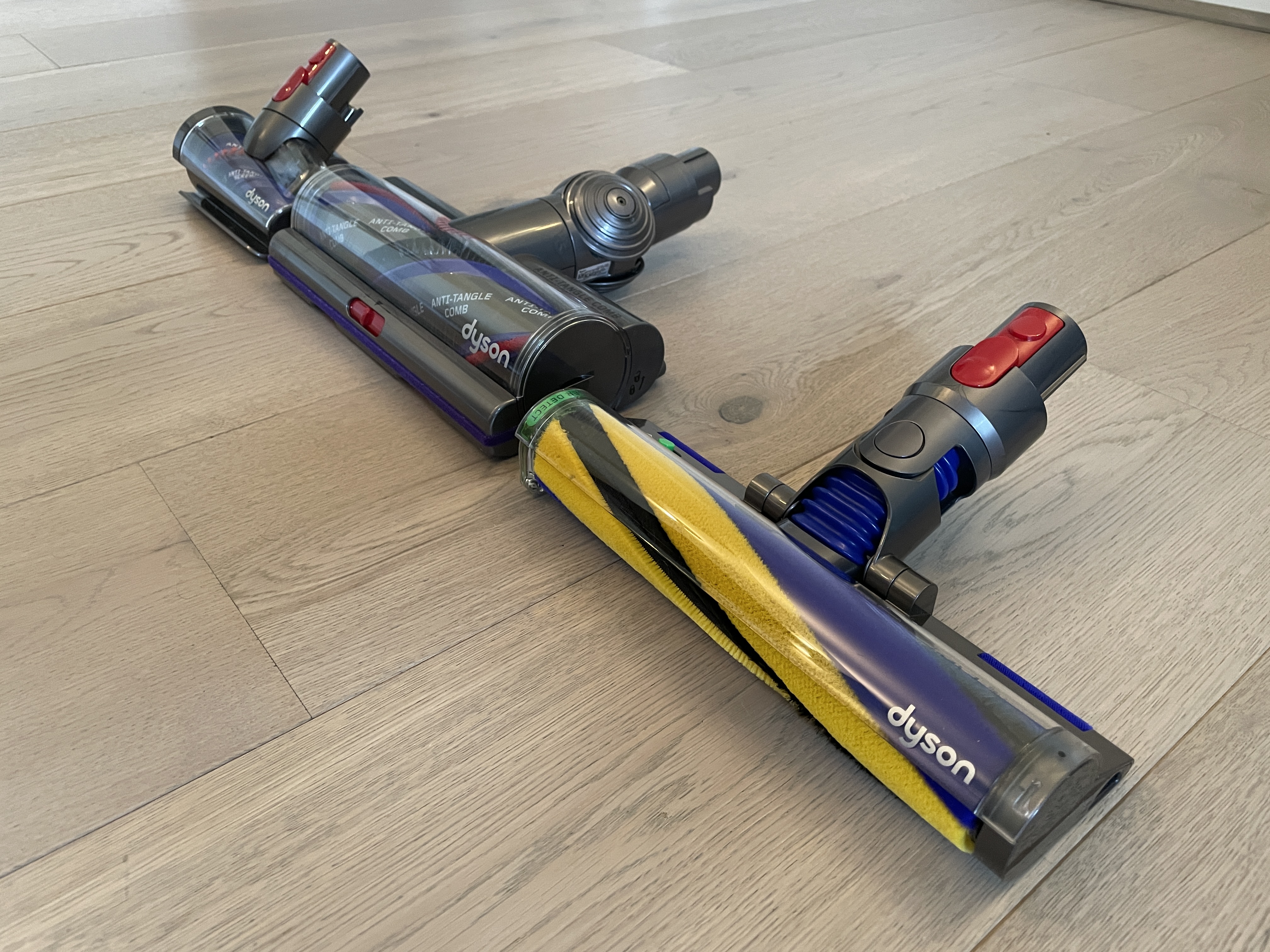 You've surely got to be obsessed with cleaning to consider a vacuum costing four Henrys, because there's no escaping that the Dyson V15 Detect Absolute will set you back £600.
That compares with £449 for the company's previous flagship, the Dyson V11 Animal, although it is possible to spend up to £700 for a Dyson Outsize with a 25% bigger cleaner head and a 150% bigger bin.
'But do they come with a laser?' we hear you cry. Well, while the Dyson V11 Animal does not it is possible to buy the Laser Slim Fluffy head for an additional £65, while both Dyson Outsize models come with the hi-tech head included. What makes the Dyson V15 Detect Absloute unique in the Dyson line-up is the inclusion of the piezo sensor.
Arguably the closest rival to the Dyson V15 Detect is the Shark Anti Hair Wrap Cordless Stick Vacuum Cleaner with Flexology and TruePet at £499.99, although it's currently on offer at £349.99, presumambly to try and appease the fact it has one of the longest names of any domestic appliance ever made.
Dyson V15 Detect Absolute features: Another one lights the dust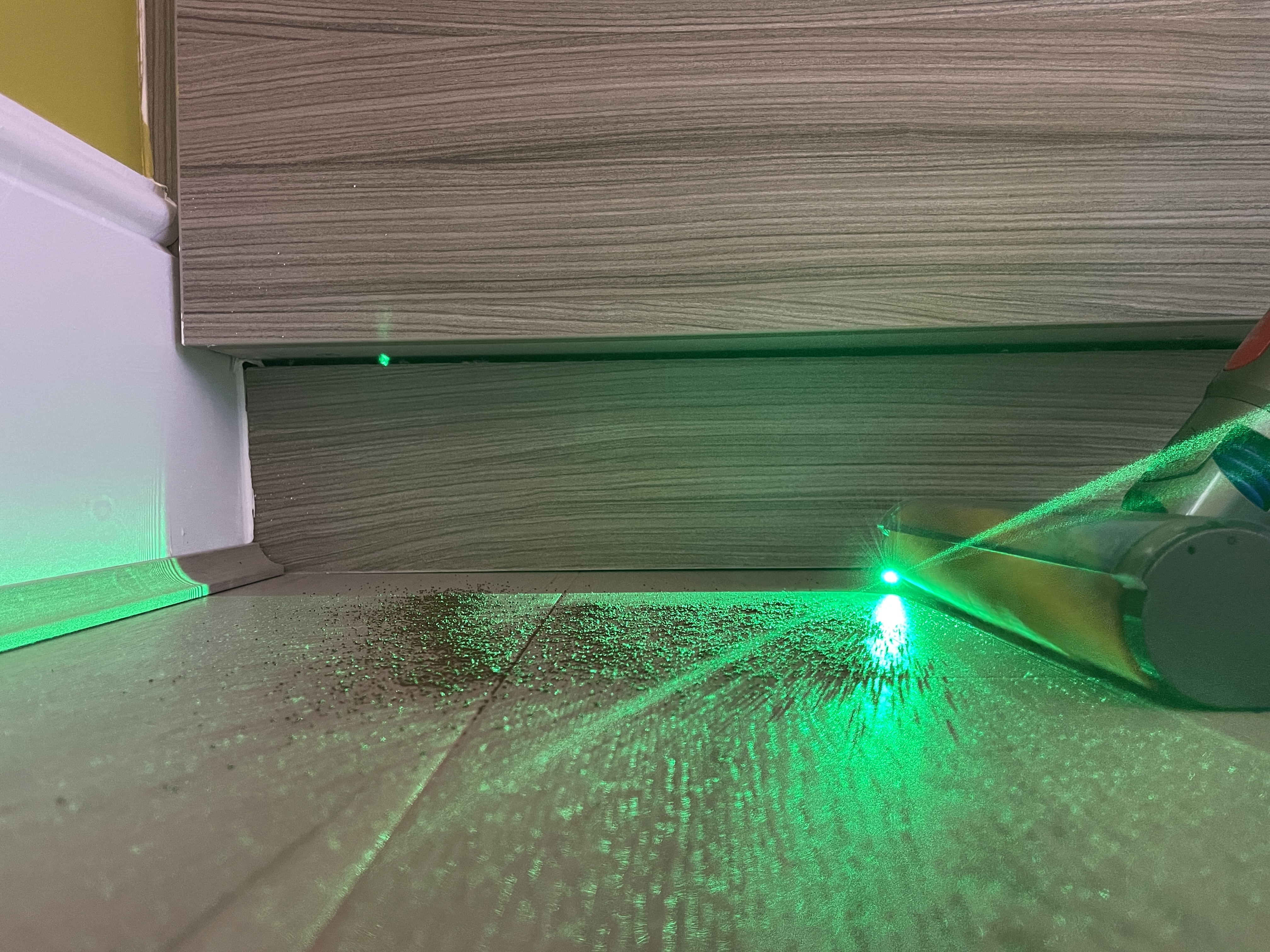 Design-wise, the V15 Absolute Detect is definitely a Dyson. The filter, large capacity bin and Root Cyclone innards are all where you expect them. It comes with more attachments, packaged in more cardboard than ever before, and compared to the V11 range, the suction time and power have increased.
The aforementioned piezo sensor detects the vibrations of dust hitting the cyclones at 15,000 times per second and automatically adjusts suction power accordingly. It displays this info on a super-bright colour panel, along with remaining battery life and the current cleaning mode you're in, be it 'Eco', 'Medium' or 'Boost'.
If all of that sounds like a lab assistant's wet dream, try fitting the Laser Slim Fluffy head. Flick a switch and it's all systems glow for a spot of techno rave housekeeping on hardwood floors. It's a great idea for dimly lit areas… partially let down by the head being too wide to access all of them.
As impressive as the sensor and laser tech might seem, it's the much narrower anti-tangle hair-screw tool that, well, cleans up. The conical brush automatically unravels your short and curlies because it's only attached at one end. Brilliant for pet hair and stray locks on the sofa, it's a winner.
Dyson V15 Detect Absolute observations: A change is gonna comb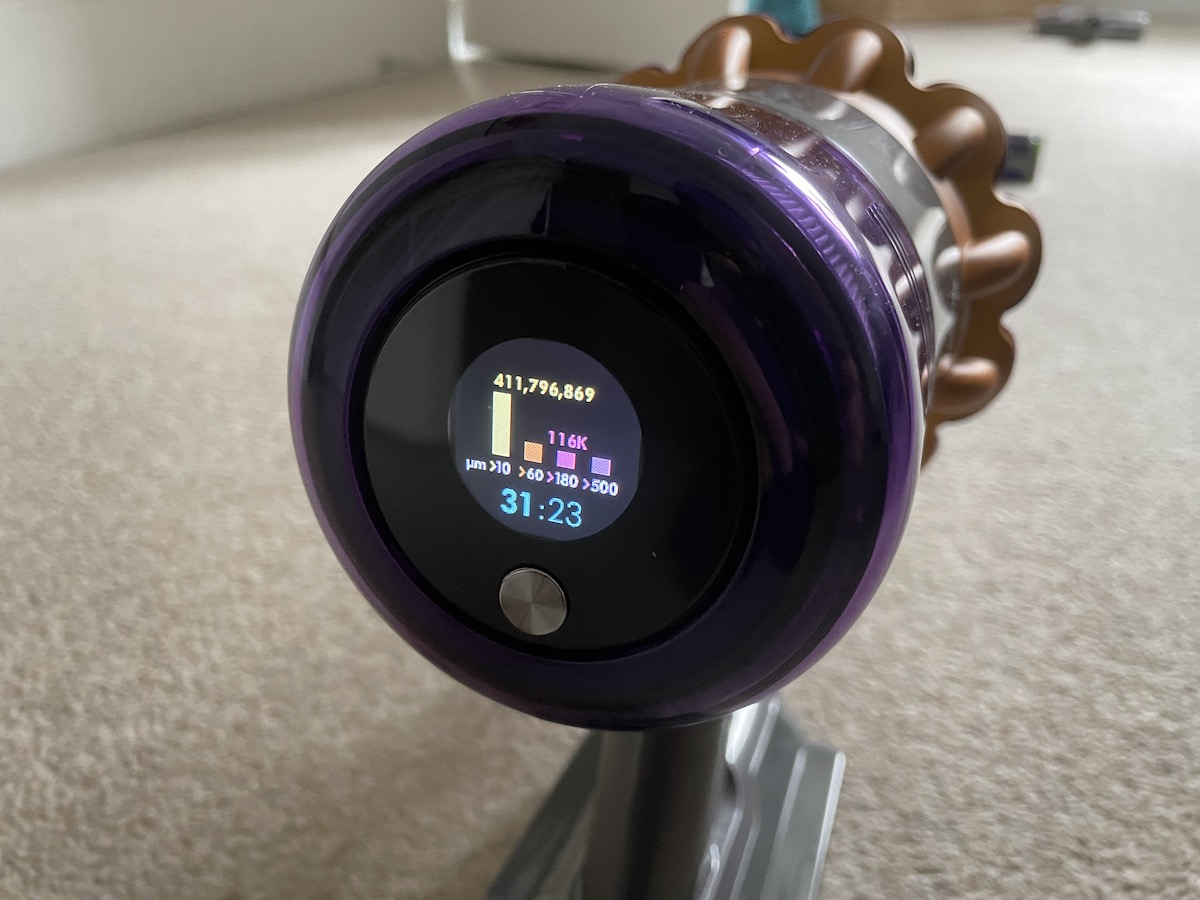 The Dyson V15 Absolute Detect comes with no less than 10 attachments, including the main 'high-torque cleaner head with an anti-tangle comb' (snappy), a stubborn dirt brush and a wand clip. Let's not dwell on the crevice tool.
You can do away with the long wand when you're not cleaning floors or need to give the car a once-over, and the countdown on the LCD display offers a handy guide to how much dust-busting time you've got left.
Dyson V15 Detect verdict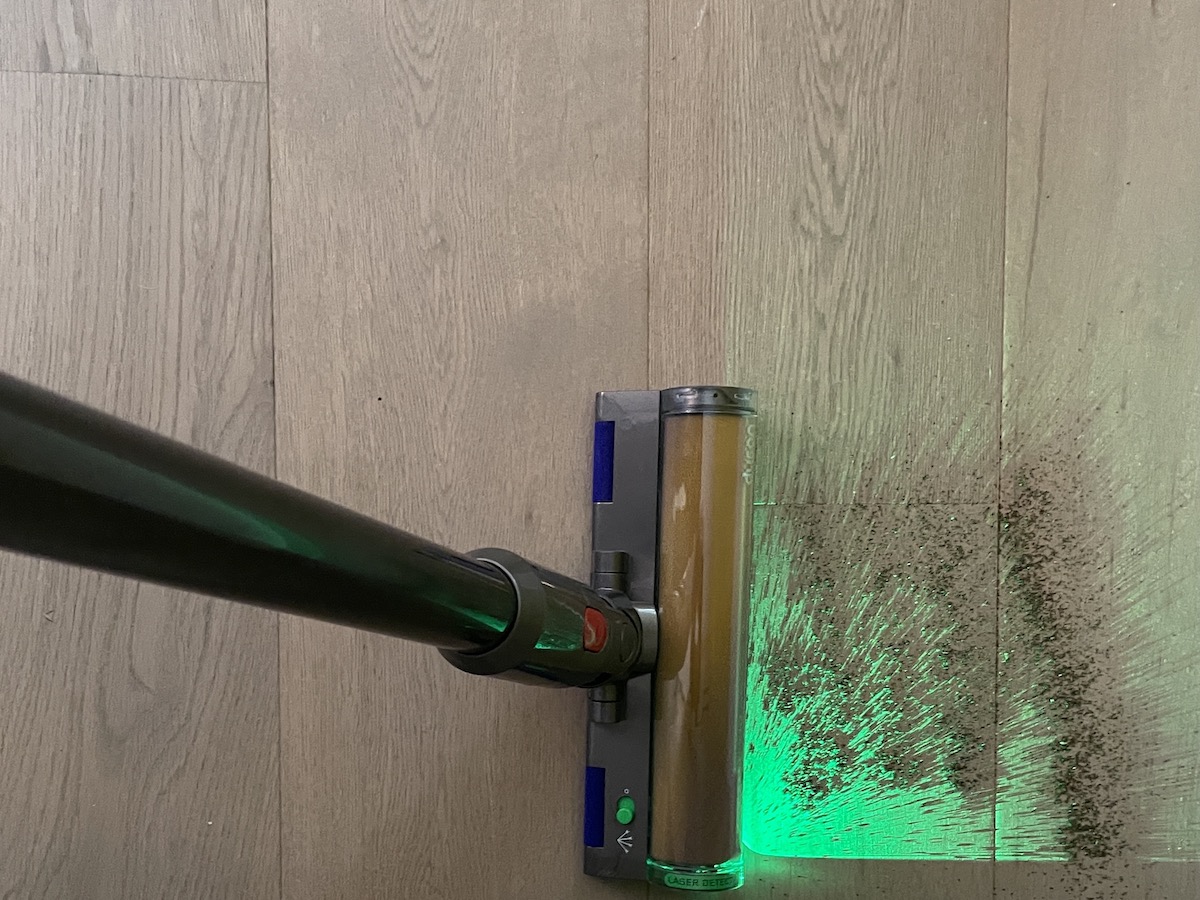 We're not sure whether Dyson was inspired by Philip Pullman's 'His Dark Materials', but for seeking out mysterious invisible dust the V15 Detect Absolute is no fantasy.
Lasers and acoustic sensors will grab the headlines, of course, but for real-world cleaning it's the longer run time and greater suction power that impressed us, plus a no-more-tangles hair-care system of a different sort.
Welcome to the Rolls-Royce of handheld vacuum cleaners.
Tech specs
| | |
| --- | --- |
| Max power | 240AW / 125,000rpm |
| Capacity | 0.76l |
| Battery life | Up to 60 mins |
| Charge time | 4.5 hours |
| Dimensions | 1264x252x250mm |
| Weight | 3kg |
Stuff Says…
Ludicrously expensive, but ludicrously good, Dyson wipes the floor once again
Good Stuff
Crazy amount of attachments
Anti-tangle brush is brilliant for pet hair
More power and better battery life
Acoustic sensors and laser definitely work
Bad Stuff
Extremely expensive
Acoustic sensors and laser could be considered overkill
Too much packaging
Panel data readouts only useful for dust nerds