Fitbit Sense review
Stress is more?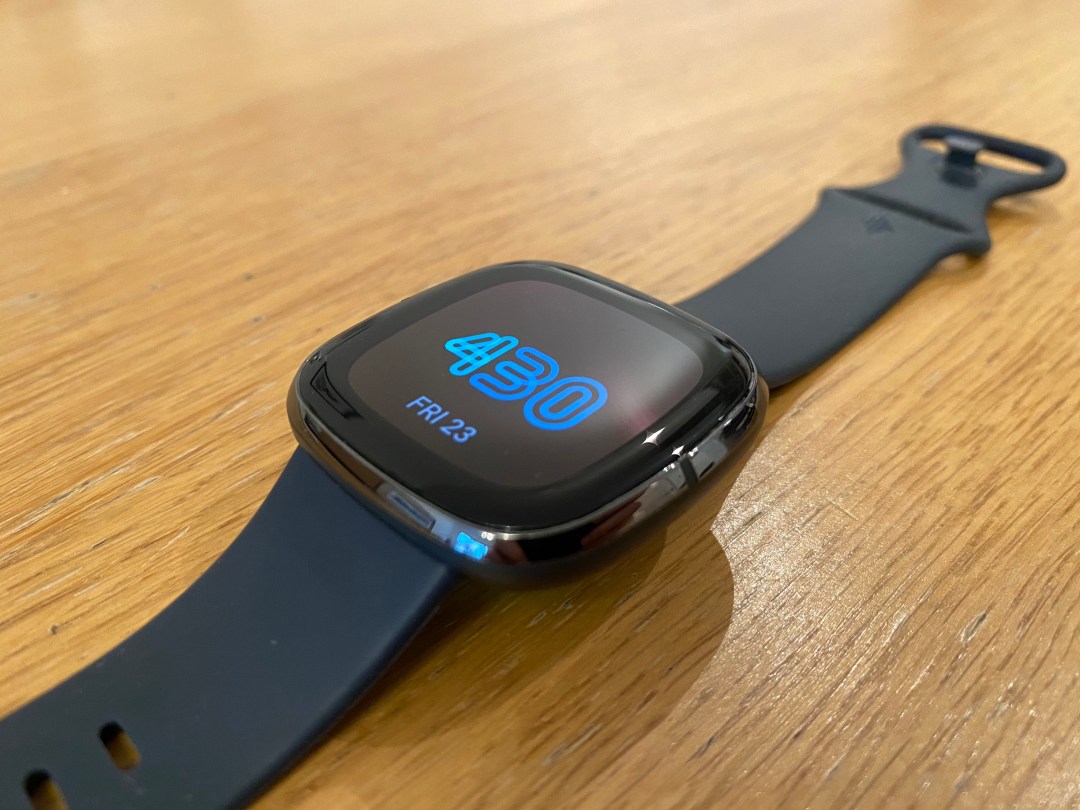 As smartwatch-makers have started to figure out that there's a limit to how excited people will get about a watch that can do the things a smartphone does, their attention has turned to making smartwatches that do things a smartphone can't.
No, that isn't a riddle. More than anything else, the market-leading smartwatches are now being pitched as guardians of your health, which increasingly means a slightly dizzying array of sensors keeping an eye on you as you go about your day.
Fitbit has always been looking for new ways in which its devices can benefit both your physical and mental health, and its latest smartwatch is its most ambitious to date. The Sense is the first smartwatch to feature a built-in electrodermal activity (EDA) sensor, which is designed to help you better understand and manage stress. Add an ECG app and an on-wrist skin temperature sensor to Fitbit staples like all-day heart rate and activity tracking, and there really is a lot going on.
But is the implementation as impressive as the spec sheet, and has Fitbit done enough to compete with the Apple Watch Series 6 as an all-round smartwatch?
Design: Pressing tame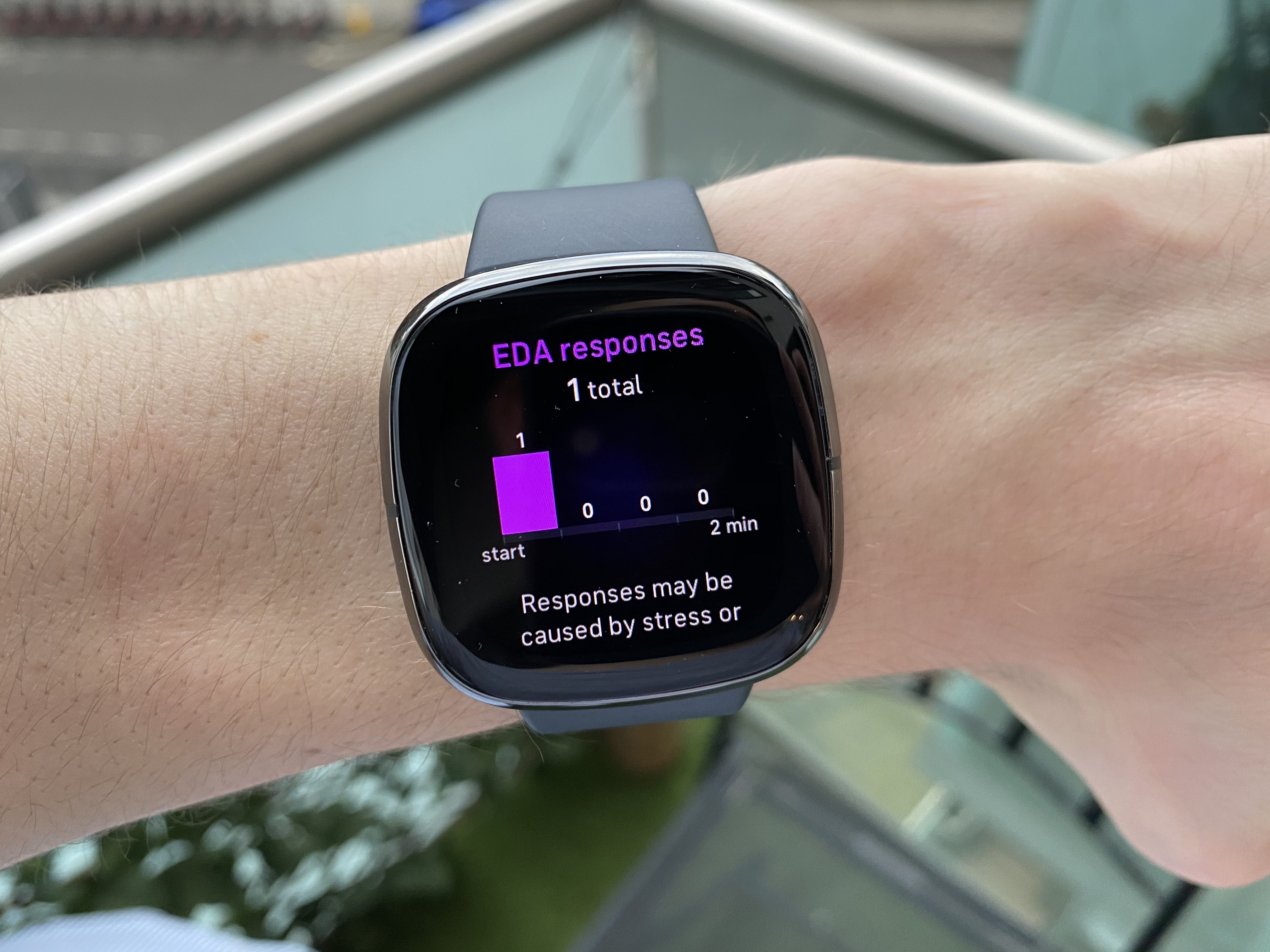 The Fitbit Sense adopts a similar square-with-rounded-corners design as its predecessor, the Versa 2. It's not completely unlike the Apple Watch, but crucially has enough of its own personality that it doesn't look like one of the many shameless ripoffs currently on the market. Ahem Oppo Watch. It's pleasingly pebble-like in appearance, to the extent that you'll be tempted to skim it if you're by the sea. Don't, although it is water resistant up to 50 metres.
The stainless steel and aluminum case is just shy of 12.4mm thick and should fit comfortably on most wrists. It's also impressively light, and if it wasn't for the frequent notification taps we could well have forgotten we were even wearing it. Keep in mind, though, that you'll want a fairly tight fit if you want reliable readings from the sensors.
It's also extremely easy to change the straps, which is good as that's something regular exercise-doers will probably be doing a lot. There are a fair few to choose from, but we were happy enough hopping between the standard silicone and breathable perforated sport bands Fitbit supplied us with for this review.
Unfortunately, it's not all positive on the design front. Fitbit has been slowly eliminating buttons on its smartwatches for a while now, dropping the three on the original Versa down to one on its sequel.
With the Sense, it's gone even further, as you won't find a single visible button on the device. Instead, the button you use for all watch navigation is capacitive, displayed as a grove on the left side under the bezel. When pressed (which you have to do pretty enthusiastically each time), the Sense vibrates under your finger to let you know it registered.
We're not a fan of this button. It feels awkwardly placed, especially for those wearing the watch on their left wrist, and it's far too easy to unwillingly press it just by slightly pushing the watch into your arm flesh, which happens quite a lot. Being able to long press to wake Alexa is useful, but not when it's against your will. After just a few days we longed for the Apple Watch's trusty Digital Crown.
Screen: Some flaws on display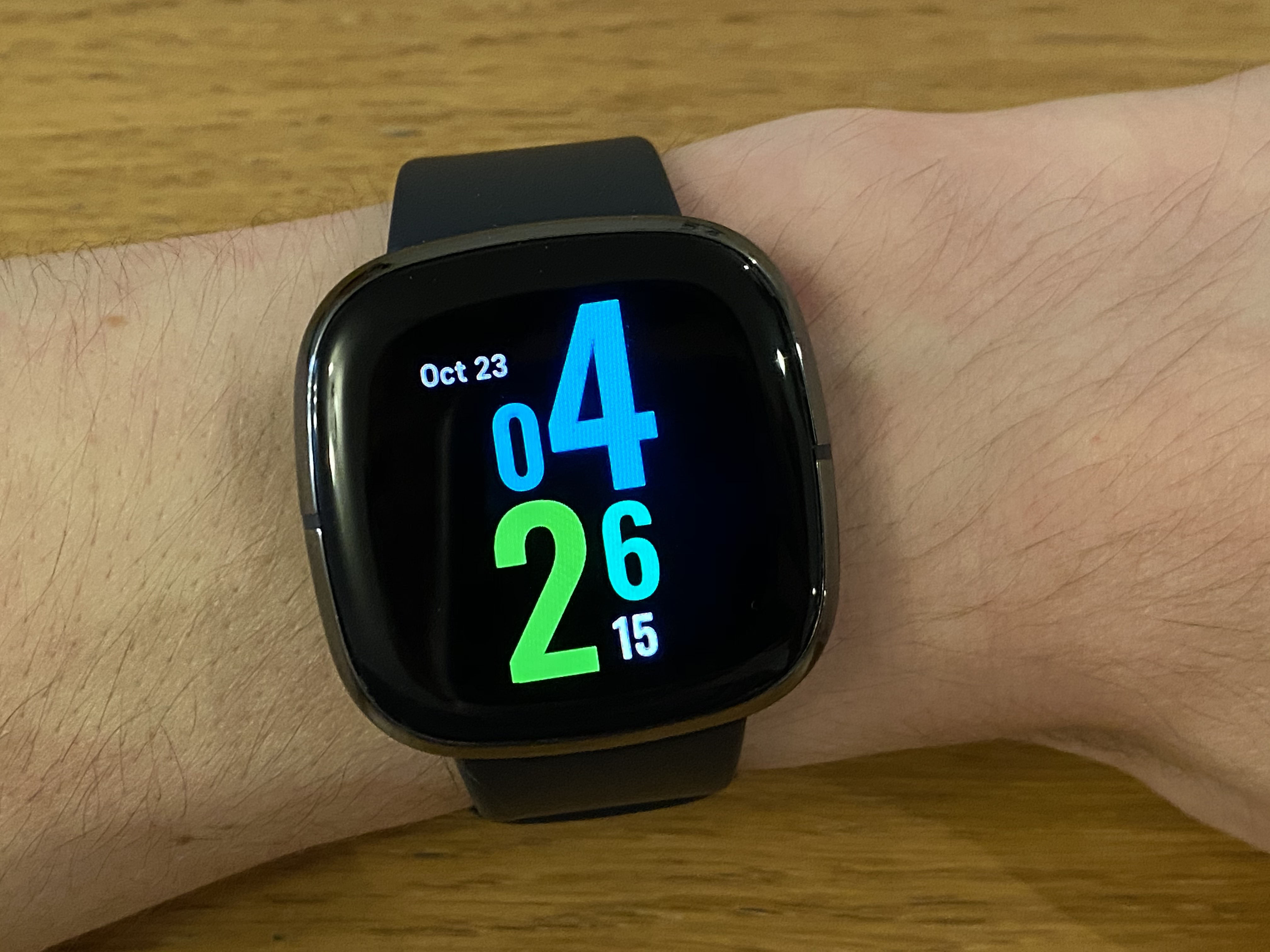 The Fitbit Sense's 1.58in AMOLED touch display is perfectly nice, even with the still fairly sizeable bezels. Colours look great, blacks are gloriously black, and the 336 x 336 resolution is nice and sharp. At 1,000 nits it's plenty bright too, with the middle 'normal' brightness setting being enough for us. Factor in Fitbit's myriad watchfaces and there's a lot to like.
But, again, the news is not all good. The Fitbit Sense's raise-to-wake functionality is at times irritatingly unresponsive. Often we'd need to violently shake our wrist just to check the time, and while you can always manually tap to wake instead, this didn't always work the first time either. An always-on option alleviates the time-checking frustration somewhat, but this really munches away at battery life, and more than once the watch failed to fully illuminate from its standby setting when we looked directly at it.
Moreover, the Sense often lags between swipes, and it's far too easy to confuse it. We had several straight-up freezes too. Perhaps software updates will iron out the bugs, but right now the user experience feels sluggish, and for a pricey flagship product from one of the leading wearable companies, that's not good.
It's a shame, as the OS running beneath the touch display is well thought out. We like swiping up for customisable widgets and down for notifications. It's intuitive, when it works.
EDA: Stress is core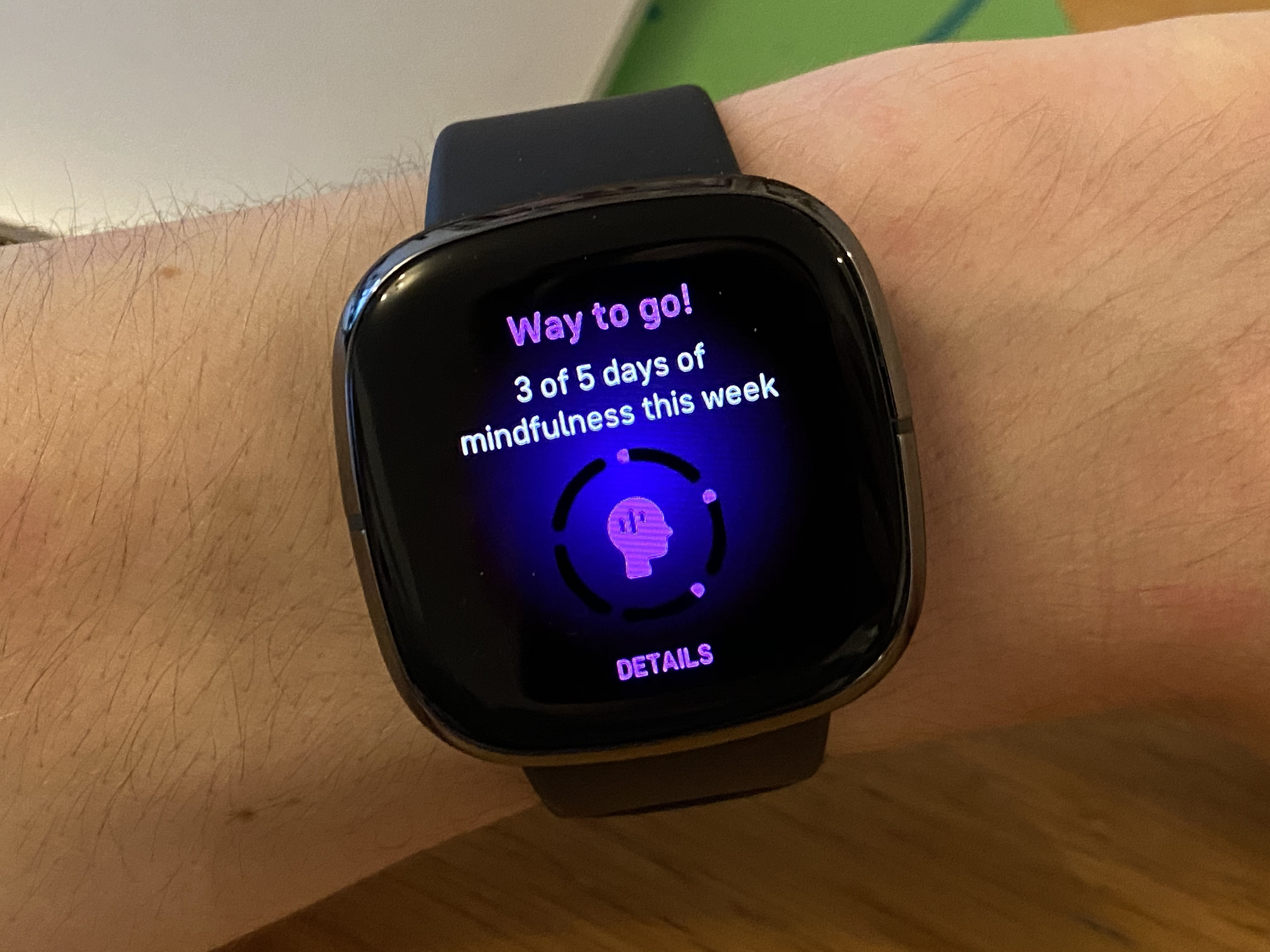 The Fitbit Sense is able to monitor various aspects of your physical health, but perhaps its most interesting new feature is the EDA Scan app, which measures electrodermal activity as a possible indication of your body's response to stress.
EDA is linked to the regulation of our internal body temperature, but there is also ongoing research into its relationship with emotional arousal, including stress. An EDA sensor measures variations in skin conductance, which can increase as a response to a simultaneous increase in sweat gland activity, something that may occur when you're feeling stressed.
If that all sounds a bit complicated, you'll be relieved to learn that Fitbit's application of the technology is actually pretty simple. To do an EDA scan, all you need to do is boot the app and place your palm over the stainless steel frame that surrounds the watch for two minutes, trying to keep as calm as possible. You can also do a guided mindfulness session of up to 60 minutes, with different meditations to be found in the Mindfulness section of the app.
When you've done that you log how you're feeling and the Sense shows you how many EDA responses it recorded in the timeframe. Numerous different factors can trigger an EDA response, but the accepted wisdom (according to Fitbit anyway) is that the fewer you have, the calmer you are. The idea is that the more of these brief meditations you do, the better you'll understand your body and how it deals with stress.
It's not always completely clear what the watch is trying to tell you, and a bit confusing when you see multiple EDA responses despite feeling pretty relaxed throughout your scan. Again though, EDA changes can be caused by lots of different factors.
The Sense definitely got us thinking more about that aspect of our health, though, and that was surely Fitbit's goal. But it's a shame that you have to boot the app each time you want to check on your stress levels. That feels a bit counter-intuitive. If the EDA was continuously running in the background it could tell you when it receives a high volume of responses and encourage you to do some breathing, rather than expecting you to come to it.
A more comprehensive picture can be found in your Stress Management score, which pulls in various pieces of data to calculate an overall daily score. More on that shortly.
Health and other features: Sensor overload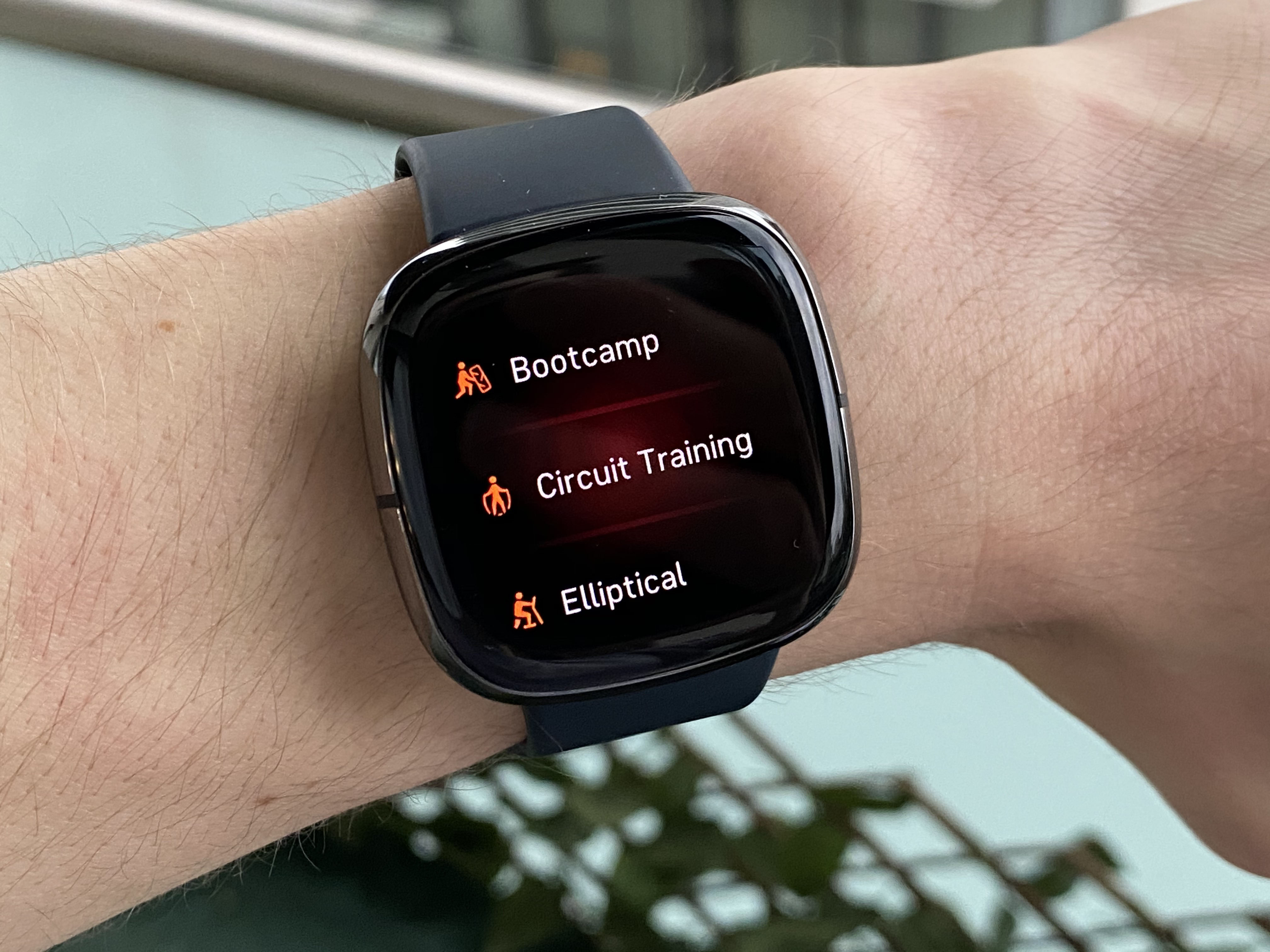 As well as the EDA app, the Fitbit Sense also has a recently FDA-cleared electrocardiogram (ECG) app, which can notify you of any heartbeat irregularities, known as atrial fibrillation (AFib), which can then be shared with your doctor. To use it, you just hold your thumb and forefinger on opposite corners of the watch for 30 seconds.
The other significant health-based additions are SpO2 (also known as oxygen saturation) readings, and a skin temperature sensor. Both require you to wear the watch while you sleep, and the former bizarrely only works if you remember to set the SpO2 watchface overnight. Still, given that a drop in your oxygen saturation levels can be a telltale sign of COVID-19 infection, the more devices that can measure this stuff, the better.
For skin temperature, you need to wear the Sense in bed for at least three nights in order for it to establish a baseline. After that, you'll be able to identify trends or changes in your average, which can help you spot an oncoming illness. The information is well laid out in the app.
Otherwise, the Fitbit Sense is business as usual where features are concerned. You get accurate built-in GPS, Active Zone Minutes, sleep tracking, all-day activity tracking and 20+ exercise mode, many of which the watch can automatically recognise. Given the current restrictions, we stuck to home workouts, some walks and a few short runs, and the Fitbit Sense meticulously tracked them all. PurePulse 2.0 is Fitbit's new multipath 24/7 heart rate tracking, which seemed to remain impressively accurate during our testing.
As a smartwatch, the Sense also does a good job on the whole. Notifications work as well as you'd expect them to in 2020, Alexa is there (with Google Assistant soon to join), and while the NFC-powered Fitbit Pay is still not as well-supported as its Apple alternative, if it works with your bank, it's useful.
Fitbit also continues to lag behind Apple when it comes to apps. Its own are well-made and should have you covered for most of the things you need, which is just as well, as the third-party selection remains, on the whole, pretty poor. And while there's a built-in Spotify app for controlling your music on the go, you can't store your library on your watch unless you subscribe to Pandora or Deezer. We're yet to meet a single person who does.
Software: at a Premium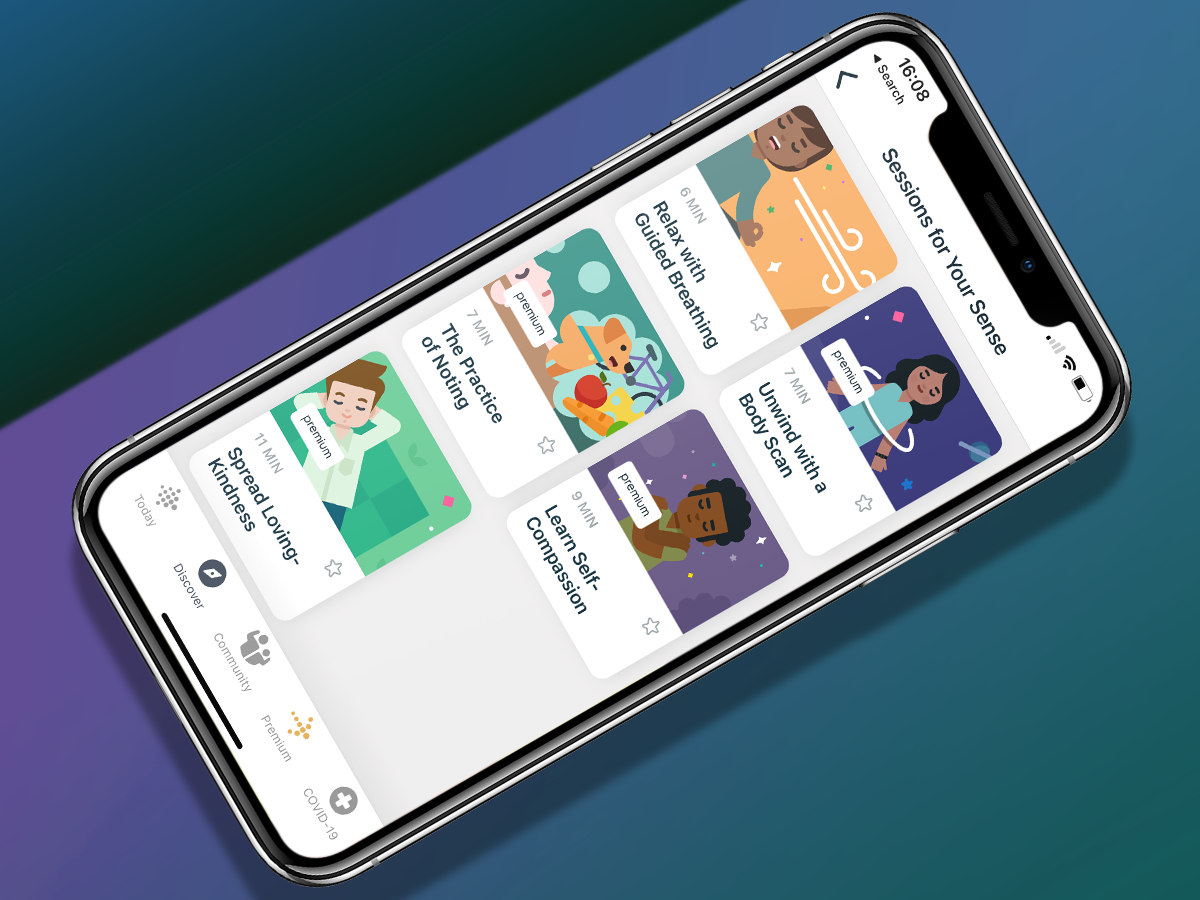 The Fitbit Sense throws a whole lot of your data and metrics at you throughout the day, and to at least attempt to make sense of any of it you need to head to the app. It's here that you'll see a much more detailed breakdown of your fitness stats, heart rate and sleep score, as well as the progress of any of your fellow Fitbit-wearing friends.
The app also helps you better understand your EDA responses, thanks to the Stress Management tab. Here, you're given a daily stress score that takes into account electrodermal activity, heart rate variability, physical activity and sleep patterns. A higher number means your body is showing fewer physical indicators of stress. We were slightly frustrated that our score was lower (so higher) than we expected during the first few days, especially when we thought we were nice and zen, but over time the watch should hopefully get better at painting an accurate picture.
To access all of the app's features you'll need a Fitbit Premium subscription. All new Fitbit Sense owners get a free six-month trial, but after that it'll cost you either £8 a month or £80 a year. Only with Fitbit Premium will you be able to access the mindfulness sessions, which seems a bit harsh, and you'll get more advanced wellness insights if you're all paid up.
Usefully, the Fitbit app also has a COVID-19 tab that contains information and resources, such as NHS guidance and ideas for keeping fit at home.
Performance and battery life: Goes the distance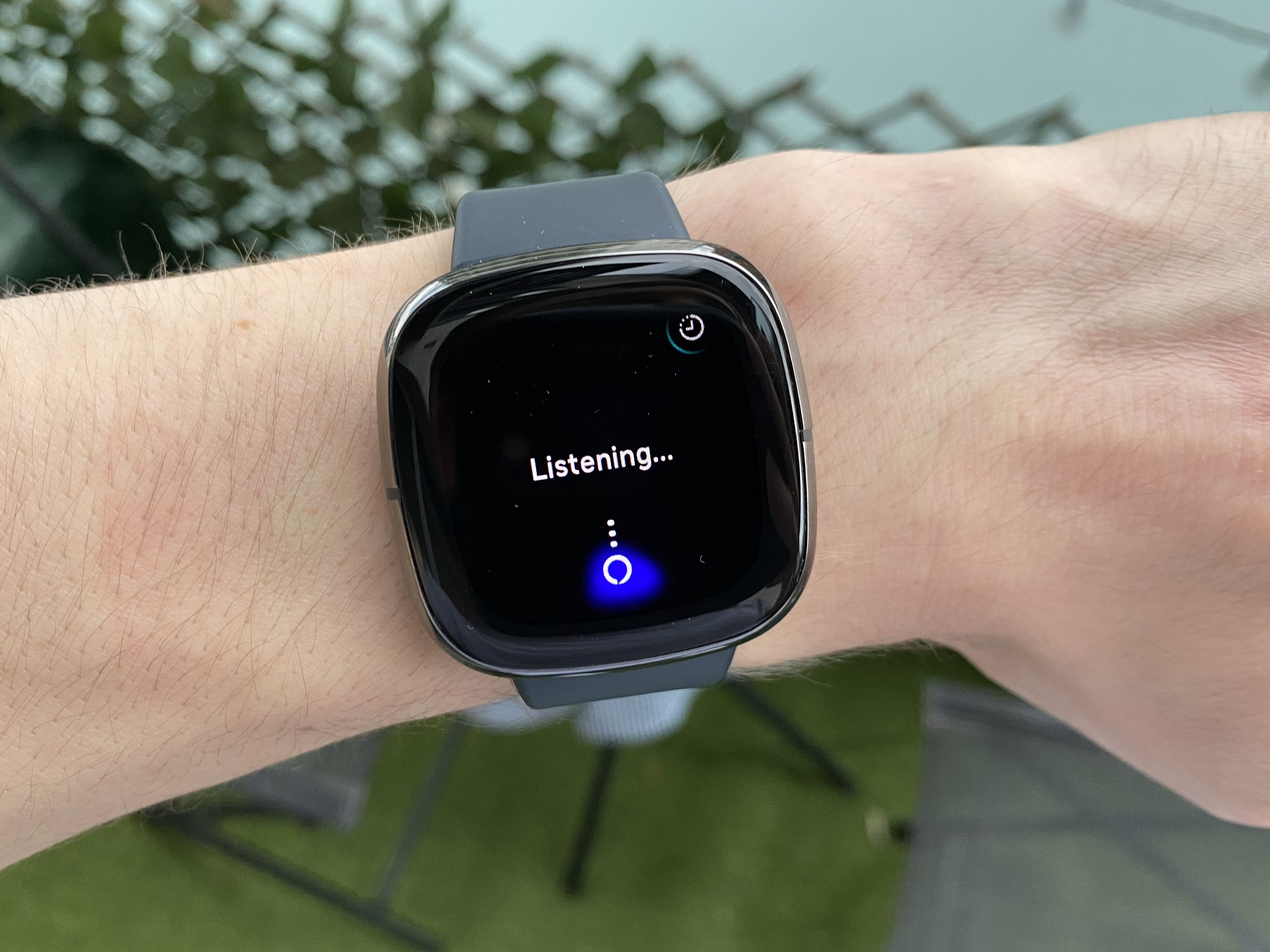 The 6+ day battery life Fitbit quotes for the Sense seems optimistic, but it's definitely in that ballpark, even when you have it tracking your every move (or lack thereof) 24/7 and pinging notifications at you all day long. That's really hard to fault. As mentioned before, though, the always-on display takes a rather greedy slurp of that juice, so be prepared for more regular charging if you use it.
Luckily, fast charging means you won't have to wait long to have the Sense back on your wrist and barking at you to move.
The very solid battery life makes the so-so overall performance even more disappointing. Fitbit doesn't talk about processors, but the £300 Sense could surely have benefited from a better one. We really hope a lot of the bugs are ironed out, because right now the Fitbit Sense isn't consistently smooth in use, and if anything spiked our stress levels while wearing it, it was having to thrash our wrist about in mid-air just to see how late we were for a Zoom meeting.
Fitbit Sense verdict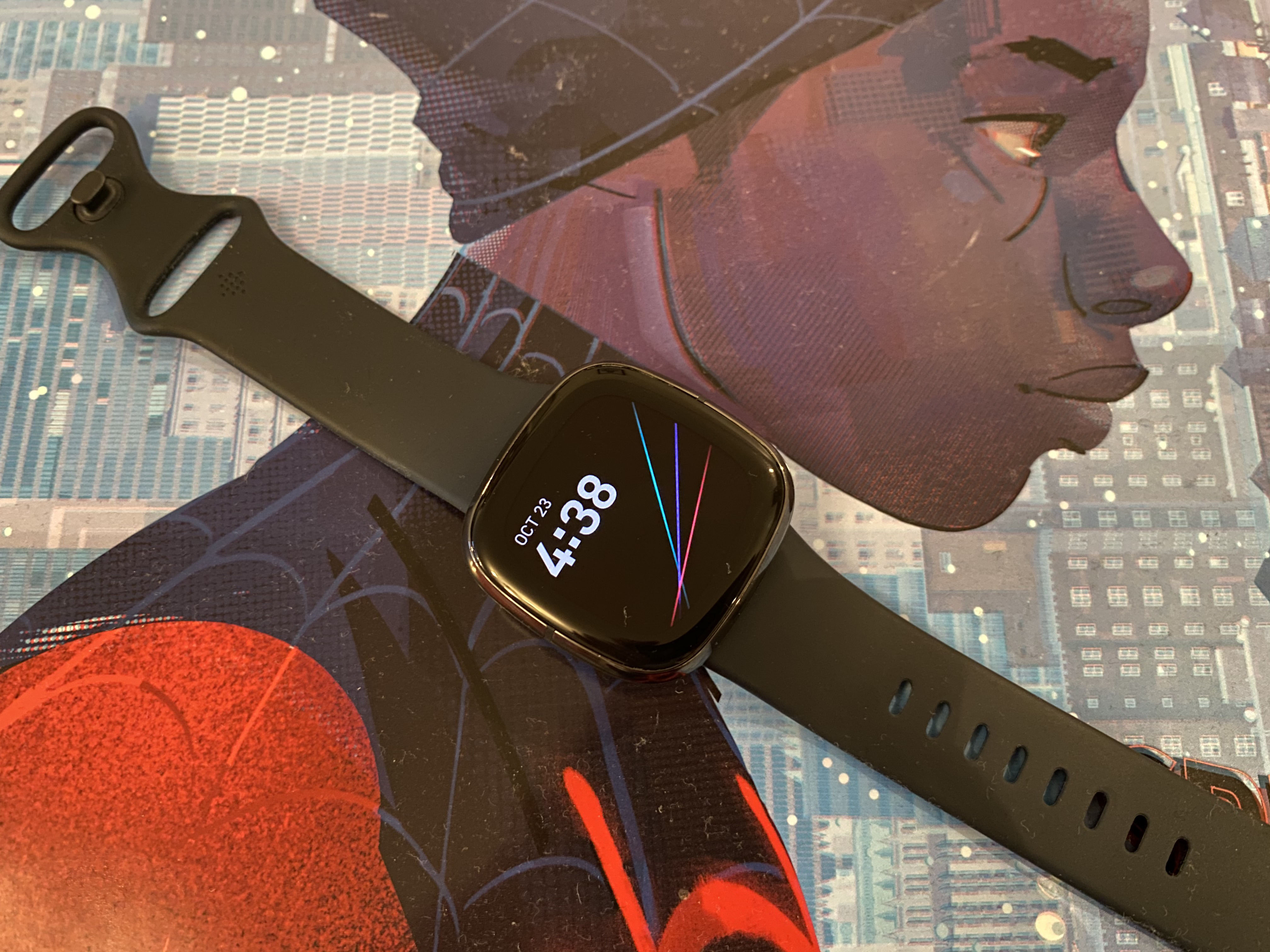 The Fitbit Sense is a fiercely ambitous smartwatch with mixed results. On the one wrist, you can't help but admire its intention, and really investing your time in the vast amount of health data it stores for you will surely see you rewarded over time. We're still getting to grips with the stress management stuff, which seems a bit opaque at first, but it's a good addition to the Fitbit suite. As is a proper ECG. And that battery is excellent.
On the other, however, you have a frustratingly temperamental smartwatch that, while nice to both wear and look at, is too slow and too buggy at the time of writing, and Fitbit's app library is still a bit naff.
If only it cared as much about performance as it does your health and wellbeing.
Stuff Says…
Bugginess slightly holds back a well-rounded health-focused smartwatch that really tries to innovate
Good Stuff
Comfortable to wear
Nice OLED display
EDA, ECG, SpO2 and a skin temperature sensor make the Sense unrivalled for health features
Apple Watch-embarrassing battery life
Bad Stuff
Seriously buggy and slow
Data overload can be both vague and confusing
Forces you into selecting a certain watchface for SpO2 measurements
You need Fitbit Premium to maximise it