Garmin Forerunner 945 review
The no-nonsense fitness buddy you're looking for
You only have to pick up a Garmin smartwatch to know they're not really designed for the fashion-conscious Apple Watch or Fitbit users.
Rather than offering a sleek user experience, Garmin watches are more concerned with delivering insight to those dedicated to fitness. Garmin wristwear can therefore take a bit of getting use to as there are a lot of settings and features to work your way through and then without a touch screen, mastering how the buttons work can be challenging, too.
The latest flagship Forerunner model is no exception, but once you've got to grips with the functionality, it'll prove a great exercise companion for anyone serious about running, cycling or swimming while offering some nifty smartwatch basics on the side.
And whilst it might not be the prettiest smartwatch out there, it's about as close as you'll get to the ultimate wrist-based fitness companion.
DESIGN: SAME OLD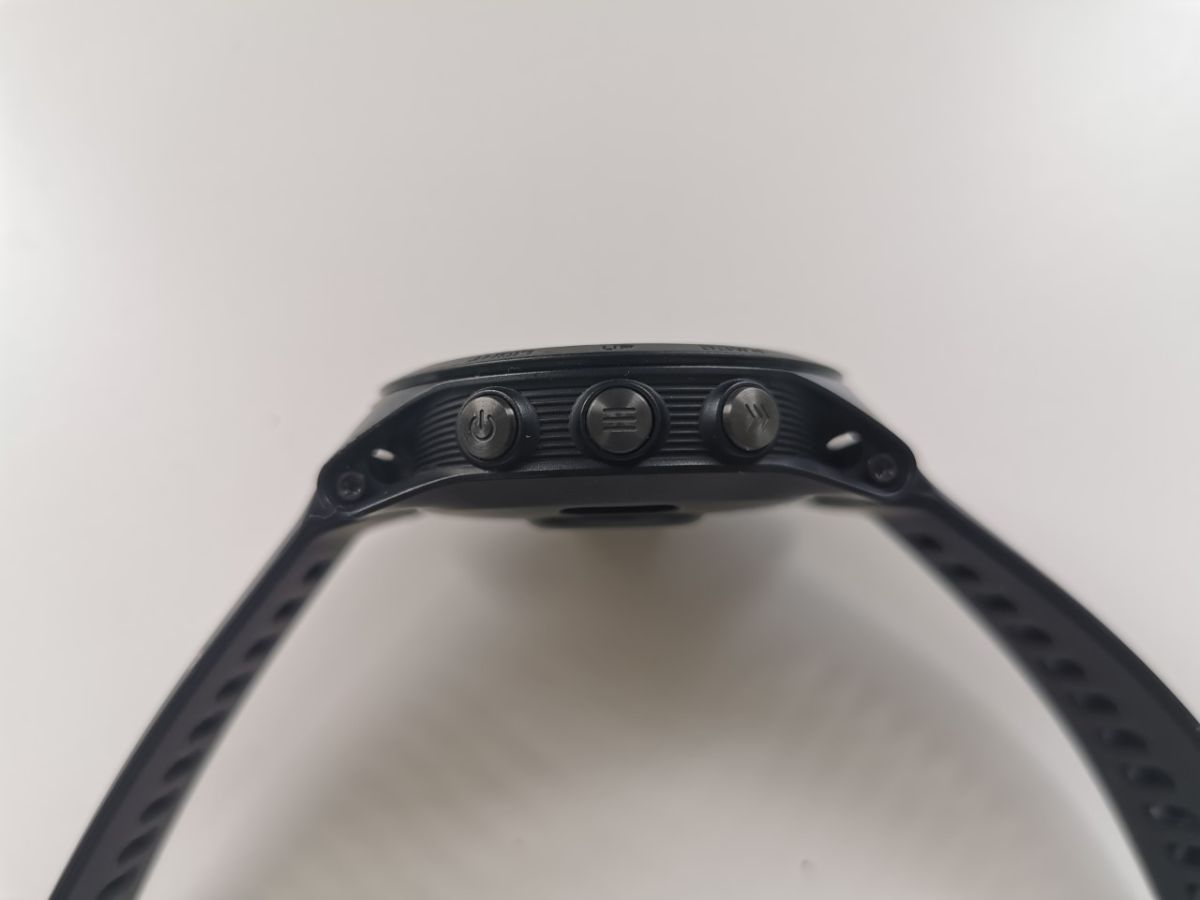 The thing about Garmin Forerunner watches is that because they're targeted at the fitness fanatic and not lifestyle consumers, they're designed more for functionality over, well, looking pretty.
As a result, they're not going to make you the envy of all your friends. Unless your friends are all training for triathlons.
The same goes for the Forerunner 945. It's an all-black design that looks almost identical to the Forerunner 935 that came before it. It even has the same dimensions, 1.2in colour display and fibre-reinforced polymer plastic shell. The only discernible difference is that the buttons are more of a gun metal colour as opposed to silver.
What's happening on the inside is a different story, though. But more on that later.
Compared to the Garmin's more high-end Fenix 5 Plus smartwatch, the Forerunner 945 has the same outside dimensions but is 2.1mm thinner, as well as being a pretty hefty 36g lighter at just 50g (thanks to the plastic design), which really makes a difference on the wrist.
As for the strap, it's a silicone QuickFit-capable 22mm offering, and is super stretchy, making the Forerunner 945 feel very comfortable on the wrist and thus good enough to wear 24/7, even for sleep.
A notched loop design also keeps the bitter end in place, with a silicone band which has a number of openings to adjust to your wrist size, whatever that is.
FEATURES: WHAT DON'T YOU DO?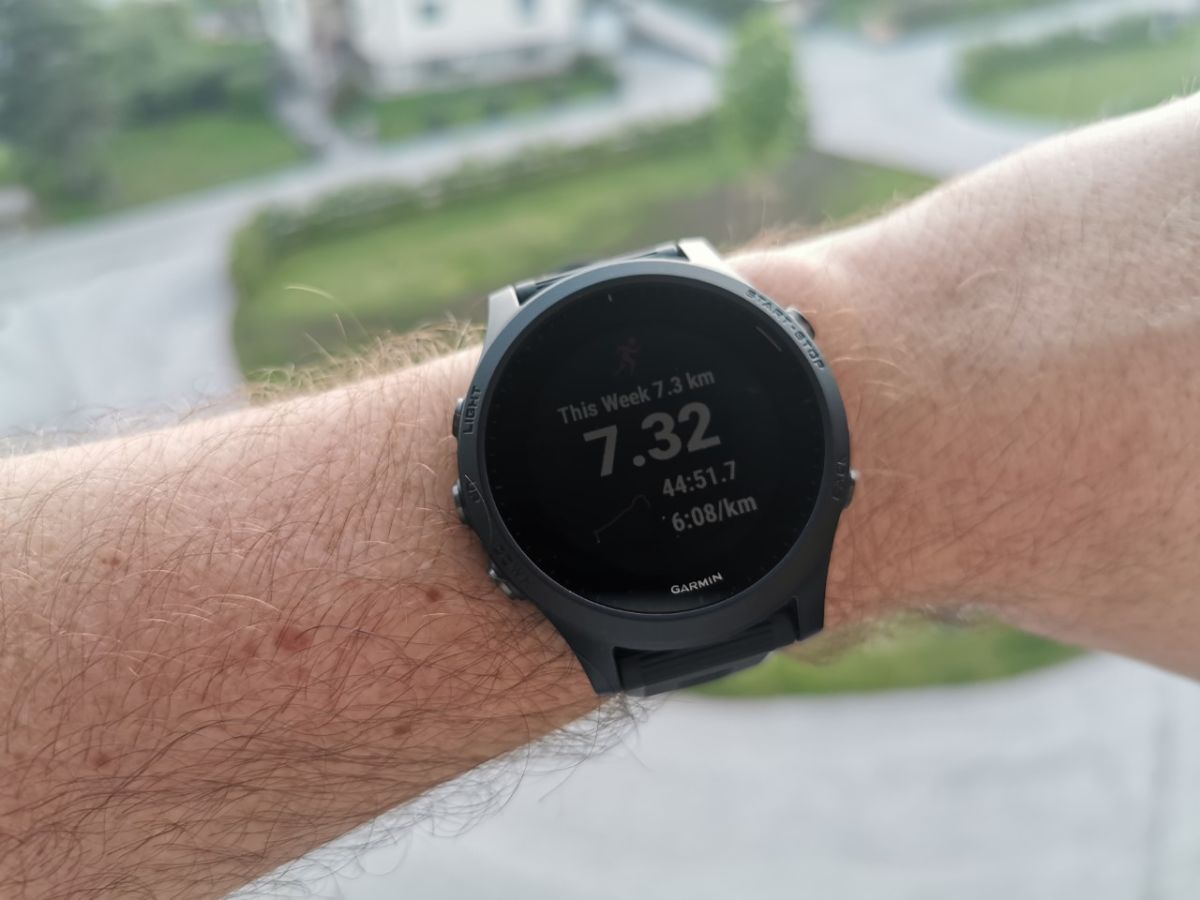 Unlike Garmin's more consumer-friendly smartwatch, the Vivoactive 3 Music, the Forerunner 945 is controlled entirely using buttons instead of a touchscreen. It's a real no-nonsense sport watch.
Button control works well, though, eradicating any accidental commands that might happen with clumsy thumbs. The buttons are metal and so don't spoil the Garmin Forerunner 945's water resistance. It's rated to 5 ATM, which does the job for swimming. Although FYI, the Fenix 5 Plus goes further with 10 ATM resistance.
In terms of display, some might be a little disappointed, especially if comparing it the likes of Fitbit's vibrant flagship watch, the Ionic, for instance. The screen comprises a 240×240 pixel resolution topped with a Corning Gorilla Glass DX to make it super rugged.
While this dull colour LCD has much worse contrast than your average smartwatch, the upside is that it barely uses any power so results in killer battery life, yet another way in which the Forerunner sacrifices performance over style.
The other positive here is that the screen gets clearer as ambient light increases, so if you're lucky enough to be running on a rare sunny day, then there's no worry of not seeing the display.
If running at night, just press the light button on the top left side to fire up the front light, which is little like the light of a classic Casio digital watch.
You can't expect the Forerunner 945's screen to pop like an Apple Watch, but you can expect it to last a hell of a lot longer between charges. In terms of improvements over the Forerunner 935, the 945 has onboard music support including streaming services Deezer and Spotify, as well as integration of Garmin Pay (finally).
You'll also find a pulse oximeter,branded by Garmin as 'Pulse Ox4′, which allows users to see how well their body is absorbing oxygen. There's also stress tracking, incident detection, which sends an automated SMS and email with your name and GPS location to your emergency contacts, and the new Elevate HR sensor, which uses Garmin's own proprietary optical-based heart rate sensor technology.
Another new feature that we like is the integrated Wi-Fi radio, meaning your activity data will be synced to your Garmin Connect account when you return to a previously established Wi-Fi zone. It's nice to have your data automatically synced to your Garmin account as soon as you arrive home. This makes the music installation quick and easy, too.
For battery life, Garmin claims the Forerunner 945 will last for up to two weeks in smartwatch mode, up to 36 hours in GPS mode, and up to ten hours in GPS mode with music playing.
In our experience, these claims to be mostly accurate. Although no-one only uses just one feature. We found the watch lasted just over a week using all these features sporadically, working out for an hour once every day or two. This improved battery life means it's a great option for tracking a full day of hiking, for instance, as there are many other brands of smartwatches that will struggle with that due to the high power demands of always-on GPS.
PERFORMANCE: A REAL TROOPER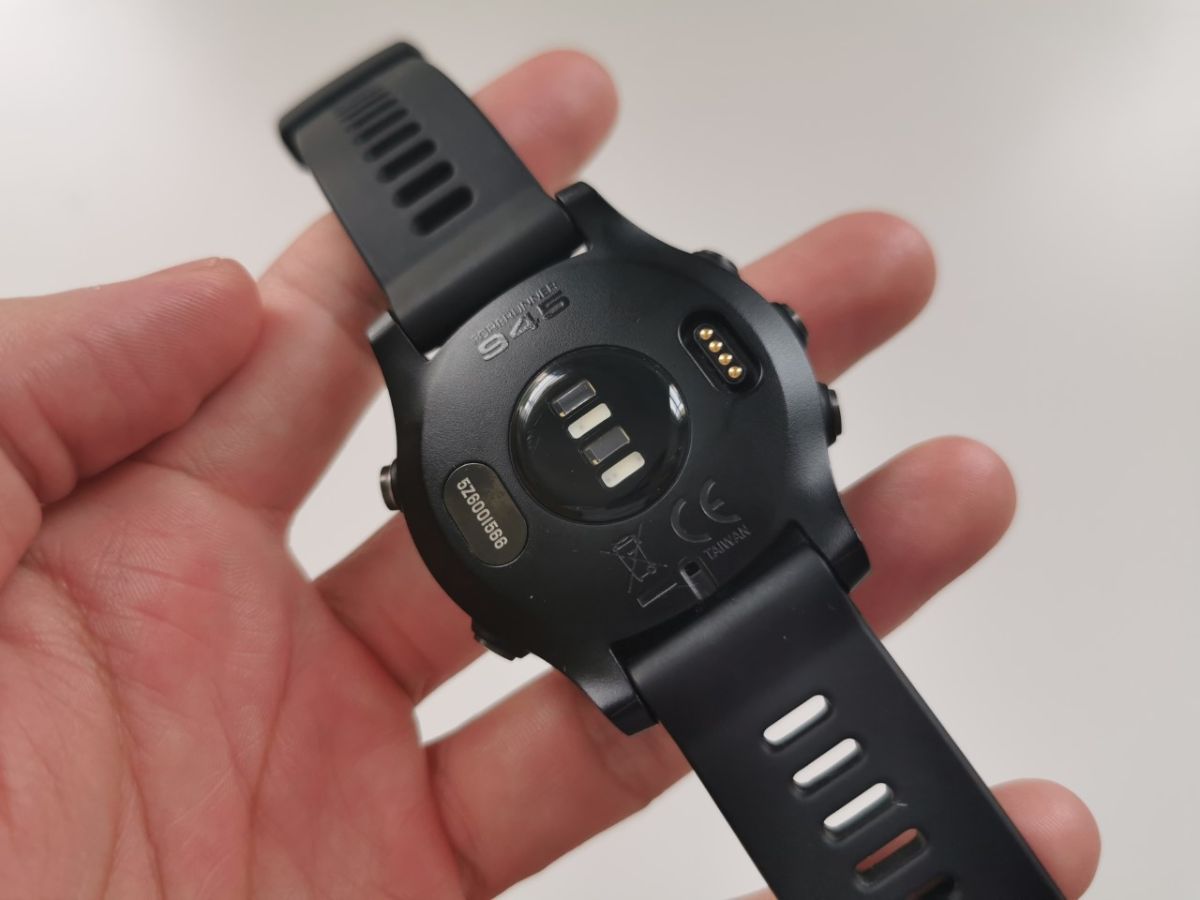 While the Forerunner 945 is aimed at triathletes and runners, its feature set sprawls way beyond this.
Press the Start/Stop button on the top right and you'll find a whole plethora of sporting activities, including skiing, SUP, and even yoga. While we didn't get to try out all those on the list during the review process, we did do a few runs, a bit of cycling and some yoga to see how well the Forerunner fared in its fitness tracking.
For these it uses its heart rate sensor, GPS and, when outdoors, the altimeter, which measures altitude. Long gone are the days when you used to have to wait for the GPS to kick in before commencing a run. On the Forerunner 945, it hooks up almost immediately.
In our experience, accuracy was top notch, too, giving you the same rock-solid GPS connection and decent tracking accuracy as Garmin's more hardcore models. You're only ever a button press and tap away from starting a session.
Heart rate monitoring seems fairly accurate, too. It works by constantly monitoring your BPM and taking readings around every second, which means it reacts to changes nice and quick.
Working effortlessly in all regards, the 945 certainly feels like a loyal companion. However, it's worth noting that while the Forerunner 945 is waterproof, its optical heart rate monitor still doesn't work underwater, so you'll need to purchase the HRM-Tri or HRM-Swim straps additionally to get data about your ticker while swimming. And this doesn't come cheap, retailing for around £150 for the bundle pack.
APP AND SMARTWATCH FEATURES: STAR REPORTER
As with most fitness trackers and smartwatches, all that huffing and puffing is calculated and the data stored in a companion application, in this case, the Garmin Connect app.
Anyone who's aware of what the Garmin app looked like a few years ago will know how far it has come in terms of appearance and usability; it's a lot more polished these days, and a lot easier to navigate around.
When logging into the app, you're presented with your weekly running, cycling and swimming stats, your heart rate graph for the last four hours, recent notifications and the weather. Everything is laid out coherently in blocks, it's all very intuitive.
When reviewing a workout, you'll be presented with three rings representing time, distance, and calories burned, along with pace and elevation data underneath and a map of your route at the bottom (if GPS was used throughout). From here, you can have an even closer look into your stats (such as VO2 max insights) if you want a real deep dive, but these are only presented to you if swipe across to them, ensuring you're not overwhelmed with data.
You can also customise the watch in the app, such as how different features are presented to you as well as the design of the watch face and what info is shown on the home screen.
You can also sort your music library out here. Let's just say, it's great Garmin has finally added music streaming services such as Spotify, meaning you no longer have to hunt for an MP3 file of your favourite song to put on the device.
With support for notifications, vibrate alerts and step counts as well, the Forerunner 945 gives you the foundations of a more lifestyle smartwatch, just without all the unecessary flippery.
GARMIN FORERUNNER 935 VERDICT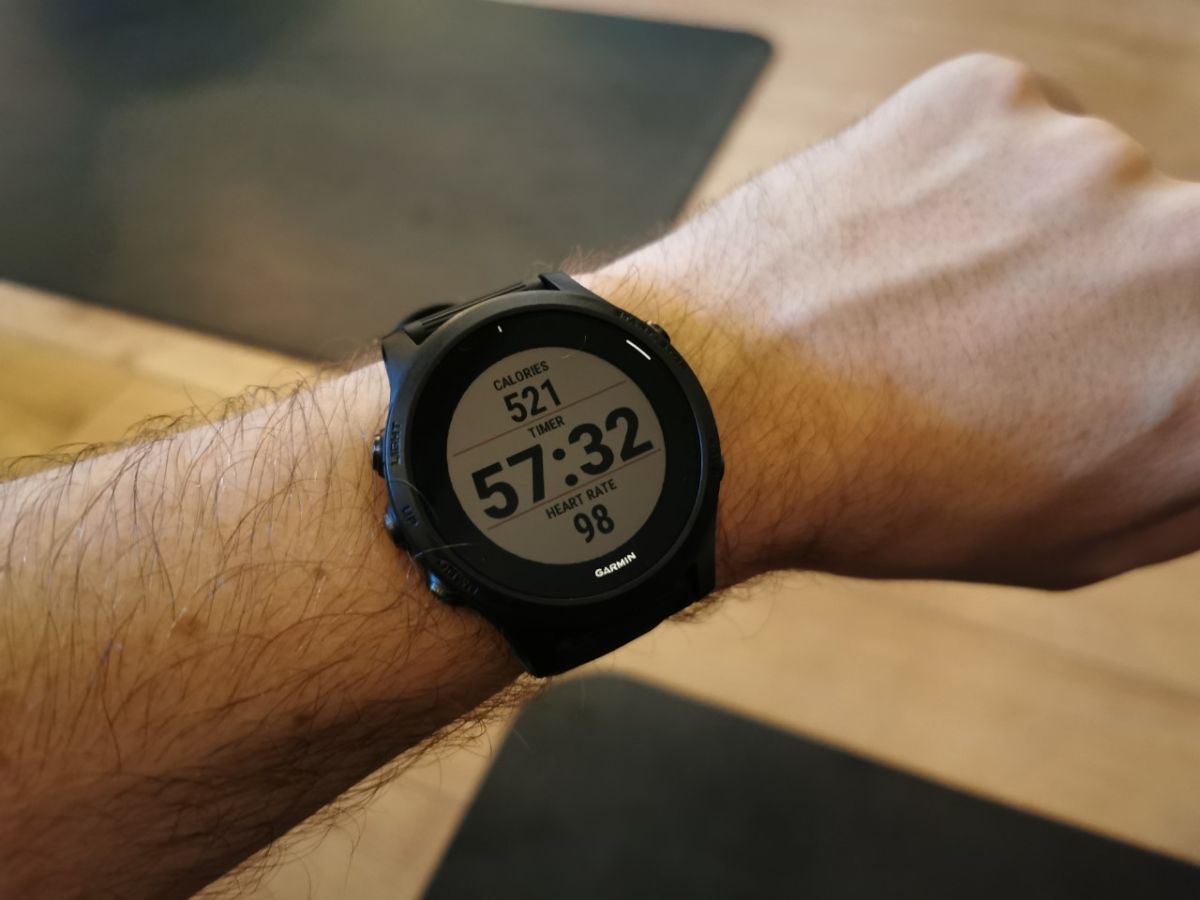 The Forerunner 945 might be lighter and slimmer than Garmin's top-end Fenix 5 Plus, but it certainly packs a comparable punch when it comes to a fitness feature set.
In true Forerunner style, battery life is impressive and will see you literally running rings around your Apple Watch counterparts.
It's not the easiest smartwatch to get the hang of, but once you've mastered the manual operation set up, you'll find it one of the best training buddies around.
The only setback is the price.
However, once you consider just how much tech is crammed into the Forerunner 945 for the money, and how much use you can get out of it in terms of both fitness tracking and smartwatch features, we think it's worth every penny.
Stuff Says…
A well-built, comfortable and feature-rich smartwatch, now with stand alone music playback and garmin Pay, all of which works a treat
Good Stuff
Impressive number of features
Lightweight
Super long battery life
Offline music support
Bad Stuff
Same low-quality display
Hard to get the hang of
Pricey